I was determined to do 12 miles today. But I left leaving until 5pm, and that was a mistake. I had planned a route on a map that looked great: a big loop up north, a little bit on the ring road, north up Adel Lane, then dropping back down and to Roundhay, then south and home. This was my carefully planned route: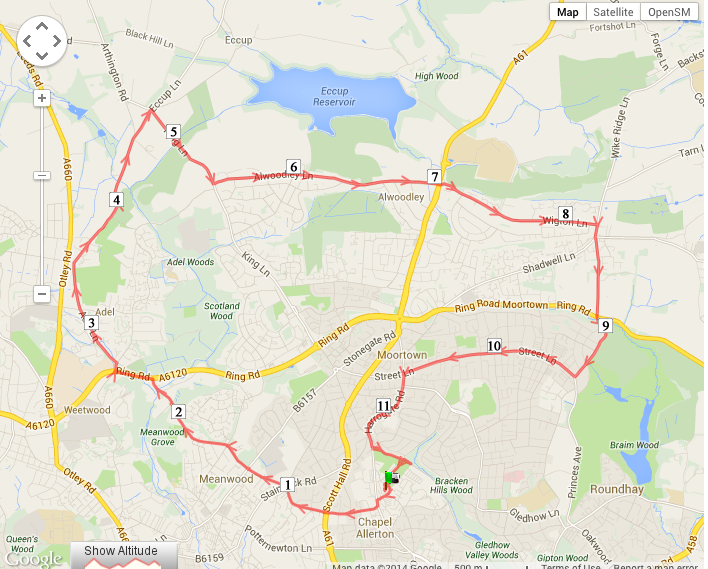 It looks so clean and nice on that map. I wanted to do roads after all the mud of the weekend. But it all went a bit wrong. I found myself on a very dark night in the hour in which darkness has fallen but the evening runners have not yet gone out onto the streets. So I fwas running alone along dark roads with barely any pedestrians, then along a stretch of the Ring Road where the path diverted into Meanwood woods, not an option. Instead I had to run on the verge of the busiest road in Leeds for a mile. Of course there was traffic but there were also dark woods to the side of me, and although Adel Lane is bucolic and nice in daylight, in darkness it becomes something else. I began to think: this is not smart. I do think about my safety when I run. I don't run on the canal alone because there are stretches where there is no escape except into the water, and because there have been sexual assaults including a couple of weeks ago. I always take my phone and money with me in case, but I hadn't told anyone where I was going. That was stupid. I think I'm going to try out this safety app, which tracks you and checks you are back safe.
But I was alone in the dark with no safety app so I diverted onto Otley Road, where I thought there would be more pedestrians, but it soon became a road bordered by nothing but fields. And though the runners by now had started to appear, I was just a bit spooked. So back down Otley Road to Headingley where I knew there would be enough people for me to feel comfortable, and there I checked my watch.
Oh god. Still not even halfway.
I am very bad at judging my pace. I have a Garmin, and I was checking it, but I still can't get my pace right. It was only important because I was supposed to run slowly. Slower than marathon pace, slower than I ever normally run. That turned out not to be a problem, as for eleven of the twelve miles I ran, I felt like vomiting. Nausea, stomach-churning, gas. At one point I stopped by a petrol station behind a skip and tried to throw up. I was trying to gip behind a skip. It didn't work. I have no idea why I felt sick: I'd eaten nothing weird, nor tried a new energy gel. (Update: Jenny my trainer thinks I didn't eat enough protein that day: I'd had toast for breakfast and a chickpea and sweet potato stew at 2pm but nothing since. I should have had a protein snack an hour before setting out.) I think I was probably dehydrated. It was unpleasant.
My running luck needs to turn. I'd like to love a run. But twelve miles of puking insecurity does not qualify for love, even though it's the longest I've run since the Bridlington half marathon, and I did run all of it. Next time: there will be love.
The route I actually took. Slightly more loopy than the clean loop:
—
TODAY'S SPORTING ACTIVITY:
ACTIVITY: 12 MILES
TIME: 2:09.41