Kit
For road, I now run in Altra Escalante. For trail or when there's not too much mud, I wear Scott Supertrac or Altra Lone Peak. I've recently switched to Altras because I have always found shoes to be loose on my heels, and it turns out that that's because I don't have weird feet, I have women's feet. And Altra makes shoes on a female-specific shoe last, and their shoes are shaped like feet. On the fells, I now run in the graphene G260 Inov-8 Mudclaws, or the Scott Supertrac. Both are really excellent: comfortable, grippy and light. Apart from in deepest winter, I favour this great skirt from Montane. It's comfortable, the shorts don't ride up too high because they have a grippy hem, and they have a handy gel pocket. I also love the Race Elite Inov-8 shorts. Yes, even in winter.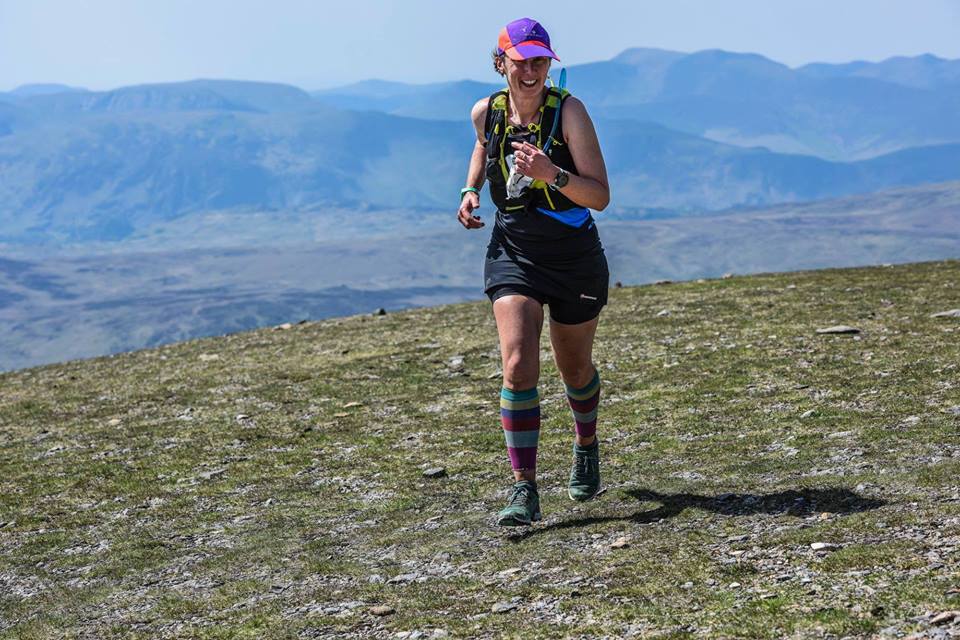 My favourite socks, by far, are these woollen trail socks from Injinji. They look daft and feel amazing. My usual long run/race waterproof is an Inov-8 Stormshell. I also have a super lightweight Montane that packs down to the size of an apple. I invested in a pair of decent Montane waterproof trousers to run the Fellsman, but it was cancelled so I'm only guessing they're really good. My watch is a bright and garish Garmin 235.
Fuel
I use Mountain Fuel Raw Energy Fuel powder, which is effective and easy on the stomach: just mix it with water. I also like the Mountain Fuel gels, though not the chia ones: too gloopy.
Other things
I run with North Leeds Fell Runners. We used to be a tiny club, but we've grown to more than 70 members. We have very stylish kit, featuring the red kites — though they are blue — of north Leeds. We became nationally famous due to this Guardian piece.
I've had excellent care from Lucy Gledhill and others at Coach House Physio but now go if necessary to see the wonderful Denise Park, because she understands fell running better than anyone else. I get sports massages from Ward Jefferson of Descansco Massage in Pudsey in Leeds. I do yoga with Rachel Pilling, who is an excellent fell runner and also runs Yoga for Runners.
Books
I've read a lot of running books. Most of them run out of steam. Yes, even Haruki Murakami. The best, I think, is Feet in the Clouds by Richard Askwith (my former editor at the Independent).
Food
I'm vegetarian and these days a 90% vegan. I don't subscribe to the gluten-free spirulina clean eating nonsense which is currently so fashionable. My cheekbones aren't good enough, and my hair needs to be glossier. But I do try to eat fresh, healthy food, and sometimes that includes pizza (yes, with gluten) and cake. I get inspiration from Deb Perelman's Smitten Kitchen, Anna Jones' A modern way to cook, and Bosh. All of these sources have things in common: the recipes are manageable, the ingredients are findable and affordable and the food is edible.