There is an obvious way of keeping fit on business trips, of course, which is the hotel gym, assuming you are not a cash-conscious freelance author but are instead someone with a sizeable expense account that allows for expensive hotels with good fitness centres. I don't have an expense account. Normally I'd just work out a running route outside and set off, but I'm in a city that has gone from minus 30 degrees last week to spring weather this week, which means the pavements are covered in lethal black ice. So I've had to get inventive. Here are my tips.
1. Make friends
You may think people who post local routes on Strava, Mapmyrun  are your friends. But are they? You can never account for people's taste: one person's chosen Sunday loop may include a heavy industrial area. Sometimes the routes or loops are complicated and you'd spend most of the run looking at a map if you had one, or using fiendishly expensive data on your phone. You may feel unsafe in areas that someone who has run here for years thinks is no big deal. My tip: write to a local running group and ask if you can run with them. Runners are a friendly tribe and I've never been turned down: I've run with people in Kathmandu and Texas and almost run with people in Salt Lake City (except I didn't have a car to get to the meeting point and it was too far to run to). A friendly Salt Lake City club runner still told me some good running routes though. Here in Canada, I approached Saskatoon Road Runners and asked to run with them and the response was, as the response often is, "sure!" In fact the club mostly organizes races, and group training runs congregate at Brainsport, a local running shop here (which, it turns, out operates a wonderful community outreach program of shoe donation as well as other community outreach stuff). Also they have a good, plain-speaking sign.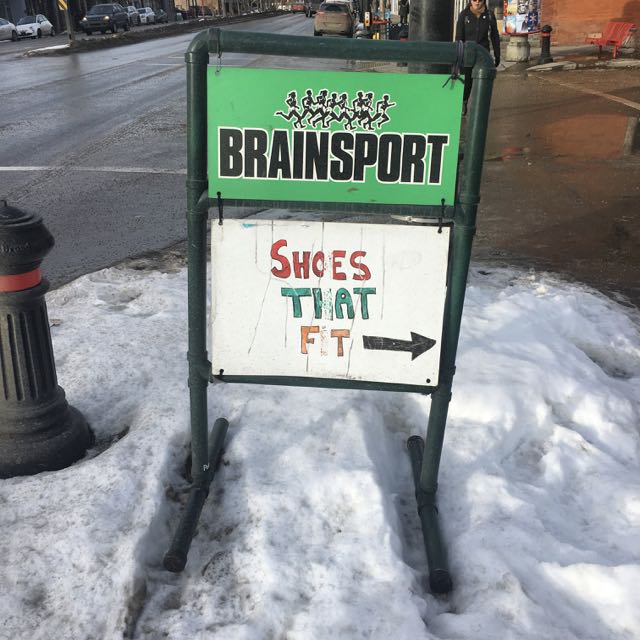 On my first full day in Saskatoon, still reeling from jetlag, I turned up at Brainsport, met a nice fellow called Harvey who said, I'm going running on river trails after work, and you're welcome to join me. He emailed a few other people to see if they wanted to join, and he offered to lend me demo Salomon spiked shoes – essential for snow – and a headtorch. So instead of lounging on my bed at 6.30 pm feeling – rightly – that it was 2 am, I was running along beautiful snow-covered trails along the mighty South Saskatchewan river with Harvey and another young woman who had turned up at short notice to keep us company. Saskatoon is known as the city of bridges, and we ran from one to the other and back again. It was so good that on Wednesday I did it again on Brainsport's formal group running night. There were half a dozen groups going out, and of course I picked the trail one, only this time I got lost and caused an international incident, after I stopped to take a picture, got separated from the group and took the wrong trail. I knew my way back, more or less, but they didn't know that I did. I made it back, and so did they, and looked extremely relieved that they hadn't lost their British guest into the South Saskatchewan River weir: sorry, folks. They were thoroughly both forgiving and welcoming and I got to experience both Canadian trails I'd never have found and Canadians that I'd never have met otherwise. Running with a running club is the perfect antidote to the hotel-meeting-lonely dinner-hotel pattern that is most business trips.
2. Research
My hotel doesn't have a gym. But I'm training to run the Three Peaks race again, and though I'm in the prairies, I need to get some hill training somehow. Short of driving hours to the Rockies, the only solution was a treadmill that inclined. So I began to research. Saskatoon city is currently running a scheme where you can get a two week free trial membership with lots of leisure centres. I didn't feel it was particularly ethical to do that as I was only going to be in town for a week, but I emailed the nearest gym, the YWCA, and asked about day passes. It turns out that for $10 they would let me use the gym, pool and all facilities, and it was a short-ish walk over the bridge from my hotel. When I got there, I found a gym that was far better equipped than the one I use at home, with all sorts of intriguing machines (which I ignored, once I'd found the inclining treadmill and the weights area). I could have signed up for classes for my ten bucks a day but didn't. I did the same thing in Toronto and found that Goodlife Fitness had an offer for three free visits, but their website never worked, and by that time I had a horrible cold and gyms were far from my mind.
3. Look for trial offers
I walked past a spin studio on my way back to the hotel one day, researched it and found that they were offering one trial class. That sounded like a perfect solution (see hill training requirements above) so I duly signed up for an early evening class. Then I duly succumbed to jet lag, had a late afternoon nap that lasted longer than it should have, and missed it. But it was a great idea in principle. Maybe try Groupon or similar for other class offers. Or approach studios directly, perhaps without mentioning the fly-by-night nature of your visit (see ethical point above).
4. Walk
Saskatoon is a car town. It is built around the car and though there are buses, I decided to be one of its few committed pedestrians. As my interview appointments have been all over the city, I've walked several miles a day. This has seen me walking on pavements where no other human seems to have set foot since autumn. And because of the record-breaking February temperatures this week (it should be minus 10, but it's 8C), I walked through deep puddles, slush, and, alarmingly, lots of black ice. This may be my assumption, but it seems that gritting pavements is not a priority here. A Saskatonian told me that they don't tend to fall because they start skating from a young age and have good ankle stability. I actually think they don't fall because in winter they always travel by car. I didn't fall either though I had several near-misses a day. I encountered a few hazards. The first: don't ask locals how far it is to walk. They will invariably say "20 minutes," but they have no idea because they mostly drive around the city. It never takes only 20 minutes. Another: during a long walk back from visiting a small charity in the north of the city, I was directed to walk straight down a long, long road to the river and to cross the bridge. Easy enough, and I had a lovely walk in beautiful sunshine, past industrial zones and then residential areas, up a bank to the CPR railway bridge, which has a pedestrian walkway. Except that the walkway consists of wooden boards nailed together, and the boards have gaps in through which you can see the rushing river sixty metres below. I set off with confidence, and a couple of minutes later my fear of heights kicked in and I walked the long, long bridge whimpering and talking to myself: "Don't look down. Look ahead. Don't look down. Look ahead." Lesson: I prefer solid bridges. When I told my Saskatoon friends about this, they said, "you should try being on the walkway when a train goes past. Everything shudders and sways." And I would probably have jumped into the river. The other hazard to walking around Saskatoon in a melt is the huge puddles that form on the road side of the kerb. It is a testament to the niceness of Canadians that I wasn't splashed once.
The result of all this? I didn't lose as much fitness as I'd feared. I saw lots of Saskatoon that I would otherwise have not seen from a car or a bus. And I lost five pounds in weight. For not much money at all.