It was nothing special, I suppose. I got up early in the morning, I got in my car, I drove to Harewood House and I ran. But it was special, because it was essential. The day before had been a black day. I am feeling overwhelmed with work and the more overwhelmed I get, the less efficient I become. So the day had turned into a self-loathing black pit. I also felt lousy with a cough and thick head. I went home, shut the door, made green bean and potato curry with my own green beans and my own potatoes, then sat on the sofa with my lovely cat and watched trash TV. I could have gone running, I suppose, but I didn't have the heart for it. Instead, I laid out my kit for the morning, set one alarm for 6.30 and the other for 6.45. For some reason I had decided to do ten miles. Possibly this was frustration after the weekend, when I'd taken part in the Leeds Country Way relay, a self-navigated race around the whole 60 miles, done in teams of two over six legs.
Both my partner and I probably shouldn't have run. My cough is getting no better, and she had a hamstring injury that a sports medicine consultation told her meant she should rest for eight weeks with absolutely no running. But there was only one reserve for the three teams so we both turned up to run. I didn't want to bug L. with continually asking her how her leg was, but I could tell she was in discomfort. It wasn't her hamstring but her knees. I'm pretty sure it was where the ITB inserts into the knees. She soldiered on but she was clearly in pain. With five miles to go, we stopped running and walked the rest. At one point, she froze on a stile because she didn't want to bend her leg, at any cost, but couldn't figure out how to get over the stile without doing it. At another, we were on the top of a steep descent and she stood there, again dreading having to bend her legs. I offered her a piggy-back. She was a brilliant navigator, though she'd recce-ed it only once, and I hadn't at all, and we only went wrong twice and not by much. Some teams ran miles out of their way.
Then, in a woods somewhere, she suddenly said, Oh, Rose and looked horrified. What? What now? She said, "I've left my key in your car." We'd taken two cars, dropped hers at the finish then driven mine to the start. We were supposed to then drive back in her car to the start to fetch mine. But this was a disaster. We had no money to get a bus. We were so slow that we didn't think anyone would be even there at the finish to give us a lift. And my phone was rapidly running out of battery. Oh dear.
Luckily, as we walked to the finish, there were a dozen people there. We weren't even the last team: four more came in behind us (though no-one applauded us, and they all got applause. Hmmm.) A lovely woman from St. Theresa's was taking her partner back to Stanley, so she gave us a lift. Phew.
Anyway I'd been hoping for a good long run – the leg was 11 miles long – and was a bit frustrated that we hadn't run more. Not that I'm blaming L.: she was in serious pain. But I just wished I'd had a longer run (even though I was still knackered that night after 6 miles of running and 5 of walking).
All in all, this morning I wanted to run, and quite a long way. My Lumie clock woke me up gently, as did my cat licking my neck as usual. I got up, got dressed, grabbed a banana and some squash, and drove four miles up to Harewood. I haven't been there for ages and it was so nice to be back, and to be running. There were no humans to be seen for most of the way around. Just me and a lot of noisy sheep. I ran the five mile loop, past the deer park, past the estate offices, up over the tops, down the permissive path through the secret gate in the wall (it's not secret but I love gates in walls and always think them wonderfully Midnight Garden-ish). I ran up to the gates at the Wike Lane entrance where I'd started, still not sure whether I would run more than five, or do another loop the same way. Then something in my head made me turn round and run back the other way. It wasn't really a rational thought, but more like a propulsion.
I wasn't fast. I walked quite a few times. But there were hills that I ran up, and long stretches where I kept going, steadily. It took me longer than I'd expected, but it was lovely.
Brussels Airlines has still lost my bag containing my Brooks Pure Flow and, more importantly, my orthotics. I've been running without them. Today I ran in my Ghosts, which are heavier but more cushioned, and I hoped the cushioning would help.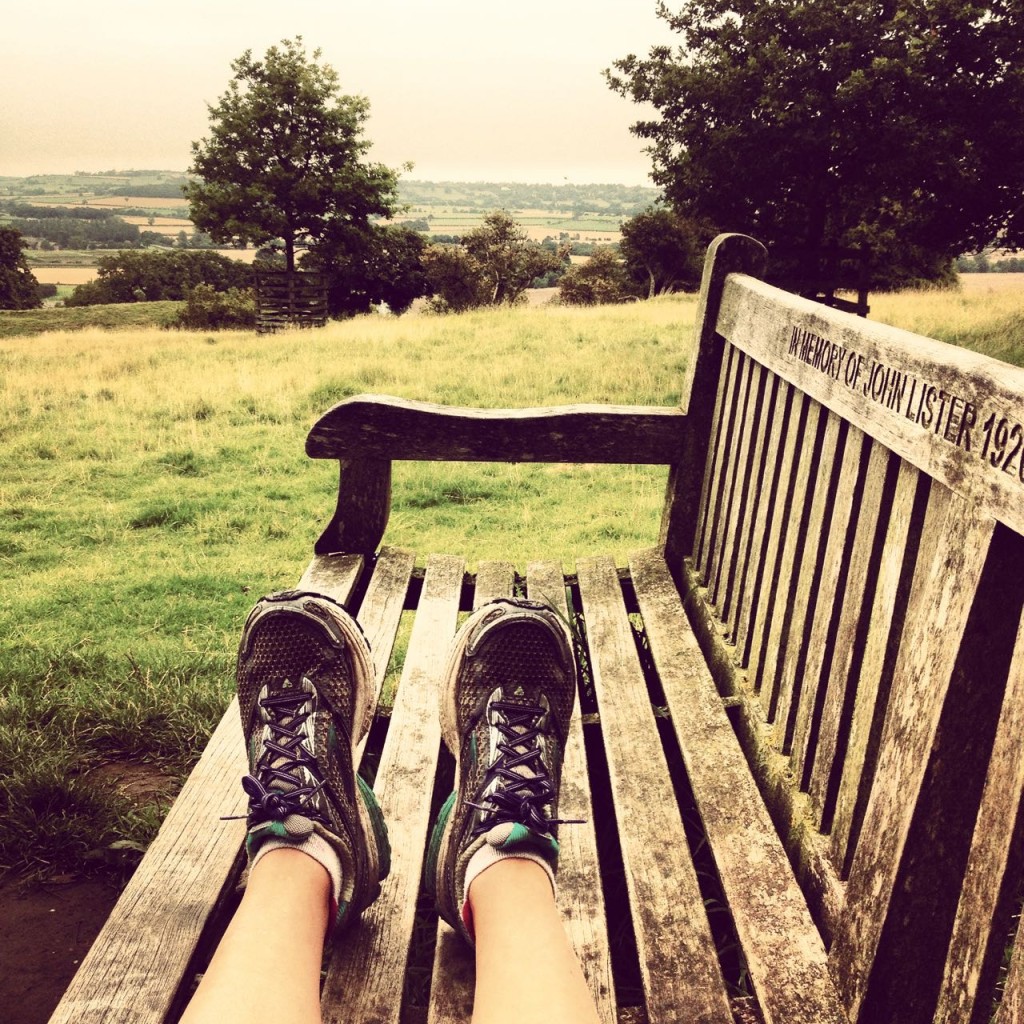 But my tendon has begun to niggle, and today was the first day it gave me some shooting pains again. That is not good news. I've express-ordered new orthotics and will be billing Brussels Airlines for them (£170!), but I suppose until they arrive I'll have to be more sensible than running ten miles. Though there is the slight problem of me supposedly running a marathon in just over a month.
Even so, at the end of the run, my gloom lifted, because it always does. Also, the citalopram I've been taking for two months is not really working yet, so running is it.