Saturday
I have a bad habit of doing myself down. I'm back running, I'm relatively fit, and I love both of those facts, but still I focus too much on how much slower I am than last year. I've lost a minute per mile at least. I find myself running through races self-chastising myself all the way round for not being faster. Admittedly, the narrative is a positive one, sort of, as it consists of "how can I get faster?" and I find myself plotting new training schedules, training with fell running clubs, secretly getting a coach and surprising FRB with my amazing fell running ability in a month or two (I won't, not least because it's not secret now I've written it here). I did that on Saturday at Badger Bar Blast, a new fell race hosted by Ambleside AC in Ambleside, which started near the Badger Bar, and then headed up to Loughrigg hill/fell/small mountain, then to Silver How, another one, then back up and down Loughrigg. 2200 feet, just under seven miles.
This wasn't my last chance to qualify for the Three Peaks, but it would mean that I'm not obliged to run 20 miles across the Peak district in January. I could actually have done another qualifying race in February or March, but as entries open in February (I think), I wanted to be sure. FRB wasn't going to come with me or run it but in the end he did both. Even better, he ran around with me. The course was flagged up to Loughrigg, but then you had to make your own way to Silver How and back. I must have looked uncertain enough that he took pity on me and became my personal navigator. Usually I'd be sure to have lots of company at my pace, towards the back of the field, but we didn't know how many would run the race, and it was very likely that they would all be damn fast Cumbrian fell runners, which they were. I didn't expect to be guided to my parking place, for example by Ben Abdelnoor. It was going to be a stellar field because the race was being run on the afternoon of the legendary FRA Do. Yes, it's known as the FRA Do. Neither I nor FRB were going, though I drive around proudly with my Fell Running Association sticker on my car, because neither of us had won prizes.
It was freezing cold. Biting, bitter cold. I'd even had to abandon my usual winter practice of running in only a vest and shorts, and wimped out with a long-sleeved t-shirt. I still ran in shorts though. The parking was in a field about ten minutes walk from the start. We arrived in lots of time, having stopped in Ambleside car park for a toilet visit and to eat some more food: half a marmalade sandwich for me ("are you Paddington?" said FRB) and a half a stale chocolate and cherry croissant. I'd had porridge for breakfast, and as usual with me, it did the opposite of what it's supposed to do – make you full for a long time – and I was ravenous after an hour.
We knew we could leave bags at the start, so we set off laden along with plenty of other runners, most of them ectomorphs. The registration was in the pub garden, and we loitered outside for a while before figuring out that the pub was open, the toilets were open, and most runners were waiting inside by log fires.
We decided on a plan. FRB would stay with me until the Loughrigg summit. I was nervous enough that I agreed to him running with me though I knew that would be almost uncomfortably slow for him and I would probably feel guilty about holding him back. After Loughrigg, we'd see how many runners there were and then decide whether he would zoom off or not. The race started with a "off you go" or something, and off we went. I'd seen some older women and thought, great, I'll have some company at the back but oh no. Because these were prize-winning, amazing older women like Wendy Dodds, who are extremely fast no matter how old they are. The views were stunning, the air was crisp and clear, the sun was shining. I kept my gloves on, but was warm enough in t-shirt, vest and shorts. It was up and up and up to Loughrigg, and even the walking parts were hard. As usual I don't remember much of the route apart from wishing I'd brought my iPhone to take pictures of the rolling fells, the golden bracken and the sunshine on the snowy tops. I soon lost my love of the golden bracken. When we ran through the first lot, I said, "Ow! Since when did bracken hurt?" It scratched like brambles, because it was frozen.
It really was beautiful. I'm going to borrow someone else's pictures to show you: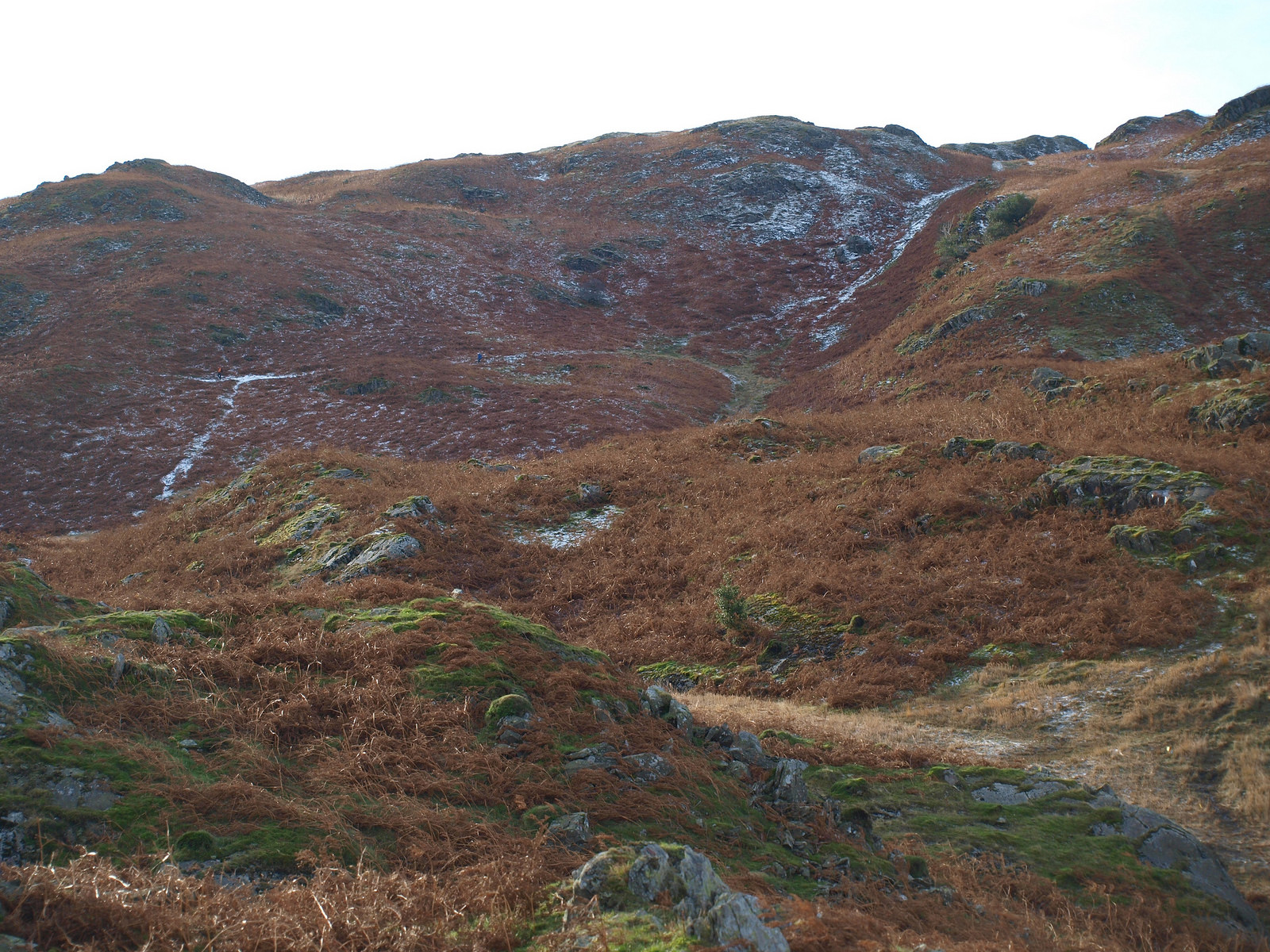 Pictures ©David Johnson via https://m.flickr.com/#/photos/81024442@N03/sets/72157661523459045/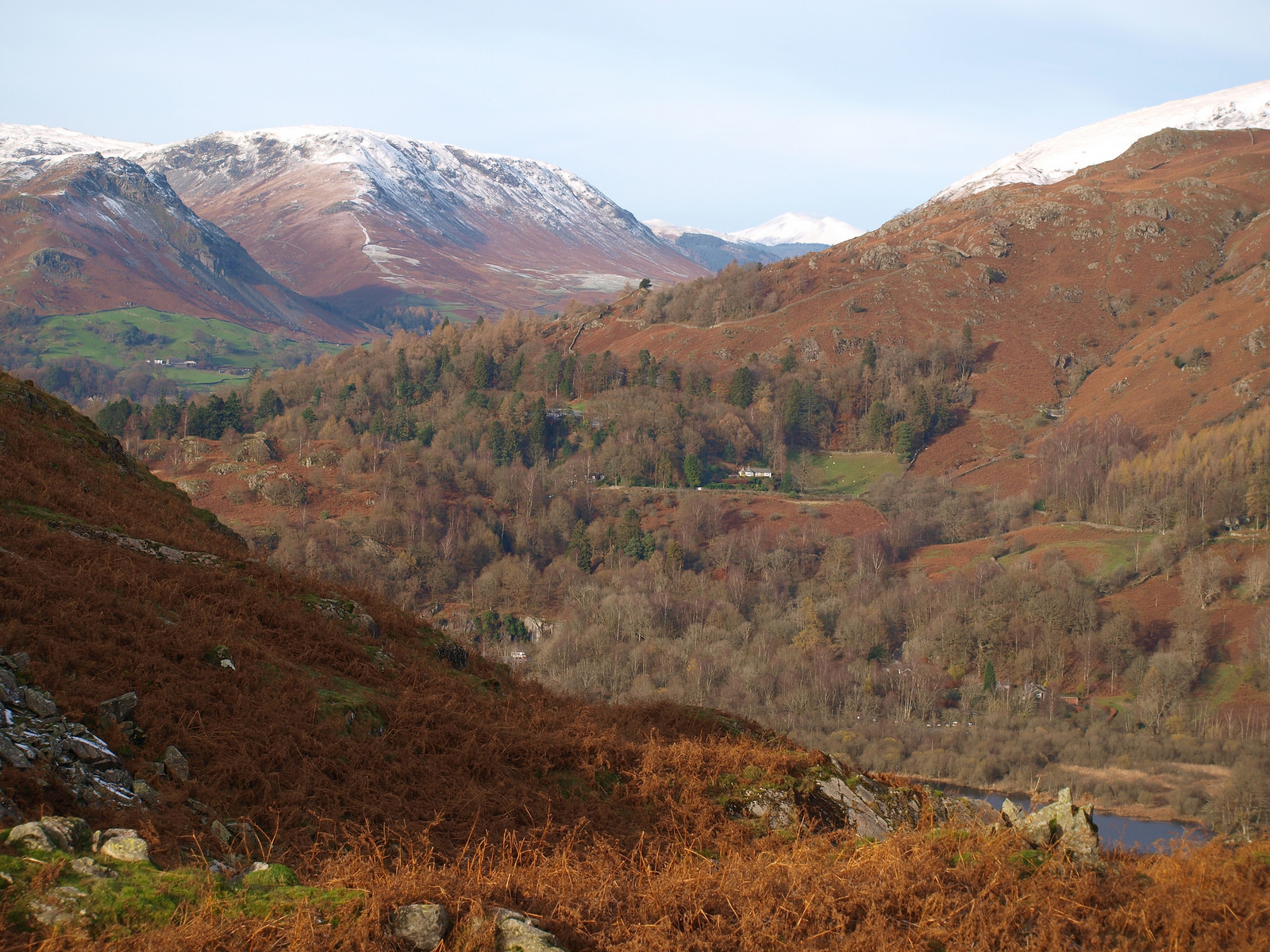 There was everything in this race: climbs, fast descents, rocky scrambles, bogs, views. After descending Loughrigg, we had some flattish terrain to cover before going up Silver How. I remember looking up and seeing a very very big hill, next to some smaller hills, and thinking, it won't be that one will it? Surely not. But it was. I followed FRB, through marsh and bogs (I always get my feet wet as fast as possible, then it's done), to the ascent of Silver How. I was exhausted. And though I was condemning myself for being so tired, I should have thought: I've travelled to the US three times in as many months. I'm jet-lagged, and I'm still doing a hard fell race, so GOOD FOR ME.
By now though all the fast front-runners were coming down as we were struggling up. Actually, only I was struggling up. FRB would have run it all, I think, and he told me afterwards that he couldn't help wondering where he'd have been in the runners coming down if he'd gone at his own pace. Oops. Sorry. And thank you. I didn't recognise anyone, though one of my fell running heroes, Victoria Wilkinson, came past me, as I realised later when she got a prize. I got to the top and was so battered the marshal had to repeat "round the cairn please" because I was in no fit state to hear her. Then, a blessed descent. We ended up running with a young woman, and FRB inadvertently took us on a bit of a detour to avoid a slippery rocky scramble down. We lost a few minutes, but never mind; we were so far back it didn't matter. The only reason I knew we weren't last was because I'd seen about three people trudging up as we were coming back down. The ascent of Loughrigg was hard. But I still overtook someone walking, so my uphill walks are getting better.
I overtook the young woman on the descent, then fell when my feet slipped on rock. Later I overtook her again, but she beat me on the flat to the finish, maybe because she was younger and had longer legs. Or just because she was faster. Later she told us this was her first fell race and that she'd been training with Ambleside. I try not to think of the Cumbrian clubs as the fell running elite, but when you see how close they are to such fabulous training routes, it's undeniable. They are good.
Back at the Badger Bar, there was soup and rolls. I posed for a picture with my "I've qualified for the Three Peaks" smile. And I won a prize! It was an extremely generous prize-giving, and after the usual prizes for fast people, the announcer offered prizes for
1. anyone who is going to the FRA Do who hasn't got a prize
2. anyone who supports Blackburn Rovers
3. anyone for whom it's their first fell race
4. anyone who has never gone up Loughrigg before. (Me!) (I got fudge!)
I've never won a prize, I probably never will, so I'll treasure the fudge. Or at least eat it with reverence.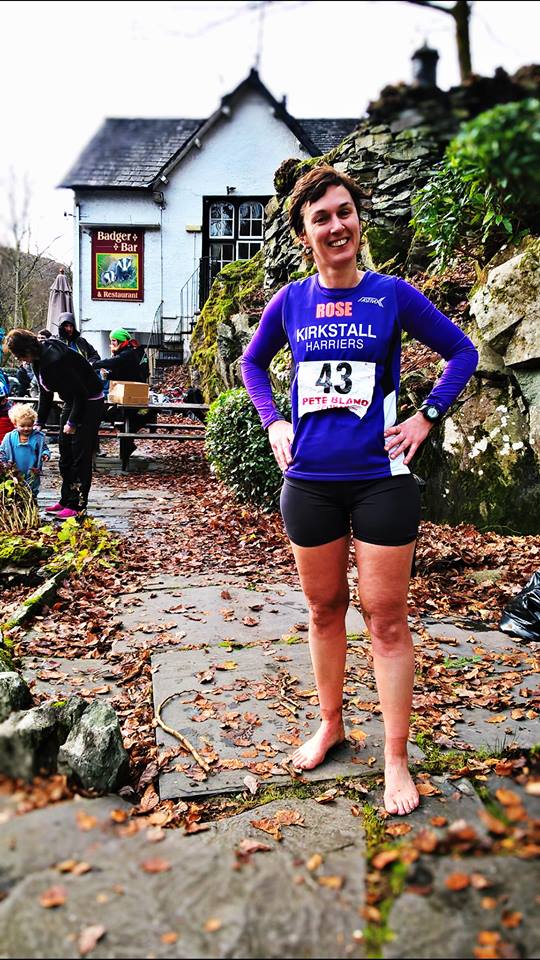 Sunday
No rest. It was the first PECO cross country fixture of the season, at the beautiful Temple Newsam. I'd got a groin strain on the Badger Bar Blast and was a bit concerned about it, but it felt slightly better in the morning. And for once it wasn't a godawful early start. There are so many people doing PECO now that there are two starts, one for the men, and then ten minutes later the women. This isn't popular with a lot of the fast women, who find themselves sometimes stuck behind the back-of-the-pack men. At Temple Newsam, they got stuck behind men walking three abreast up one narrow path. Not good. As usual, it was great to see all the flags and gazebos, every club staking their claim like a Game of Thrones army on a battlefield. It was cold, but I was going to run in full vest (that's vest only) and skirt, so I warmed up with Hannah, one of the few club mates who believes in warming up. There's still a certain disdain in my club for warming up, which I don't understand.
The men set off, then us. I was behind a clubmate who has been beating me recently, partly because I'm slower, mostly because she's faster and running well. I overtook her and managed to stay in front all the way round, with a few glances over my shoulder. She had run a trail half marathon the day before, but so had I: nearly two hours on my feet up and down Ambleside counts as a half. I thought I'd be knackered after the day before but I felt good, actually. My legs worked, I overtook people, particularly on descents. It was sunny and beautiful, and all was well. It was also fantastic to see one of our club members running again, as he collapsed during a club training session with a heart attack only three months ago, and nearly died. Welcome back, Peter.
It was only on the final approach to the finish, up a field that had been churned to mud by 200 men and about 100 women who had run it before me, that my legs suddenly felt sapped. I was close behind a Chapel Allerton runner who had just overtaken me, and as usual FRB cheered me on by saying "you can catch those two!" and normally I would, because I have a good sprint finish. But I had nothing in my legs. And maybe more importantly, I didn't care. So I didn't catch her, but the race was fun, and there was soup and a roll afterwards (always the route to a runner's heart).
Tuesday
Tuesday started badly. I checked my emails soon after I'd woken up and found a disturbing and rather shitty one. Work-related, and there's a long history behind it, but still it was a shock. I was working from home as my studios are being renovated, but I couldn't settle. Finally I put on my running kit. I had to run it off. I don't rage run often, but it usually works. I drove up to Harewood, and set off. I shouldn't have run really, or if I had, I should have followed my new training plan devised by FRB, but I couldn't see beyond my rage and needing to run it away. So I ran, and ran, and ran. I stopped and walked sometimes, but I ran all the hills. I did the 4.5 mile loop, all the way round the estate and through my favourite secret gate which is not secret at all but looks it: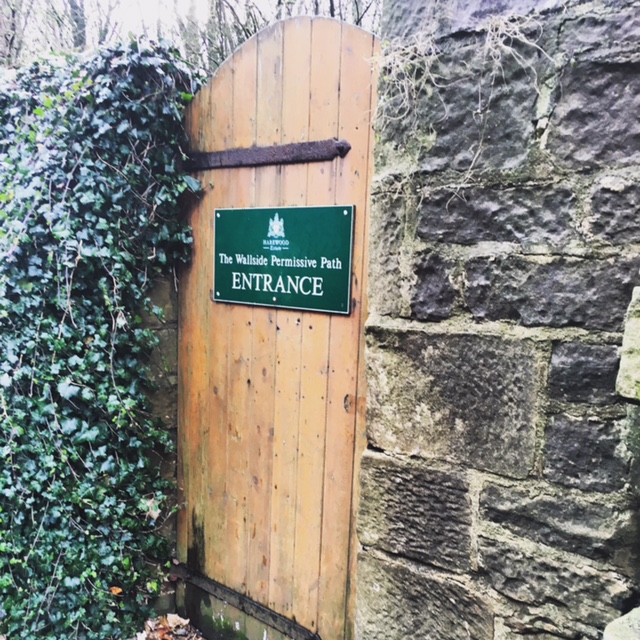 and then I turned around and ran all the way back. Because when the scenery looks like this, why wouldn't I want more of it?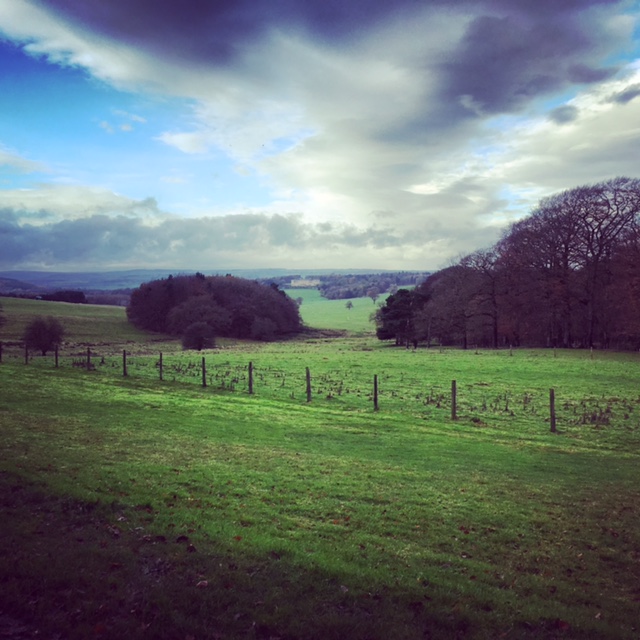 It took about seven miles for me to calm down. I'm still angry about the email, but in a muted way. Rage runs work.
Three runs in four days, most of them acceptable. I am not as fast as I want to be, but I will be. That's one resolution. The other is to stop doing myself down. I saw a cardiologist last week about my heart murmur, and when he heard how much running I do, he smiled and said, "well I can see where this is going." He meant, I had nothing to worry about. He meant, I am far fitter than most people my age and I have a strong heart.
So I'm going to start to be proud of what I can do, and focus less on what I can't.