It turns out that going to India for three weeks, then coming back and doing the Wharfedale Half Marathon, then going on a cruise for two weeks, is not good for maintaining hill legs. I had a great time on the cruise (I was accompanying my mother), and tried to keep as fit as possible. I twice ran five miles around the deck, even though the jogging track was only a tenth of a mile long. That's over 50 times, people. I plotted to run ashore in Santorini, inspired by this post by Laura, but was foiled by the fact that the ship was anchored off-shore, people on booked excursions had priority in the tenders ferrying them ashore, and they weren't going to the right place anyway. By the time any tenders were going to Fira, from where I was planning to run six miles to the end of the island and back again, it was 9.30 and 35 degrees. No way. I went to run around the jogging track instead, consoling myself that the views weren't too shabby: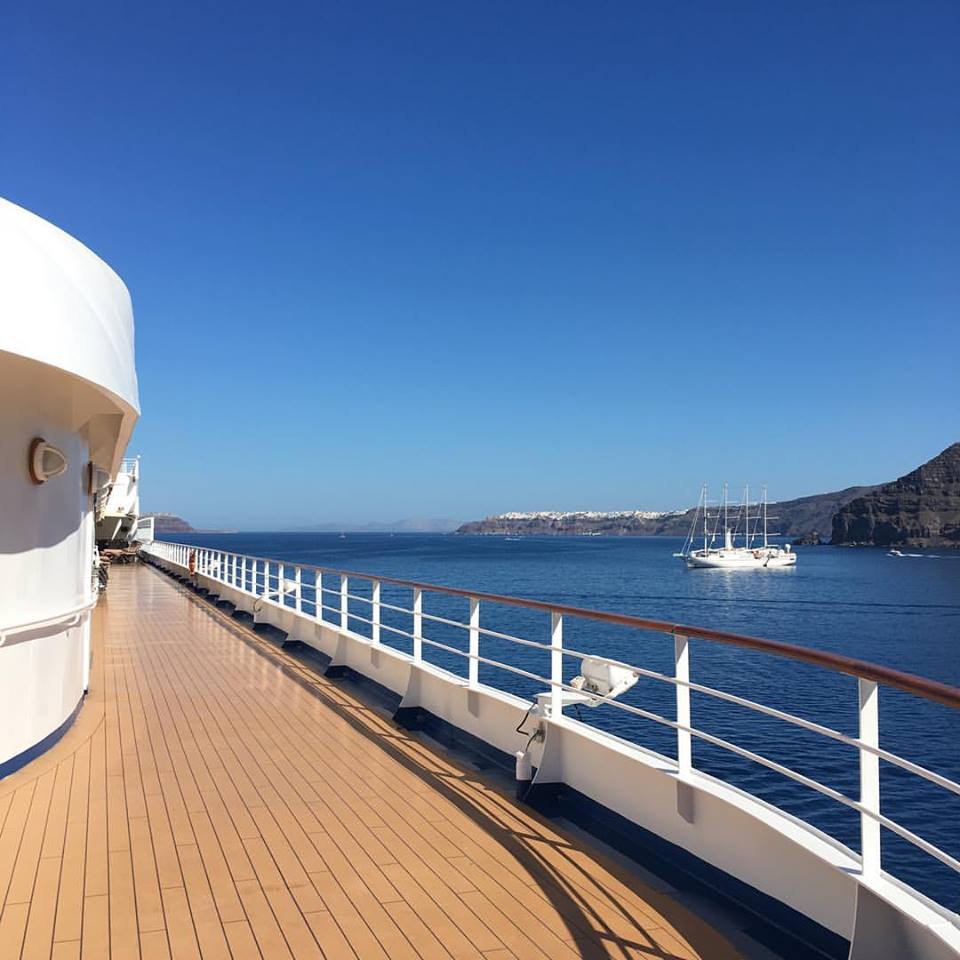 A very thin couple in their sixties, dressed in running kit, were up on the jogging track deck too, gazing at the island. I stopped to talk to them. He was Swiss, she was Dutch, and they wanted to run up the mountain. This mountain: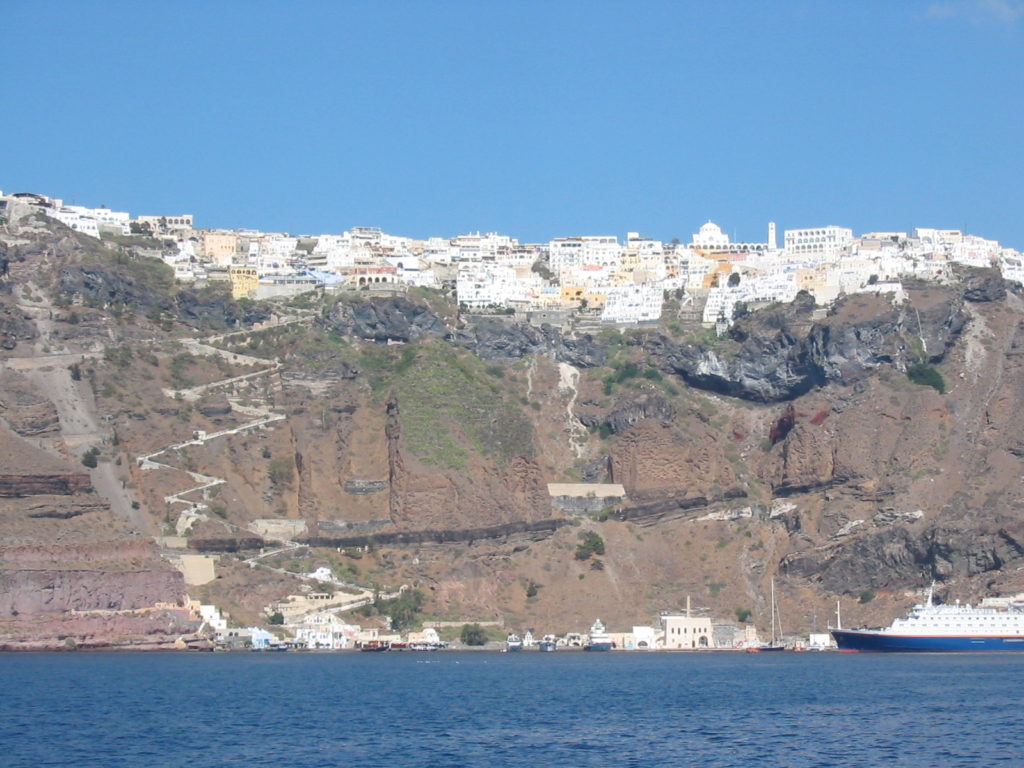 Even I wasn't planning to do that. "It's ridiculous," the man said. "They give priority to fat people on tours, and fit people can't do anything." He was going to go anyway, once the tenders started. I didn't see them again, so I hope they weren't vaporized by the heat.
I also swam a lot, and did a few of the yoga and Pilates classes on the ship. They were held here, which is probably the nicest yoga studio I've ever done a class in: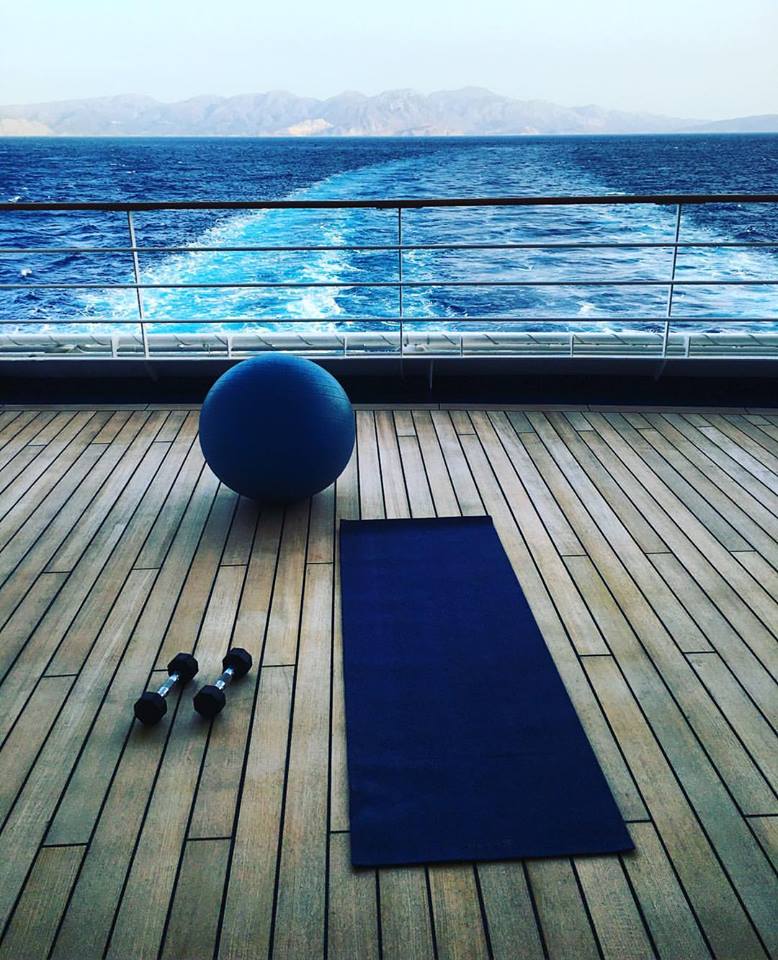 But of course, this was a luxury cruise. Even if I ate lots of salads and fresh food, and even if we drove around beautiful Greek islands and stopped in village tavernas and ate wonderful feta and salad and bread and amazing olive oil, I also drank wine and ate all the desserts. There was a lot of this: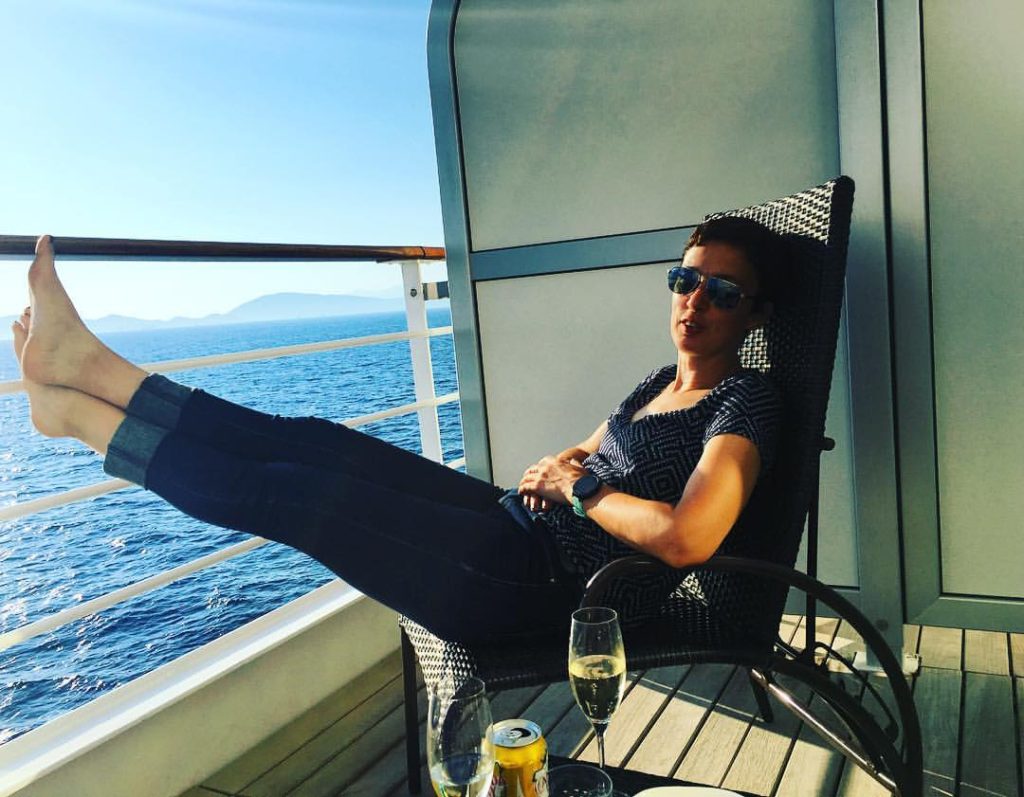 I got back on Tuesday, and on Wednesday did the Beamsley Beacon fell race. It's a straight up and down, or supposed to be, departing from Addingham near Ilkley. I didn't feel like I was in great form, not least as I'd forgotten to take my anti-depressants for a couple of days, and my mood was pretty fragile. But I went anyway, and we paid £5 for entry, in the race HQ (the pool room in a pub). The start was a milling in the street outside, we were going up, up and up, and then down. The route up would be clear, but the route back was self-navigated. Note that part.
There were 120 or so runners, and as soon as we set off, I thought, oh, this is going to be very hard. I'm going to be in the last dozen, and the way my legs felt, I could easily be in the back half of that dozen. It was a beautiful evening, but my legs felt leaden and slow. I walked half of the uphill, which I'd never have done at Three Peaks fitness. I wasn't enjoying it, and for the first couple of miles seriously considered a DNF. But my pride stopped me: I've never done a DNF and wasn't it better to run and come last rather than DNF?
I reached the top, touched the trig point, and set off after the man in front of me. I had no idea of the route down, just that I shouldn't go back down the way I came, as that was longer. "You'll have people to follow," said FRB, because he didn't realise how much fitness I'd lost, and how far back I would be. In fact, I could only see the one man in front, and put blind faith in him knowing the route. Mistake. After a while, we found ourselves running through a field at the bottom of someone's garden. It was more of an estate, and the house was stunning, as I told the owner when he came out and told us, kindly, that we'd gone wrong and that we needed to go through the farm. So, reverse and through the farm. By this time a woman I'd been running behind and then in front of and then behind again, who ran with a really odd shuffle which was a lot faster than it looked, had joined me. So she was there when a blond woman came out of a driveway and started yelling at us. Really yelling. She was almost spitting with fury. This is what she said:
YOU BLOODY RUNNERS. LAST YEAR YOU SCARED MY COWS AND THEY WERE IN CALF AND ONE OF THEM LOST A CALF AND THE RACE ORGANIZER SAID THERE WAS NO MONEY AND NO INSURANCE. YOU DO THIS EVERY YEAR, YOU COME THROUGH HERE AND DISTURB THEM. BLOODY RUNNERS. HOW DARE YOU, WHO DO YOU THINK YOU ARE, YOU HAVE NO IDEA OF THE DAMAGE YOU CAUSE, YOU'RE A DISGRACE etc
I was so shocked I didn't know what to say. The shuffling woman said, in broad Yorkshire, "I'm so sorry, oh that's terrible, I'm very sorry," to which the farmer replied:
YOU'RE SORRY? WHAT GOOD DOES THAT DO ME? EVERY YEAR WE HAVE THIS AND EVERY YEAR YOU BLOODY RUNNERS. IT'S ALL VERY WELL BEING SORRY BUT WHAT ARE YOU GOING TO DO?
Etc. I was trying to be calm with her too, as she obviously had legitimate grounds to be angry, if the race organizer hadn't compensated her for the lost calf. But she just kept yelling and finally I lost my temper too, said, "What can we do about it?" then "take a bloody chill pill" (I wasn't feeling articulate by that point) and ran off in dudgeon, then had to look stupid because I'd gone wrong again and had to run back to face her again. Finally we found the right route, and I realised I'd lost about six places, and was last. I couldn't do much about that, as by being last I had to close all the gates, which lost me more time. I was upset – being yelled at had really thrown me – and weepy, and then we had to run through an extremely narrow, overgrown snicket, where you couldn't see your feet. I hated it. That's how I knew something was wrong with my hormones, because normally I'd have loved it.
Finally at one gate, the man I'd followed down mistakenly (who apologised for going wrong), offered to close the gate instead, and didn't catch me up. With a better level of fitness, I'd have taken a couple of places, but I had no energy, I hated the race and wanted it to be over. It was, eventually, and I was second last, and I was furious and almost crying, so I headed straight for the pub toilets, then went to the car, hoping not to see anyone. But FRB followed me – he had seen my face as I ran to the finish and was worried – and tried to talk to me, before he understood that what I needed was to sit in the car and cry. So I did, and I calmed down, then joined people for the prize-giving, at which I learned that Joe Baxter of Pudsey and Bramley had been winning by a good margin, before he went colossally wrong too, and came fifth or sixth. The Beacon gets us all.
I didn't much feel like running after that. Both the experience of running the race, and the fact that I hadn't enjoyed it, were a shock. But on the Saturday I made myself get up and do Parkrun. I didn't take a watch, and I just ran, and enjoyed it, and did a decent time (25:55). And on Sunday FRB and I went up to the moors around Ilkley and ran 12 miles through heather and past rocks and past runners racing the Bradford Millennium Way, and I wasn't fast, but I loved running again. Now, back to training.