ADMISSION: I have started, worked on and failed to finish the post below about a dozen times. I've sort of lost my mojo, both for running and for running writing. It may be because I'm stressed about my book, or because I have put on weight and can't shift it (not least because I keep eating all the cake), because I still get days of depression though it's much better than it was; because I feel I'm getting slower; because I realise I loathe road running and don't find the time to get off-road. It may be that I did legitimately have to stop running when I fell four times in two days (twice on a recce, twice on a fell race the next day that I didn't have to do, while overtaking when I didn't have to, but it was too tempting). My leg got infected, and I was off for a week: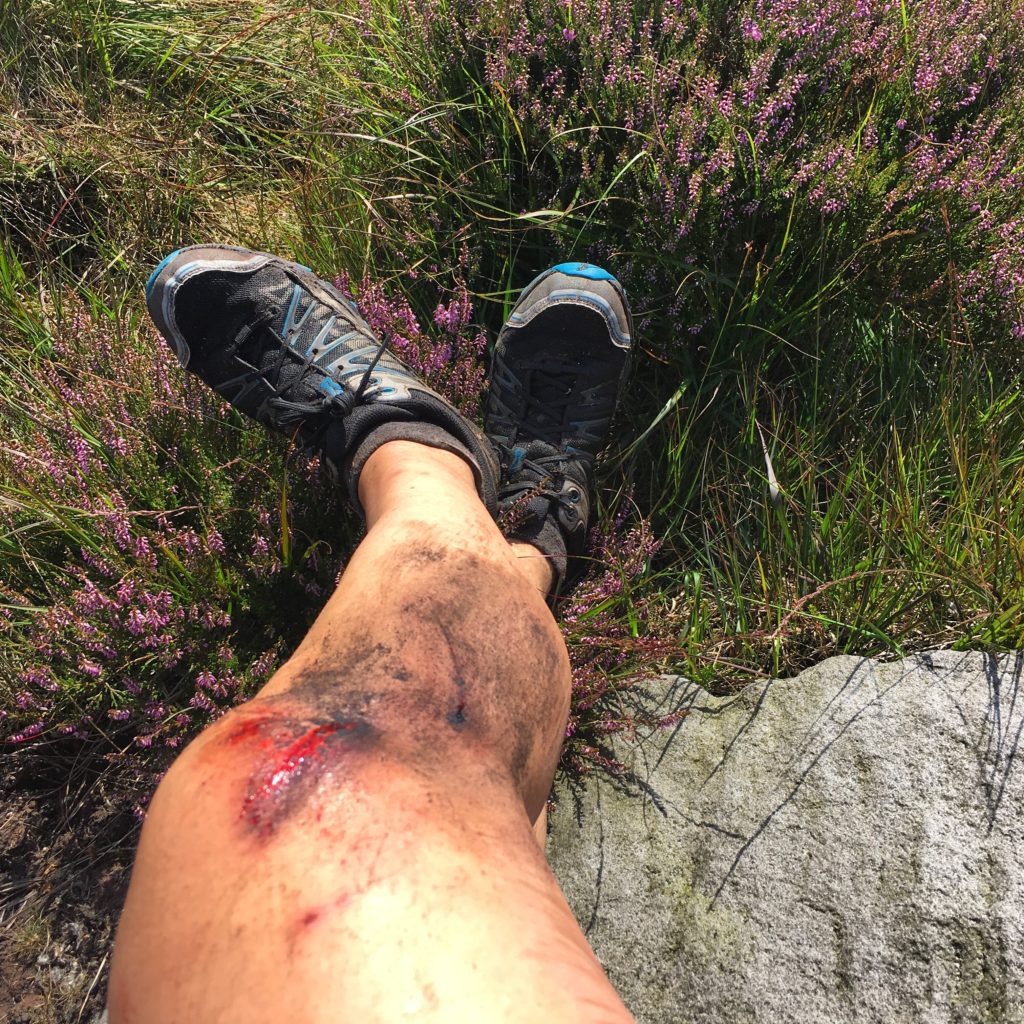 But then again: I have done many recces for the Yorkshireman marathon (this Sunday!) with FRB and with my marathon partner Sara (we're running as a pair). Here is half of us totally lost on Warley moor: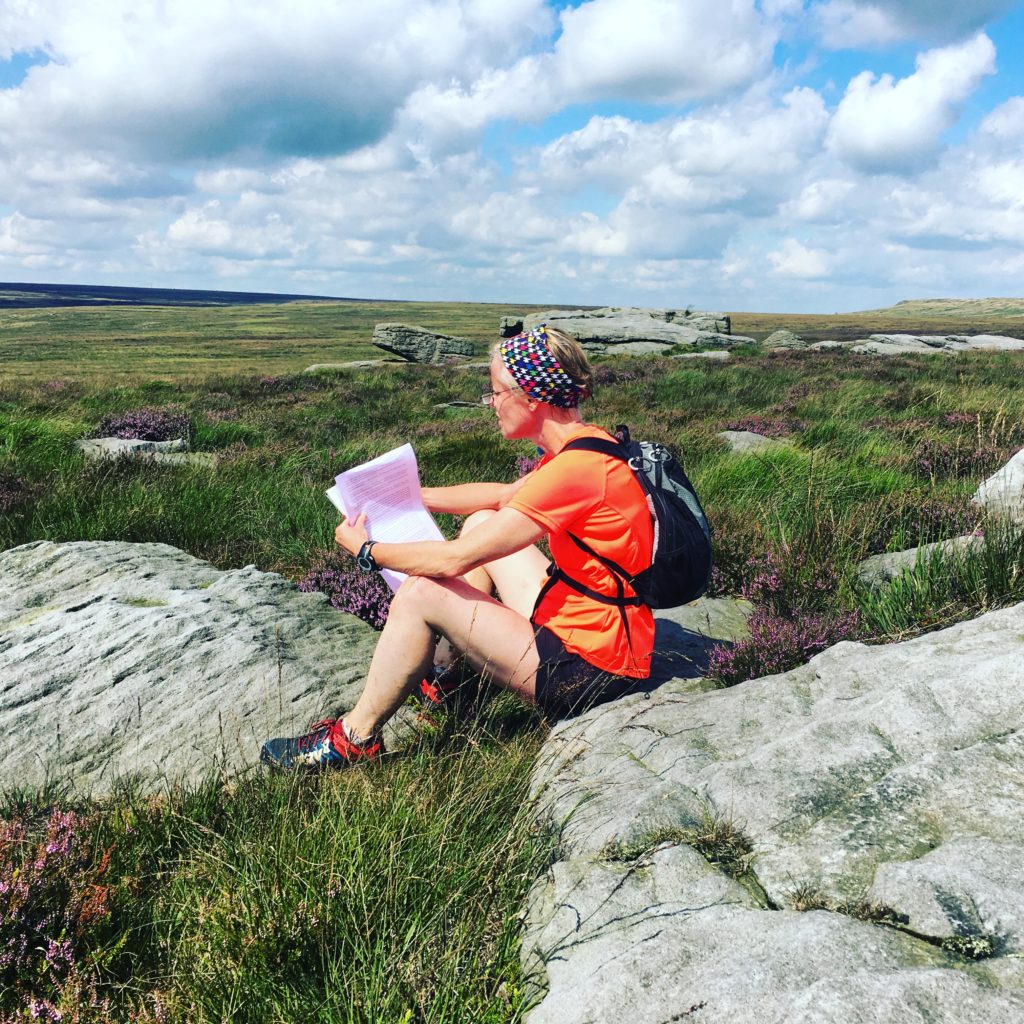 I have run in the evenings over moors in gorgeous sunshine and it was so beautiful I had to stop and gaze and gaze more, even though FRB was cantering off into the distance and I was supposed to keep up. I have made new friends: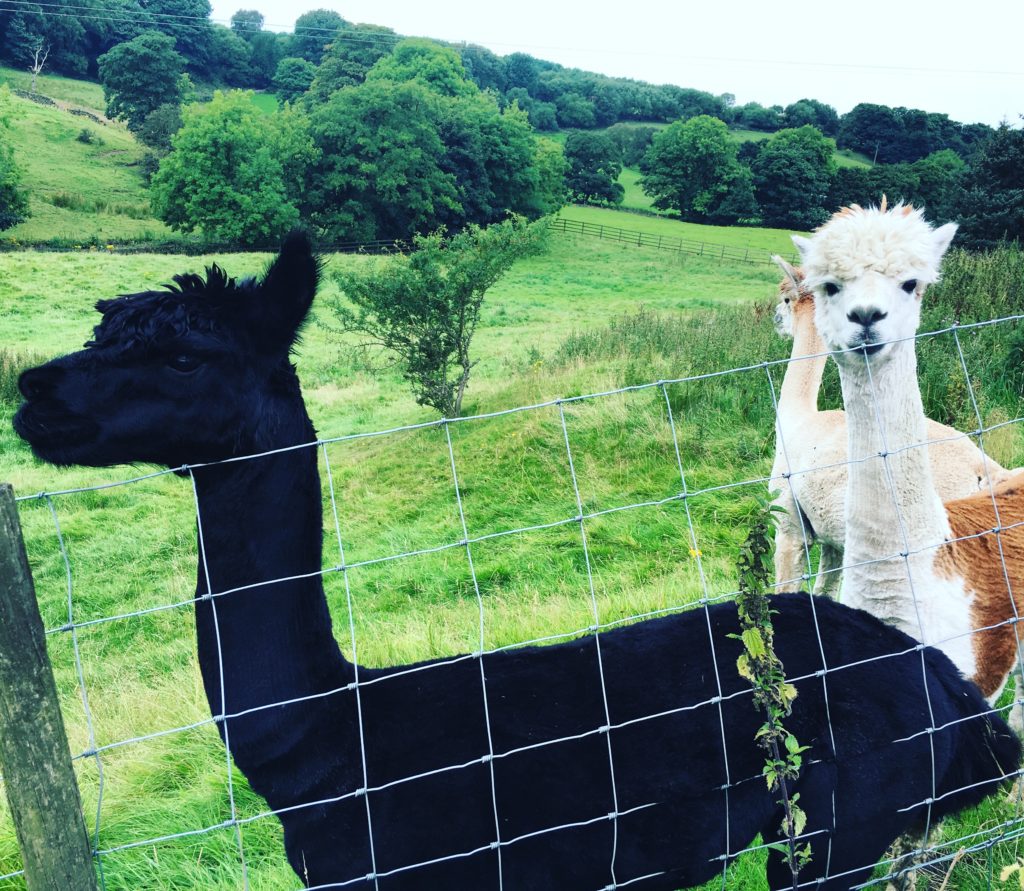 And I have learned to work it while in fell shoes: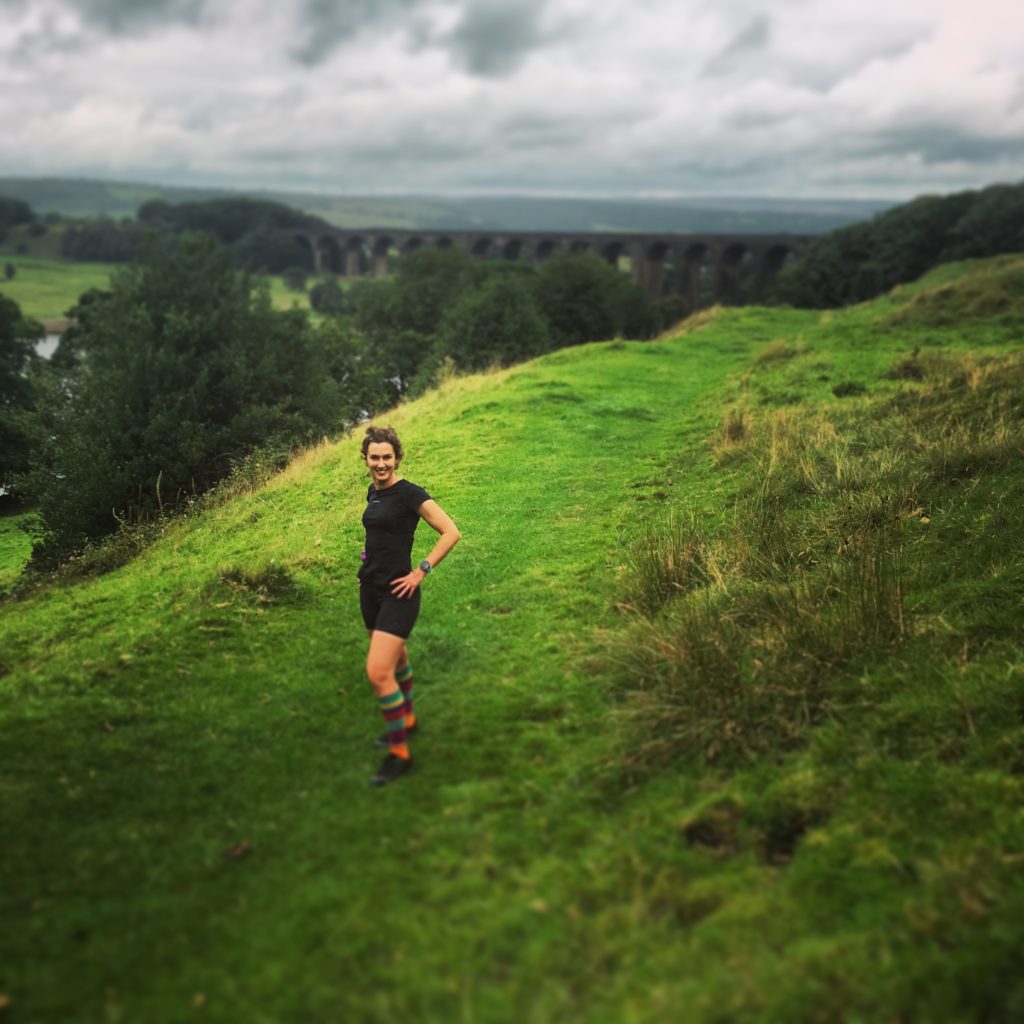 I have done hill reps that I was supposed to do, and some training runs that I was supposed to do. I have run around Harewood in the rain and loved it, and though I felt heavy and slow, still stopped at the horrible hill and run up and down it three times though that wasn't in my plan. But I don't feel ready for Sunday, even while I'm looking forward to it. I wish I could be the person who adhered completely to her training plan, but I was only ever that person in the months before the London marathon. I don't know why I don't adhere to my training plan. I just know that recently there have been spells of two or three days where I have done no exercise, even though I know it not exercising makes me feel dreadful. Yet still I haven't done it.
Probably I'm being too harsh. Probably I've done more than it feels like I have. I got up yesterday at 6.30 and ran around Roundhay and listened to the birds waking up and saw the swans snoozing. I did a 17 mile road run around Eccup which was beautiful, though my feet hurt. But it feels like there's something missing, and I hope I will soon get it back. Or is this just Taper Fever?
Anyway, that post.
—
There are differences between fell and road running. Different shoes, with things called "cleats" or "lugs." An inability to leave the house for a run without a waist pack containing at least a waterproof and some jelly-beans because you never know what the skies will bring. A lack of neon, and definitely a lack of headphones. But one of the things that I think distinguishes running outside, off-road, on moors and fells and hills, is laughter.
For example, Turnslack. It's a race on the Dark Side near Rochdale. Steve from Brooks Running UK has always been generous in so many ways, by sending kit and shoes, but also by liking and praising all my fell-running exploits and writing. He's an experienced runner, but not a fell runner. The only fell race he had done was the Carnethy Five, a notoriously tough one up and up and up the Pentlands near Edinburgh. He didn't enjoy it (he says it made him cry). So months and months ago we started to talk about him coming up north (Brooks is based near Brighton) to do a proper fell race. Now, there is hierarchy in fell running like anything else, and us who don't live in the Lakes or belong to the famous Lakeland clubs – Keswick, Ambleside, Borrowdale – might think we do not have "proper" fell races. I went to a talk by Nicky Spinks recently in which she said that the Three Peaks was not a proper fell race because you don't have to navigate. I don't mind that opinion, but in that case I've probably never done a proper fell race. But in my head, a proper fell race is one that has muck and moors and hills and bogs. With juggling of dates and Steve's availability, we decided on Turnslack. Steve thought he could fit in the race with visits to his northern clients, so last Saturday we drove over the M62, past moors I'd always thought I'd love to run on, to a race which was going to enable me to run on them. The HQ was in a church, which was hilarious. We got there so early that FRB and I both had single digit numbers, which reminded me of running the Yorkshire marathon and starting ahead of the Kenyans. Steve arrived shortly afterwards, having driven up from Brighton, and with the intention of driving straight down again after the race (the client visits didn't work out). He looked a bit nervous: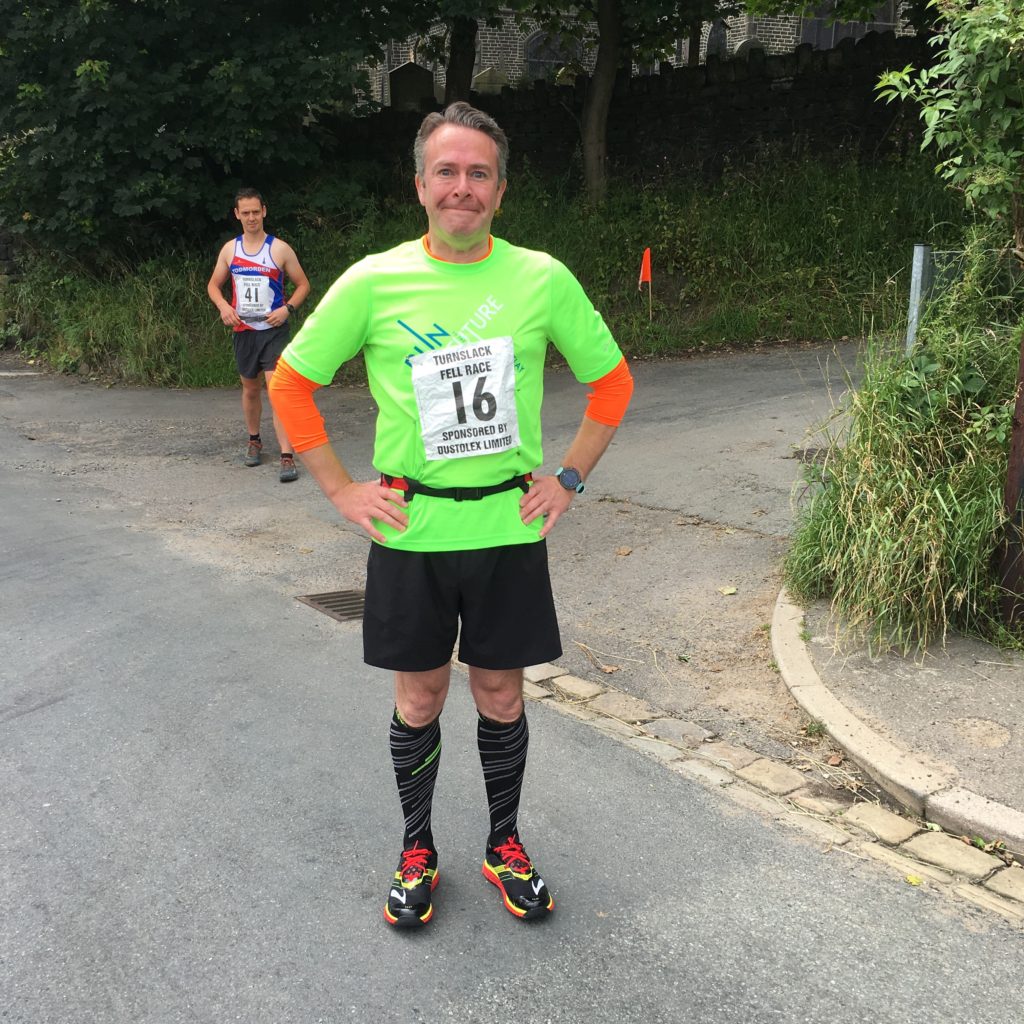 We milled around, as usual, queued for the one toilet (in the church), then gathered in the road opposite the churchyard, which was also the bus route, and the short-cut into town. So setting off took a while, as it consisted of the race director starting to speak, then everyone moving to the sides of the road as yet another car arrived. Finally, the race director – who hadn't invested in a megaphone – said something like "oh sod it, off you go," and off we went. Steve was wearing Pure Grits, which are great, but I wasn't sure they would have sufficient grip for bogs and slippery grass. But the first few miles were on track, I think (FRB will probably correct me. In fact read his account here for more clarity than I will provide). It seemed to be a long slog upwards. Steve and I ran together then he pulled away and I could see his bright neon t-shirt in the distance, a disturbingly long way off. I knew I'd try to catch him up later though: my shoes were grippier than his so I might have an advantage on the descents, if they ever bloody turned up. This race was all up, up, up. Even so, I felt OK, and it was a beautiful day and the scenery was a delight. I stopped now and then to take pictures, including of Steve looking a wee bit happier: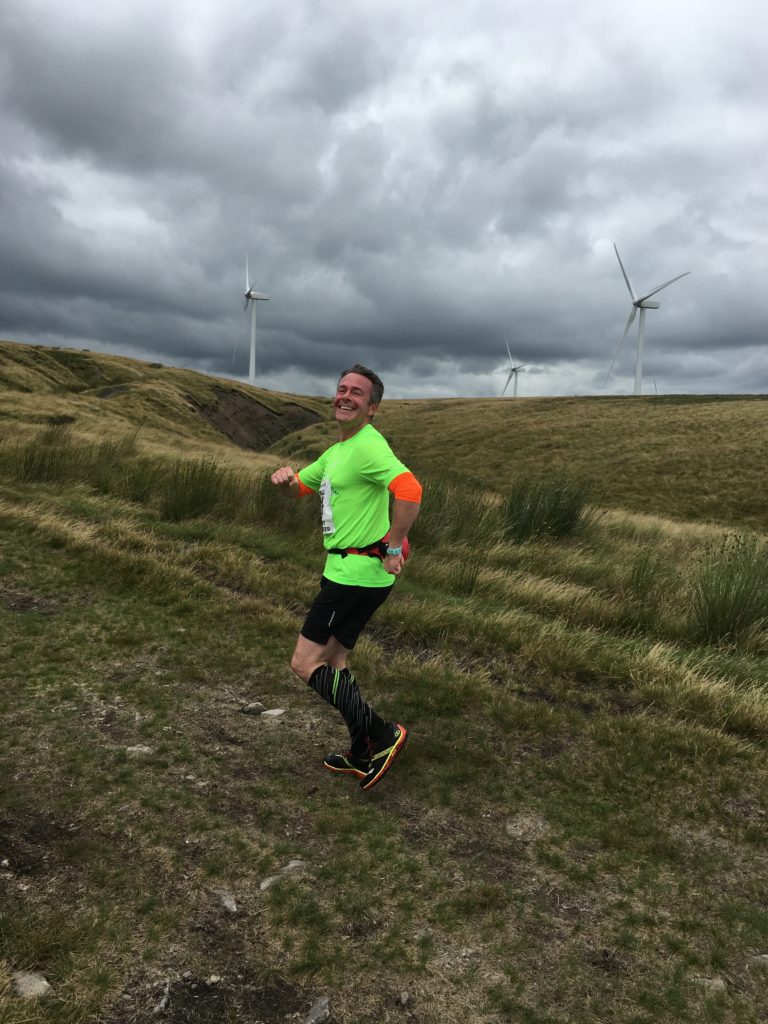 Finally there was a descent, then a climb, then another descent. And I caught Steve up. My cleats were bigger than his. But also, descending is something you get better at, which is probably not expected. Everyone can run downhill, right? It's running uphill that is the hard bit. Not really. Many people who run downhill do so with the brakes on. They lock their knees, consciously or unconsciously, because they are scared of falling over. I'm not the best downhiller either but my one advantage is that I love it. It is a joyful thing to do, a reversion to the unfettered, unbothered enjoyment of being a child and outside (without Pokemon Go). And if I fall, and if anyone falls while running downhill, or going through bogs, there is usually laughter (as long as injuries aren't too serious). I have fallen and bounced up, laughing. I have fallen and not bounced up, but still been laughing. I have been helped out of bogs and picked up, all with kindness and a grin. It's why, though I don't think I'm a proper fell runner (I haven't been doing it long enough), there's nowhere else I want to run, now. You don't get many giggles in road races.
But, Turnslack. I overtook Steve and he didn't catch me. I probably fell over again. I didn't actually know how long the race was (or rather, I'd forgotten), so when, suddenly I landed on a road, and I could see a spire, I thought there must be another two mile loop to do. But no: down the road, turn the corner, along the road, take a sharp right, and up the lych gate entrance into the churchyard. It's probably the only race in the world where you get to finish your race tracing the route of a corpse. (Lych-gates are where funerals pass through.)
Steve finished soon after, and pretended he'd enjoyed it. Maybe that's because he knew that inside the church doorway there was splendid cake served by cheery women, and excellent tea. There was also a prize-giving ceremony with a wide variety of prizes, including bathroom scales. Which made me laugh, just like fell running makes me laugh, with joy. And there isn't enough of that about.