A year ago, I was with my friends at my friend Louise's funeral. I've written about Lou a lot: here is one link. She died too soon, but she died with grace and dignity, while achieving an immense amount in her last few months of life.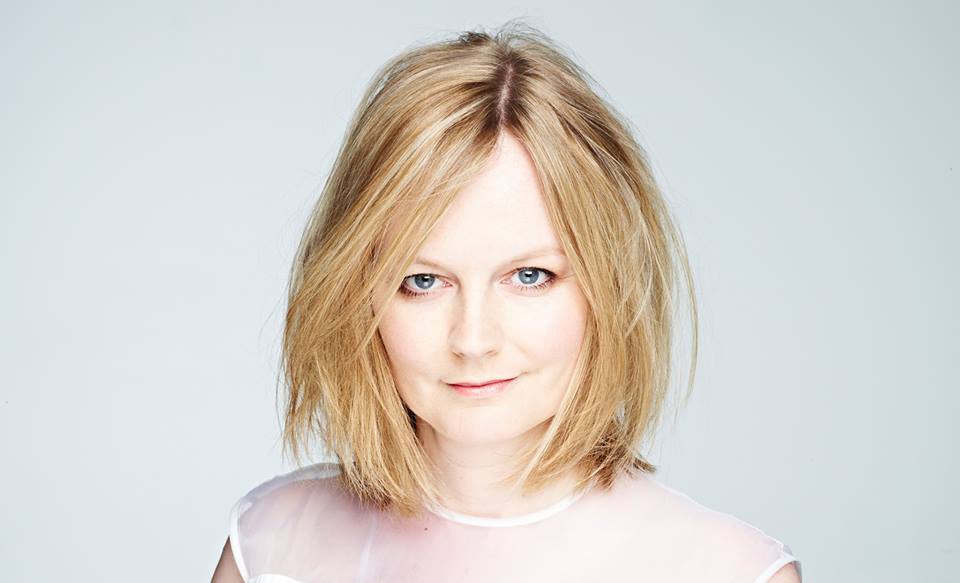 I think it was at her wake in a lovely bar in Edinburgh that someone suggested we get a team together to raise money a year later for one of her chosen charities, the Skeletal Cancer Action Trust. My friends seem to think it was me.
Elliot: It was definitely you. It was when you were at your most evangelical about running.
Me: You mean I'm less evangelical now?
Elliot: Oh. No.
Me: It's just that with you, it worked so you don't notice it any more.
Elliot: Oh. Yes.
Al, Lou's husband, thought it was a great idea, even though he is an obsessive cyclist and hated running (as did his knackered knee). Over the last year, we have gathered 30 people to run together as TEAMLou. Some of them knew Louise, some of them didn't. Probably hardly any had heard of SCAT, a small charity run out of the Royal National Orthopaedic Hospital where Louise had excellent treatment for her bone cancer. But that didn't matter. It didn't matter that seemingly everyone is running for charity these days, to the point that some people refuse to give money to races. That's OK. But anyway TEAMLou kept growing and growing. People who knew Lou, people who knew of Lou, people who read about Lou, people who loved Lou, people who loved Al. A marvellous bunch of kind people who were prepared to run or to learn to run to raise money for Louise. What a lot of mensches. The wonderful designer Mikey designed us a vest.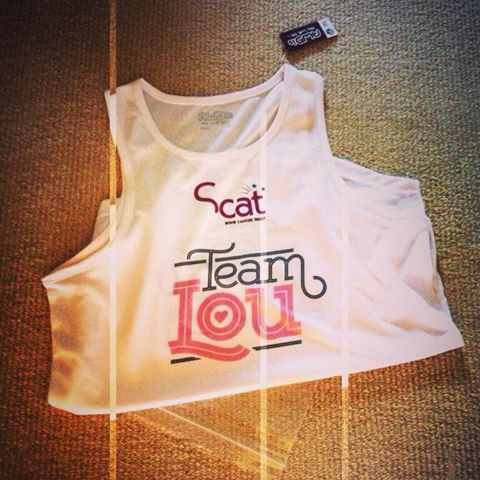 We set up a fundraising site. There were some drop-outs along the way, from injury or other reasons. But by last weekend, we had 30 people running: 26 or so in Edinburgh, four in Cornwall doing a solidarity run. Most of the Edinburgh runners were doing the half; one did the marathon; and five ran the marathon relay (with David Amers accompanying Anna on her relay leg). Al had had increasing problems with his knee and I suspect dosed himself on painkillers before running, but he still did his relay leg with distinction.
The night before, Elliot came round to Al's beautiful flat (so beautiful that it always makes me want to get home and clean up) and we compared our race numbers. Nat looked at his number, which was 330. Mine was 33,500 or something. She said, "why is your number so small? And why does it say 'marathon' and not 'half marathon'?" Elliot's face went white. I mean, he's northern so he's pale, but this was translucent. He had signed up for the marathon by mistake. But when he did that, he put in his predicted half-marathon time of 2:05, so he'd been given an elite number. If Nat hadn't noticed, he'd have found himself standing next to a bunch of Kenyans, with a predicted finish time only two minutes slower than the world marathon record.
I'm still laughing, several days later, though there are questions to be asked about race organizers who blithely accepted an unknown runner presenting with a world marathon record time without doing any investigation. But Elliot was in a panic. He'd done the Paris marathon but hadn't had much time to train since and certainly wasn't ready for a marathon. I think I'd have probably tried to do it, but luckily Al had signed up for the half before his knee failed him and he'd switched to the marathon, so he gave Elliot his bib – with a more reasonable 33,000-ish number – and we assumed that a race management team that didn't notice a mysterious brand-new elite athlete from Macclesfield would not be especially bothered about two Als running in separate events.
I hadn't got nervous about the race, and managed to get some sleep for a change. But in the morning my guts told me that I was actually more anxious than I thought. I ate toast and marmalade, drank a disgusting beetroot shot, and left the house at 6:45 to walk up to Regent Road where the TEAMLou half-marathoners were meeting for a group photo. I'd met some of them before, but most were names in emails. Mike, in the red cap, had emailed me to ask if I'd like to run with him. I wrote back to say that I wanted to try to run fast so maybe it wasn't a good idea, before I remembered that Mike was a seriously fast fell and ultra runner, the kind of man who runs up Ben Nevis, and gets to the top and down again. I sent a very embarrassed apology and accepted his offer with profound gratitude. I'd never had a pacer before, and Mike had never been a pacer, but he wanted to try. Also, he had a calf strain that had been a problem for a month so didn't want to go full-pelt. He reasoned that the next best thing he could do would be to get someone else to a PB, and that that was me. He'd emailed me a pacer band for a 1:45 time.
1:45! Eight minute miles! Oh my god.
I said, thank you, and wondered how to replace my blood with laser juice or something. Anyway we lined up for our team photo: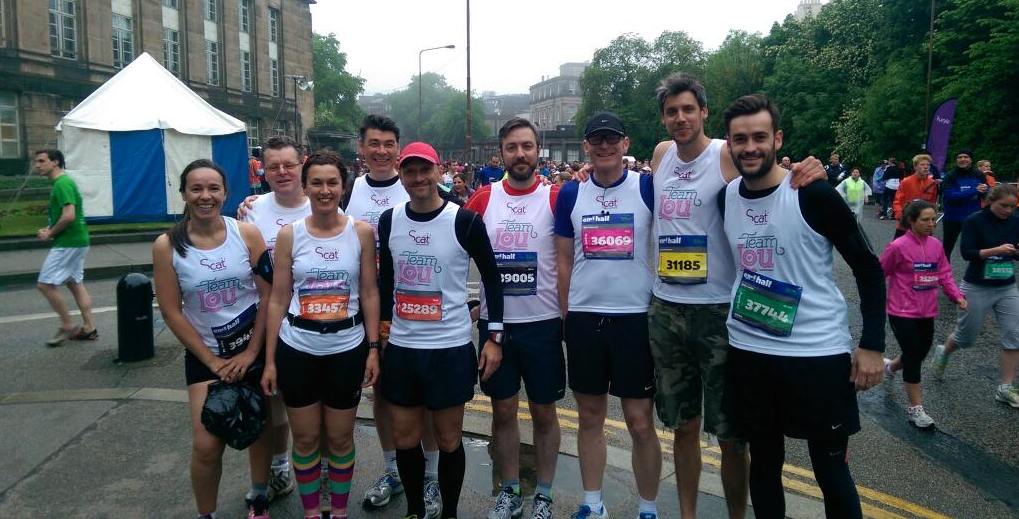 and headed to the start. I was supposed to be in the orange pen, but we ended up standing way way back in the blue one. I think we were so distracted by the godawful weather that we didn't push our way down to the front where the orange pen was, but I wish we had. The weather was vile. The forecast had been thunderstorms, but on the walk up to the start it had been cool and not raining. Perfect running weather. I decided in May that I'd run races in vests only from now on. No undershirts or extra layers. I slightly regretted that as the goosebumps appeared and the rain started coming sideways, accompanied by freezing gusts of wind. Mike said, that's Arthur's Seat over there, and I looked at a bank of dense fog and said, "oh?" It didn't help that for no apparent reason that start was delayed by 10 minutes. So there were thousands of very cold runners. Some of them kept their waterproofs on, which I bet they regretted later. Plenty were wearing bin-bags. I'd forgotten to bring an old and unloved sweatshirt so I got colder and colder. I just wanted to run to warm up.
Finally at about 8:15 we started. With a shuffle not a bang. The first three miles were very crowded, and the next 10.1 miles were only slightly less crowded. We spent 13.1 miles overtaking and weaving. My pace started at 8:17 miles and hardly varied the whole way round. It was such a treat running with Mike: he had the easy gait of a seriously good runner, and it was encouraging to follow him. He never went off too fast except in the last two miles, when he was trying to get me to speed up. The route went down a hill – such a big descent that it doesn't qualify for eg. the Boston marathon as an official event – past Holyrood, through Leith and then to Portobello and Musselburgh along the seafront. It's flat and nice. The rain stopped after a few miles, I warmed up, and although I can't really remember the sights, I don't remember being bored. There weren't many supporters, probably because of the cold, but there were enough. I missed the music and relentless good cheer of London, but I had enough to concentrate on in keeping up with Mike.
I decided to follow my London marathon nutrition and hydration regime, as it had worked, and only began to drink and eat at 6 miles. I'd brought gels, but Mike offered me his, and offered to prepare them for me too. What luxury! No fumbling around with my bum-bag. He asked whether I wanted a gel with or without caffeine. I thought about it. You're not supposed to try any new food or drink in a race, and I remember Shamiso from my club trying out some gels that another club-runner offered her at the Manchester marathon, and vomiting all the way round. It's a good cautionary tale, but I wanted the caffeine, so Mike opened a gel and handed it over and I felt like I could get used to having a coach run with me. I need to get rich or extremely fast and hire one. I didn't vomit up the caffeine gel, and my 10K time was about 49 minutes, which for me is great and which put me on track for a sub 1:50 at least. I think by then Mike realised that I wouldn't make 1:45 and that my legs were stuck in an 8:17-20 pace. Which I thought was brilliant, considering my marathon pace was a minute slower than that.
We ran past a couple of TEAMLou runners: first Claudia, then Tom. We ran past a woman wearing these extraordinary tights: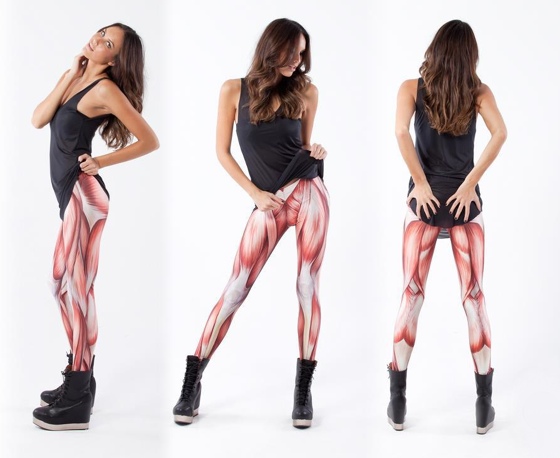 And another one wearing these: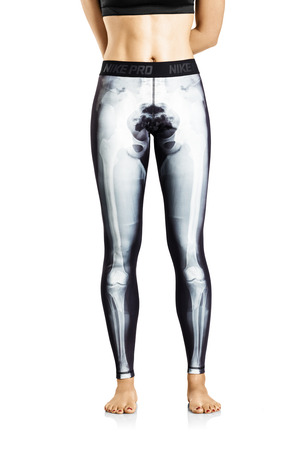 And I really wanted to see what the front view was, but I didn't want to turn around in case I lost my balance, so now I know.
By now we were in Musselburgh and we got to the hardest bit. I'd broken my gel every-three-miles rule because I felt like I was flagging, but in fact I wasn't which proves yet again that I am terrible at interpreting my pace. Mike made a minimal effort and sprinted ahead to take a series of pictures of his charge, which I hope he doesn't mind me posting: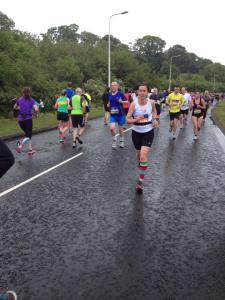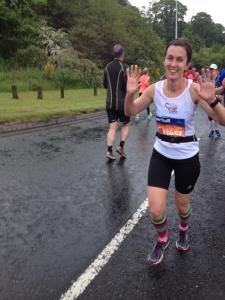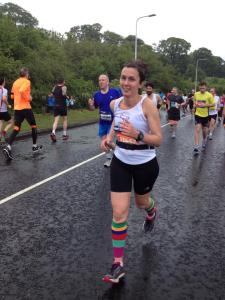 And then it was the final four miles. These were the worst, because they consist of a hairpin: all the way up beyond Musselburgh racecourse, then back the same way, so that you are running into a sea of people who have run two miles further than you. It is never not a wee bit demoralizing. Mike kept saying, the turn is coming up, I'm sure the turn is coming up. After two miles of that, I said, you've been saying that for two miles, and he said, "mind games!" After the turn did finally come up, he said, right, let's pick up the pace for the last two miles.
WHAT???
And he sprinted ahead, and I tried to keep up and sometimes I did better than other times. He only had to stop once, and when he did I felt so ashamed, I did speed my legs up a bit. I almost did a negative split but not quite (for non-geek runners, a negative split is when you run the second half faster than the first), but I definitely didn't slow and when I read Mike's account of the race, which is here, I realised his tactic was to stop me slowing down rather than get me to speed up. And it worked.
By the time I got to the final half mile I was very tired and visualising this video of Louise walking up a hill with a new prosthetic leg. I don't usually think that visualising works: I just get my head down and run. But I really think that did. Thanks, Lou. But it meant that at the finish line I wasn't looking out for anyone, I was fully concentrating on keeping my legs and head going. I seem to remember, after 12.5 miles, thinking, "I'll just stop here." But I didn't.
I got over the line in 1:49:44, and nearly threw up. After I stopped nearly throwing up I was delighted. Really delighted. I'm certain I wouldn't have got under 1:50 without Mike, though I think I would have beaten my PB of 1:55. But it was really great running with him. Thanks, coach.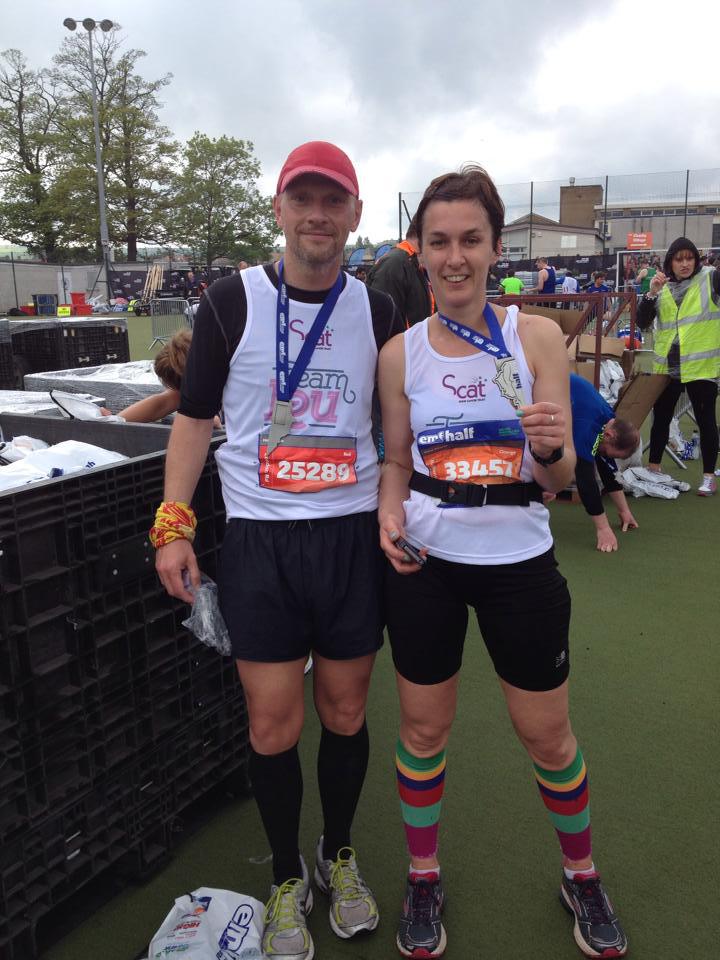 I needed a toilet and warm clothes fast, but neither were immediately available. So I got my t-shirt, and found that for once it was a good, technical t-shirt, and with XS sizes (unlike London marathon's crap cotton huge pillow-case of a finisher's t-shirt). Mike and I had our picture taken, went for our bags, and promptly lost each other. Nat managed to find me: she'd come to the finish line but not seen me, again (I missed her twice at London, so now we were quits). My friend Norrie also came to the finish line but I didn't see him either.
After I'd given up trying to spot Mike, Nat bought me a coffee. There were stalls selling porridge and burgers and beer and once again I watched with astonishment as people drank pints. I never feel like drinking alcohol or even eating immediately after a race. I never want anything for a couple of hours and then am suddenly the hungriest I've ever been, ever.
Instead I changed my shorts, which had suffered from my usual racing problem, and the fact that I hadn't had time to get to the toilets at the start. Changing shorts in a dirty portaloo is fun. There were no phone signals by then as so many people were using the networks, so Nat & I gave up finding Norrie or Mike or anyone else and set off back to the after-party at Al's house, via a packed East Lothian bus. The party was supposed to be a barbecue, and so it was, even with frequent Biblical deluges from the Edinburgh sky. You can't keep a good after-race party down.
Aside from the fact that this was a TEAMLou event, and special, would I run the Edinburgh half again from a race perspective? Probably. Although after London and Edinburgh I'd like to run a race where I don't have to spend the whole duration running around, past, and through people. There were seriously slow people all the way round, which is fine, but when there is never any space and there are always slower runners to overtake, it must mean that the pacing and pen system isn't working as it should. Of course it was my fault for not going ahead to the orange pen but even then I wouldn't have spent any less time overtaking. It adds distance and time and it's tiring. London was 26.8 miles because of the weaving; Edinburgh was about 13.28. I know – as Elliot proved – that it depends on honest self-reporting, but I wish it worked better, though that's only a selfish wish because I'd like a bit more space to move. So it's up to me to find a flat race with hardly any people running it.
But that's just me being a race geek. Much, much more importantly, we have now raised more than £8,000 for SCAT, and that's so wonderful. A huge well done to everyone on TEAMLou, of whom more here: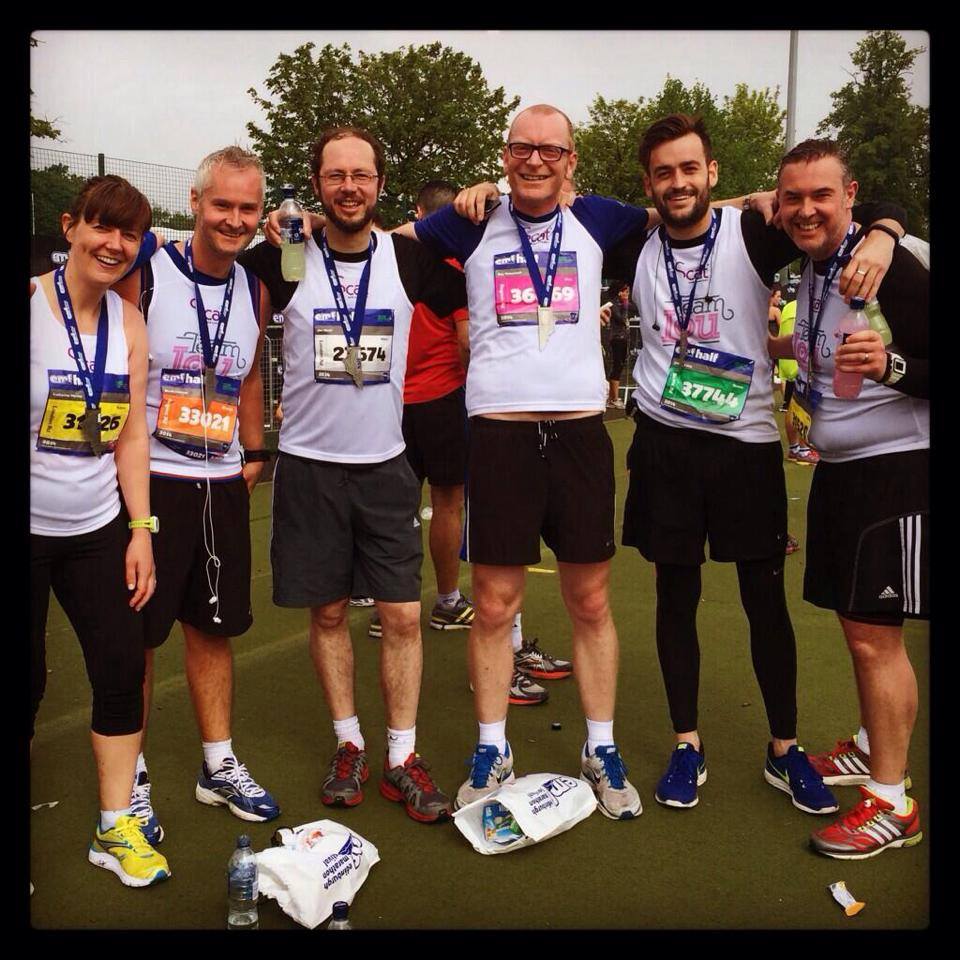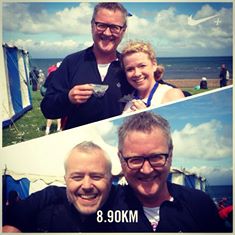 Al, Lou's husband, is bottom left, still with a functioning knee (more or less).
Thanks to everyone who offered to run even if they didn't due to injury, and to our supporters on the day. And thank you to everyone who has donated, no matter how much.
Thank you.
Oh, and the winner of the marathon was David Toniok, with a time of 2:15:33. So Elliot would have won by a country mile.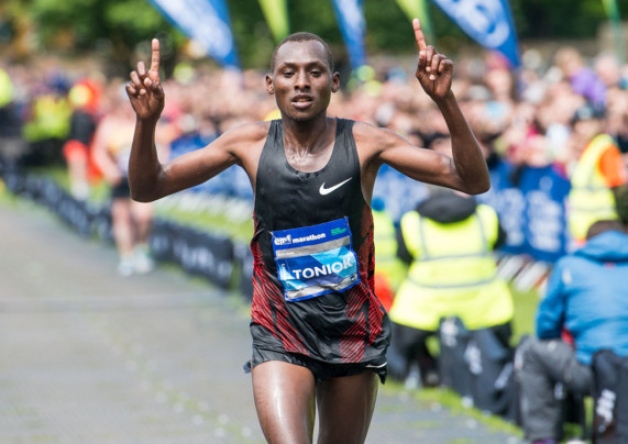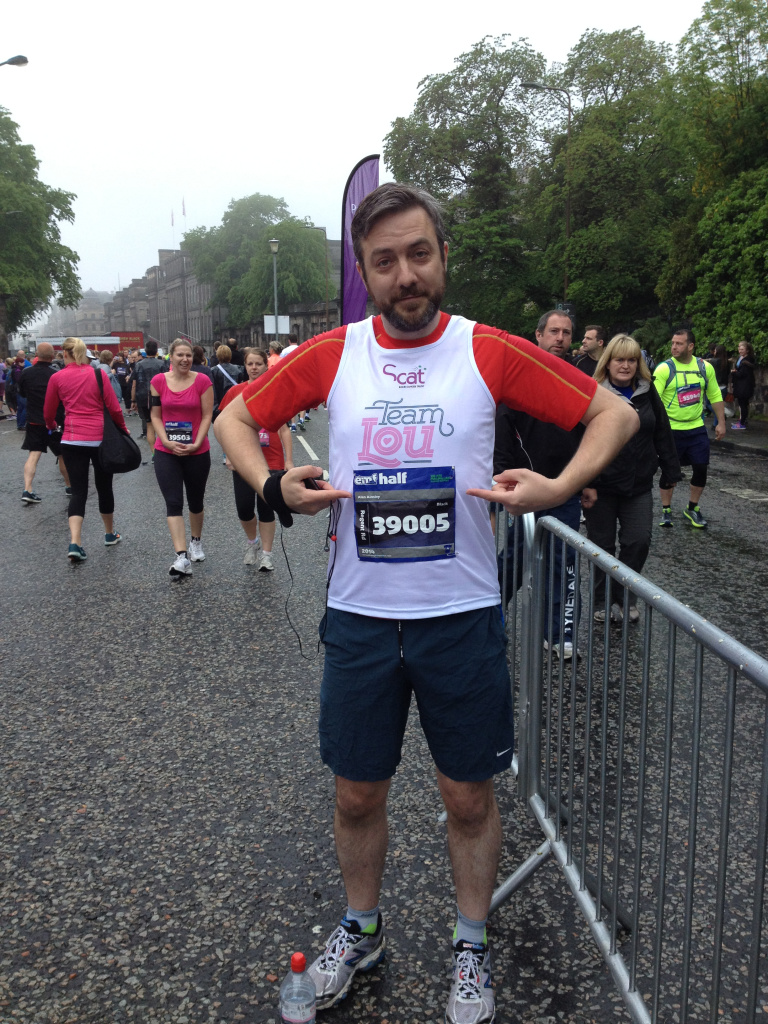 —