This morning I ran nearly five miles through mud and bogs. So, a usual weekend activity for me. And I thought, I'm delighted that this has become a usual weekend activity for me. And I'm delighted that my legs can manage to move, after my 15 mile long run yesterday. The long run was easy, then hard, then endurance. It was lunch-time, but I hadn't eaten lunch. I know I thought I had learned my lesson from my gipping 12 miles, but even so, I wasn't hungry, and I had to go out at lunchtime because I had to be in town by 4.30, and I didn't have time to eat and digest. So I drank a chia, banana and almond milk smoothie, ate a fistful of peanuts, filled my pockets with gel, jelly-babies, hat, gloves, phone, headphones, key and water bottle, told myself that I really should stop being so dim and just run with a bloody backpack, and travelled 200 metres to the Edinburgh Bike Co-op, bought some electrolyte powder, then set off. And although I had not eaten properly, and although – an inevitability to most people who live in Leeds – my first two miles were uphill, I felt fine. It was raining, but only slightly. I wore my bright orange hat to match my bright orange jacket and looked like a Belisha beacon, but one that was moving at a 8.50 minute/mile pace so that was OK.
I'd thought when I planned the route that I would run to Eccup then up to Harewood, around the estate, then back. But I don't know the paths around Harewood too well, and though I've run from Eccup to Harewood with my orienteering club-mate Andrew, I cannot remember or visualise the sneaky path we took to get from one to the other. So I played safe, and ran the same route I did for 14 miles, except I carried on around the reservoir all the way. My legs worked well. The sun came out. And once I'd got round the reservoir, my iPhone died, and thank goodness, because then I could think and see more. And I saw this:
Two cows sticking their muzzles (snouts?) over the fence to say hello, or "FOOD"

Some red kites flying above, hunting

Some birds, and more birds, and more birds

Sheep, grubby from muck, doing nothing much

A couple of lone men, striding, making sure to smile at me in a non-threatening way

At

Eccup

, a young man who lifted his girlfriend over the puddles

Dogs. Many dogs. All of them nice. None of them

runner-baiters
And along the way I thought of a wonderful woman who was my second mother, who died on Friday, on Valentine's Day, and I wished she hadn't, and I wished the world still had her in it, and her warmth and snorting laughter and wit and beauty and sparkle and kindness and grace. So I ran for miles thinking of her and learned that actually you can cry and run. And you can have daft thoughts, when you see a red kite soaring, and think, I hope that's what her spirit is doing somewhere. I hope it is somewhere, soaring.
Halfway round it started to feel hard. I started to realise I was running on empty. I ate gels, I drank electrolytes and I kept going. I changed my route when I realised I would have five miles of headwind, and I ran up and down to Alwoodley, to posh Leeds, where houses are shamelessly grand and good running eye candy. I ran down Roundhay Park Road towards Roundhay Park, a magnificent and lovely place that makes you thank, forcefully, Victorian engineers and landscapers. I didn't go in the park because I didn't want mud and I was so tired by this point, I didn't want to have to think about avoiding pushchairs and walkers. Head up, one foot in front of t'other, one foot in front of t'other. I kept going. I did my little hop when I got to the longest distance I've ever run, 14.2 miles, and I kept on. And that is what I would say to anyone who wonders how to endure. Keep on. One foot, another foot. Keep on.
I got home at ten to 4 and had a wet-wipe wash (runners know what that is), and headed into town and ate with the appetite of a famished person who has run 15 miles on fumes and gel, and came back and slept the sleep of a sated person who has run 15 miles on grit and stubbornness. And 9 hours later, I got up, and I ate toast, and I met my team-mates and we travelled a mile uphill from our clubhouse to race number 4 in the PECO cross-country league series. I love PECOs: you pay £3, you run through mud and afterwards they give you hot food. Nothing has yet compared to a PECO – or it may have been a Yorkshire veterans race – at Pudsey, where we sat after a punishing hill finish, and looked over the valley, and they served us chip butties, and  you could have seconds. What could compare to that?
But that was to come. First I had to run nearly five miles through such mud and bog, sometimes I wondered if my legs were being sucked down to Australia.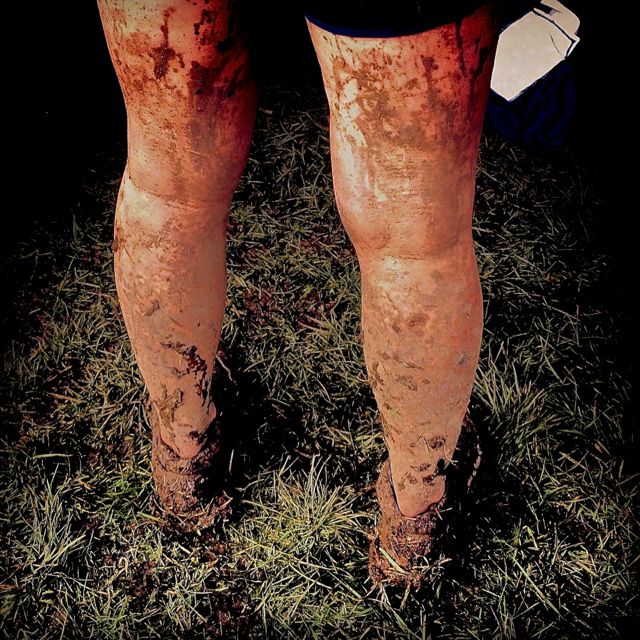 I was overtaken, and I overtook. And I remembered what it is important to remember at cross country races: that the person overtaking you can be 20 years older or fatter but that doesn't matter because they're just better at cross country than you, today, and one day you'll be better than them.
That makes me sound uncompetitive, and I am, mostly. It's why I was better at college hockey and netball than at tennis. I didn't have the competitive individualism you need to be successful at tennis. But actually I am more competitive than I think. Today there was a woman and we pendulum-ed for half the last lap: she overtook me on clearer surfaces, I overtook her in the mud. Back and forth, back and forth. Her then me then her then me. She said, "you run well in mud," and I said, while stopping my legs from being sucked down to the dells and grottos of the lands beneath the mud, "you have to love it. Pretend you're seven years old again." But she didn't pretend hard enough because I beat her (there was a lot of mud). And I beat the other two people I wanted to beat (and to be honest, I wanted to beat one of them because he was about 60 which shows that my noble uncompetitiveness earlier is so much bog and nonsense). Then we came into the final field, and there were cheers, and suddenly a woman started sprinting past me, and although I preferred team sports to tennis, and although I genuinely don't mind being beaten by older runners (except for that one Roundhay Runner today), I thought:
I'm not having that.
I found power in my legs, and they remembered me being a sprinter at school, and I sprinted fast, and my club mates cheered me, louder and louder, and I went faster, and I beat her.
And then – and this is why I love running – we both immediately turned to each other, put an arm around each other and said, "well done." I don't know who she was; she didn't know who I was, but we meant it.
A runner before we started said, "How did I end up at the age of 51 doing this on a Sunday morning?" And that is why.
—
ACTIVITY
SATURDAY
DISTANCE: 15 miles
TIME 2:24:31
SUNDAY
DISTANCE: 4.7 miles (forgot to stop my watch again)
TIME: 50 something (forgot to stop my watch again)