I wasn't supposed to run last night as I'm doing a cross-country at the weekend. But I wanted to exorcise that horrible run. I didn't want to think about miles or timing or splits or pavements. So I went running with my club. The route was one of our duller winter road runs: Kirkstall Road, city centre, Meanwood Road. I wore my socks: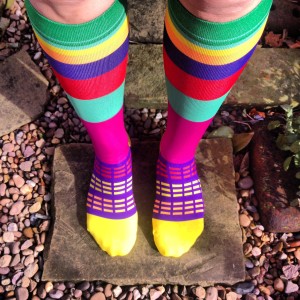 and my club-mates laughed at them and that's the point of them (as well as keeping my legs tight and supposedly more injury-free), and we ran. And I bored poor Niamh with the tale of my horrible run for about two miles, and although she is much faster than me, she sociably kept at my pace and listened to my probably overlong tale of trauma. Then through the city centre, to the bemusement of shoppers and going-homers, so that we run to a faint acoustic trail behind us of "it must be a club" or "why are they all in yellow?"
Etc.
Then dull and boring Meanwood Road, Grove Road, Headingley, & back. I've done the route dozens of times and finally paid enough attention that I could find it on my own. The weather was warm, I ran in a t-shirt, I didn't use my watch. I just enjoyed running with friends on a dark pre-spring evening, and it was great.
It was just, simply, great.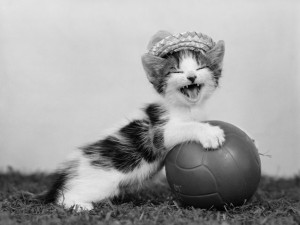 —
ACTIVITY
DISTANCE: 7 MILES
TIME: ABOUT AN HOUR
ENJOYMENT: MUCH IMPROVED