Today was the Saucony National XC, known by runners as the Nationals (along with the Northerns and the Yorkshires), but by the organisers as The National, like a horse-race.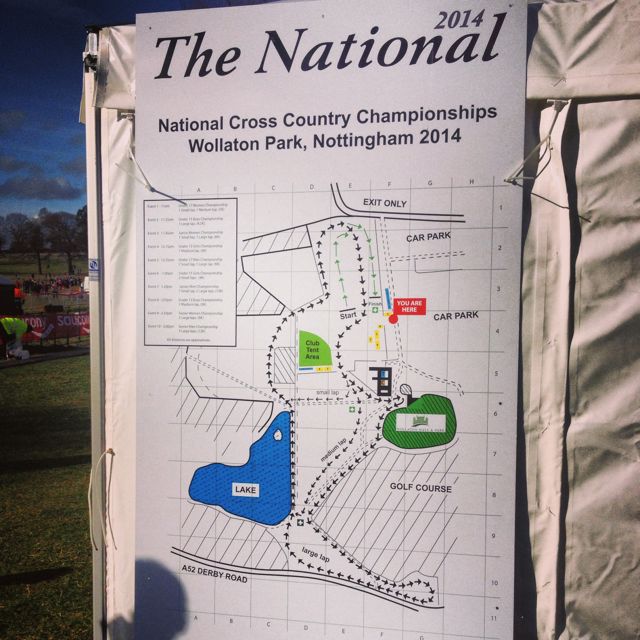 I checked the weather report and thought something must be wrong: the sun was due to shine. The temperature was balmy. That's all wrong for a cross-country. I learned my lesson at the Northerns when I forgot gloves and had to buy a hat, and despite the unusual yellow thing in the sky, I took coat, hoodies, gloves, hot tea. The venue was Wollaton Hall in Nottinghamshire and the usual conveyance was Bal driving the Fun Bus, also known as the minibus she borrows from work and is allowed to do so as long as we don't get one speck of mud in it. We all take bin bags and watch our feet.
I was nervous. I've done plenty of races since I joined Kirkstall Harriers, and I'm less nervous than I was when I ran my first race, the Bradford 10K (a very boring and more boring road race along the road to Shipley and back). I still however stand at the start line of any race and feel like I have no idea how to run, and that running is an impossibility. And then the whistle goes and we go, and I remember. But the Nationals were going to be huge. They expected 7,000 entrants. We got to Wollaton and someone said, this is Wayne Manor. And so it is: some of Dark Knight Rises was filmed here, understandably: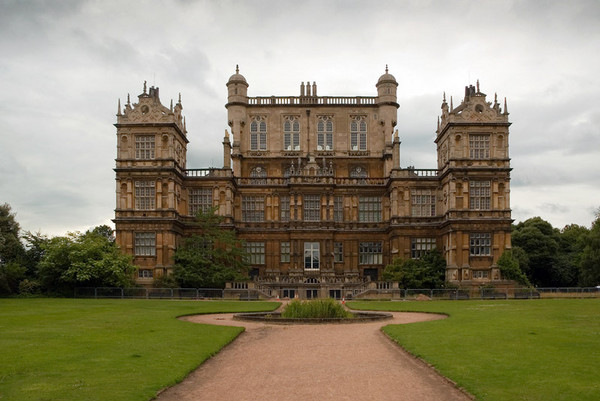 The grass that rolled down from the house was covered with marquees and tents and the feather flags of clubs. It looked like a mediaeval field of battle with Portaloos. We arrived, we put our feather flag next to Leeds City Club, who are very fast and do things like check the terrain and then decide what millimetre length of spikes they need. We faffed, we got our numbers and swore an oath not to mutilate them: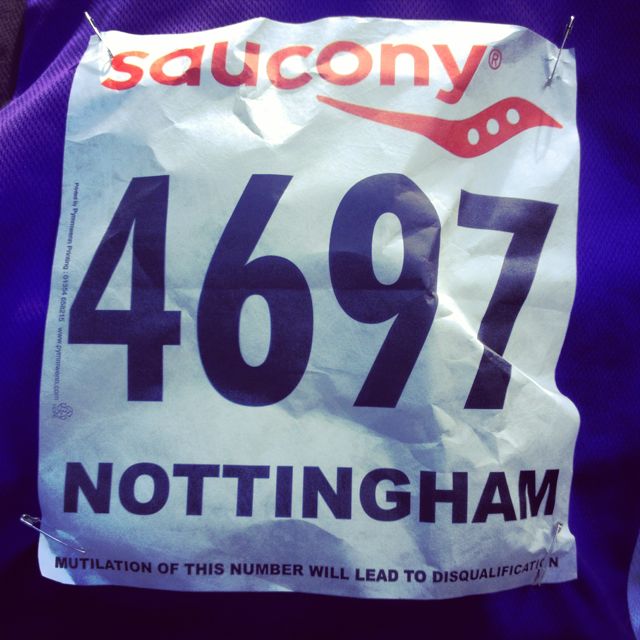 We queued for toilets (they had mirrors! and toilet rolls! and hand sanitiser!). I dragged my club-mates out for a dynamic warm-up, and it really was dragging: I'm going to make dynamic warm-ups popular in my club if I have to die of overdosing on lunges. Then we stripped off and went to wait in the start marquee. At first it looked like a cattle tent, and we were only a few cattle. Then as 780 women arrived to race, it began to sound like a demented aviary with the sound turned up. A mass of women in a confined space is LOUD.
Then out to the "pens", then 10 metres forward to the line, then fingers poised to start hundreds of watches, then off. And suddenly I remembered how to run again. Except it was too fast. The first mile was 6.30 miles and that, for a 5-mile race, would send my lungs running for shelter and claiming asylum somewhere. I slowed down. And I noticed immediately that this was a fast, fast race. The field was very good. I knew that because I'm normally in the middle of races, but here I was in the last third and not even at the start of it. I was overtaken a lot, but I also overtook enough not to give up and start running backwards. The course was extremely nice: only one hill and one tolerable ascent. It was mostly undulating and on green grass, except for one tree they'd laid across the course, and a trench of water, and 200m of mud. It all seemed random. I pictured the race organisers doing a last-minute check of the course and thinking, shit, we'd better stick in some mud and a ditch and oh, let's just lay a whole tree in their path too. I jumped over the tree, and ran straight through the water, and did whatever I could to get through the mud, which was more than ankle-deep. I wanted to keep my shoes. It was the easiest cross-country course I've ever done, though I won't tell England XC that. Anyway next year the Nationals are at Parliament Hill. That is to say, A HILL.
I did alright. I could have been faster, but these were good runners. I was as usual overtaken by women 20 years older than me, and that pleased me as usual. As we got up to the final ascent on our second lap, the men's race started and suddenly every head of every spectator snapped in their direction. Thanks. I finished with a sprint and overtook some nemeses. That's the wrong word: in the ranks where I run, there is no hostility and no elbows out, as I bet there is at the elite end. If you bash someone, you say sorry. There is warmth in adversity amongst the slower.
Still, I sprinted and beat some women I'd been running nearby for a while, and one of them, as I sprinted past her up to the finish line, said "well done!". Now that is why I love my running tribe. I came 547th out of 708. Then we waited for the men to finish, although the sun went in and suddenly we were standing around, with no means of getting back to our bags (as the thoroughfare was over the race course), dressed in shorts and vests in winter. The women's race – 8km – was won by Gemma Steel in 27:42. The men's race, which was 12km, was won by Steven Vernon, who crossed the line with his fists in the air and for a small fraction of time, I thought, that must feel great. I wonder what it's like to win a race. But I will never know, and that's fine. We didn't see Batman but we did see Jonny Brownlee again. He looked happier than he'd done at the Northerns, but still didn't win.
Then we encountered a man with a large chain of silver badges. I said, are you a mayor? No, he said, I'm the president of the English Cross Country Association. So we praised the race, and praised the website, and praised it some more, and then I said, why can't you have drink stations? I was desperately thirsty and couldn't get to my kit and hadn't taken money with me to pay for refreshments. He said, it would be extremely difficult to provide drink stations for 7,000 runners. But the paying refreshment tent managed it, and so does every marathon.
Still, it was sunny and fun and with enough mud to keep me happy. And I was lucky. Last year, there was snow and ice:


One of the men crossed the line shouting "I'M 46!". Good for him. I also love that I am 44 and only started running at 41, and now find running through mud one of my favourite ways to pass my time on earth.
—
ACTIVITY
5 MILES CROSS-COUNTRY
TIME: 43:10