"Do you fancy doing weets?"
"Do I fancy doing what?"
"It's a race. Called Weets. A bit like a mini Tour of Pendle."
Ah. That clinched it. Although I know this is perverse, I'm very fond of Tour of Pendle, maybe because I got a 25 minute minute PB on it last year on my birthday, or because I feel like a steely adventurer, Ernest Shackleton-like, when I remember the year before when I ran much of it through a snow blizzard. Even so, Weets should not have been an option: an hour's drive to run just over five miles slightly skews the miles-mileage scale that I usually operate under. (This translates as: distance travelled vs distance to run. High Cup Nick is the one race that is immune to this scale.) So, up early on Saturday morning and over to The Other Side where the clubs are called Trawden and Barlick and they talk different. The weather forecast predicted heat, but I was chilly in the car and the sky looked overcast, so I was unprepared. I didn't apply suncream and I set off wearing a buff. Idiot. The race HQ was a small marquee in Letcliffe Park outside Barnoldswick (which I've only lately realised is where Barlick gets its name and that Barlick isn't a place. To this, my clubmate Jenny said, "Rose, there are some things you don't admit to.") The park is hidden off Manchester Road so that even when your sat nav tells you you're there, you think you aren't. Only the sight off to the right of juniors running up and down a hill made me realise I was in the right place, and a phone call to already arrived folk got me into the ample car parking on the field in the park, which I'd never otherwise have found.
£5 entry, which is just acceptable on the other well-known metric of fell-running, the Wallace-Buckley scale, a joint Yorkshire-Scottish effort named for its inventors, that dictates that no race should cost more than a pound per mile. This has the handy effect of ruling out most road races, so is very useful. There were more people at Weets than I'd expected, but maybe everyone else was fond of Tour of Pendle too. I like small fell races, but I also like race fields that are big enough that my chances of being right at the back are minimised.
Up we go to the tarmac lane where the start is, and there is some milling. The NLFR team consisted of me and Jenny, so we had a collegiate photo with FRB, Karen and Gary from P&B where our vests managed to almost perfectly reflect the race profile.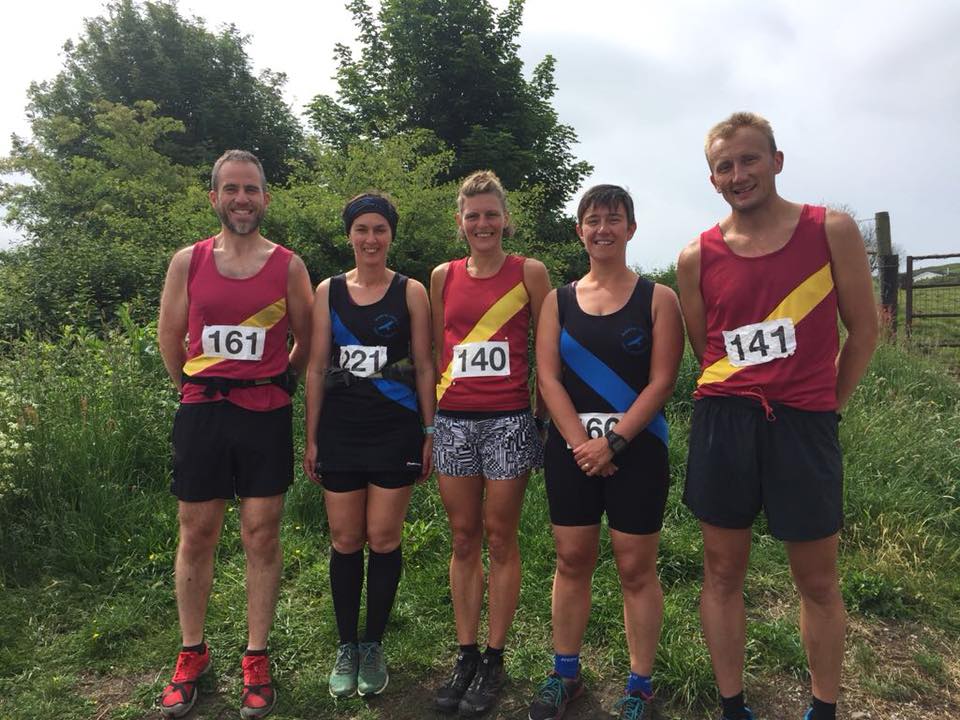 This might actually stop FRB from telling me that my vest sash is going in the wrong direction and the usual conversation:
FRB: It's supposed to cross over your heart
Me: The heart is in the middle of the chest
FRB: Yes but it's still going the wrong way
Me: No it isn't
etc
Then from me, some dynamic stretching, also known as reminding my glutes they have work to do and not leave everything to the hamstrings. I've just been diagnosed with hamstring tendinopathy. I got a niggle a couple of weeks ago, which I definitely noticed when I ran Helvellyn and the Dodds, a race I still have to write a report about. It has not got worse but not got better so I went to my usual physio, Coach House in Leeds and was seen by the affable and very clear and explanatory Rob Hobkinson, (my usual physio — if "usual" is "I see her once a year" — Lucy is off ministering to the British diving team as she often does) who taught me about inflamed hamstring tendons that get compressed by sitting, which is why my pain is absent in the morning but worse if I sit down. But Rob also told me these magic words:
You
Can
Still
Run
So I did. Eck though it was hot. The buff came off straight away and I was thankful that I had conformed to my usual policy of always running with water even when hardly anyone else did. Up we go, up the tarmac road, and I felt sluggish and heavy but kept going. Lots of Barlick supporters, so many that I began to think my name was Nicola, as it was constantly shouted in my direction. (She was just behind me.) Up and up to the trig point on Weets Hill, where I was surprised to see runners already coming back down, and they all seemed to be aged about 11. I cheered them on, of course, then later found out that a juniors' race had set off with us but was just going to the trig and back. So they weren't actually leading our race. But still, well done.
After the trig, a lovely descent, whoosh, which was so good I forgot that we'd be going up again. I'd checked the race profile and knew that there were four climbs and that we'd only done two. Still, whoosh. The next climb was definitely the mini-Pendle one. I'd drunk plenty by that point but still felt a bit drained, and even more so when I looked up and saw a hill with no end. So I did my usual technique of counting. I have an entente cordiale method of getting up hills: if they are really huge (Whernside, Clough Head), I count in French. Backwards. Having a tired brain figure out the right order for deux cents quatre vingts dix neuf gets you up about thirty feet. I can get up Whernside in 300 in French, but Clough Head was about quatre cents. For smaller hills I use English. One to ten, for as many times as it takes. It passes the time, your brain is distracted enough not to think of all the climb you haven't yet done, and you keep moving.
There was another fine descent down a familiar grassy field (the route is an out and back with a loop, so classic lollipop), where I ran past a fellow, while exclaiming, "I like this bit!". He rightly ignored this, an example of the Fell Running Observations of the Bleeding Obvious. Then up a tarmac lane, back over the fields, a bit of narrow trod moorland running where I could feel blokes breathing closely behind me, but they didn't ask to pass so I didn't offer.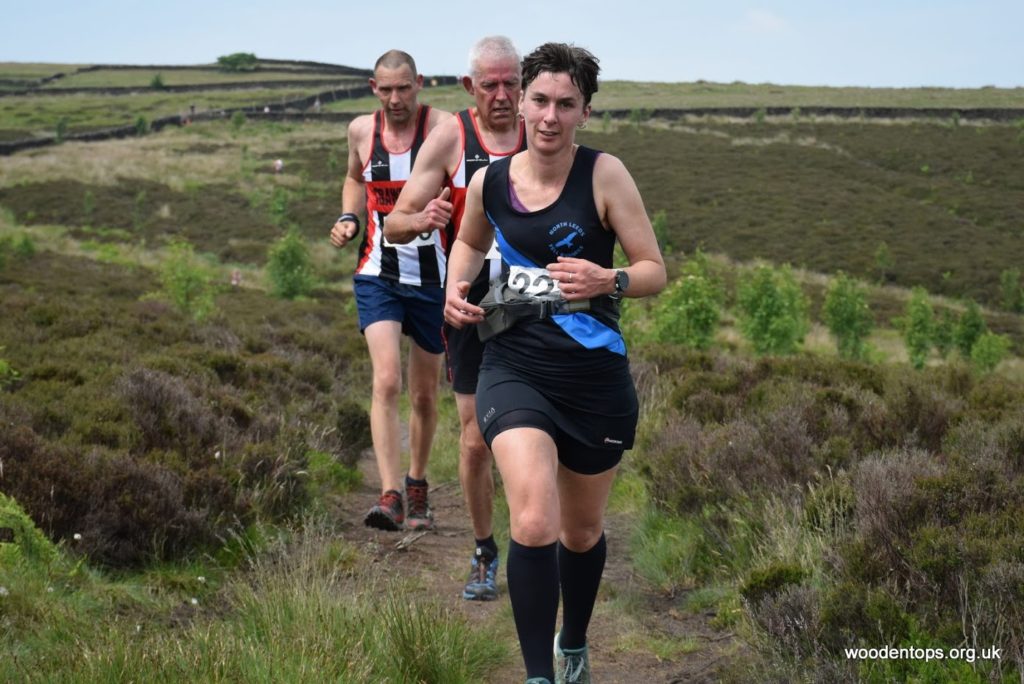 I didn't realise they were *that* close
I hadn't recognised Eileen Woodhead on the way out as she had a big floppy hat on, but it's hard to miss Dave as he usually yells something at me. On the way out it was "I DIDN'T RECOGNISE YOU WITH YOUR NEW VEST ON" ("new" meaning about a year old). On the way back it was "DON'T LET THOSE TRAWDEN LADS GET YOU." I tried not to, putting on a sprint down the lane to the finish that impressed me and probably shocked my muscles into remembering when I used to be a sprinter 35 years ago. (Coach FRB's response: "Really good running form. No flailing foot. Arms a bit too much across your body though.")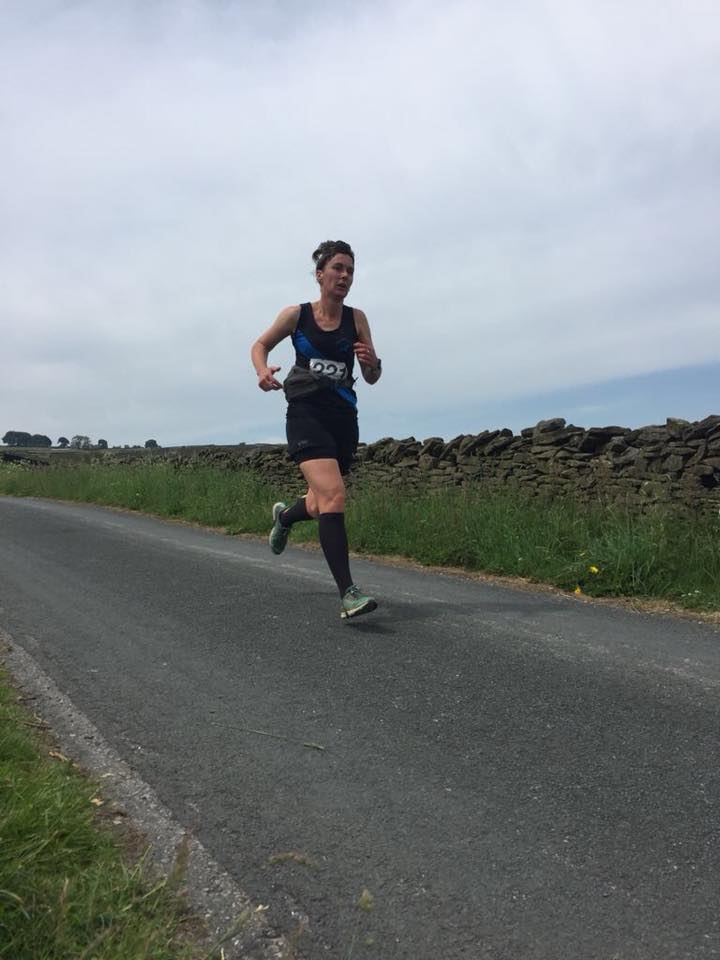 One of the lads did pass me and the other one didn't, which is OK with me. I managed to put the brakes on in time at the finish funnel, so didn't take out any of the marshals, and then there was the usual splendid fell running tradition of people you finish around saying well done and you saying well done back. I deviated slightly from this by telling the Trawden "lad" (actually a six-foot 40ish fully grown man) not to tell Dave he'd beaten me. Then I downed several cups of squash and we went to a very fine pub and I ate a veggie burger that was bigger than me and all was well.