This tapering business is weird. After my week of nothing, I finally got myself to Parkrun for the first time in months. There are four in Leeds. Roundhay is now my local, but I needed people to take pictures of me in my Seafarers UK vest and Hyde Park is more popular with my club mates. Stripey Anne, who runs for Pudsey Pacers but who is in our Facebook group, offered to bring a proper camera, and she was volunteering, not running, so she'd be in a good position. I went, I ran, and Anne took the best running picture of me yet.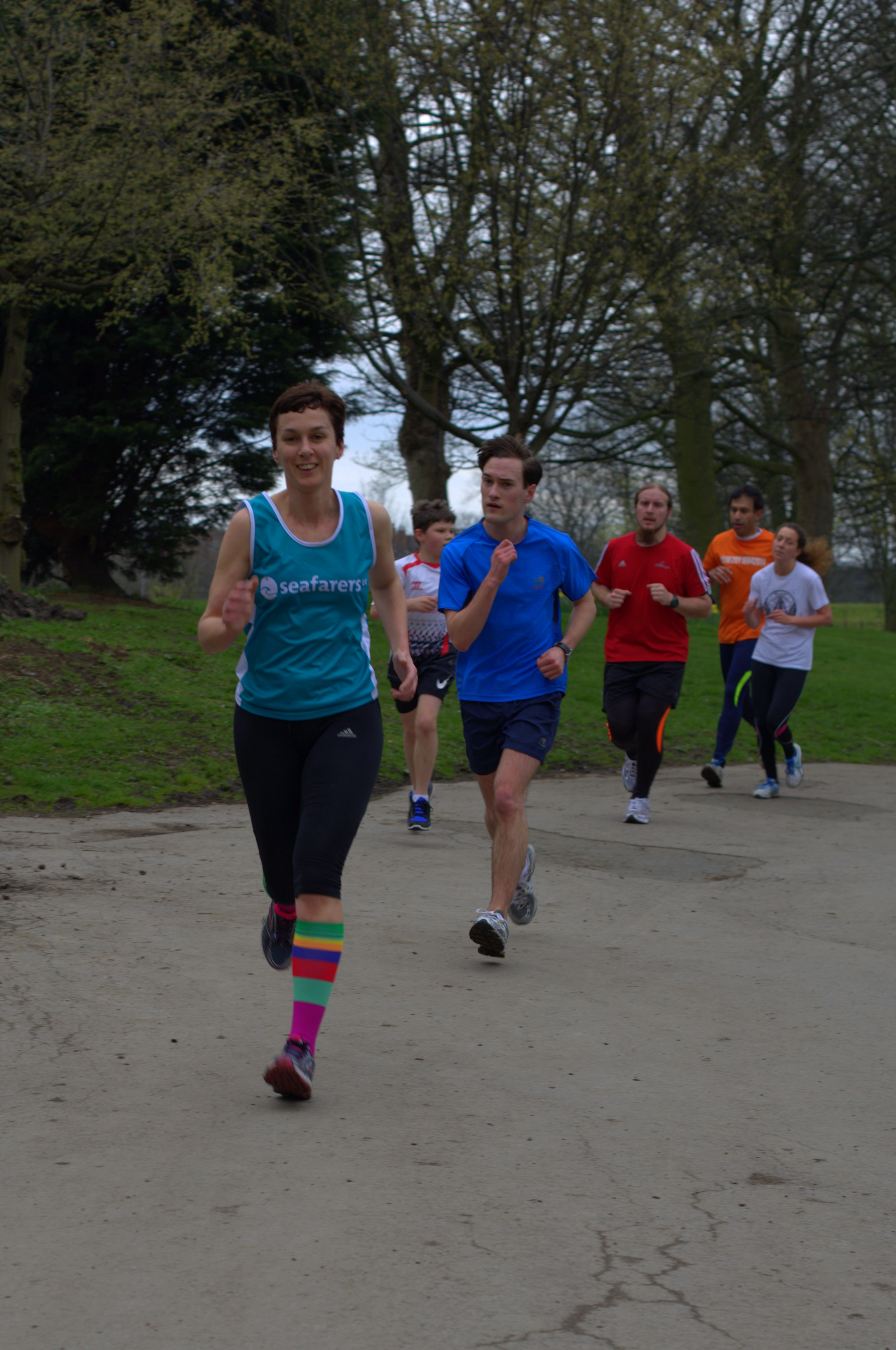 I didn't have a watch, I didn't have a pace in mind, I just wanted my legs to run a bit. I did acceptably though not brilliantly: my Parkrun best is 00:23:17, I did 00:25:40. I love Parkrun. It's not competitive, it's not cliquey, it's just welcoming and nice and a couple of hundred people who decide to run around a park for three miles on a Saturday morning.
Then, Sunday. Ten miles on my programme. I meant to start the day with a ten mile run along Leeds Country Way, but the day continued along and I still didn't get out of the door. I finally left at 4.30. The sky was threateningly black, but I had to test my marathon kit again. I obsessed about getting some boy shorts, bought some, and wanted to try them out. I knew they were a mistake within 200 metres, unless I want to spend 26.2 miles pulling shorts over my backside. I apologise to the people of Leeds who may have seen an immodestly dressed runner on the streets and paths of Chapel Allerton, Roundhay and Alwoodley, her fingers tugging down her shorts every 200 metres or so. Not annoying at all.
The boy shorts are out. The ugly Karrimor halfway shorts are in. I'm still unsure about compression socks. From all the pictures my rainbow socks have starred in, it's obvious I love them. But my feet have been feeling numb recently and I've finally realised it may be that the socks are too tight on a calf nerve that runs under my feet.
Bumbag or not bumbag. I'm going to carry 5 gels, a couple of electrolyte tabs, my phone and some tissues. The Karrimor shorts have a big pocket, but not that big. So I tested out a bumbag – yes, I should have tested all this stuff weeks ago – and have had a bruised back ever since.
Food: I'm trying to eat carbohydrates as much as possible. Jenny tells me to eat complex carbohydrates rather than processed (pasta). Brown rice not white. Wholewheat pasta not white. But then I read that I should cut down on fibre to avoid runners' trots, so that's white pasta not wholewheat and white rice not brown.
I'm confused.
Injuries: in this post by my friend Janey, i.e. VeggieRunners (who I seem to mention in every post on here), she talks about the imaginary niggles. It's true. I am currently worrying about:
my knee collapsing when I go down or up stairs
my ITB band
my piriformis
my cold
my numb feet
the fact that after the 10 mile run my legs felt so aching and heavy, it was like I'd never run before
For that reason, I went to Pudsey this afternoon to have my ITB and piriformis smoothed of knots by Ward Jefferson, the unofficial Kirkstall Harriers masseur. I thought I was getting off lightly until he got to my left knee where the ITB enters the knee. Then, I nearly screamed. But as I said to him, it's character-building.
Arrangements: I have distributed Golden Bond grandstand passes, which I won for being one of Seafarers UK top fundraisers. I have put names down for the reception on HQS Wellington afterwards. I have arranged to meet Gemma for coffee and cake and spending at the Expo at Excel on Friday. I have continued to have marathon stress dreams. I am nervous and excited and excited and nervous.
But I have done months of training. I haven't added up the miles but it is probably over 300. All I can do now is wait.
If you want to track me on the day, go to www.virginmoneylondonmarathon.com and look for number 47177.
ACTIVITY
Saturday: Parkrun, 3 miles
Sunday: 10 miles
Sleep: Lots