It's back. The love is back. I had to leave to catch a London train at 1pm today, and I also had to run 14 miles. I looked at my awful time from the Gipping 12 miles (gipping meaning vomiting, not a place in the Yorkshire Dales), and thought, it's going to be tight. So I woke at 7, ate crumpets and drank tea, and intended to set off at 8. It was a bit later than that: a kitten sitting on my chest, warm and purring, was a bit hard to leave. And I was a bit nervous. My last long run had been so bad. But I had been careful to eat better; the sun was shining and the forecast was good, and I planned a loop up to Eccup, along to Roundhay Park, round the lake a bit and back. Reservoir and lakes.
I didn't want any mud. I'm on a mud-break. So it was roads all the way, except for a short cut through the golf course. There was gawping to be done all along Alwoodley Lane, which is the millionaire's row of Leeds, although it looks more occupied than Billionaire's Row in London. No-one was about, but the sun was shining and my energy levels were good. Jenny has advised me to run for as long as I can without eating a gel, so that my body gets used to running while using its fat stores. I had some electrolyte drink, and I made sure to drink more and vomit less.
There was no nausea and no vomiting. It was just a lovely, lovely run. Even the bit down King Lane where there was no pavement and road puddles. No-one splashed me, and I arrived at Five Lanes corner thinking, how lucky I am to live a couple of miles from rolling fields, sheep, and Eccup.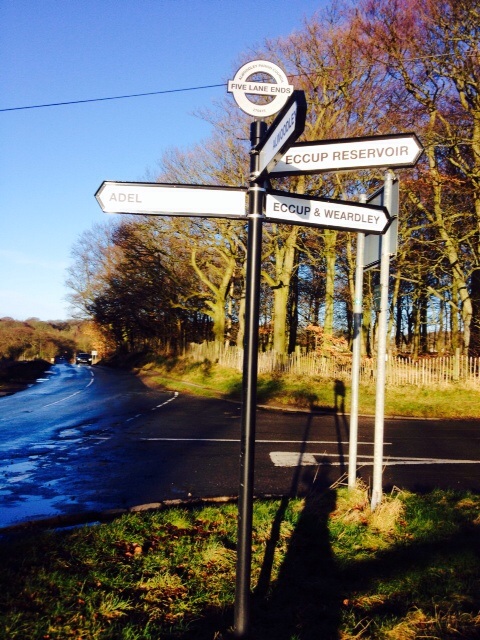 There were a few runners out by now. Eccup is where you start to see them, particularly on a weekend morning. I read this very clever story yesterday, about how to write about the UK like Africa is written about, and so tribes were on my mind. And I realised, as I did the runner's nod to yet another passing runner, and as I followed a solitary runner 300 metres in front of me, and even though I was pleased when he turned off so I didn't have to catch him up and then speed up to keep ahead, I realised, runners are my tribe. We understand each other. We wear extraordinary clothes.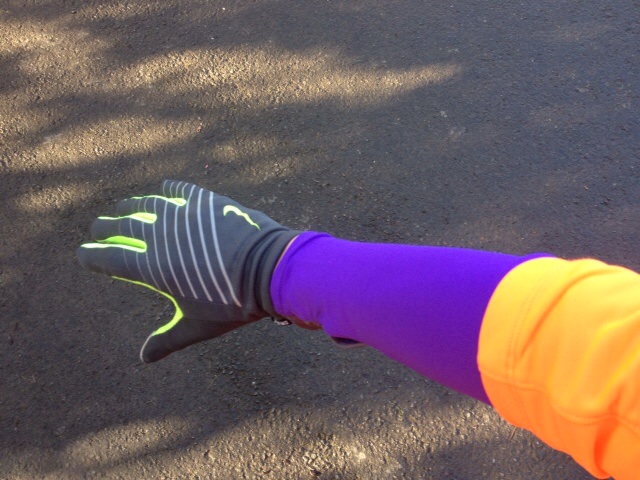 We have blackened toe-nails and creaking bones, but we can still run great distances with blackened toe-nails and creaking bones. I love that. But I love that it is not a tribe of snobs. We want other people to start running. It is a generous tribe. I love that when I went to Kathmandu last year and wanted to go running, I googled for a local running group. I contacted Richard, who runs Kathmandu trail runners, and he had read The Big Necessity. He wasn't around but put me in touch with his flatmate, Billi. I got a taxi over to her side of Kathmandu one morning, and she lent me a bike, and we cycled a mile, over the ringroad, to the edge of the cacophonous city, and then we ran. There were rice paddies and buffalos and old women who did not bat any eyelid when two western women in tight bright clothes ran past. It was brilliant. And it was because Billi saw nothing weird in a runner wanting to run with her, because she understood about needing to run, even in a strange city that was being dug up for road construction. Afterwards she made me the best coffee in Kathmandu, and we stayed in touch, now and then, and if I go back, I would love to run with her again. I have made friends by running, and not just in Kathmandu. I like being in this tribe.
And I like running alone, too. I like listening to the playlists that my running friend and music geek Andrew supplies, and sometimes I like listening to the air and the surroundings. Halfway down Eccup Moor Lane, I suddenly remembered Jenny Landreth, a Twitter friend who writes about swimming for the Guardian (and is in the swimming tribe), had posted her lyrics to the title song of The Bridge, and suddenly I became a runner laughing out loud at nothing, at air. I'll remember that moment, and I'll add Eccup Moor Lane, on a sunny Saturday morning, to my mental store of running memories that soothe me when I am stressed. It's a good one.
Oh, and I ran 14 miles, which is the longest distance I have ever run in my life. The farthest I have run is a half marathon. When I got to 13.2 miles (a half marathon is 13.1), which was on Harrogate Road just past the Sainsbury's, I did a little jump for joy. I am proud of myself. I don't say or feel that very often.
—
TODAY'S SPORTING ACTIVITY
ACTIVITY: 14.03 MILES
TIME:2:22.18