I spend many weekends racing. I spend a lot of time preparing my race kit the night before (if it's a fell race) or at least getting my Kirkstall vest out of the laundry basket where it probably is, and deciding which shoes to wear, and packing a spare t-shirt, pants and wet-wipes for dry showering at the back of the car afterwards. But sometimes, I just don't want to. And that's fine too.
Last week I did the Shepherd's Skyline with FRB, over in Hebden Bridge. You run up to Stoodley Pike, a sharp downhill and then up again. It was bitterly cold, so that I even had to wear a double layer. Still shorts though. None of this long tights stuff. Before the race, my mate Andrew B said, "I like this race, it's one of the few where you can take in the scenery."
As soon as we set off I realised this was nuts. The first mile or so was like the Abbey Dash (which I'd been due to run the next day, but didn't): not much room, single file, a mass of runners. It was a mass of runners heading uphill in beautiful moorland, not down Kirkstall Road, but that made no odds. Traffic jams are traffic jams. That was frustrating, but I assumed that the field would spread out as usual. It took a while, but eventually it did, and so I assumed, again, that I'd be able to take in the beautiful scenery that Andrew had promised.
No. Not a chance. I've not done a race as technical as Shepherd's Skyline for a long time. For non-fell runners, this means tricky, testing, thorny, precarious, quirky, knotty and all other synonyms for tricky. It means paths that are narrow and sometimes gullies, and that contain large rocks and stones, and puddles and mud. Sometimes there is bracken, sometimes grass, sometimes a wee bog. "Technical" means you can never take your eyes off your feet for more than a foot ahead, to see where your feet should go next. This face of mine: this is my "this is very very technical" face: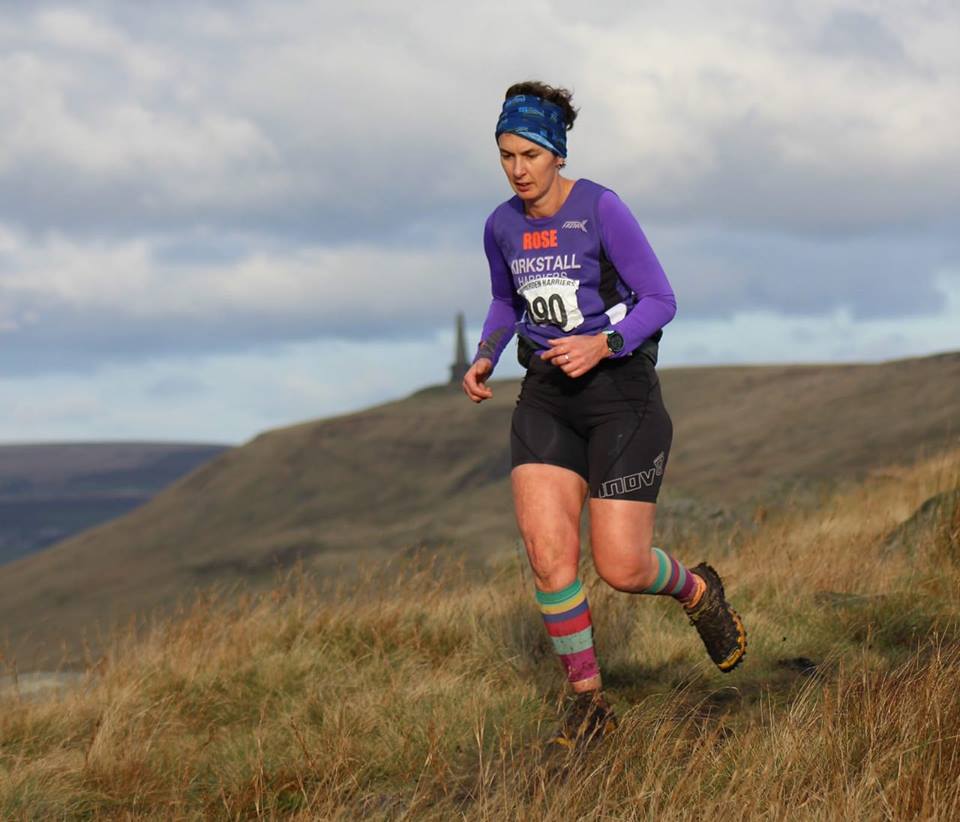 And I think this was one of the less technical bits.
I'd been meaning to keep an eye on Andrew B. This isn't difficult, as he's about 6 foot 5 and wears a bright yellow vest. I wanted to beat him, because he'd beaten me at a fell race earlier in the year, and not only that, but I'd gone for a burton (Yorkshire translation: fallen head-first) in the tussocks when I'd foolishly tried to overtake him on a descent. He's not confident about descending, and I knew that. But the tussocks got me. Anyway Andrew B had disappeared in the traffic jam at the beginning so I forgot about him and just ran as best I could. I'd met a couple of women wearing Liverpool blue and white striped hooped vests (despite most of the English-speaking population referring to vests with horizontal differently coloured lines as "striped," FRB insists on "hooped" and damn it, he's right). They'd come over from Liverpool with two other club-mates. I don't remember asking if they'd done fell races before, but I did say something about there not being many fells in Liverpool. I pendulumed with them a few times (they overtake me, I overtake them etc), and then we got to Stoodley Pike where, amazingly, I could look up and see the view and then it was helter-skelter down to a lane. It's a wonderful descent and I loved it. One of the Liverpool lasses was running in front, but I overtook her and said something inane about there being not many fells to practice on in Liverpool. I admit, my fell-running conversation is not sophisticated.
She said, "No, we just run around Brookside Close."
And that had me laughing all the way down the hill. Here she is: Hayley from Liverpool, and it turns out this was her first fell race.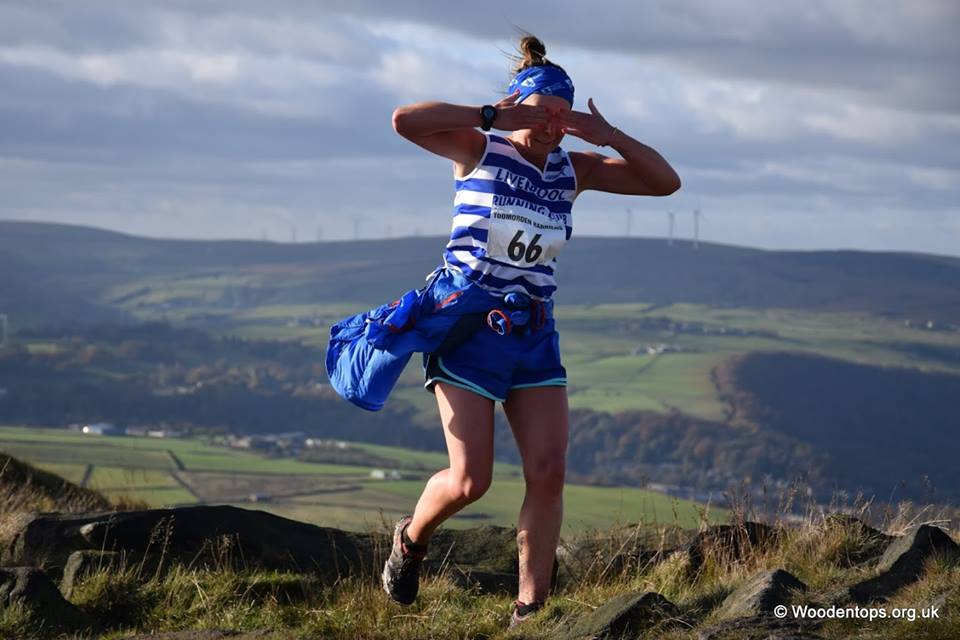 I slogged back up the hill, then felt like the insides of my legs had been scooped out and replaced with Playdough, but I carried on along the top, past Dave Woodhead from Woodentops and his usual encouraging "go faster, Rosie" or something similar. Dave is very useful for making your walking legs speed up to a slow shuffle, no matter how much Playdough they consist of. In the last mile, I finally saw Andrew B and his yellow vest. Target. I caught him up, he speeded up, I caught him up again and on the final descent to the finish, I overtook him. That was probably daft, as the tricky terrain didn't let up until the last few metres, so I was pelting down a perilously ankle-turning series of rocks and boulders and gullies. Later, FRB said he was standing with his club mates, and they saw Andrew B and they saw me, a little spot of purple up on the hill doing her best to overtake a grown man. I did it, and I didn't fall over.
But I didn't mean to write about that race. I wanted to write about this weekend, when for some reason, although there was my beloved Burley Moor fell race on Saturday, and a fixture of my beloved Yorkshire veterans series at Spenborough on Sunday, I did neither. Instead, FRB and I did an extraordinary thing. We just went for a run. Of course there were hills to be climbed: it's Tour of Pendle in a week, and there are always hills to be climbed. So we went to Otley Chevin, a beautiful forest park with a monster hill that features at the end of the 22-mile Rombald's Stride. As usual I followed FRB's coaching advice: he was going to run up and down the Chevin's monster hill three times, so so was I. (By "run up" I mean, run 10% of it, briskly walk 70% of it, stagger up the rest.) After that, we would do our own thing. And it was brilliant. Not necessarily to do our own thing, but to have no prescription, to run along any path and if I saw a trod leading into the woods, to follow it, or if I wanted to turn around and back up the hill I'd just run down, to do that (OK, I did that only once). The Chevin was busy; it was a lovely Sunday, and I lost count of the number of dogs and toddlers being walked. The dogs mostly ignored me; the toddlers all stared at me as I ran past, as if I were a bright green mastodon, as if I were the strangest thing they'd ever seen.
Along the way I stopped to look at things, to read information about the woods, to read bench inscriptions, because I always like to read bench inscriptions. I found a good one: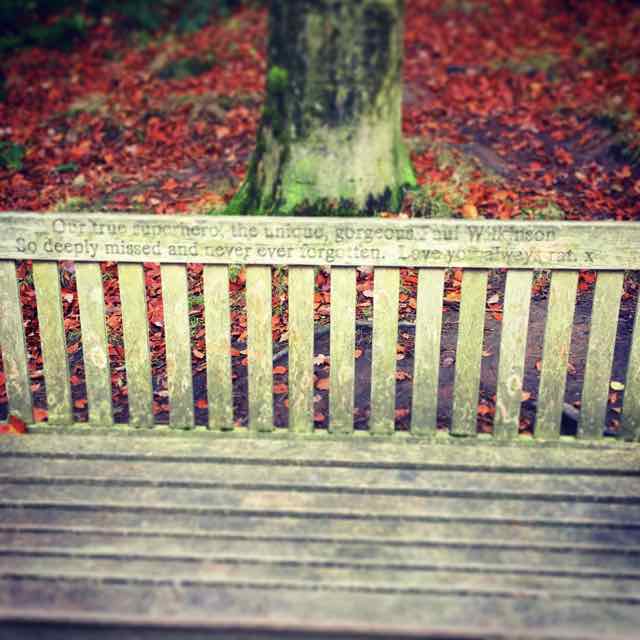 Love you always rat.
I ended up running 1.5 miles less than FRB, probably because of all my pootling and peering. But I loved it. I loved not racing. It's not often I finish a run and say, "I really enjoyed that." Particularly one that included 1500 feet of climb. But I did, because I was just running. Not racing, not puffing, not chasing Andrew B. Just running through a beautiful forest on a beautiful autumn day. I prescribe it as a vital brain protection device. You don't have to run, but get outside when you can, and switch off social media and the awful, horrible news, and smile at baffled children, and jump over dogs. It helps.