Marathon number 5, Yorkshire marathon number 3. Done. It was not a certainty. You know me: before every big race I'm convinced I can't run, haven't done enough training, am too fat. I'm definitely overweight at the moment, as my poor chafed thighs keep reminding me, but it seems I can run and have done enough training.
I didn't feel too stressed about Yorkshire but my brain told me different, concocting some interesting stress dreams where I could never find my running shoes, and had to watch the marathon set off without me. The best was the one where I had to tie my running shoes with sewing thread. Perhaps my awake calmness was simply denial. I remember standing in the shower on marathon morning and thinking, I have absolutely no idea how I'm going to run 26.2 miles. And also, I didn't really want to. I felt like I couldn't be bothered.
But I did bother, and I am glad I did. FRB arrived early, I was mostly ready, and we set off to York, along an A64 busy with what we assumed was marathon traffic. To the university, then to the VIP parking, as the marathon organisers Run for All had kindly given me another VIP place. FRB had one too as he was going to be writing something as well. Back, then, to the Van Brugh building and the VIP room with its pastries and coffee. We sat on a table with a woman from another Leeds running club who was not feeling too serene. I'm being polite: she seemed terrified. She'd run-walked London but this was her first running marathon, and she'd had a few years of injury. I tried to calm her by saying there was no point trying to calm down because she would be terrified right up to the start, and as soon as she started running, she'd be fine. I next saw her storming past me on one of the switchbacks, and thought, she looks alright.
We set off to the start at 9 for a 9.30 race start. No way was I going to start ahead of the Kenyans again this year. There was no chance of that as there were no Kenyans anyway, but once we got to zone 1, I sidled back to the back end of zone 2 where I belong. It was cool and perhaps even chilly, but that was perfect. The forecast was 13 degrees with some sun but not too much and that was also perfect. A warm-up, and off we went. And then I realised that I hadn't expended all the liquid I should have done and spent a very uncomfortable first mile with my leaky bladder, until I got to the first set of portaloos. Until you have peed into your socks, you won't understand what a real leaky bladder is. I wasn't the only one, though, and had to wait five minutes in a queue. At this point, I had to realise that although I'd said to myself and to FRB that I wasn't going for a PB, in my head I was. That is daft: I'd run a six hour race a month earlier, my regular running pace is about a minute slower these days than last year. Running 8.30 minute miles for 26.2 miles, which was what I would have to do to beat 3:58, was not going to happen. I hoped I'd be able to stick to 9.15 or so and perhaps get in under 4.15. Those five minutes in a toilet queue made that unlikely, though they did eject me back into the race at about the right place in the field.
The first couple of miles of the marathon are wonderful in two ways: there's a downhill, and there is York Minster. As has happened each year, the Minster was pealing its bells, whether for Sunday service or for us. I choose to think it was for us. The sun was shining, there were cheerful crowds on the streets, and the bells were ringing. It was a moment of pure joy.
After that, I broke the run up into chunks, trying to come up with something to look forward to in each chunk, such as the vicar in Stockon-on-the-forest with his striped scarf, high-fiving hand and "God bless you, good running." He must say that, and high-five people, about three thousand times. God bless him. I couldn't remember how far Stockton was, but I just kept heading for it (it's at mile 6). After the first few miles, the long quiet stretches began. Long long roads and lanes bordered by fields; not many supporters, no villages. These can be difficult, unless you can daydream. I can't remember what I thought about only that I remember thinking, I must remember this. It probably included:
How on earth is that woman even running when her legs are kicking out at 90 degree angles in opposite directions? And faster than me?
Why do people buy Karrimor running kit when it's shit and baggy?
Good form.
Get a better sports bra.
Stop heavy breathing behind me.
Oh god, stop hacking up phlegm and spitting.
There are lots of reasons to speed up but a spitter in your wake is a major one. Mind you, they probably thought the same about my snot-rocketing. This is a fell running technique which involves holding one nostril and power-emptying the other. It's not very pleasant but it's essential on cold hillsides. I'm not sure it's acceptable during a genteel road race but I did it anyway and without warning either. I did look behind me first. I'm not a philistine.
At York Minster, I'd said to a woman next me, "this is my favourite bit." She said, "The finish is my favourite bit." She had blonde plaits – which seem to be the default running hairstyle for women with long hair – and bright pink socks, and turned out to be my accidental pacer for the first ten miles. It's risky choosing an informal pacer, as you have no idea what they are aiming for, nor whether they are consistent. But she seemed very consistent, so I kept her in sight until I overtook her and didn't see her again. After her, I chose a Vegan Runner with bright green socks, but at mile 17 she started walking too.
I felt good. I had eaten enough – though my stomach was rumbling after the first few miles – and I felt properly hydrated and nourished. It's been so long since I've done a long road race that I wasn't sure what to carry. There were enough water stations (every 3 miles) that I didn't need a bladder, but I did need gels and chafing cream, especially as it turns out I'd left my favourite Inov-8 shorts, which are long enough to stop chafing, in France. So I decided to do several stupid things: I ran in Brooks Glycerin 7s, which I'd hardly done any training in, but my feet get so battered in PureFlow, I wanted more cushioning. This worked out partly alright: my feet were cushioned. But both were blistered and my feet still felt battered. It's not down to the shoe though: I realise I grip my toes when I run, which is daft and painful. Back to the running form doctor.
I'd said to FRB that my current steady pace is 9.15-9.20 and so it turned out. On then, through villages and long quiet stretches. There, again, was the bagpipe band at the corner where I remember a huge group of students yelling Oggy oggy oggy during the year of the fog (2014), so that their voices trailed behind you with the mist. There was Vicar Terry. After that I don't remember much until the first switchback, which puzzled me. I knew there was a long, long switchback coming at mile 18 or so (actually 16-20), but I'd forgotten this one. I think it was this one that had a singing Elvis at the end, which helped. It was also nice to see fellow Harriers running up the other side. (FRB was too quick.) There were half a dozen of us doing the race, all in club vests. I mention that because I do feel slightly odd running a marathon in a club vest, when there is now huge unspoken pressure to run for charity. But I think if you run for charity it must be something that you find very, very difficult. I don't feel justified in asking for people's money otherwise, and marathons, though they are not easy, are not challenge enough for me to be able to ask for money. No, I'm not going to start running with a fridge. I'll think of something.
There must have been things I thought about up until mile 16, but I can't remember them. I know that I wished for company, and tried to talk to a few people along the way but with not much success. I passed one woman who was wearing in some marvellous socks, and complimented her on them. I told her I'd cut the feet off mine, just making conversation, and she said, "Oh, bless you." Which is odd. I had another conversation when I interjected in a conversation behind me about the Three Peaks. Of course my ears prick up at that. A man was telling a woman that there was a Three Peaks Challenge, and I told him there was a race too, and that it was quicker than walking.
I didn't promise you intellectual heights. This was marathon chat.
But mostly, I was on my own. Afterwards, FRB told me he had run three-quarters of the way with club-mates, and that the only stretch he'd run on his own was the hardest. I don't like running alone in a road marathon, and I don't find big city marathons very friendly. Probably that's because people are digging in and with better things to do than chat to me. But 4.5 hours of keeping yourself entertained is a long 4.5 hours. Of course the difference in fell running in the size of the field and the number of supporters. In fell running you get camaraderie from your fellow runners. In big marathons, it comes from supporters. And they were indeed great, from the little ginger lad on his knees with a tupperware box on his head, repeating in sing-song tones, "Sweets…for energy! Sweets…for energy!" to the little girl who had clasped a sweet in her hand and had her hand stuck out, so I took the sweet and then wondered whether I'd stolen it.
I high-fived as many children as I could. Later, I was interviewed by a woman and a cameraman, and I must have been high on endorphins then because I emitted a comment of extreme cheesiness. Something like high-fiving a child is like fairy dust: each one makes you run faster. Just writing that makes my Yorkshire plain-speaking hackles rise. But it's true that anything that is stimulation really helps, and high-fiving children: running over to that side of the road, making human contact, is stimulation. Humans need stimulation, even while running a very long distance, as this excellent piece by George Monbiot demonstrates.
My next dose of stimulation was going to be seeing Anne and Noel at mile 18. This switchback is long, long and long. Anne was at the beginning of it, taking photos and hugging the running Minion (you know your place in the universe when a child who is about to cheer you on suddenly gazes away from you and says, "there's a Minion!). Here is her report, and here is that scene-stealing Minion.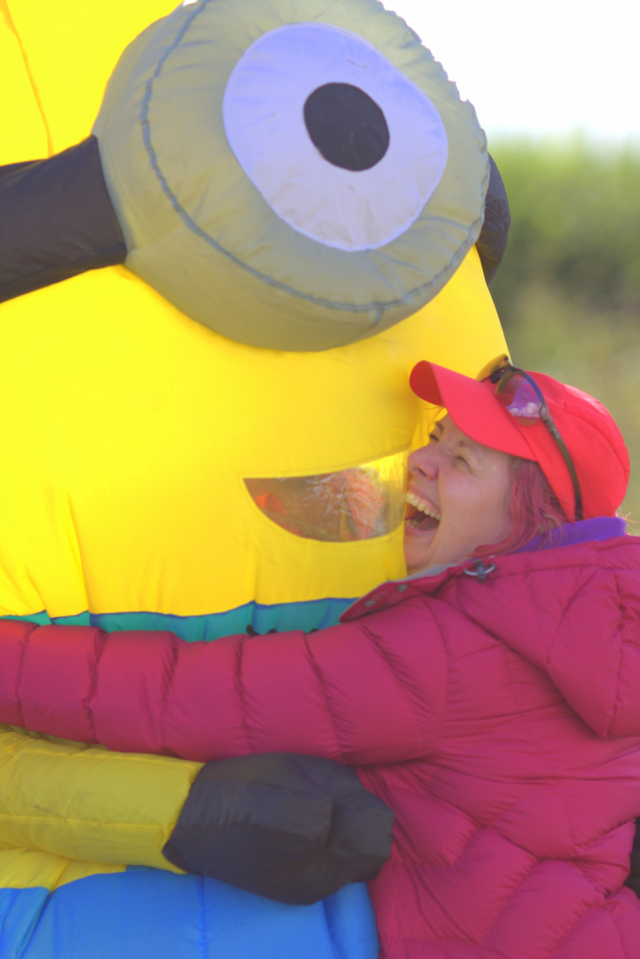 Here also is Anne's picture of me. No flailing feet, which is good, though I'm not surprised my thighs were chafing. (I'm trying a low-carb, high-fat diet to get rid of the evidence of too much cake, wine, and HRT.). But I'm smiling.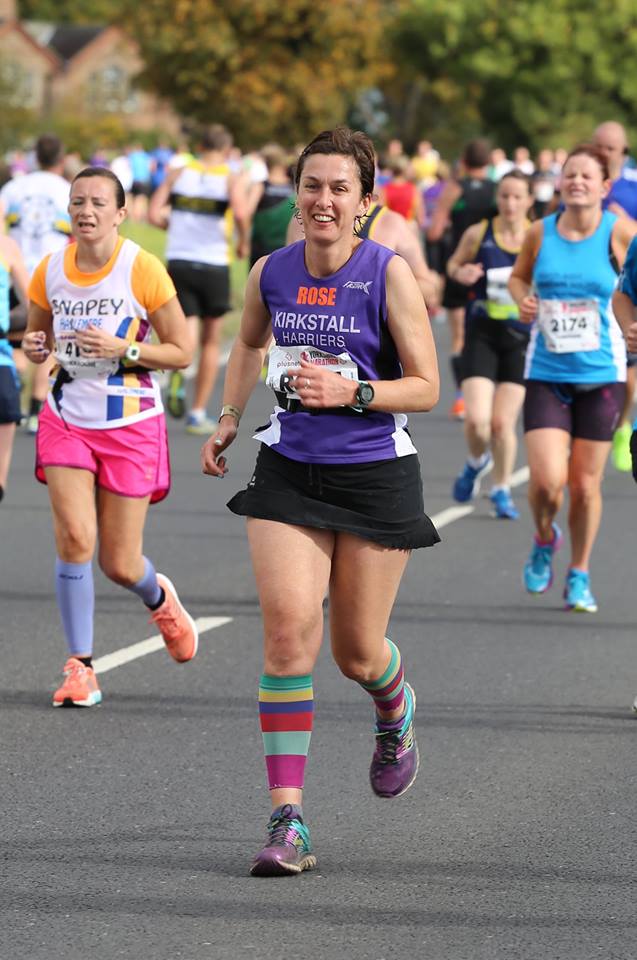 I said hello to my fellow Harriers again, and thought a couple of them were looking a little less serene. Later, I overtook two of them, which was unexpected. "I'm goosed," said Chris, when I passed. I think I must have been flying on the flat Coke which was the one thing I'd made sure to carry. By now "mile 18" and "flat Coke" are indelibly paired in my head. At this point, my pace dropped to ten minute miles and never picked up again. But I kept going, because my next target was my brother Nick and niece Alice – "we are a small but perfectly formed welcoming committee" – in Osbaldwick, at mile 24. Before that, we had another long quiet stretch which was the most difficult of the lot. Then to Murton, where there was another pipe band in full bearskin hats and kilts. They looked amazing, and I thought, the least I can do to show my appreciation is do a wee jig, so I did, doing two full pirouettes, persuading a fellow runner to do one with me, and not falling over, although my steering by then was very shaky. The supporters applauded and I think the conductor gave me a wink or a nod. Stimulus, again. It was odd that I felt so good. I'd overtaken lots of people walking, but I kept going. I think, again, it was about mental strength. I need to remind myself that I've trained my brain pretty well and to acknowledge it to myself. As my friend Rachael says, you can throw flowers at yourself now and then.
I poured a bottle of water over my head as we got into Osbaldwick. It had in fact become uncomfortably warm for the previous few miles, and I didn't want to stink too much. There were loads of people out and about, and every cheer and clap was, as ever, a really important boost. If you were out supporting last Sunday, THANK YOU. I am extremely grateful. It really, really helps. Thank you too for all the uplifting music. To the people at about mile 20 who were playing Chariots of Fire, though, you know that that just makes everyone want to run in slow motion?
So, to my small but perfectly formed welcoming committee. I forced a hug upon Alice, who gamely accepted it. I love this photo: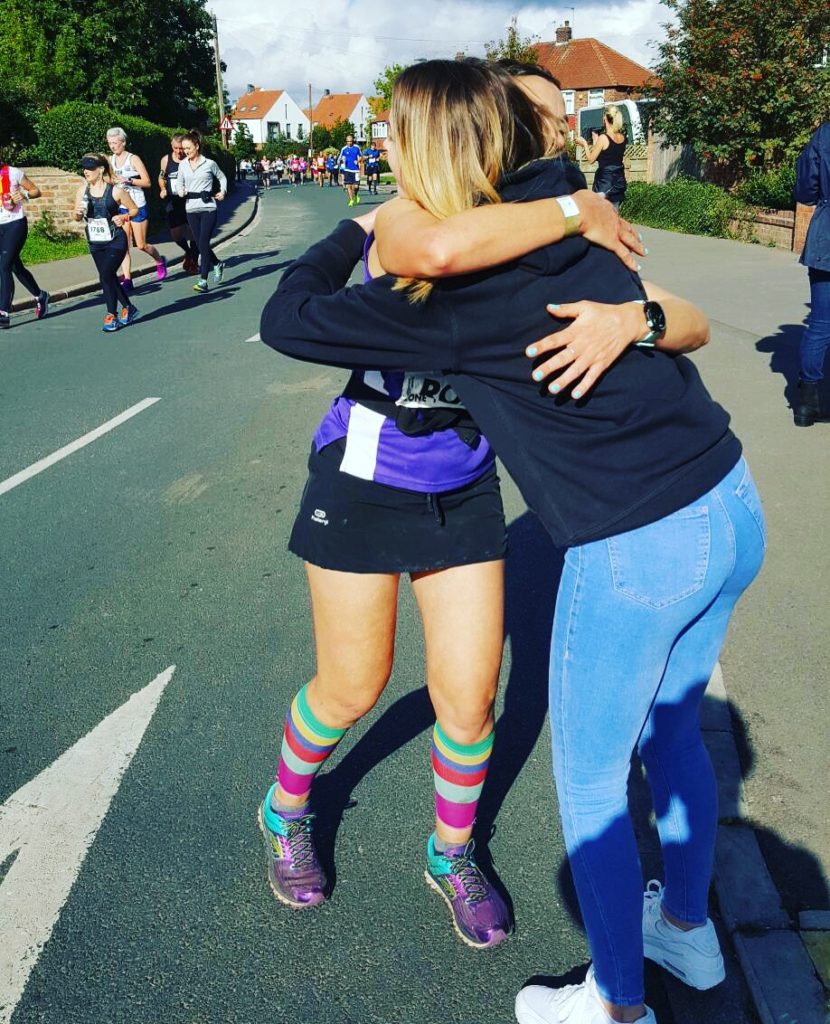 Then another stretch along a road, along another road, to the Shell garage which now, belatedly, I recognised as being the same Shell garage we'd run past in the first mile, and at which I had gazed wistfully in the hope that it had a toilet. I knew that there was a hill coming and then the finish. Probably I could have run faster, but I liked the pace I was doing, because I could still talk. My feet hurt, but nothing else had gone wrong. Up the hill, which apparently some people crawl up but which if you live in Leeds is nowt, then along to the finish. I managed a sprint for the final 100 metres, and tried to chivvy a young woman along with me, but she didn't follow, so I crossed the line and had no idea what time I'd done. I hadn't noted the clock time when I crossed the start; I'd lost time when I'd gone to the toilet; and I'd stupidly stopped my watch. So I had no idea. And at that point, I didn't much mind. (It was 4:18.)
I took water from the army lads handing it out, saying to one, "I bet you could run that in full kit," and the lad laughed. I got my t-shirt, my medal, and hobbled back to the VIP lounge, where FRB was finishing some soup. He'd done 3.36 which I think is excellent, but he wanted to get under 3.30 so he'll just have to do another road marathon. I urgently removed my shoes and apologised to my blistered feet. And once I removed my bum bag, I realised that my back was severely bruised and swollen. Stupid me for running in untested kit: I should have worn my fell waist pack instead, rather than digging out a smaller waist-pack that I never use and thinking, "that will do."
I say frequently that I'm not going to do long road races any more. But I have much affection for the Yorkshire marathon. It's only in its fourth year, it's well organised, there is great support, and how many other races can provide something that looks like York Minster, ringing its bells for you? So I'll be back. Maybe. Probably.