Yesterday Nicky Spinks ran up 27,000 feet of ascent over 66 miles and 42 of the Lake District's highest peaks in 18 hours and six minutes. She broke her own women's record by six minutes. She is 47 years old, has had breast cancer and a hysterectomy, and she is an astonishing athlete. What an achievement.
Yesterday I ran 10K through the woods and canal of Guiseley and Esholt. It took me 1 hour and 1 minute or so, which is the slowest time I've ever run a 10K race in, even an off-road one. I ran without a watch. My aim was to get round without my ankle or tendon exploding, and I did. That was my achievement, and I'm happy with it even if my ankle isn't.
Of course Nicky Spinks did something more marvellous than I did. But even her amazing result has been reported by no newspapers or TV. I pointed this out on Twitter and was told – by men – that fell running is not a spectator sport. When I've argued with the sports editor of the Guardian, he made a case similar to the one he makes in this piece by the Guardian readers' editor, that when they publish stories about women's sport, hardly anyone reads them. Might that be because women have been so drastically excluded from mainstream sports coverage that they don't bother picking up the sports sections any more? I don't, because if I do I just get angry. They are profoundly insulting, because they don't acknowledge women in any way. The odd female by-line, usually accompanying a piece about men's football, doesn't count. As FRB pointed out yesterday, the Sunday Times ran a full page spread on the Augusta golf tournament, which hasn't even happened yet, and a tournament in which a British woman had a good chance of winning, and which *has* happened, was given one paragraph. Elsewhere in the Sunday Times, admittedly, there was a good article on the Oxford and Cambridge women's rowing teams, who are for the first time being allowed to race on the same stretch of the Thames. It didn't say so in the piece (which is behind a paywall), but I get the sense that this was only contemplated while accompanied by the promise of a large amount of sponsorship for the mens' race. It's the thoughtless exclusion that enrages me: that whenever anyone asked the organizers of the Boat Race – the Sunday Times weirdly called the piece Boat Grace – why the women had to race on a further away stretch of river, no-one could give an answer. Also in that piece, a statistic on how much women's sport is covered in British TV and newspapers. TV: 10%. Newspapers 2%.
I'm not suggesting that cameras should have accompanied Nicky Spinks on the Bob Graham Round. Fell running is a minority activity and I hope it stays that way, as does everyone who gets up the fells. We like the space. I just mention her because it's an example of amazing achievement that will never be applauded widely. Just as Jo Pavey has been dropped by Nike, yet they have decided to sponsor drugs cheat Justin Gatlin. Inconceivable.
Anyway. Well done, Nicky Spinks. Well done, me and my posterior tibial tendon.
Nicky, post-run: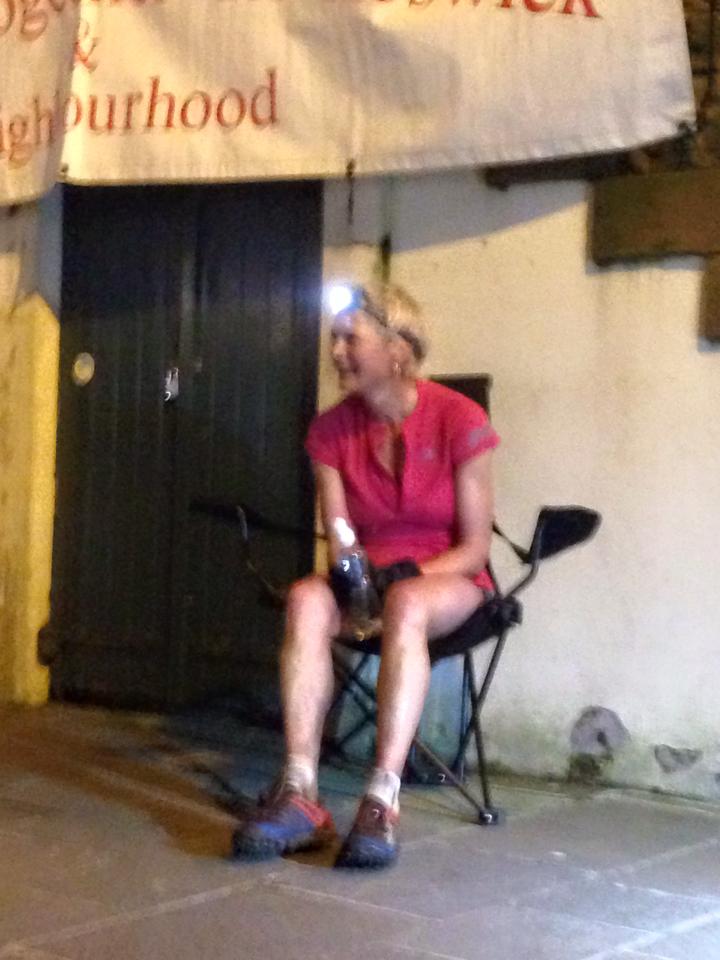 Me, post-run: