It's that time of year again, when the hills above Haworth suddenly fill with running reindeer, a near-naked caveman, a cat in a hat, a Star Wars rebel fighter, complete with cardboard jet, an emu, Captain America, Freddie Mercury, a werewolf, a hare and a tortoise (Hal and Helen) and a brace of other oddities. Oh, and some fell runners. Yes, it was Auld Lang Syne again, possibly the most popular race of those put on by Dave and Eileen Woodhead, also known as  Woodentops. Fancy dress isn't obligatory but at the world-famous prize-giving afterwards, it gives you a much better chance of getting some chocolates and a bottle of beer.
I went as Dangermouse, by means of a white forensic suit, white face paint, mouse ears and an eye patch. I really don't like fancy dress as it makes me anxious, and though I'd thought about this costume for weeks, the eventual result was a bit rubbish. Also when we assembled in the quarry which is the start for all Woodentops races, serenaded by a bagpiper in a kilt, I realised I couldn't see with the patch on, and the ears fell over. Oh well. FRB loves fancy dress, and always makes his own. This year he was a Star Wars rebel fighter, complete with cardboard box X-wing jet with felt flames coming out of the jet engines. It was as good as mine was rubbish.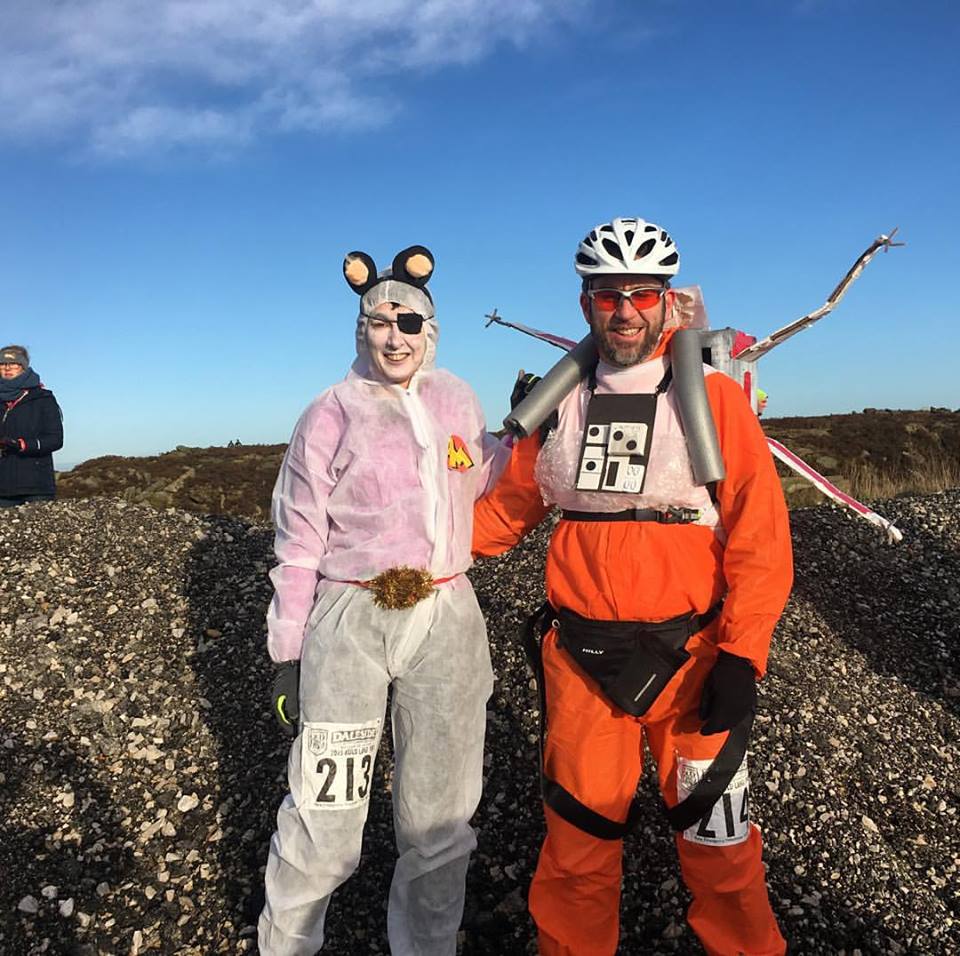 Dave Woodhead yelled at us as he normally does, and all I heard was, if you don't take care when you cross the road, that's your silly fault, and off we went. Up, up and up. Since when did fell races contain so much up? Oh. Always. It was hard, but it wasn't raining, and the biting cold at the start seemed to abate, though actually I was just getting hotter, as before the start I'd stepped out of the car in the car park and nearly froze on the spot, so I stuck on an extra warm layer. There were supporters out, including plenty of children, so it was lucky I'd stuck Dangermouse's name on the back of my not-remotely-looking-like-Dangermouse outfit, so that when I approached, they said, "well done…." and as I passed, "oh! Dangermouse!" All support was very welcome, as I was finding it pretty hard: I was exhausted after the first mile.
There was a beck to run through at the  beginning, which was fun, then up more and more, to the part of the route that is a switchback, so for a while I was entertained by the seriously speedy dashing past, some in fancy dress, including that near naked Victorian strong-man in his leopard-skin Speedos. Luckily he was going so fast my eyes didn't have to hurt.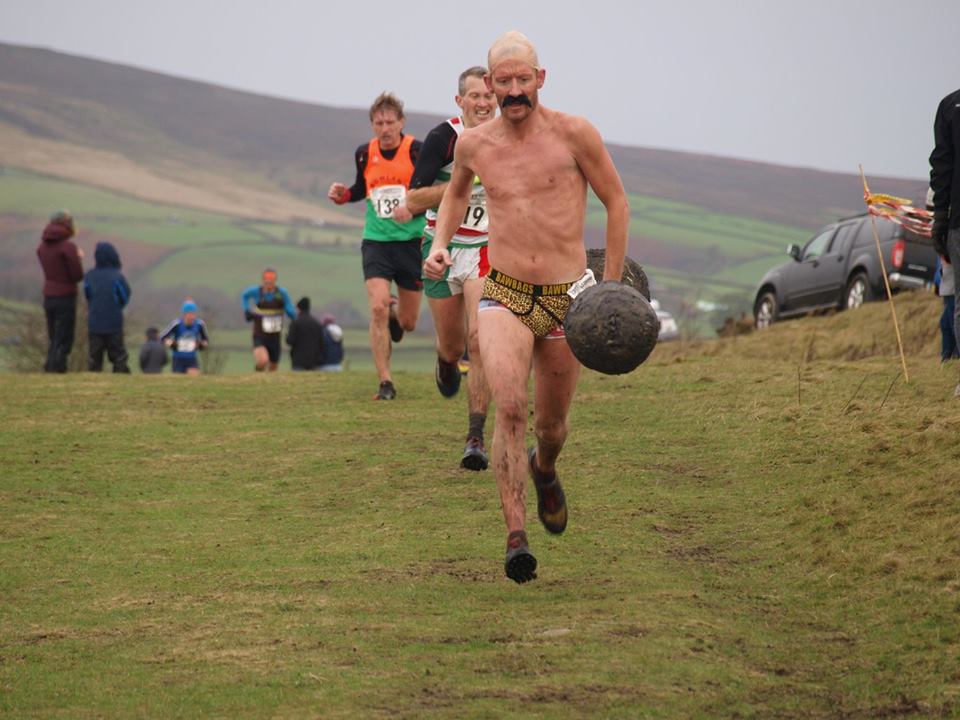 Picture ©Julie Guy
Then onwards to Withins ruin, up a bit more, and then, thank goodness, some skyline then some blessed downhill. The reindeer in front of me stopped for a toilet break, which looked like it was would be tricky, but I carried on though I wouldn't have minded a toilet break too: but no way was I going to stop and deal with a forensic suit tied tightly at the waist with a rubber belt that was wrapped in gold tinsel. So, on, and on, running straight through every puddle and bog I could see, because it's fun, then the steep field before the beck, that was now a bit of a mudslide. I'd been looking forward to going down it on my backside but it didn't look muddy enough, so I pelted down it upright instead, a big splash through the beck again, and then a slow trudge up the steep field on the other side. The woman running in front of me, who wore a t-shirt on which was written Naughty Nurses Fell Rescue Team, and was wearing knickers, tights and suspenders, retrieved her dog from a passing supporter, and then was suddenly running faster as the dog pulled her along. That's not sporting! I want a dog too!
Never mind: the end was near, up through the car park, and the final stretch until a much needed cup of tea, glass of sherry and Christmas cake and cheese, provided by my clubmate Alyson (who, as she looked at the cheese I'd dropped, said, "what kind of a mouse are you?"). Then to the prize giving in the Old Sun pub, as famous as the race itself, where winners – the men's winner is usually a Brownlee, but they weren't there this year – get a crown first, then are loaded with so many prizes they can barely walk. There are prizes for fancy dress too, and then in the spirit of generosity, chocolates are flung into the crowd. Last year I got a Cadbury's Caramel in my eye. This year I survived unharmed by small chocolate bars. It's a wonderful race, now it's over, and I've had chips, and I'll do it again, though with a better costume next time. If you'd like to see what a bunch of fell runners in fancy dress slopping through mud looks like, here are the Woodentops videos. And a very happy new year to you.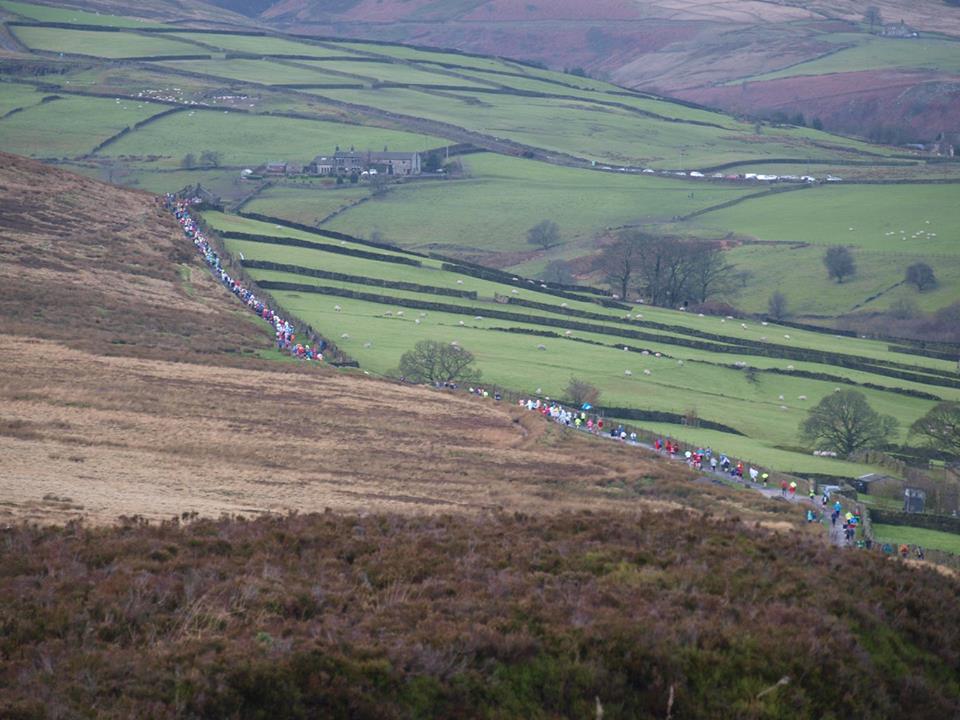 Picture ©Julie Guy