I've started writing a post for this many times, and stopped many times. I couldn't really work out what to say that I hadn't said already: that I was struggling with the after-effects of giving blood, and that I was taking iron and trying to run through it, and that I was running and racing. That's all true. I've done some nice races, and I finally feel like I'm back to normal. Running never feels easy, but now it feels less appallingly hard than it has done for the last month or so. I even managed to beat my speedy team-mate Sheila in the last race, by one second. I'm still rather terrified of the Three Peaks, but I have other things to think about first, like running 22 miles over the moors around Ilkley next weekend. I haven't run more than 15 miles, and it's too late to do much about that. But my paces are getting better, and it no longer feels like I'm running at altitude or through treacle.
I'm enjoying running again. I enjoy outside, rain, weather, wind, mud. I bought some lovely new shoes from Inov-8 and was sent two pairs of lovely new shoes from Brooks: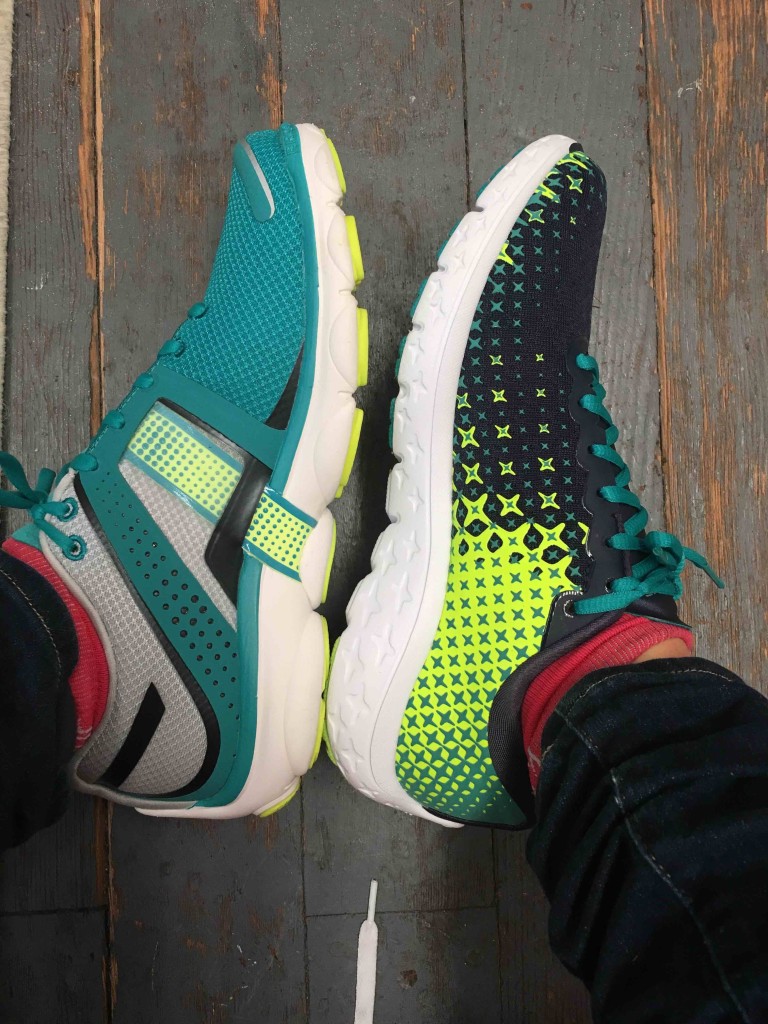 And I headed off to do the Stanbury Splash, a 6 mile or so fell race over Haworth moors. It's organized by Woodentops, who did Auld Lang Syne. I did it last year, and the route was diverted because of snow and ice. The normal route goes through a few becks, one with a steep drop. This year was exactly the same: snow and ice. So the route was changed to that of the Stoop, another Woodentops race. It's all immaterial to me because I never remember routes. No matter how many times FRB looks at me in bafflement with his perfect topographical memory because I don't remember that the route turns left at the farm after the second copse of trees, I don't remember. FRB wasn't running as he'd done the 22 mile Hebden fell race the day before. Though he was tempted.
It was the usual procedure: try to park as close as possible without having a four wheel drive car. Get to the cricket club hut and pick up your number. The Stanbury Splash is sponsored by Soreen so you also get a couple of snack-sized Soreen. But this year's sponsorship consisted of banana flavour which, frankly, I'm not surprised Soreen wanted rid of. Then, back to the car to sit in the warmth and put off getting out into the cold as much as possible. The usual "how many layers" sartorial discussion. It was too cold for vest only, so I went for this: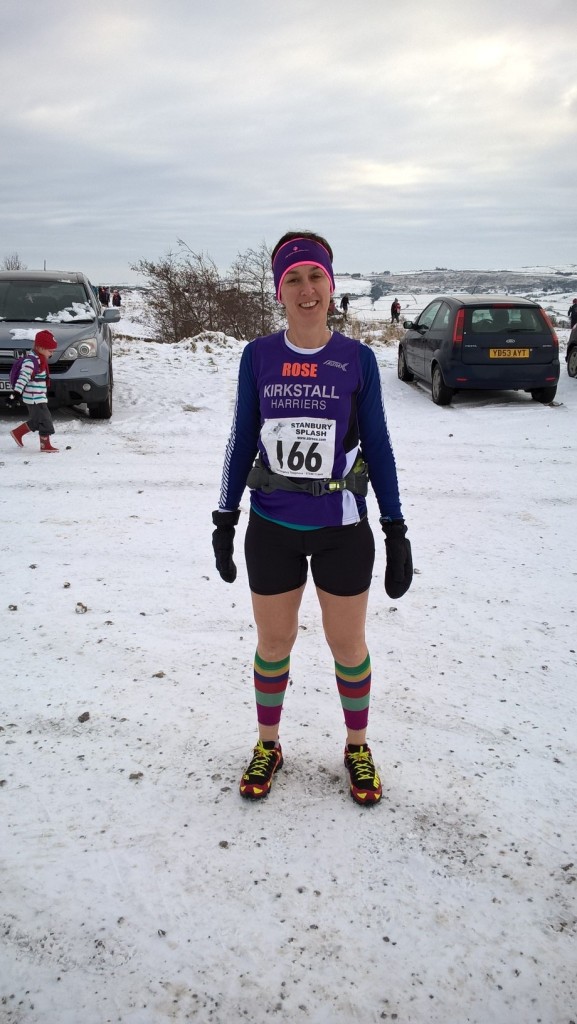 Yes, those shorts do not make a legs apart pose the most flattering, I know. I'm working on it. I had my new gorgeous Montane mittens on, my new Inov-8s and my usual race calf sleeves. I was ready. We started in the quarry as usual, and then it was up and up and up, and through bogs, up to the ridge line. We apparently passed the standing stone of the Stoop, but I didn't see it. Then, a hurtle down a boggy hillside. There was no path. Everyone was just doing their best to go as fast as possible while perfectly judging how deep the next bog would be. I got it wrong.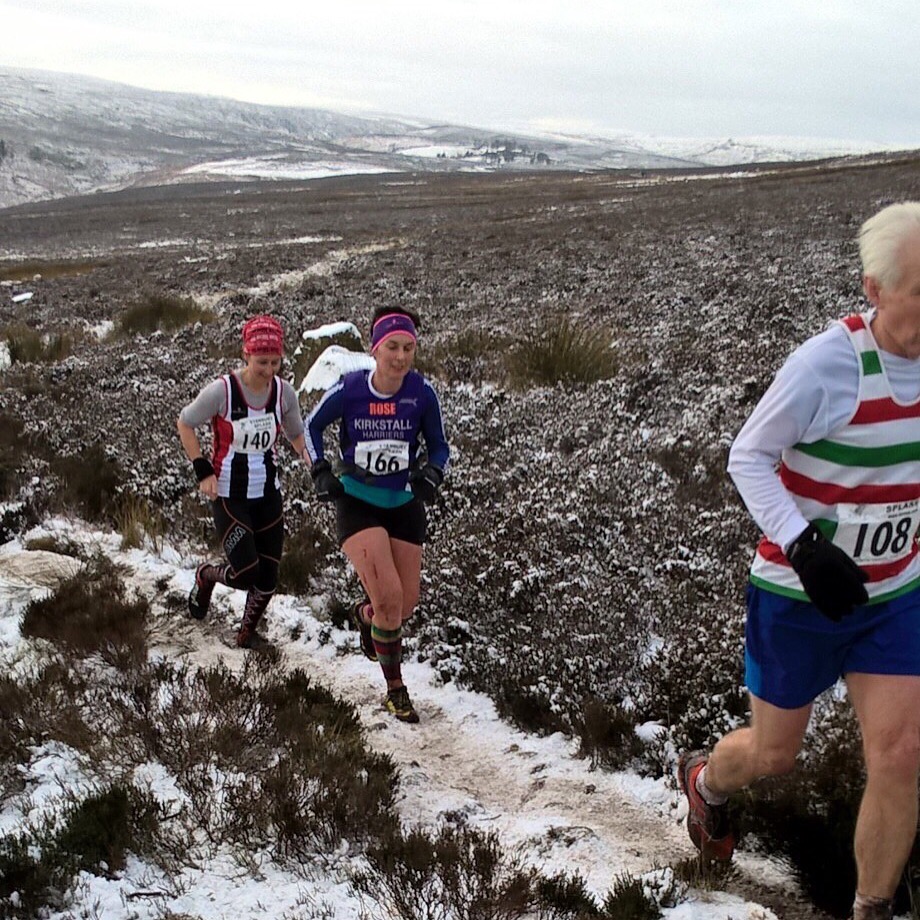 I put my foot into a bog and it went deeper than I expected. I lost my footing. That's pretty normal in fell running and I didn't mind at all. But the trouble with icy bogs is they bite you. I don't remember exactly what happened, but somehow my legs were cut and bruised. The next day they looked like this: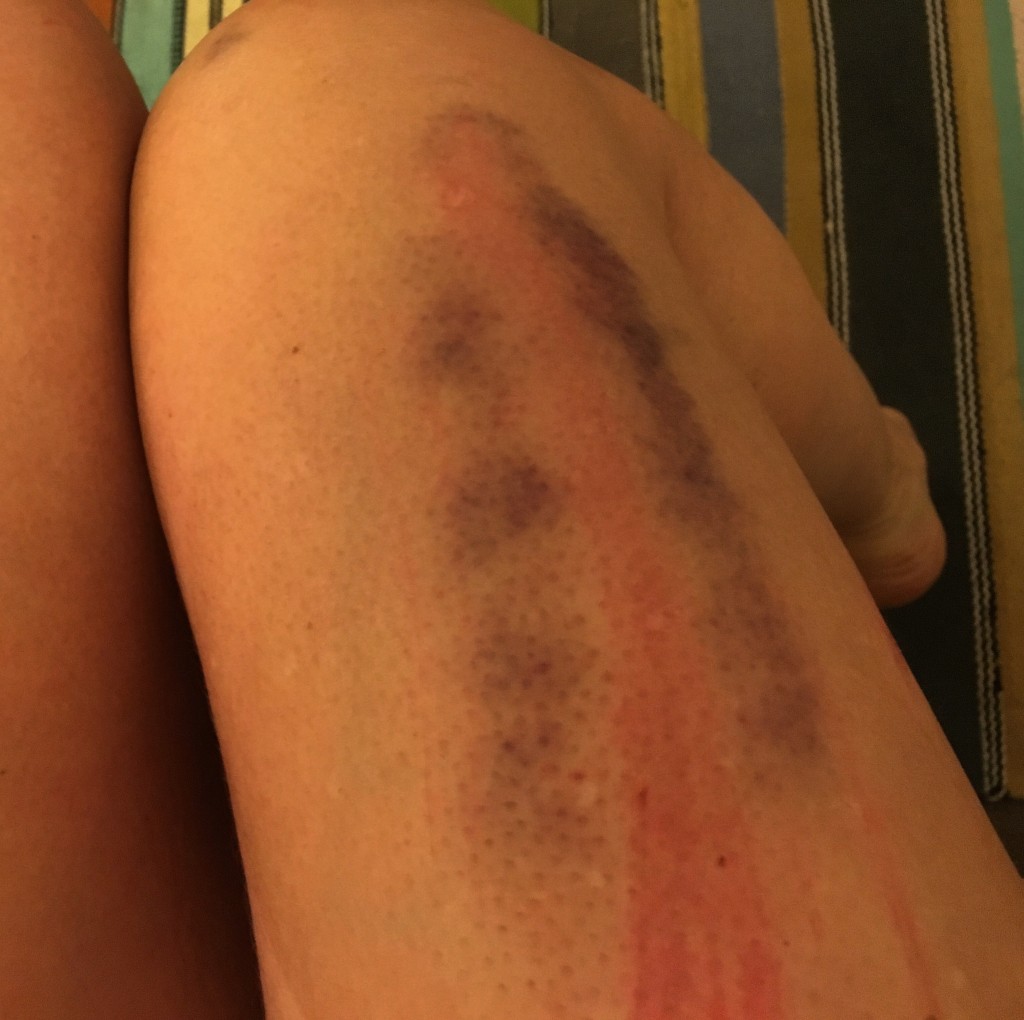 I have no idea what caused that parallel line bruising. I presume the long scrape is an ice scrape. I posted this picture to the FRA facebook page and someone suggested that "it is something to do with the flesh being compressed at the point of impact and the blood gets pushed hard through the capillaries on either side so lots of them burst but the ones at the point of impact are ok…or something." That makes sense. Oddly, it didn't hurt. And I felt oddly proud to be finishing with proper bloody legs, which is daft. But what I never felt was fear. The only thing that scares me on fell races is how badly I will do and whether I will come last. Yet people still have an image of fell running as macho and terrifying and dangerous. They think that anyone who runs in the fells or mountains sprints up the steepest of inclines without bother, like a goat. That's not true. Fell running is whatever you want it to be. Walk the inclines if you want. Crawl them if you want. The point is to be outside in nature and to love the fells, whether they attack you or not. I've only ever had one negative experience fell-running, when someone was ruder than she needed to be. Of course at the front of the pack there are devastatingly fit people – men and women – who do sprint up inclines like goats. But I don't feel any pressure to do that. I walk inclines if I need to. So do much faster people. If running an incline will drain you so you can't run at the top, there's little point running it. In many fell racers, you finish in the last quarter of finishers, as I do, and men and women who finished way way ahead of you will loop back to support and clap you home. Even people like Ben Mounsey, an amazing runner and one of the nicest men in sport.
Injuries heal. The mental soothing you get by running outside in snow and ice and air and weather makes all the blood worth it.