My new club, North Leeds Fell Runners, is what interior designers call "bijou." They mean "small," though bijou means a jewel, and I think NLFR is rather glittering, despite us having fewer than 40 members. A bijou club, but we still managed to find enough people to field three teams at the British Fell Relays, when far far larger clubs only managed one or two (and some didn't bother with any). The British Fell Relays — actually it's a British Fell Relay — is an annual event and does what it sounds like: you run a relay over fells. It sounds daunting, and it was, when I arrived in Llanberis, this year's location, and found nearly 1000 runners all looking as lean as mountain goats. I think I had more body fat on one thigh than all of them put together. The relays were hosted by Eryri Harriers, a club based in Llanberis, and they had got the use of a slate quarry as the venue. This meant that clubs wanting to bring gazebos and tents could leave their pegs at home, and resorted to rocks.
We (FRB was running for Pudsey & Bramley) drove down to Wales the day before and had an excellent walk on the beach. It was warm and sunny and weird to be doing that in late October, but I thought we may as well carry on pretending it was summer, and had an ice-cream on the cafe terrace overlooking the beach. It was a good idea to take advantage: Hurricane Ophelia was due to hit Ireland the following day, and knock-on gales would probably hit Wales. The race was probably going to be what fell runners call "a bit breezy": 50 mile-an-hour winds.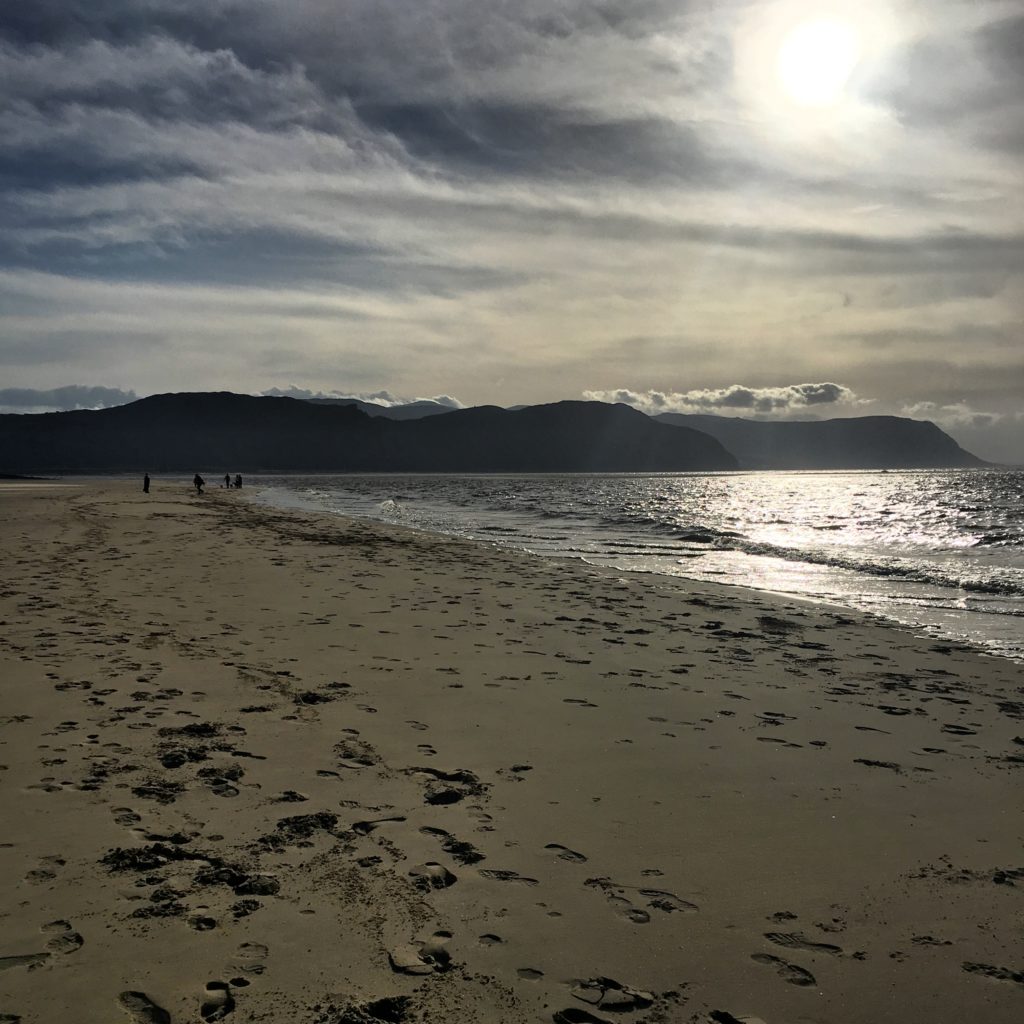 We stayed in Caernarfon, in a quiet AirBnB overlooking the river, and spent the evening wandering around and bumping into all of Wharfedale Harriers in the Black Boy pub. They were drinking beer, FRB was drinking beer, and I was drinking lime and soda: I gave up drinking alcohol a month ago to try to shed some weight. So far so good, and I see no need yet to revert. Though I am a little tired of lime and soda. Then FRB and I both selected our chosen pre-race meal: mine was chips. His was pizza. Thankfully Caernarfon town planners must have known this by siting the pizza place over the road from the chippy. The planners had also decided to screen a film on the side of the castle, which was an idea better in conception than execution, as it consisted of a film that you couldn't quite see because of the bricks, and you couldn't hear. So the evening's entertainment was not the film but the sight of many baffled people screwing up their eyes and looking dissatisfied.
Llanberis is a fifteen minute drive from Caernarfon, so we got there in good time, and set off up to the registration. And lo! There was Ben Mounsey coming the other way. Ben and I have been communicating on social media for ages, and I love his writing (here is one of his latest, which is brilliant). He is an extremely good runner who manages to combine enormous talent with encouraging kindness, to all abilities, and I will always salute that combination. We have nearly met several times, and I suppose we did meet, if you count me watching him descend Pen-y-Ghent at speed during the Three Peaks, while I slogged up it. That doesn't really count. The good news is that he is delightful in person too. I love it when that happens. He was off to sit in his flash campervan and drink tea, as we had plenty of time. Both he and I were doing Leg 2. The relays consist of this:

My Leg 2 partner was Jenny. I knew she was worried: she hasn't done as much fell running as usual, and also came off her bike while doing a sportive so hadn't run much at all for the previous three weeks. The night before, she texted FRB to say, "Will you get Rose to carry some bricks in her race pack?" I didn't have bricks, but I did have, as usual, loads of food and drink. What I didn't have, as I realised when I started to get ready, was any insoles for my shoes. Shit. We had got there at about 9 and probably wouldn't be running until at least 10am, but this was at 9.40 or so and the car park was a ten minute walk away, where I thought I might find a pair of orthotics that I had happened to throw in my bag because they had just been posted back after refurbishment and were on my kitchen table when I was packing. Usually I have a carrier bag of spare insoles, but I'd left it at home, despite being what I thought was extremely assiduous at preparing, with lists and tickings-off and everything. The sight of my fell shoes with no insoles in was quite a shock. Jenny and her husband Dave immediately dashed off to the Pete Bland stall outside to see if they had any. No. I didn't have the car key and FRB had gone off somewhere so I dashed off too in a mad panic. Luckily he was milling about at the P&B encampment, and probably got rather a shock when I ran up and yelled,
GIVEMETHECARKEYIDON'THAVEANYINSOLESANDTHEY'REINTHECARANDGIVEMETHECARKEYNOW
then ran off again.
I ran down and found the orthotics, which don't quite fit my fell shoes but never mind, then ran back up. Of course we still had about half an hour to spare before Ann finished Leg 1. Meanwhile my club-mates had gone to Pete Bland and decided not only to buy new shoes but to run in them.This breaks a cardinal rule of sensible running: never break anything in on a race that you haven't tried out before.
Me: "You've run in this model before, I assume? "
"Nope. I usually wear Salomons."
Fell runners, eh. (If this makes no sense to you, ask anyone who runs off-road to explain the different merits of Salomons, Inov-8s and Walshes and prepare for a) opinions so entrenched they make words carved in stone seem like chalk on a board and b) to be there for a very, very long time.)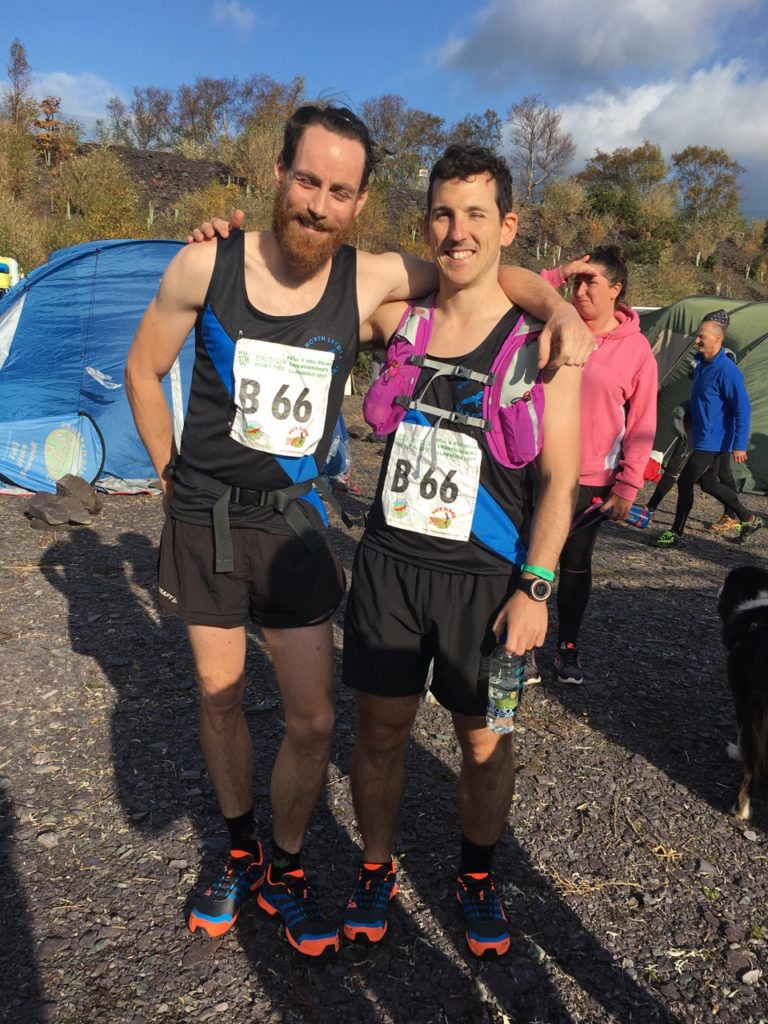 To wait for Ann to get back, we had to enter the waiting pen, then be herded across the race finish line and wait on the other side. FRB wasn't going to be running for at least three hours, probably, so he had time to act as Director of Photography. "Look nervous!" I don't think Jenny heard him, but I did.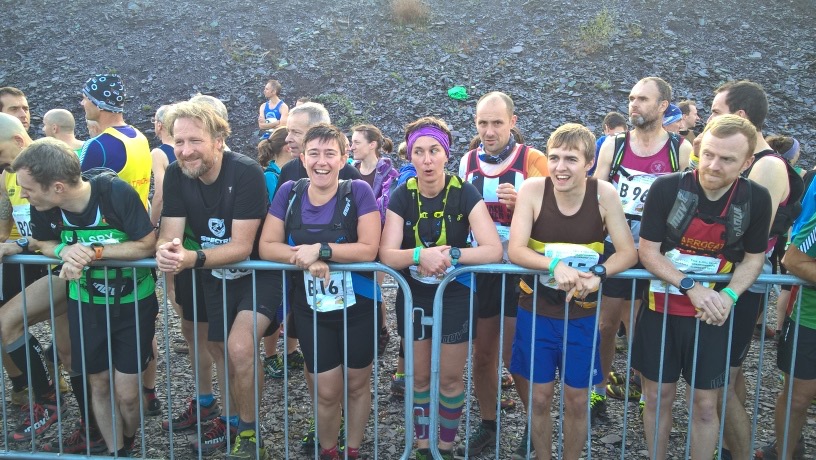 I knew Ann was a very good runner, but I was really surprised to see Rachel and Karen of P&B, both extraordinarily fast, still waiting, and waiting, as Leg 1 runners got in, touched their Leg 2 pair, and the Leg 2 pair set off. While a dwindling group waited behind. In fact both Ann and P&B's Leg 1 runner (who, it turns out, is not too good with technical terrain or water, both somewhat of an obstacle on this race) arrived at the same time, so Jenny and I set off up the quarry with Rachel and Karen, which would normally never happen. They of course promptly zoomed off and overtook about 15 pairs. We, on the other hand, were constantly overtaken. I did set off with some ego, while knowing my limits, and this bothered me at first, but eventually I developed an armour and got over myself. I knew Jenny's fitness was not optimal, and so the fact that she was attempting this at all, and — it seemed for the first couple of miles — giving it her very best, was good enough for me. I'm not saying I would have gone zooming off. Of course I wouldn't. I only wish I could zoom. But anyway all these thoughts were pointless. We would do as well as we could.
The weather was perfectly fine, until we started climbing. We knew we had 900 metres of climb coming in the first six miles. That is tough. The only option: head down and keep going. By the time we did the first climb, the winds were howling on the tops. I was blown into a fence. At one point the wind was so loud and ridiculously strong, I stopped and screamed at it. If you can't howl at the wind now and then, what's the point of fell running? Jenny was keeping up really well. The route was pretty clear. We had been told it was marshalled and flagged and so far we had seen tape (which is what "flagged" can mean) and marshals so so far so good. Onwards, upwards, and into weather that deserved a capital W. But we persevered. Finally came a glorious descent, and we made our first mistake. A golden rule of fell running: Never believe what a stranger tells you. Early on on the descent, the flags — and marshals — disappeared. I had no idea which way to go, apart from down. At this point, I should have got out my map, but I was so excited by not climbing, I didn't.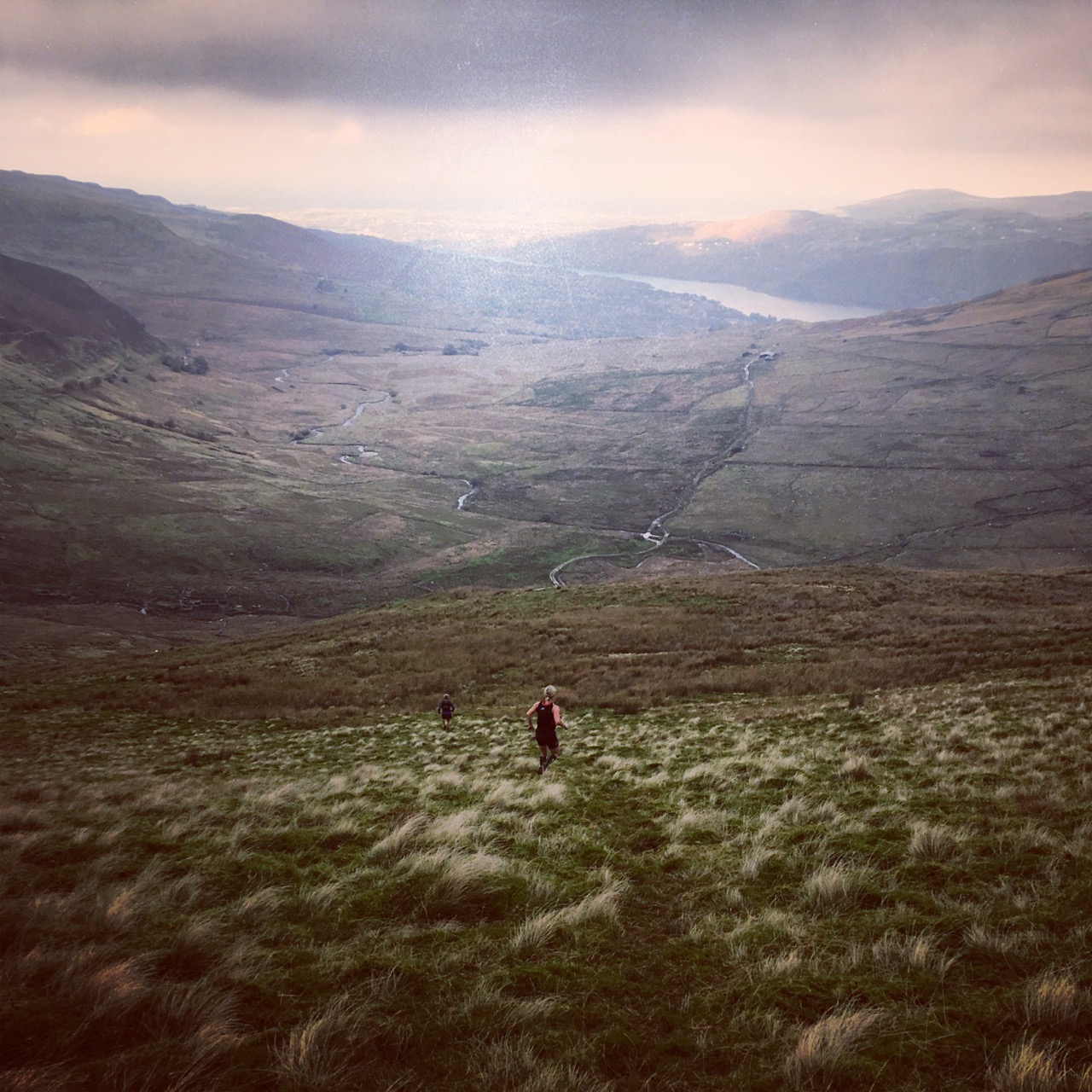 A walker said, "the others have gone that way" and pointed straight down. I launched into a descent, taking a mostly vertical line down, and got to a field gate at the bottom. Jenny's descending is slower than mine, so I had time for both a picture and a toilet stop. This is not a picture of the toilet stop.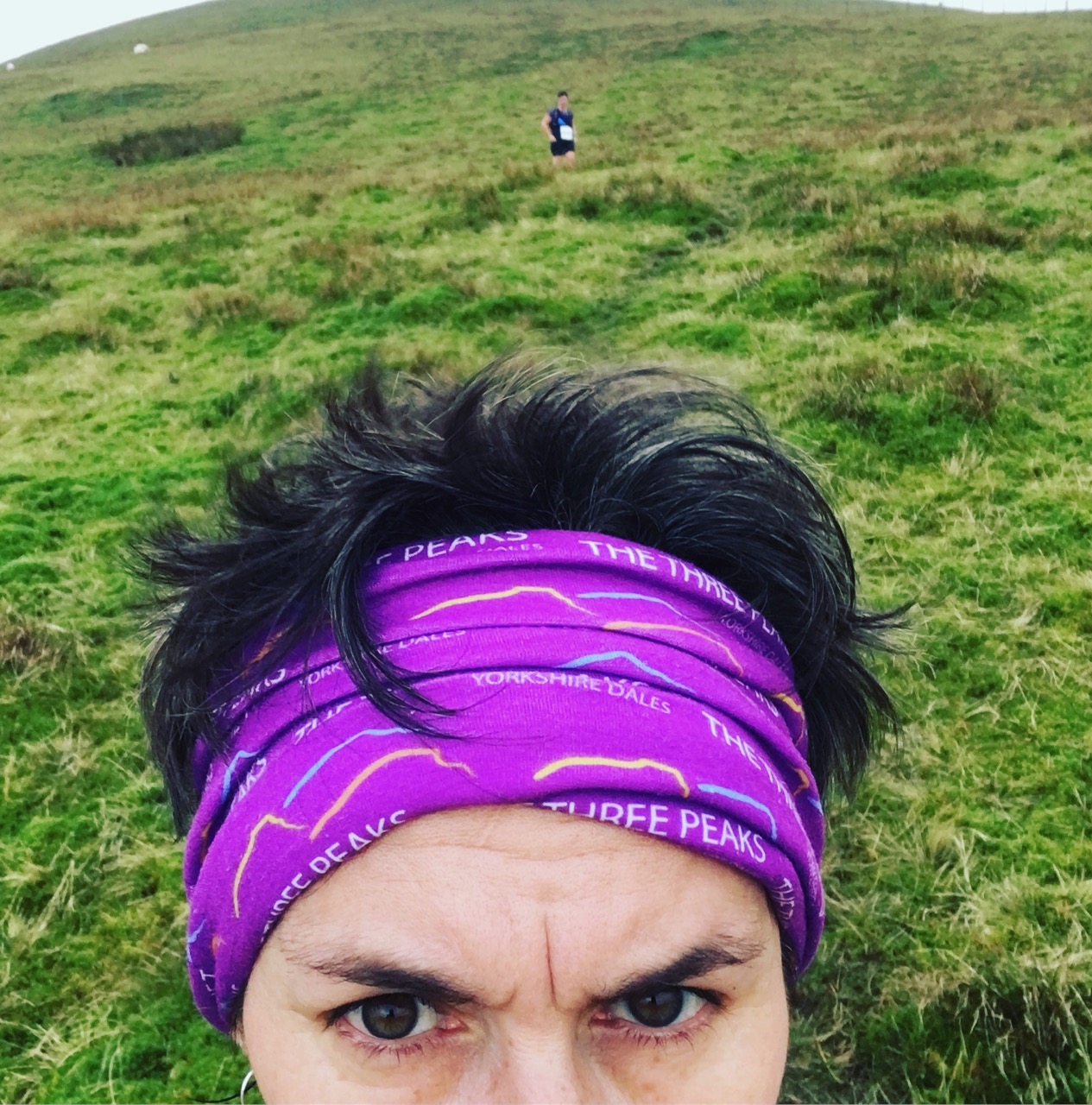 When she reached me, we looked around for a flag or runners and saw neither. I got my map out and it was no clearer. Finally we realised we should have descended diagonally and were about 300 metres further along the hill than we should have been. Reverse, regroup, find the stile, and we were fine again.
For now.
A mile or so of track, then we passed a checkpoint that I was about to dib at when they said, no, this isn't yours. We had done four checkpoints by then and I knew there were five. The rules of the relay are that you must dib at your leg's checkpoints, in order. We kept going, now with tired legs, amongst rather beautiful views.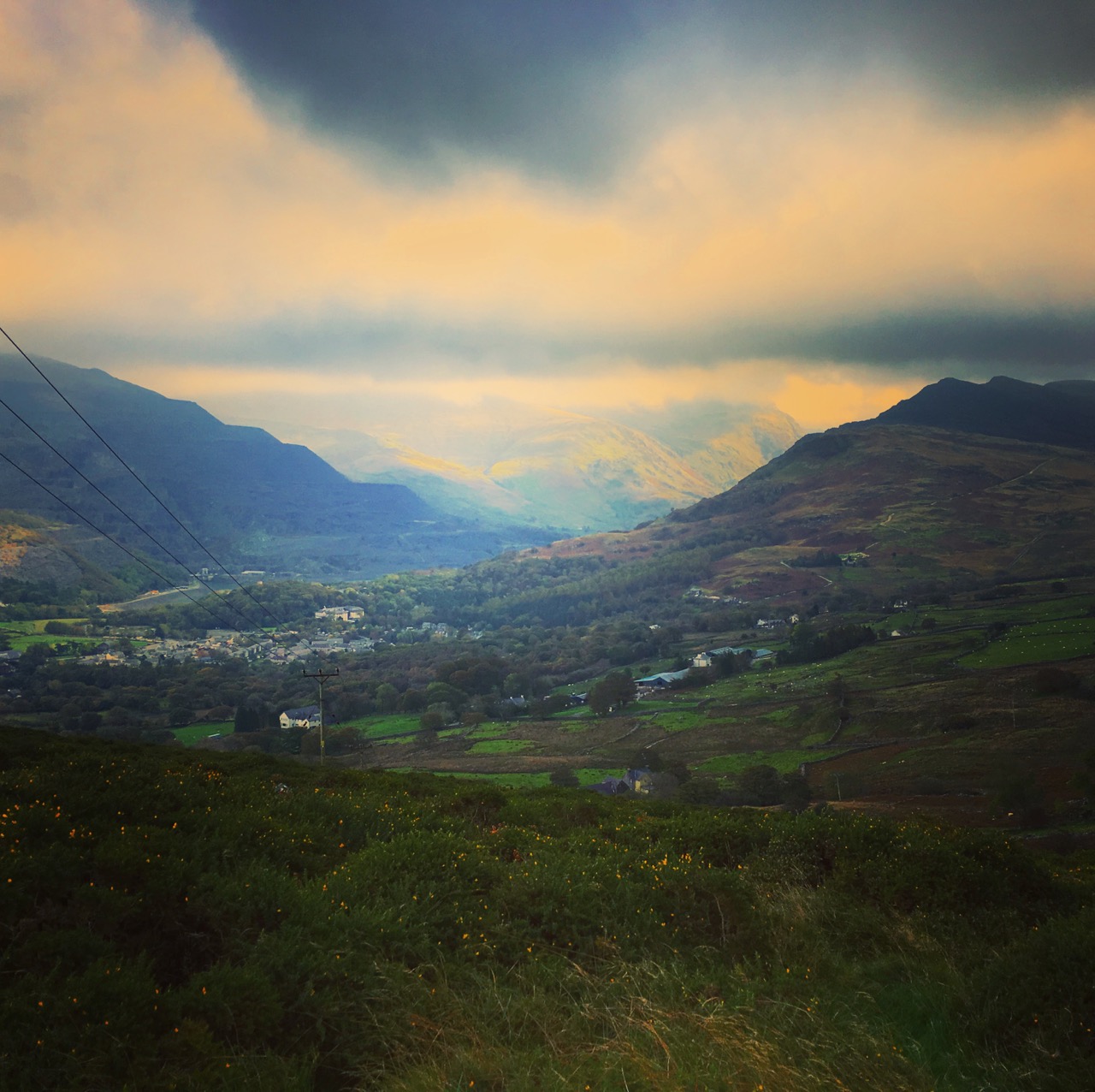 I knew roughly what the route was meant to do: it looped round then reached the quarry via a descent that was muddy and rocky and either awful or good fun depending on your tastes. (Good fun, for me.) At a bend in the track we saw several pairs of runners climbing a hill to our right. There was a tiny scrap of tape on the gate, so we went through it and followed the runners. At the top was an unmanned checkpoint on a cairn, and a broken down wall and barbed wire. It didn't seem right, but we had seen no other indications on the track. Checking the map was useless as I had no idea where we were, a key to using a map properly. That is, I knew roughly where we were because we could see the quarry down in the valley. We just didn't know how to get there. We were getting very confused, and that got worse when a load of Leg 3 runners started climbing up towards us. The mass start had set off, and we knew that because all their bib numbers began with C (we were B). There were a few other B-bib pairs around though, looking equally lost. We climbed up and down that hill five times trying to understand where we were and where to go next. This is what that looks like on a map: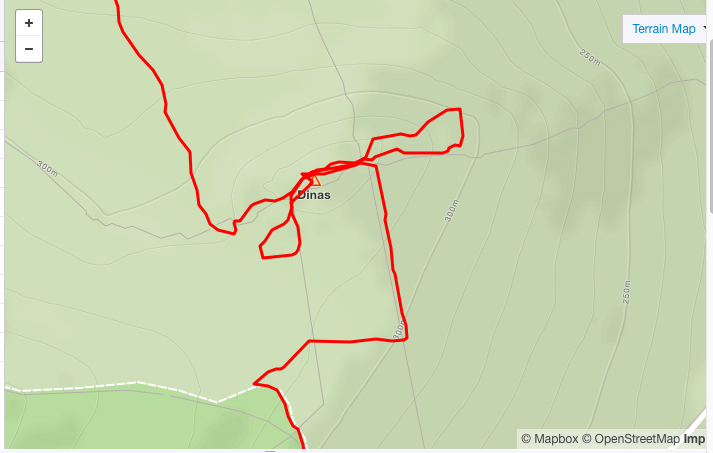 My good mood had thoroughly disappeared, especially when one of our descents was through rocky waist-high bracken. Eventually we decided to dib at the checkpoint, and the dibber beeped as it was supposed to, and we set off down the hill again. There were about three other pairs, all women, and we sort of followed each other, and that was yet another mistake. None of us had any clue where the route had gone, but it certainly wasn't the way we took, which was via massive rocky outcrops, a sheer drop into a quarry and a sign marked DANGER DO NOT ENTER, copses full of brambles and nettles. All this time we knew where the finish was, but there seemed to be endless obstacles in the way. It definitely wasn't the right way but at this point we all just wanted to finish. I was frustrated and furious and embarrassed. Eventually, after climbing walls and barbed wire and going through nettles, we found a track down that ended up on the road we'd started on. We ran up it and met the race route at the corner above the quarry. There were some surprised looks. By this point I wasn't sure we'd got the right checkpoint but I didn't care. Back, and down the finish funnel, and into the tent where we explained, roughly, what we'd done, and realised that we'd got the wrong checkpoint. All Leg B checkpoints were manned, and the one on the cairn wasn't. So that was that. We were certain to be disqualified.
Ben Mounsey came up and asked how we'd done and when I explained, he was all sympathy. He said, it can happen to anyone. He said that because he is nice, and because it is true. But in this case it happened to anyone who gets distracted by runners who are not running the same leg and turns off the right race route. Those runners we'd seen going up the hill had been Leg 3 runners, and if we had only carried on on the track, we would have quickly come to our manned Checkpoint 5.
I wasn't in the best of moods, and once I'd changed and cleaned up in the fell-runners' changing room — a Portaloo — my mood wasn't improved by the fact that no-one at our table could locate our club's hot food vouchers. I went up to the food table and showed my race bib and explained, but got nowhere. This was the conversation, more or less.
"I don't have a voucher because our club has lost them. But here is my race number, can I have some hot food please?"

"No. You need a voucher."

"But I've just been running for three hours in gales and got lost in brambles and barbed wire and I'm really hungry can you please show some kindness and give me some hot food anyway?"

"No. You need a voucher."

"Then can you fetch your manager and I will have an adult and calm discussion with him or her because I really need some hot food."

"No. You need a voucher."
I will be fair to the woman: she was probably temporary staff on a minimum wage and worried about her job. But it was not the best encounter I could have had. So I comforted myself with a bag full of Quorn sausages, which I'd taken in my race pack and not eaten, not even at the worst moments, and hot tea.
And we weren't disqualified. I still don't know why. Maybe it was because we obviously gained no advantage by using the wrong checkpoint and taking an hour more to get back, and we did dib at a fifth checkpoint, it just wasn't ours. I'm grateful. There were other disqualifications, so it wasn't because they didn't notice.
What did I learn? That if I see other runners tramping up a hill, I should check my route map. We were so stupidly close and so stupid to veer off the route. But tired brains and legs warped our thinking. I learned that "fully marshalled and flagged" has a wide and elastic meaning, and that I should never rely on that. I have signed up to do an FRA navigation course, and I'll be back to do the relays, but next time with insoles in my shoes, my map held in my hand all the way round, and a hot food voucher tattooed to my back.