It was such a simple thing to do. Leave my office, drive half an hour north to Otley, get lost for about ten minutes, phone FRB, who is also known as Navigator General for his uncannily perfect memory for routes run and driven only once, get re-directed, get slightly lost again via the car-park of a posh Otley hotel, finally arrive at Surprise View car park about five minutes late (not bad for me, whose timekeeping is poor enough for FRB to factor in an extra fifteen minutes to any departure), strip off sweater, detach car key from bunch of keys, drink some water very inadvisably, and
RUN
Just,
RUN.
I am a writer who is supposed to be good at conveying things with words. But it's hard, actually, to convey how wonderful it was, to simply move at speed – not too fast – through gorgeous nature, on a stunningly beautiful sunny evening. It's such a simple activity, running, despite all that we complicate it with (though not at high level and particularly not in certain training camps, as we learned later that evening from the BBC Panorama documentary on doping and Alberto Salazar).
But it is simple. And over Otley Chevin, a beautiful dollop of hills, rocks, trees and trails that overlooks Otley and nods to Ilkley, on a sunny evening, it was beautiful. It's not often that we feel a certain emotion these days, amongst the noise and clutter and chaos and stress of life. I did feel it last night. I felt joy. I was joyful, just to be running. How I had missed it.
FRB was a great companion. He told me if I was going too fast. He advised me about rocky sections. He had planned a route that wouldn't tax my tendon too much: some uphill but not on rocky sections, but mostly flattish trails through the woods. But then we glimpsed the view, which in yesterday's light was magnificent, and we decided to change the route, to see more of the open and not stay in the dark of the trees. There would be more climbing and more rocks but I said I'd walk if necessary, and I watched where my feet were going.
I was wearing my new Brooks PureGrit this time. I think they may even be more comfortable than the PureFlow. Here they are during the five mile Harewood march at the weekend: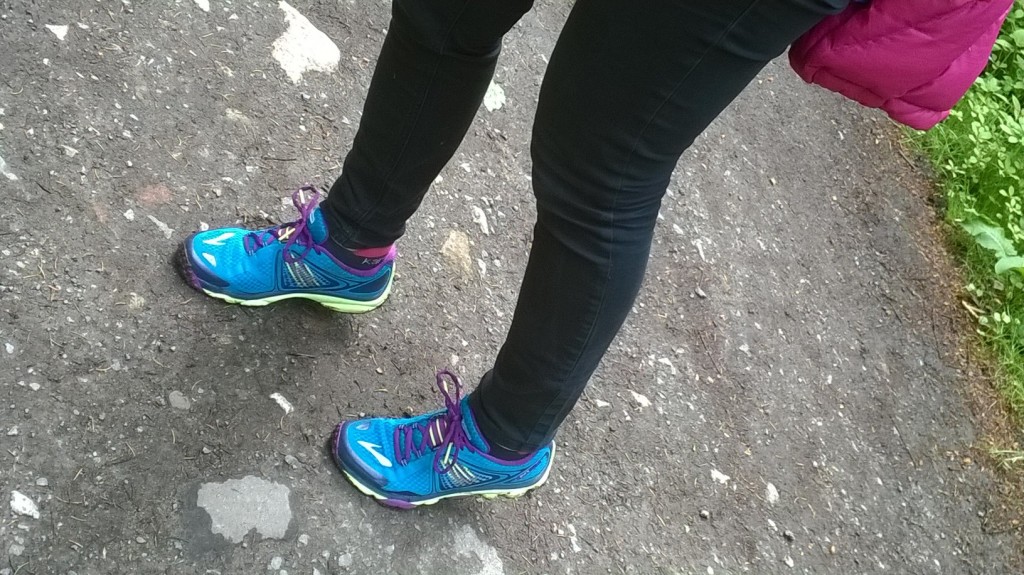 They are light, flexible and cushioned, but with none of the heft from shoes that are usually advertised as cushioned, but which seem to get most of their cushioning from weight. I had my orthotics in, of course, and my tendon was fine. I twisted my ankle a bit on some rocks, but it settled down. I keep expecting to wake up and for it to be sore and angry, but so far it hasn't. And as long as it doesn't, I'll keep doing my cautious programme. A little further each time. Maybe a hill or two. I intend to keep up the swimming, but haven't been all week, though I think a swim after a run is probably the perfect combination, as although the kicking aches at first, it loosens everything beautifully by the end of a good half hour session.
At the end of the run, I wasn't too tired. I'd done the longest run in two months, a whole three miles, but I felt fine. And I deserved an ice-cream, so I got one. E-numbers, wafer cone and strawberry syrup that had never seen a strawberry: it tasted amazing.
I didn't take any pictures as I was too busy enjoying the run. But we stayed afterwards to watch the Otley Chevin Fell Race, FRB banging his wok with a spaghetti server, me with some borrowed jingle bells, and Dave and Eileen Woodhead were there, as they are at most local and further-off fell races, with their cameras.