Running overseas. I do it whenever I can, that is whenever I travel. Usually, I manage to find a local running group and run with them. Or I ask for routes from local running groups and do them myself. I have had stunning runs in Salt Lake City up stunning Utah canyons, around ring roads and paddy fields in Kathmandu, up the Hudson River pathway in New York. So when I came to Delhi, I didn't think I would do any differently. I knew that I was coming to India in the hottest month of the year. I knew that temperatures would be at least 44 degrees C. But until I set foot outside, on my first morning here, I realised I had had no idea what that felt like. It is impossible to imagine such heat when you are not in it. I could understand it intellectually. I knew it would be hot. But god. It is so hot that Delhites are saying it's hot. It is so hot that newspapers are running columns called Death By Breath, because the heat is making Delhi's already awful pollution even worse.
It is the type of heat where I cannot stand for more than two minutes in sunshine. It is a heat that boils my blood, and saps my energy so that at around 5pm, if I have been working or walking, I collapse in a darkened room – in any darkened room – with a whimper. I begin to dread going outside. I calculate whether I can walk for ten minutes at 5pm or whether that's too early. I jump from air-conditioning to air-conditioning to swimming pool.
But even so. Even so, I have to keep fit. Not only because a few days after I return, I'm due to run the Wharfedale Half, a trail half marathon with some steep climbs. I don't think my legs remember what climbs are at this rate. But also because in a fit of enthusiasm in my first couple of days here, I signed up to run a local race in Delhi. There weren't many to choose from: who organises races in the hottest month of the year? These guys do. It's a festival of running, really, and you can choose to run 20, 40 or 60K and also run one day and cycle the next. I'm running the 20K race, which starts at 5am, though all runners are encouraged to be there at 4.30am to cheer on the 40K and 60K runners. The location is a reclaimed mining area south of Delhi which is now a wildlife sanctuary. It looks stunning: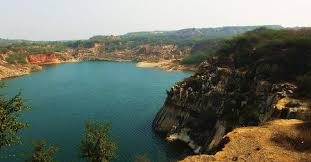 It also looks like it will be hot, even at that time. I know that because I joined a few Facebook Delhi running groups, and asked about local running. Lodi Gardens, they said. Two blocks from my hotel. But go early. Finally a couple of days after I arrived, I got up at 6 and got ready. I was worried about how to dress modestly: India may have lots of young feisty middle class young women who wear what they like, but I wanted to draw as little attention as possible. So I fashioned a modesty outfit from my Inov-8 shorts and a racing skirt: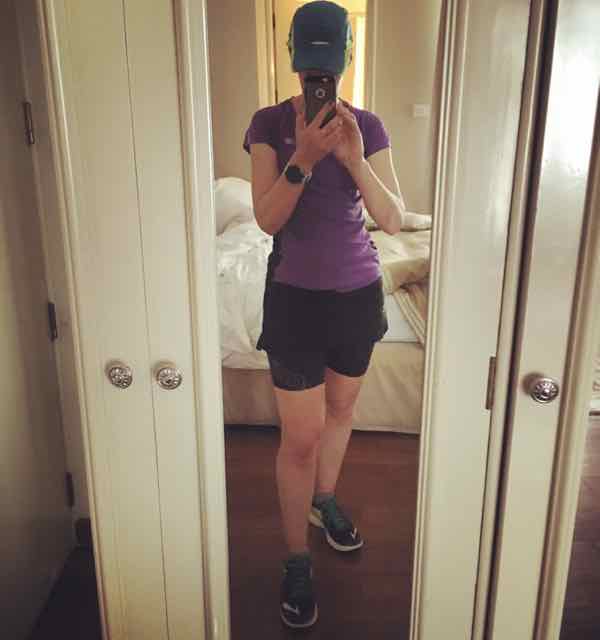 No, that is not a gas mask, though later I came to wish it had been. I set off running, carrying a backpack with two filled water bottles. By the time I'd finished, I'd drunk them all. I got to Lodi Gardens and had two surprises. 1. It is exquisite.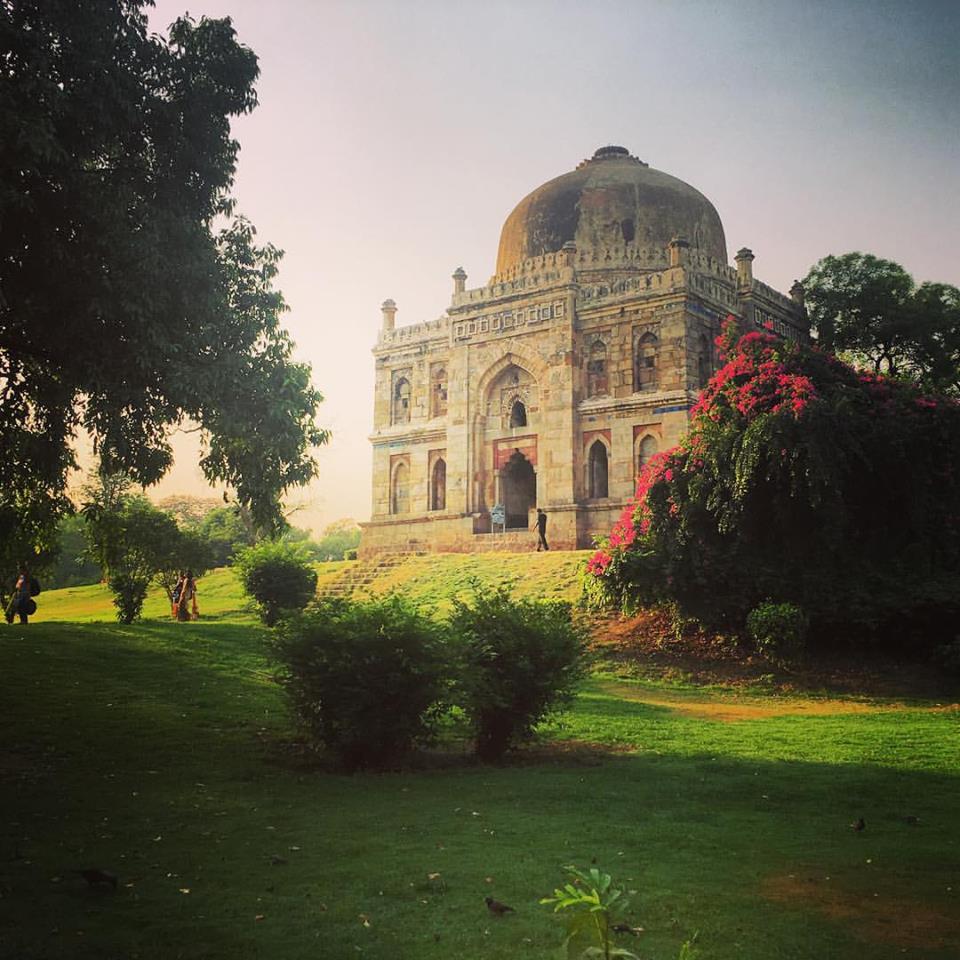 2. At 6am it's like King's Cross at rush hour.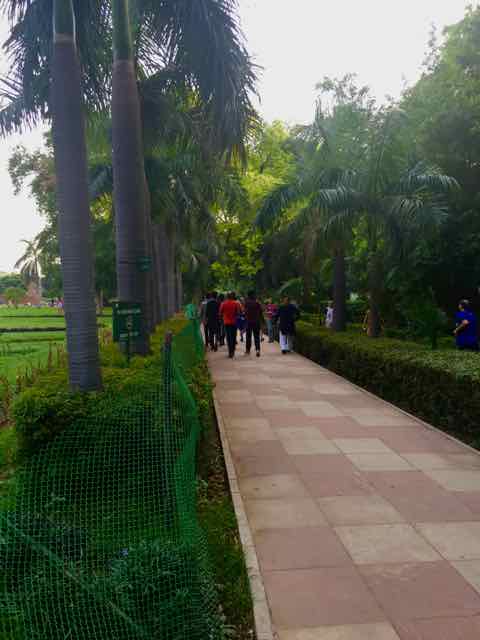 There were loads of people, everywhere. Women in saris and trainers, striding around the jogging path. Walkers and more walkers. People doing yoga in the yoga area: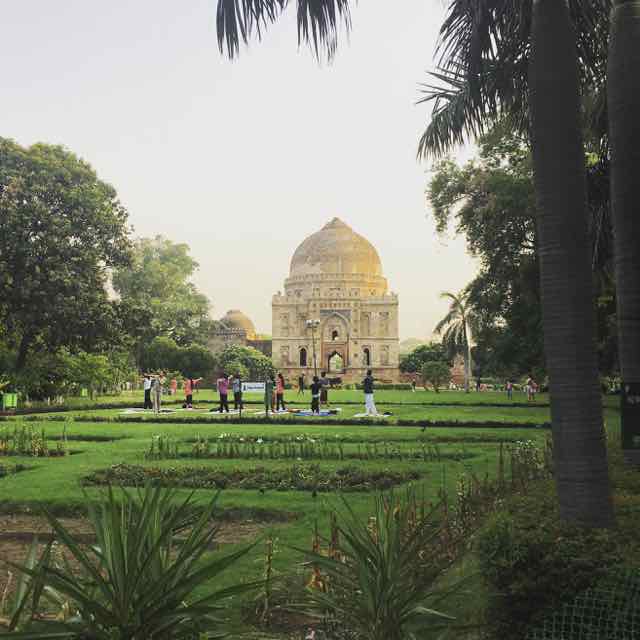 It was great to see people keeping active even in a heatwave, and impressive. (Someone told me later that 6am is too late to go running and I should have gone at 5.) But what was missing was runners. There were a few, but all male. People stared at me, but I just kept running. Well, shuffling. It was 6.30am and I was pouring sweat. When I ran around the Three Peaks I drank hardly any of my three bottles of water. By the time I'd finished running around Lodi Gardens, I'd finished both bottles. As it got later, a few more women runners appeared. I'd been told Lodi Gardens is popular with foreigners, as it's near the embassy area, but I only saw one foreign woman running, and she's going to have problems with her hips or ITB if she keeps running like that (flicky foot). I did have a chat with one fellow runner, as I asked him about his tattoo. He said it was from his first marathon, which had been in Slovenia, obviously. The tattoo was the race motto. I liked the image of runners, but I'm not sure I'd want random Slovenian on my arm forever more along with "Keep Exploring".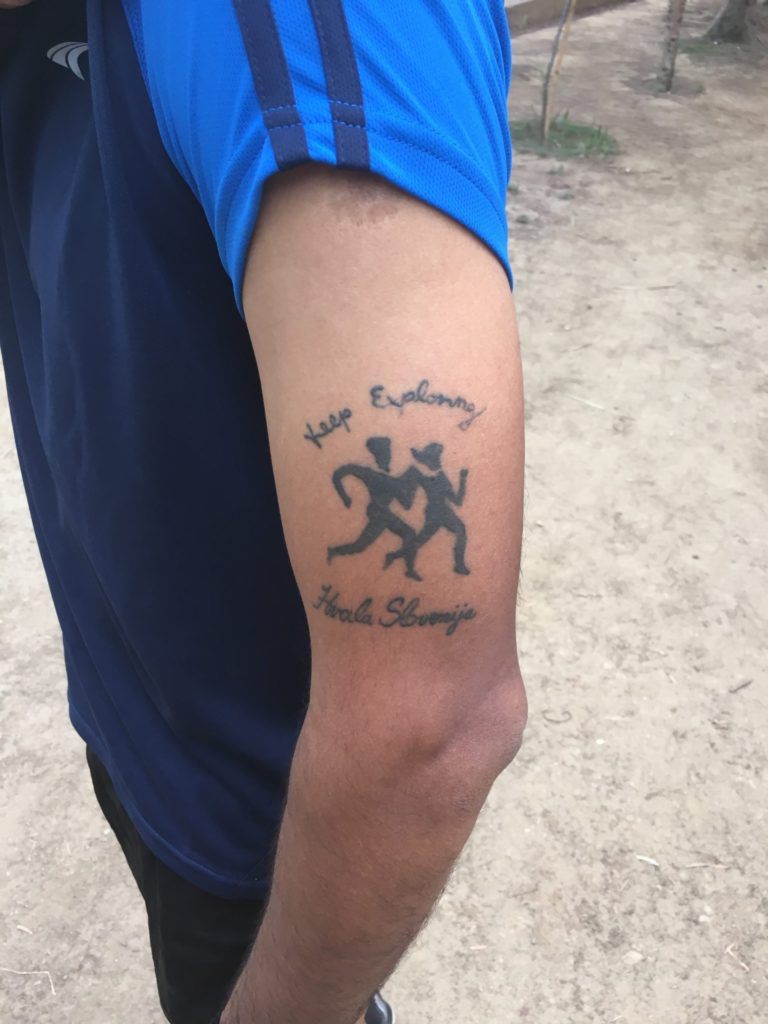 After four miles I had had enough. I certainly didn't feel like someone who had run 24 miles a couple of weeks earlier. Or perhaps that's why I felt so pathetic. Since then I've tried to wake up early a few times to go running, or at least go to that yoga class that looks so inviting, but my sleep patterns disagree. So I've stuck to the treadmill, dreadful though it is, and I'm going to have to keep my hill legs in shape by running up and down the hotel staircase. The enforced interiorness may be a good thing, as I had dinner with a friend of a friend who has runner friends. They have modelled, he told me, an hour's run in Delhi pollution and figure out that it actually cuts a year off your life. So indoors it is.