I haven't been racing. I have been writing. My schedule has been heavy: up very early, into my studio very early, 10-12 hour days at my desk. There has been a lot of comfort-eating. I've tried to keep fit, going to spin classes and doing weight-training, and running once or twice a week, usually up the road to Woodhouse Moor, around the park three times, then back. One thing, before I continue: people who run in cities, why are you so miserable? I'm used to running or walking on the hills and moors, where everyone says hello. But I could pass a fellow runner several times and get no acknowledgement. It doesn't take much effort to make eye contact or nod. And there were never more than a dozen runners in the park at any time. Leeds city lunchtime runners, cheer up.
I hadn't been on the fells for so long, that I planned a day out somewhere wild as my reward. Last Monday, I sent in most of my book. On Tuesday, I fiercely pottered. And on Wednesday, we went to the hills. FRB was in charge of navigation and route-planning, as usual, and he had decided on a run up to Simon's Seat, near Bolton Abbey. The weather forecast was for light showers, which didn't bother me: I was so desperate to get outside, I would cheerfully have run in pouring rain. Which we did, as it chucked it down from start to finish. We parked at Barden Bridge, where a Yorkshire Dales ice-cream van was, surprisingly, open for business. It was also surprising, and impressive, how many people were out for a walk. It was full waterproof weather, not light showers. But still, folk were out, though no runners. We put on waterproofs, then FRB produced two flat caps from the boot. It was the day after Yorkshire Day, and also the day of the Flat Cap Five, a lovely race in Dewsbury for which you are supposed to wear flat caps. But I had not known whether I'd be free by then so not booked, and it was sold out. This was our own Flat Cap Nine. We set off along the river. The mighty River Wharfe, which looked wilder than last time I'd seen it, when I had swum in it while running along Leeds Country Way, in the weeks of writing when I would take Sundays off (that didn't last).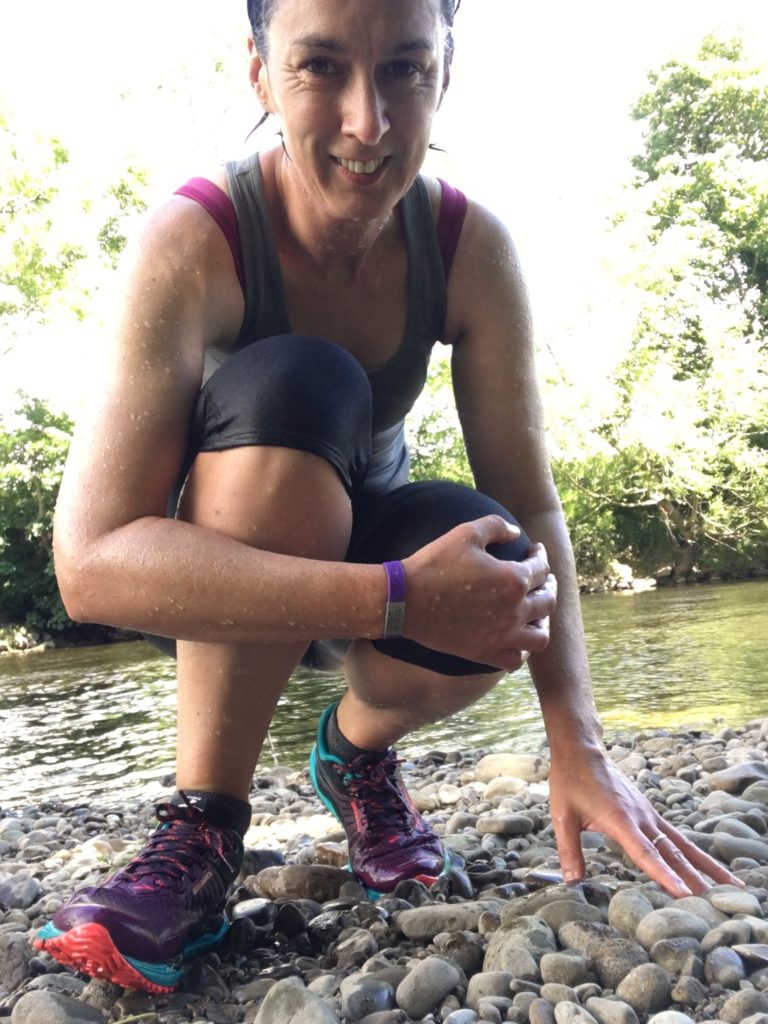 It looked fierce and much better where it was, away from me and away from the woodland path we were running through. The woods were lovely, and they kept the rain off. I was worried about the fact that I had done hardly any hill running — in fell runners' language, this is "I've done no hills" — for two months. I also realised that I hadn't taken my iron tablet for four days. But I did OK and kept going. Through the woods to the cafe, over the bridge and along to the Valley of Desolation, which doesn't look very desolate, then onwards and upwards to open moorland. A sign told us that the moor would be closed for several days in August so that humans could come and shoot birds in the name of sport. Stupid stupid humans. And how do you close a moor? We ran on, and the weather got no better. We passed a couple of soggy walkers but otherwise it was just us and the grouse. Grouses? Grice? Another reason to be thankful I grew up speaking English and didn't have to learn it. Occasionally I looked to the skies for better weather but there was none. A long track led upwards, and my legs stopped running.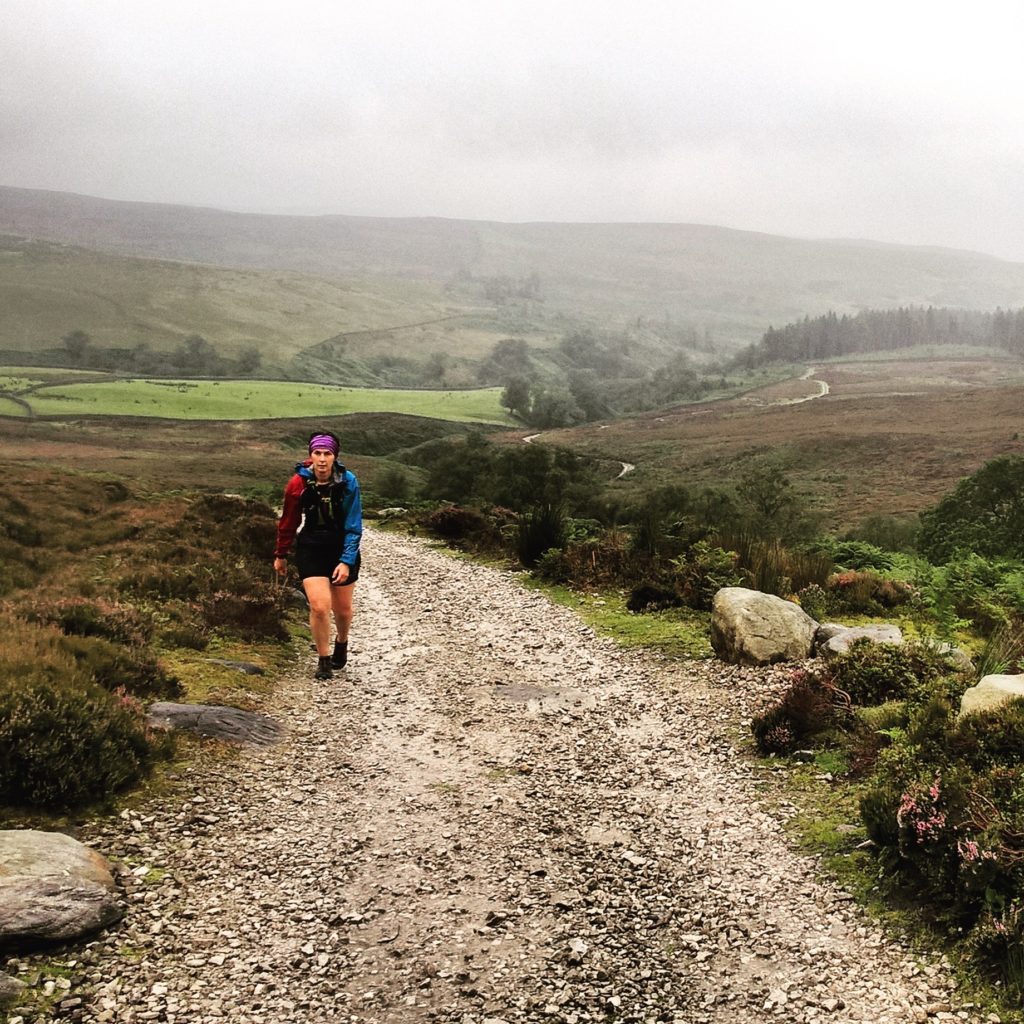 Rocks, bogs, mud: it was atrocious weather but still brilliant. I was soaking wet but it was still brilliant. Near the top, I paused to stand on a rock and open my arms wide and laugh at the weather. It was driving rain, and wind, and I laughed at it.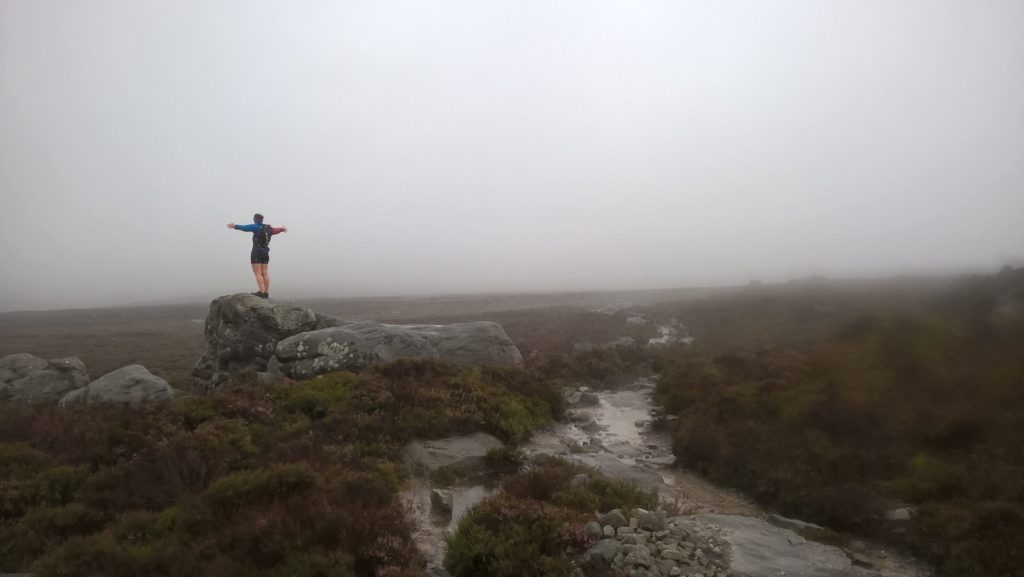 FRB said the view from Simon's Seat was usually beautiful. It wasn't, when we got there, but it was still brilliant: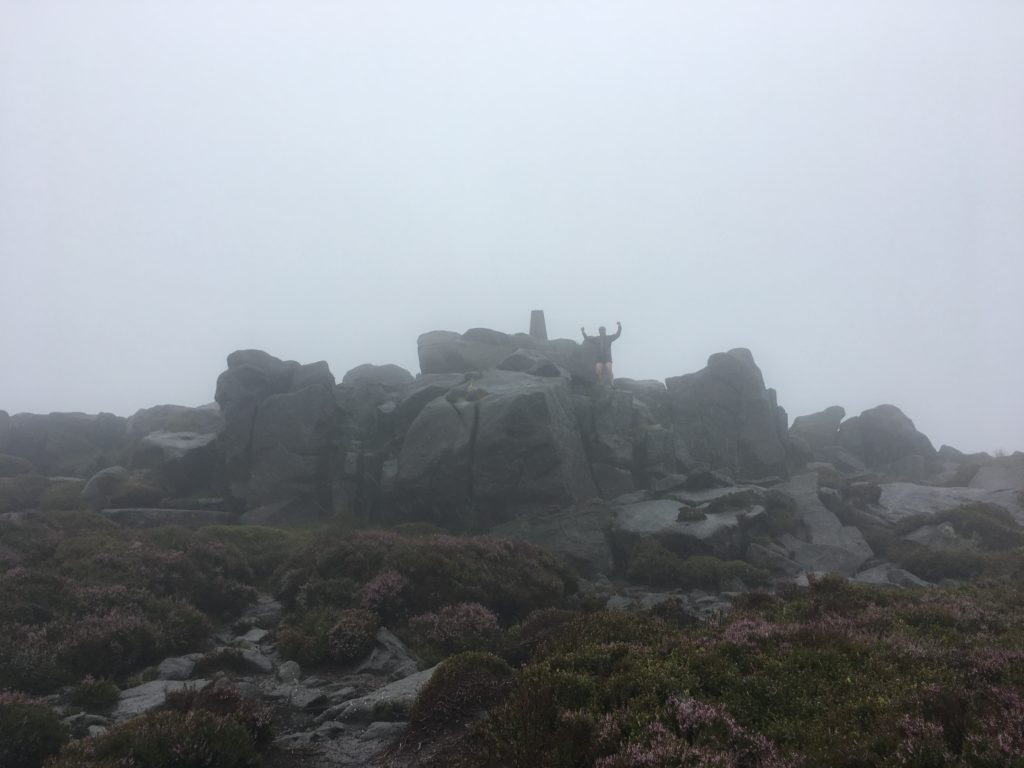 We got back, soaked, did a back-seat-car-change (the fell-runner's changing room) and drove to Addingham. For about three miles, I'd been dreaming of eating a pie at The Crown Inn at Addingham, which has a pie and mash menu, and delicious vegetarian pies. Usually, of course, the pub would be shut and no pies would be had, but this is a good news post, and the pub was open, and I had a Heidi pie with sweet potato and goat's cheese, and mushy peas and mash and vegetarian gravy, and it was bloody great. (Oh, and to the French mate on Instagram who said, "how can you eat such things?" my response is, because I'm not French and a food snob.)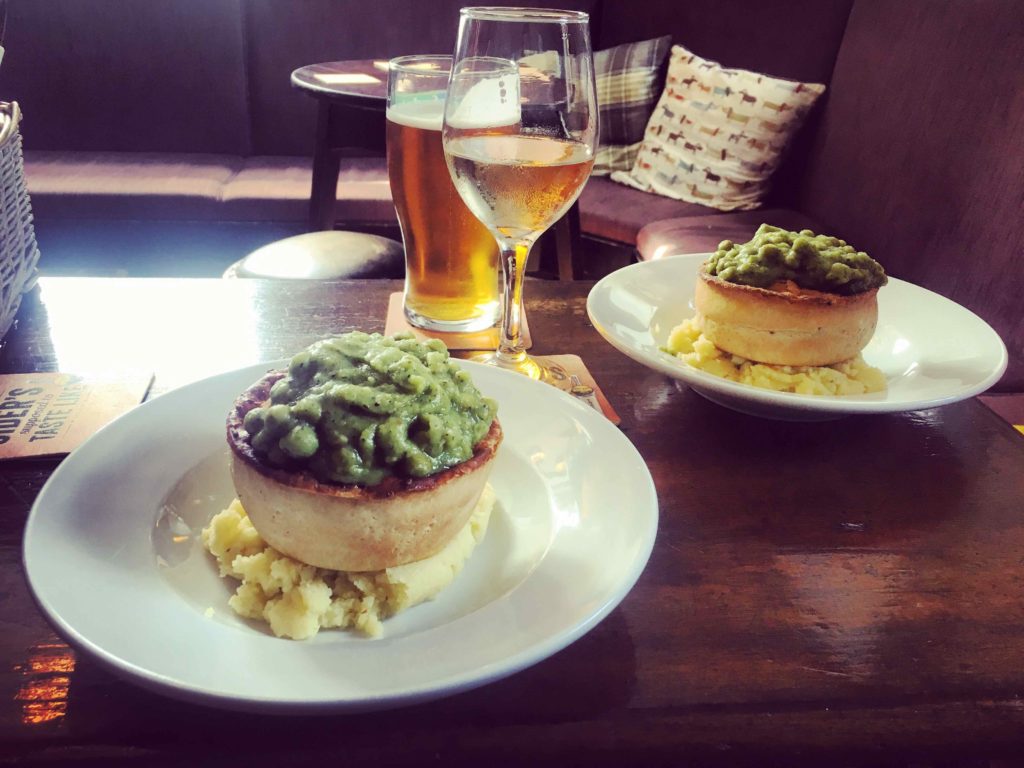 So my hill legs were woken up, and I decided to keep them awake by doing my first fell race in two months. Round Hill fell race is run by Otley AC, and it covers nine miles from Timble village up to the summit of Round Hill, about four miles of climb. Then a lovely descent, and — in my memory — a short incline before you're back on the forest track you started on and at the finish. My memory is rubbish. There were another five miles after that short incline. But I'm ahead of myself. We got there early and parked near the race HQ at Timble village hall. Timble is a preposterously lovely village where I'm guessing the median income is £100,000 a year. Pale stone, big houses, careful gardens, beautiful borders. We paid our £5 entry fee, and headed back to the car to get changed. Then, as other runners began to arrive, we met fellow club members and friends, and I realised: I've missed this. I've really missed this. Not just the running out on the moors and hills, and the gorse and heather and grouse and birdsong. Not just the bogs and rocks, and tired legs and gels and jelly babies. But being with like-minded folk who can also think of nothing better to do than run over a moor on a Sunday morning, and eat cake afterwards. I'd really missed that.
It was great to see four club-mates too. My club is not big on fell-running and the committed fell-runners in it are a hardy handful. But others are getting interested, we now have a fell and trail championship along with the usual club one (which is 90% road races), and so it was ace to see Chris, Louise and Yekanth, who all said they were doing their first fell race. Louise was nervous, and Yekanth told me he was going to stick closely with me, a strategy I wouldn't necessarily endorse, as I thought I'd be the slowest of all five. They'd all done trail and cross-country races, and Chris and Louise had done the Bingley Gala 10K, which is described as a fell race but which they said was mostly trail. But they were still nervous, because "fell-racing" strikes intimidation into people. I understand that because I was exactly the same when I started. I was terrified about the prospect of having to navigate. I was scared by the concept of kit requirements. I still get very nervous at smaller races where I'm likely to be on my own near the back. But I've had to navigate only once in two years of doing fell races. I must be so blasé about kit requirements, this time I forgot to bring my waterproof. Luckily, it was only recommended not required. I told Louise there was no way she would get lost, that the route was taped and that, as fast as she is, she would not be on her own in the field, and that she would start running and wonder what she'd been worried about. I told her, it's no more intimidating than a trail race.
I'd forgotten about the bogs. Round Hill can get very boggy, and it had got very boggy. Most of the route was on clear paths (by clear, I mean, they were paths, even if they were filled with rocks and gullies. I don't mean flat shale tracks. It's not a trail race.) But there were some narrow trods, there were some passages over moorland and there were some deep bogs. Yekanth did stick with me until I started walking up one hill, and told him to run on. He did, and I didn't see him again until the end of the race, when he appeared to have turned into someone covered in mud from head to foot. That is not an empty description: he had mud on his nose, his forehead, everywhere. It was impressive.
I was nervous too, about my fitness and the fact I had done barely any hill climbing for two months. But FRB was surprised that I did as well as I did on our Simon's Seat run, so maybe all the spin classes had helped. And I didn't feel too bad on Round Hill. I even managed to overtake people on the downhill. On the same descent, there had been an altercation: I'd felt someone running very very closely behind me. He stepped on the backs of my shoes. This is not what you do. Another man running behind me told him off, and the shoe-treader protested. "Aren't we allowed to overtake on downhills any more?" I said, "yes, of course you are, but do it properly." By that I mean don't barrel the person in front out of the way. Find a space, and pass. The other man was more succcint. "Stop running like a twat."
At mile five or so, I started to feel exhausted and heavy-legged. I had the Runner's Conundrum: run on and run through it, or lose time by stopping to have a gel and water? There was actually a third option, of giving up altogether, but that was not a possibility. I chose the gel, sensibly, because it helped. Even so, I couldn't catch Yekanth, nor two Otley women who had overtaken me and who were in my sights, but I was running OK, and I was enjoying it. Just being outside: it helps. It helps with everything.
Louise did great, though when I saw her afterwards, she did say something about all the bogs. I felt slower than usual and thought my time would be way down on last year's, when I had tried to overtake Andrew B. and fallen headfirst into the heather, then fallen again and opened up an injury I'd done the day before (which then got horribly infected). In fact, I was only four seconds slower than last year.
So, I'm back. Here is me a) washing my shoes and b) wondering how I'm going to do the Yorkshireman marathon in five weeks.