I travel to odd places frequently to research odd things and am known for it. But last week's travel to an odd place for an odd thing was actually not really my doing. One of my mother's friends, John, who lives in Australia, is on the board of the World Circus Federation. He has been fascinated with circuses since I've known him, as has the rest of his family. I visited them when I was 18 and remember his stepdaughter had a juggler for a boyfriend even back then. When my mother was visiting them in Australia this year, and John said, why don't you come to the World Circus Festival in Monaco? and my mother said, "er…" and ten minutes later he had booked the hotel, that was that. My mother asked me to go and who would refuse to go to the circus?
I packed my suitcase for all eventualities: warm clothes for a Big Top, glamorous clothes in case we had to drink with Grimaldis (Princess Stephanie is the director of the festival), and of course running kit. We stayed overnight first in Manchester, and though I had no time to run in the morning, I still salute Crowne Plaza for this: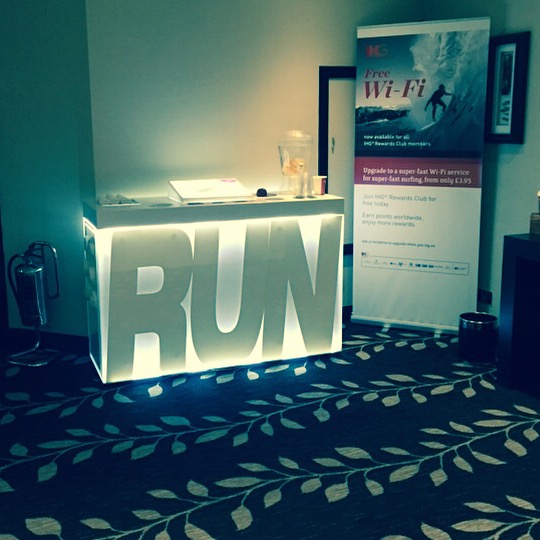 I looked as usual on walk jog run and such for good routes, and as usual they were little use as they have no elevation. Once our plane pilot had decided not to land in the stunning blue Mediterranean, as it seemed like she was going to, and once we had got through the airport, past the machine-gun-carrying French soldiers who were ostentatiously standing around looking threatening, although their rather bonkers berets gave a different impression, and once we had paid €20 for a short bus trip from Nice to Monaco, and once we had left Nice and I saw the height of the cliffs and the narrowness of the roads and the beauty of the dramatic coast, but also the limited flat land to run on: after all that, I thought, I'm not running up these cliffs. We got to our hotel, checked into our room, a lovely spacious one with a view of superyachts in the harbour (that was only the beginning), and settled in.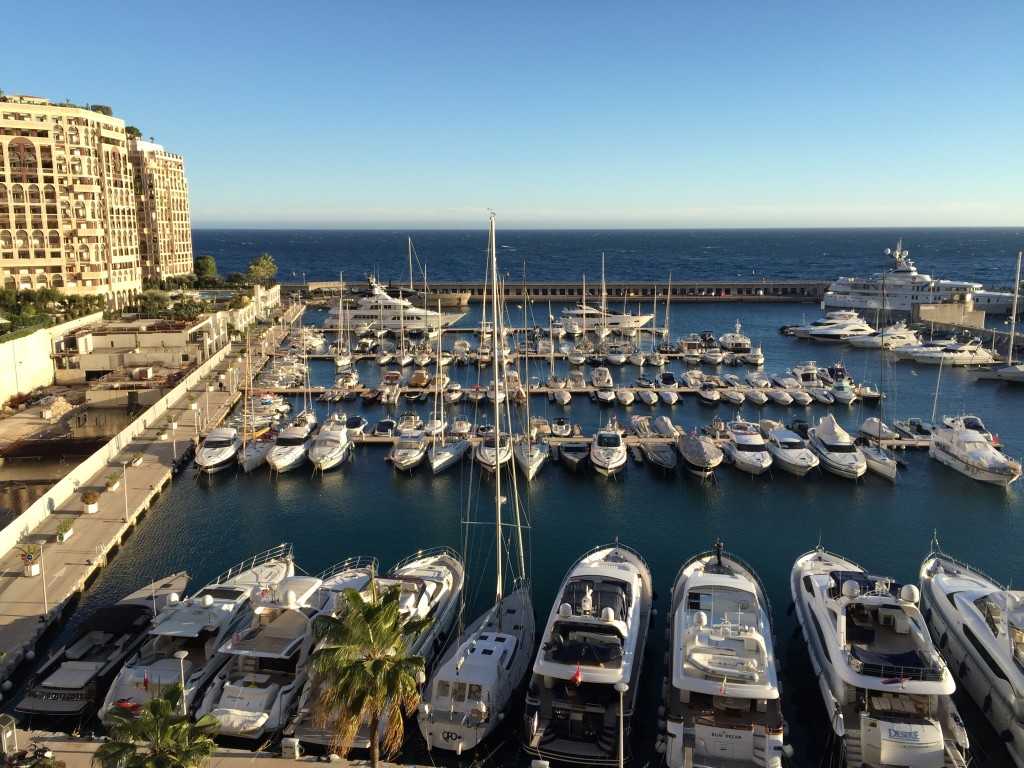 The circus show wasn't until the next night, so the following morning at 7.30, I took the map that the hotel receptionist had given me, left the hotel, turned right and just kept going. This is what I was running on: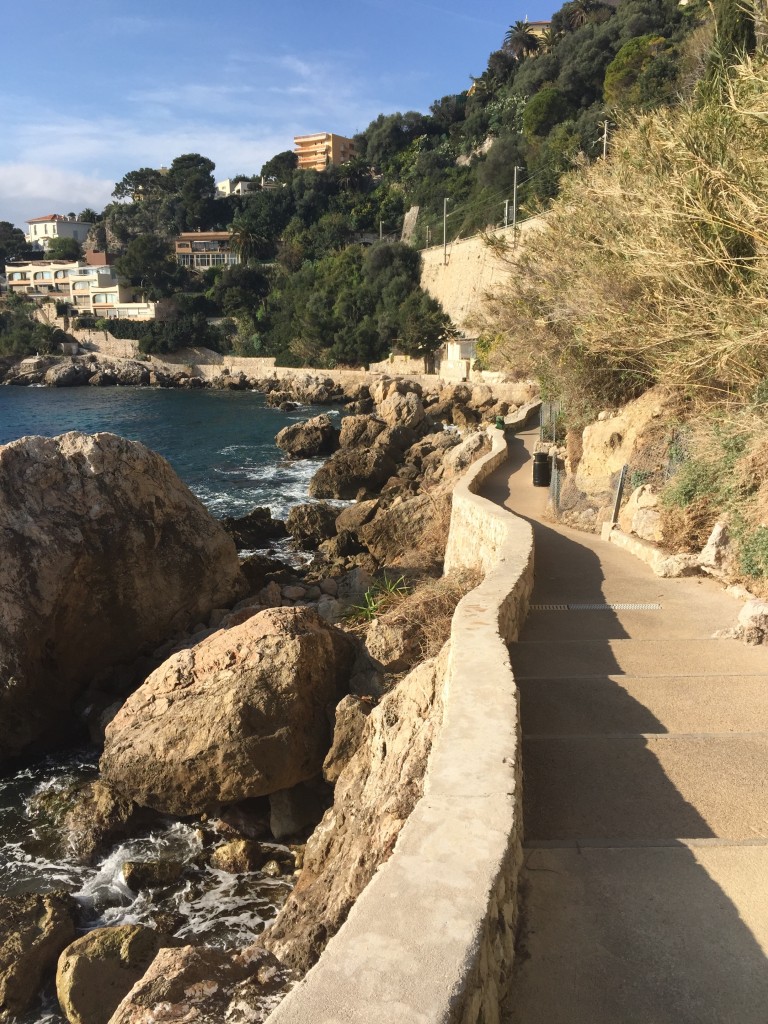 I ran all the way along, up into Cap d'Ail, down some steep steps into a cove which was the end of the path. It wasn't cold, but it wasn't t-shirt weather either, so I paddled, then ran back. Along the way I saw women in fancy kit doing very little exercise with very tiny dogs. I saw some runners, none of whom returned my greeting or smile. I saw a woman – I swear this is true – doing a morning walk in white designer jeans and a fur cape. I laughed and ran on. It was only about 4 miles in the end, not nearly long enough according to my training plan, but I don't have the discipline to get to the end of a route and turn and run back, so I didn't. Instead, I went for a chilly swim in the bay near the hotel, in my running kit, then walked past dripping. I ate a mountain of eggs for breakfast, then persuaded my mother to come all the way back on the walk with me. Which she did.
The circus was that evening. It was clearly a huge Monte Carlo event. I've never seen so much fur or Botox in one place. Prince Albert and Princess Stephanie were both there; not only is she director of the Festival, but she once ran away with an elephant trainer before marrying an acrobat. I think it's safe to say she likes circuses. So do I. It was exciting to walk into the big top – le chapiteau, in French – past a brass band of clowns.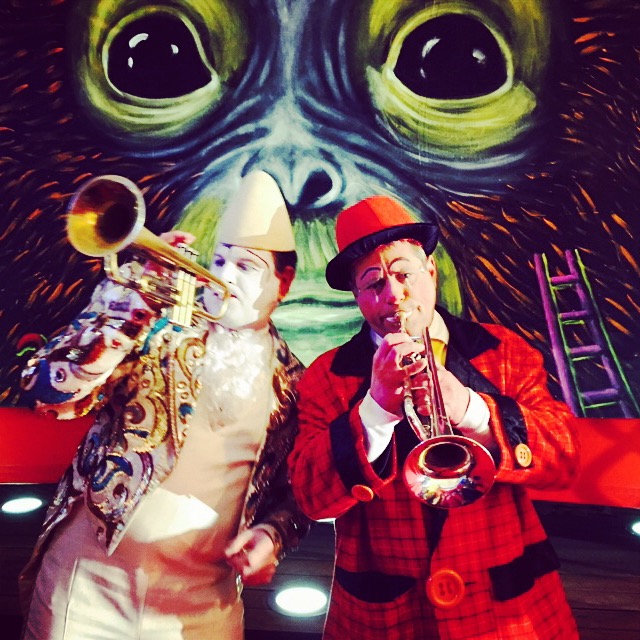 Not before I had a balanced and nutritious meal though. Now I know that a toffee apple in French is une pomme d'amour.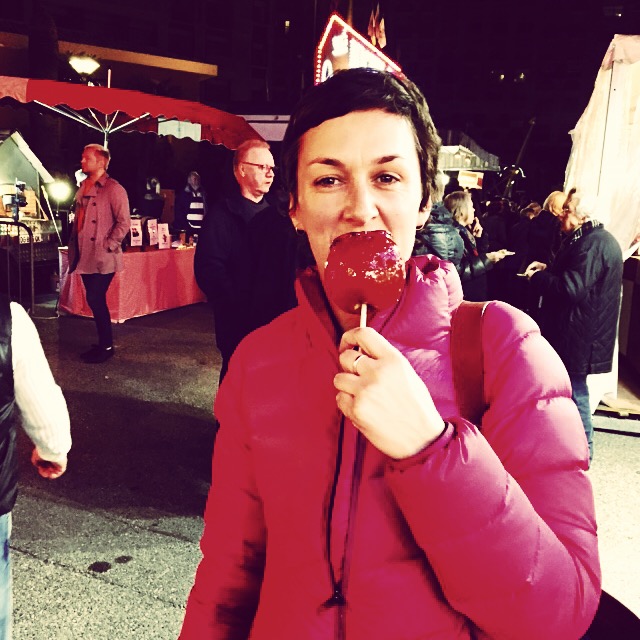 Some of the circus acts were extraordinary. The athletic ability and strength of some performers was dazzling. At one point, a two-man act were 30 feet up hanging only on ribbons, and one of them was holding both their body weights only on his wrist. The trapezists on both nights were amazing.
But I hated to see the animal acts. I hated, hated, hated it. I do not understand why we must watch elephants standing on stools, or lions sitting on a trailer on the back of a motorbike. I don't understand why this is presented as a form of human achievement. I couldn't walk out, as we had been invited there as guests of my mother's friends, but I sat in my seat seething. The use of wild animals has been banned in many countries, though not in mine, and I wish it were. Of course people who support the use of wild animal acts go on about the wonderful bond between the animal trainers and their captives. But they also talked in one newspaper article about the "parc" which the elephants had to roam around in while they waited. I saw that parc. It was a tiny yard near Monaco's heliport. Disgraceful.
The following night, there was a fancy cocktail party in the hotel lobby, and Prince Albert was meant to attend. I decided to go a do a strength session in the tiny shabby gym instead. I finished just as the party was in full swing, and there was no access to the lifts except through the lobby, so I walked through the hotel entrance in my gym vest and shorts, and every head turned, and the crowd parted for me as if it was the Red Sea.
Ah, Monaco. Absurd tax-dodging toy-town in a beautiful landscape. Despite the ocean and the view, I won't be hurrying back.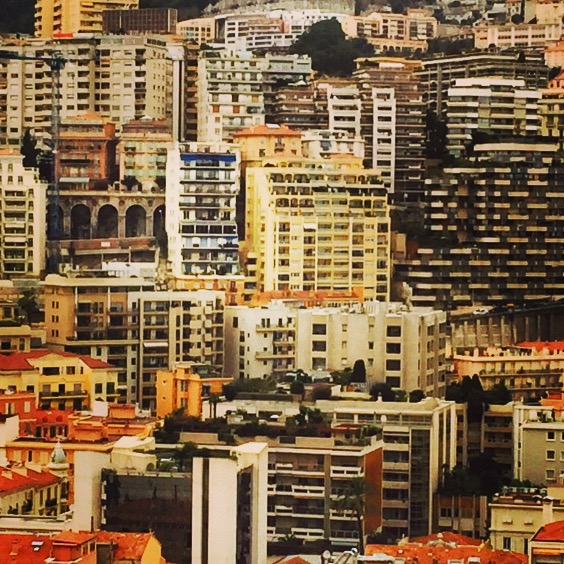 I was glad to come home. And I was glad that the next day I was going to be running for four miles over Yorkshire moorland. It was the perfect antidote to the ugly wealth and Botox brigades of Monte Carlo. I'd been meant to run the Four Villages Half in Helsby, in Cheshire. But after a long trip home from Monte Carlo via Munich, then a three hour drive, I wasn't going to get in a car for another few hours just to run a half. And it was a good decision, as the half marathon was cancelled because of ice. Instead, I chose to do the Stanbury Splash, a Woodentops race up at Haworth. But the Splash became the Stoop, another Woodentops route (and the same as Auld Lang Syne), because the rivers were too frozen. I was given a lift in a 4×4, so we could park up on the tops. The snow was plentiful and then it started snowing again. So base layer and vest, but I still ran in shorts. I was nervous again, as I'm still not too sure about my fell running technique. Also I'd forgotten my watch, but my expert fell-running boyfriend lent me his, as he knows the route – and any route – backwards. I wish I had his astonishing ability to photographically recall routes even if he's just driven or run or walked them once. But I don't.
So, we registered, we got our three mini Soreens (malt loaf is what the race is famous for). I queued for the only toilet (the portaloos hadn't made it up the icy road). I found my fellow Harriers, we did a team photo: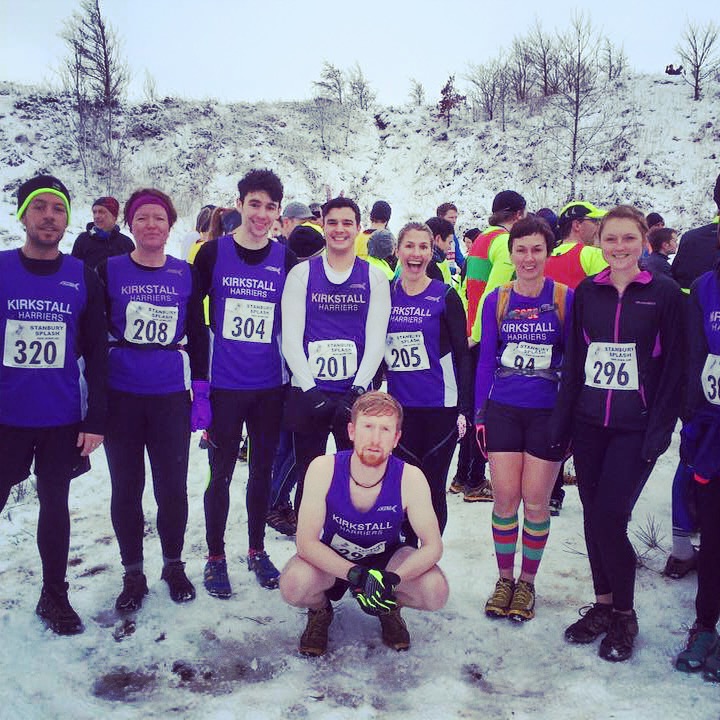 then, because fell running is not like road running, we all sang happy birthday to someone, and we were off.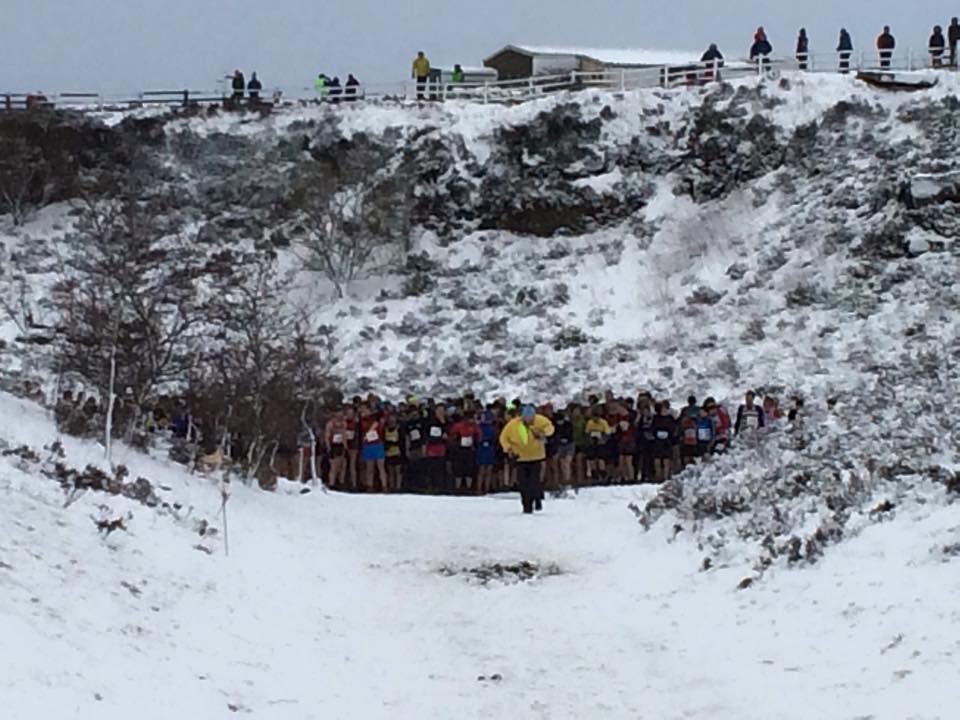 I didn't learn my lesson. I set off too far back, and I got stuck behind walkers, a lot. It was a lovely run, and the moors were beautiful, but I wish I could have run more. Because there was so much snow, it was extremely difficult to know what was on either side of the path, so it was hard to overtake. At one point, a woman in front of me, walking very slowly, was taking her jacket off and adjusting all her kit. If you're going to do that, and there's a huge gap in front of you, and a long line behind you, then surely you step aside?
But I'm still learning fell etiquette. What I do know is that I need to have more confidence. The finish was on a hill back up to the car-park, and I overtook two or three people and still felt at ease. I shouldn't have felt at ease; I should have been busting a gut. So, room for improvement.
The next week, I actually did all the runs I was supposed to, though I sneaked in a cross country at the Northern cross-country championships. It was 5 miles around Pontefract racecourse, a nice flat course on grass, except the Senior Women ran after 5 or so junior races, and the juniors had nicely churned up the course for us. Also, it was fast. I was hungover and not in the best form, having stupidly had curry the night before, so I just stuck to my team-mate Marion. I mean, I really stuck to her. I was on her shoulder. She must have found me very annoying, but I knew she was going to be going at the right pace, and I didn't have the energy to overtake her and stay in front of her. Sorry, Marion. She tolerated this until the last half mile then kicked and off she went. She finished five places ahead of me. I still managed to overtake someone near the line, so I'm pleased. Not bad with a hangover. Then the next day I got up and ran 14 miles from Bingley to Leeds. Back to the canal.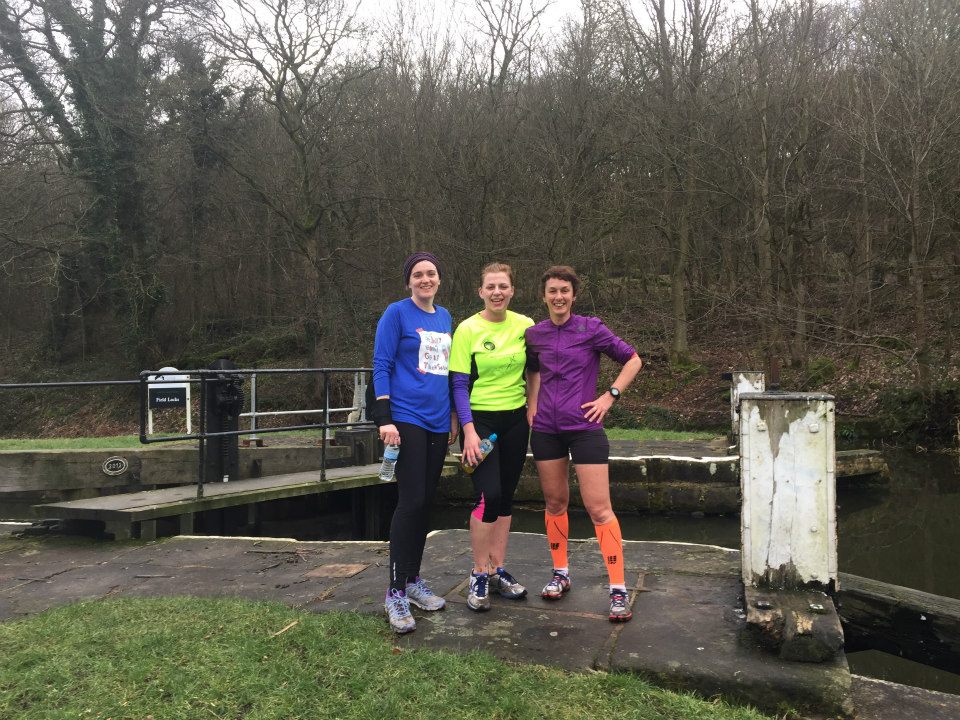 And on the next day, I rested. Really.
MILES RUN THIS WEEK: 32
BOTOX BOOKED: NONE
INJURIES/NIGGLES: Sore toes; black toe-nails; slightly aching right ankle