My moods have been low recently. I don't know why but I suspect it's do with my hormone levels, which are perturbed and unbalanced by endometriosis. At least, that's my guess, from reading about how overloaded oestrogen (which endometriosis is probably a result of) can depress dopamine and happy hormones. I'm trying all sorts to heal them: taking magnesium, taking a horrid but I think effective potion that a herbalist prescribes (which is supposed to balance my oestrogen), using my Lumie alarm clock to wake up more gently and give me some Vitamin D. But the fail-safe method is running. Endorphins versus oestrogen. Yesterday I had my usual personal training session at 7.30am, and the good mood lasted until the afternoon. Today although it's my club training night, I thought it was safer to start the day with a run and coast on the endorphins for the rest of the day, hopefully. My cat woke me at 5, my alarm woke me at 7, and I got up at 8. The blinds were drawn, but I could hear a howling wind. But I looked outside and it wasn't raining, and the trees were still upright, and I needed to run, so I fed the cat, got dressed, packed a small rucksack with a change of clothes (but did not wrap everything in a plastic bag, which will be relevant), and set off.
It wasn't cold. It was light. It seemed OK. Everyone I saw walking their dogs had hoods up, and clearly they had read the weather forecast because after half a mile, by the time I got to end of Gledhow woods, and up the steep hill into Little Switzerland, the rain began. It was gentle at first, though cold. But I was warm, and had stripped off my top in the woods so I was only wearing my light running jacket. I kept running, and the rain got harder, and the wind got up. I'd planned a 7 mile run that included a run around Roundhay Lake then down into the city centre to my studio. But I got to Roundhay Park and up to the top of the hill that leads down to the lake, and I swore. There was a fierce headwind, and the rain was coming sideways, and it was biting. I hadn't had any food, and my legs were leaden. I could either run 2 miles home again, or 3 miles into town. I told myself that I'd tolerate this weather on a fell, and I would, but it was vile, so I cut out the lake, and headed into town. I imagine that a hundred or so commuters into Leeds this morning thought me a lunatic, and I was beginning to agree with them, as I got colder and wetter, and my legs got heavier. Down Roundhay Road, along Harehills Lane, which I usually avoid because so many young predatory men seem to be hanging around. This time there was hardly anybody on the streets because they all had more sense. I ran, and I trudged and I ran, and I didn't enjoy it, but I kept going, past Jimmy's hospital, down into Burmantofts, and to my studio. I got to the front door just as the postman arrived, and we looked at each other. I said, "that was horrible." He said, "yes. I was going to go out on my bike but changed my mind."
Do I regret it? No. Not entirely. I was soaking wet and chilled to the bone. I am writing this in a heated studio, while wearing a cashmere jumper, down puffer jacket and wrapped in a cashmere shawl and after an hour or so, I've just about warmed up. My clothes did stay dry, just about. My pace was pathetic, and I ran 4.5 miles instead of 7. But I got out of the house, and I went running in a rainy gale, and I'm proud of that.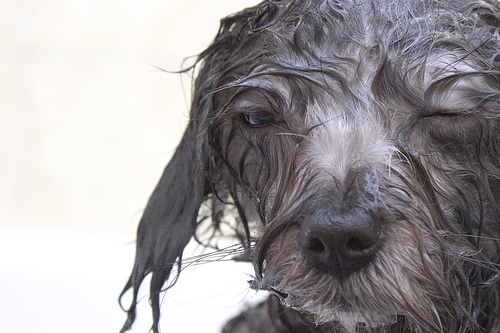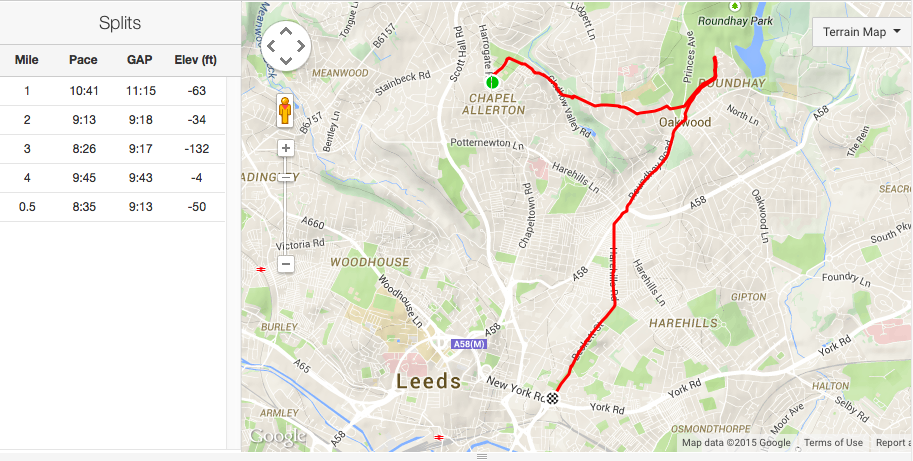 MILEAGE: 7 MILES ABORTED TO 4.5
WEATHER: BLOODY AWFUL
TIME SPENT FREEZING AFTERWARDS: 3 HOURS