I'm not sure why I'm so determined to run the Three Peaks race. I love moors, and hills, but my two experiences of the Three Peaks have been the most painful blister I've ever had, and an exhaustion that lasted for days, after I did a walk with my club in eleven hours, a week or so after running the London marathon. How foolish I was to think that, oh, it's only a walk. As FRB says sagely, again and again, "It's time on your feet." As did Haile, when he told a runner who took four hours to run a marathon that he was impressed. The runner quite reasonably said that running 26.2 miles in five minute miles was more impressive and Haile said, "but you've been on your feet for four hours and I couldn't do that."
My second experience of the Three Peaks was marshalling on Pen-y-Ghent this year, which was several hours of standing in Pen-y-Ghent's particular micro-climate of sideways freezing rain and fog, in weather so bad that we were allowed to descend earlier than usual. Then I went to the finish line and stood in more freezing rain for an hour waiting for FRB to come back (that was due to my miscalculation, not his slowness: he beat his 2014 time by nearly an hour).
Neither experience should make me want to spend months training to be able to run 23 miles across and up mud, flagstones, rocks, bogs. But I do want to. It has become a target in my head and I can't shift it. I don't think I'm even going to do a marathon next spring. Peaks, peaks, peaks.
But first came the problem of qualifying. About a month ago I noticed that all my fell races were BMs (not as high as A races, and not as long as L races). But Three Peaks requires two BLs or AMs or ALs. Oh dear. There aren't many suitable races left in the north, but Gisborough Moors was one of them. It's one of those lovely English eccentricities: Gisborough Moors, near Guisborough. And who knows why the vowel was lost. The race is run by Esk Valley fell running club. FRB and I were both running it, and so were two club-mates, one an experienced fell-runner, and the other a new member who has only started fell-running in the last couple of weeks. He came equipped with his brand new More Mile shoes, and kit that possibly wouldn't pass FRA inspections ("taped seams? what are they?), but plenty of enthusiasm.
I was nervous. Very nervous. I just can't seem to get any faster, and this race was going to be tough, from the route profile. Hills and more hills. Also my bloody tendon has started to play up again, so I was worried about that. In short, on a glorious sunny day (once we'd driven through the fog of two Yorkshire vales on the way up to Guisborough), all I could see were clouds. This showed on my face, because at one point FRB said, "why don't you think of it as a couple of hours running on beautiful moors in sunshine?"
Aye. Why don't I?
We got there in good time, to the race HQ at Guisborough rugby club. Or maybe Gisborough. I didn't notice. There were a couple of dozen runners, including a brace of runners from FRB's club, unexpectedly. They were wanting to get a qualifying race for the Three Peaks too. I ate marzipan balls and drank coffee and not enough water, trying to fuel better than I did for Bronte Way. It's a 12.5 mile race but with the hills and with time-on-feet, that will feel like 15 or 16 on the road. I'm not sure how I've become a runner who blithely – relatively blithely – takes on a half marathon a few weeks after a marathon, but I'm glad I have. I wore my usual race outfit of vest, skirt and hooped (not striped, FRB) socks, though actually this time I wore Inov-8 full socks and not my usual favourite Karrimor socks and calf sleeves. There is a point to that hosiery disclosure. For feet: Inov-8 mud-claws, although there would be mud, trails, tarmac, rocks, bogs, flagstones. Actually I'm being dishonest: I didn't know what was coming. I prefer not to know what's coming, unlike FRB who can glance at a race route and it will be perfectly preserved in his head.
The start was in the street outside the rugby club. Apart from our Leeds group, there weren't many other vests I recognised. There were a couple of Harrogate Harriers, and a couple of Ripon Runners, and a lone Bogtrotter from Edinburgh in their distinctive shit-coloured vest. Most people were wearing waist-packs or rucksacks. Esk Valley had decided not to run a water station, so we had to carry what we needed. I had two small bottles in my waist-pack, plus full kit (waterproofs with taped seams, gloves, hat, compass, whistle, map) plus marzipan balls and gels. It was a sunny day, which was why some people, I suppose, weren't carrying kit, but that's just irresponsible. Later in the race, we hit fog, and if you are injured in that, you'll start to get very cold very quickly, and you'll be reliant on other runners lending you their kit. Which isn't right.
The Esk Valley announcer blew a whistle and said, "right, you're off" or something, which is the kind of race start I like. I'd deliberately started near the back and that's where I stayed. Before we started, FRB had said, the first mile is like the worst bit of the Chevin, a steep, steep hill that comes at mile 21 of the Rombald Stride race. I said, great. And he was right. A bit of road, a bit of track and then up, up and up. The weather was beautiful, and the race began as stunning and carried on: there were woodland tracks, and long stretches running across moorland, with the fells stretched out on either side, where I actually stopped thinking "I'm too slow" and started thinking "I'm so lucky." It was beautiful. I didn't have a camera, and I was so near the back I didn't dare stop much, but I'll remember those views, and that feeling. I think the word "freedom" has become empty, because we assume we have it (we don't, really). But that's the best word I can think of to describe running across brown and golden moorland, in sunshine, on the first day of November, just because you want to.
Some other things fell running is free from: crowds. Expensive race fees. Endless directions and instructions. I love a good road race too, but that's why I love fell running.
There were more hills, that I walked, and descents that I ran. Inov-8 Mud Claws are great in bog, good in mud and very hard on the feet on flagstones. With each set of flagstones there was a trail made by the 100 or so runners in front of me, most of whom were wearing fell-shoes and avoided flagstones too. I managed to overtake a few people, and I was faster than them on the downhills, as I spread my arms wide, pretend I'm 10 and fearless, and go helter-skelter. I drank water whenever I was climbing hills, and I had gel and marzipan to keep going, and I felt fuelled and good.
The highlight of the race was Roseberry Topping. This is Roseberry Topping: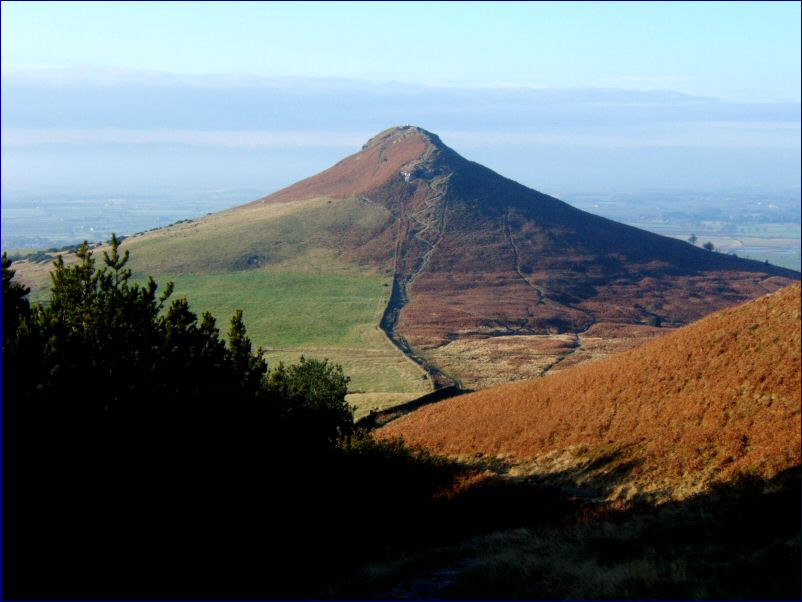 Except yesterday the mist had come down again, and you couldn't see it. Some people would prefer to see what's coming: I don't. So not until I'd run through a field gate, and found the path down – I loved this race, but it wasn't exactly assiduously flagged or marshalled – and got to the foot of Roseberrry Topping and looked up to see a steep, steep hill and runners walking up it, in a long line, and a couple of walkers were passing me and I started laughing and said, 'You've got to laugh haven't you?" and headed up. Touch the trig, check in with the checkpoint, and then a long descent down through mud and bracken, and up again, to Little Roseberry and after that there were only two hills to go, plus "a long drag up," according to a marshal. I managed those, with some walking, some drinking, and a diversion through the heather and bracken on a goat path. I followed two women in front of me because I knew they were local.
A word about "flagging" on fell-races. There are no flags. There are only marshals at checkpoints. Even at checkpoints, on this race the marshals weren't much use at telling us which way to go. So you must look for a tiny scrap of red and white plastic tape that might be tied to a tree or a fence or a gate. And you must use your map, which you are supposed to carry. But sometimes you don't see the scrap of tape and just follow the women in front, and you are all running along in some doubt until the goat-track turns right and hits the proper track, just as it was supposed to.
We still got lost though. There were about half a dozen of us who happened to be running close to each other in the last mile. As usual I had failed to recognise that we were going back on the same route that we'd taken at the beginning. I really must pay attention. There was no plastic tape in sight, so we ran along a path going uphill past some woods, but a marshal had told us, with some sincerity, that it was all downhill from then on. And even I knew that we were going back to Gisborough, which was in the valley on the other side of those woods. As usual I relied on other people to read maps and figure out where we were. I must stop doing that. And we decided to cut down through the woods, through brambles and branches. I fell, and caught myself with a bramble, which was unlucky, but then it was downhill. I was running behind a woman from Knavesmire, and I could have sprinted past her, but she'd shown me the path twice so I didn't think that was polite. Back down the track, back onto the road, under the old railway bridge, and then…
Where was the finish?
There was no clue. There was no sign of it in the street, where I suppose I had assumed it would be. We had to ask a runner who'd finished and was changing at his car. I know fell-races are low-key, but this was unexpected. So we ran into the rugby club, expecting the finish to be a line of chalk or flour or something on the ground. But there were just two men taking down numbers, and it was up to FRB, standing at his car behind them to say, "that's the finish, Rose!". He'd had to say it to a dozen other runners before me.
My feet were blistered: the Inov-8 socks hadn't been enough protection for Inov-8 shoes meeting hard stone. And I needed a shower. Descents are hard on my bladder, and I hadn't wanted to stop and find a toilet when I was so far back already. But the rugby club didn't have any, so it was off to the toilets with some wet-wipes again. Another woman was washing at the sink and we looked at each other and she said, "well, you don't do fell-races for the glamour, do you?"
Later, as FRB and I sat on the sofa, exhausted at 7pm, I said, "we really should be a bit more rock and roll, don't you think?" He said, "we do our rock and roll during the daytime," and he's right. Nowt more rock and roll than running with the wind in your face, and the moors stretching out all around you, and the sweep of the hills and the valleys, and the sun, and the running through bogs and bracken with joy. With abandon. With freedom.