Hello, Inov-8 Mud-claws. I haven't seen you for a while. Not since March, in fact, which was the last time the conditions were too tricky for trail shoes. I did Widdop fell race a few months ago, but trail shoes were fine. This time though it was autumn, it was the bogs and moors of the Bronte Way, and it was time to get out the Inov-8s. I have a great habit of signing up for races and forgetting about them. So far FRB and I have had this conversation a few times:
FRB: "We're doing the Chevin Chase on Boxing Day."
Me: "Are we? Have we entered?"
FRB (sighs). "Rose, YOU entered us."
Repeat.
I do though remember filling out an entry form for the Bronte Way and leaving it on the kitchen table when I left for Salt Lake City. Which was a trip. I did my usual tactic of contacting a local running group and asking to run with them, and had a nice email conversation with a woman named Hollie who runs with Salt Lake Runners. She invited me to meet them at 9am on Saturday morning, but in the end I overslept, as I've been jet-lagged or recovering from jet-lag for what seems like months now. But she also told me of a great downtown route out of town and up into the canyon. I had no idea where Salt Lake was before I got there. I thought it was a plains city, and dull. But it's 2000 m altitude and surrounded by stunning mountains. My trip there took 24 hours, and though I was awake at 5am the next morning as usual, the sky was stubbornly dark and by 7am showing no sign of getting lighter. I googled Salt Lake City sunrise, saw that it was 7.45 and couldn't wait any longer. A gym workout, somewhat made up as there wasn't much equipment, then to breakfast and to this wonderful contraption: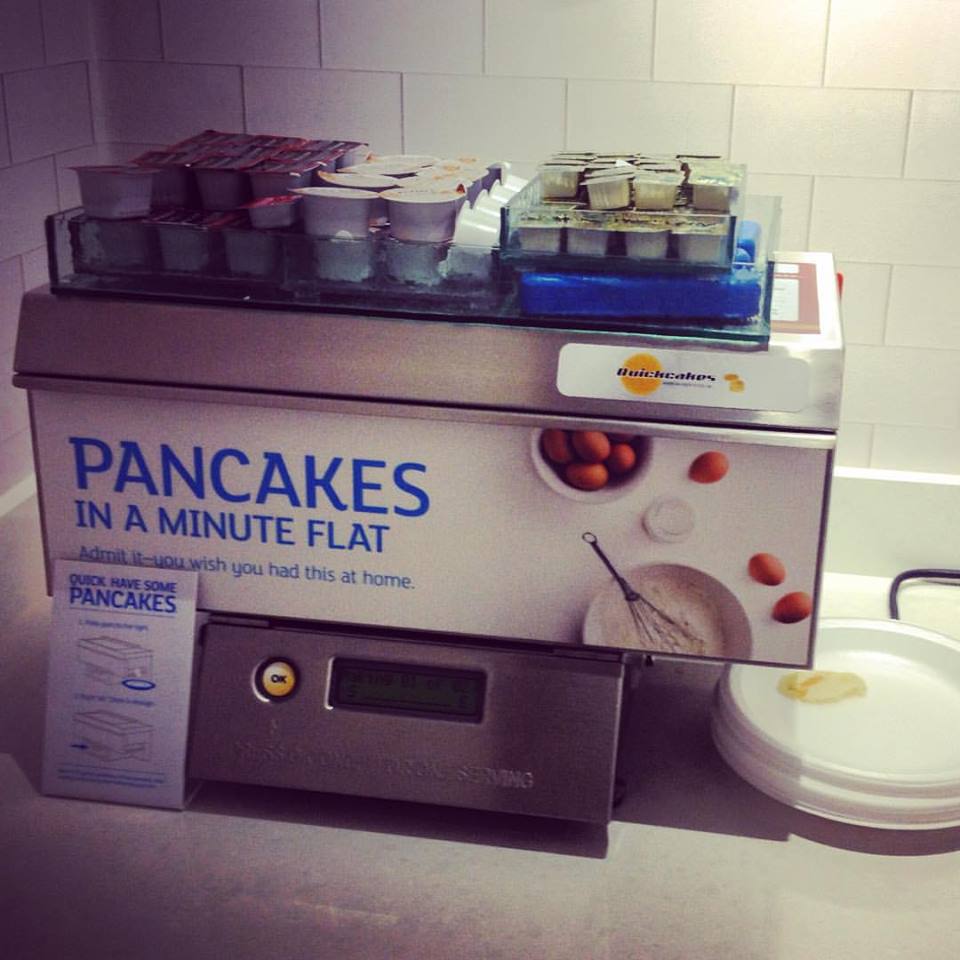 I was in Salt Lake to attend the World Parliament of Religions, and this was my first experience of having breakfast surrounded by Sikhs wearing white, Native Americans in fringed suede and beads, and all sorts of others, from Muslims to pagans. It was fun. The next day I decided I would run. I followed Hollie's instructions and ran north up State Street, up the wide, wide streets that the Mormon leader Brigham Young had built so that a troupe of oxen could be easily turned around. At the junction by the rather terrifying Mormon Office Building (yes, that's what it's called), I took a left through a small park, then a larger park, and then I kept going, up and up, into City Creek canyon. The city disappeared rapidly. I ran through woods for a bit, then onto the service road, which is closed to all traffic except service vehicles and bikes. When I ran up the road again on Sunday, it was closed to bikes too, as a deer hunt was going on. It was not an easy run. I was 2000 metres above sealevel and climbing; I was jet-lagged, and I hadn't eaten enough food the night before. Really, it was more of a shuffle, but it was a very scenic shuffle.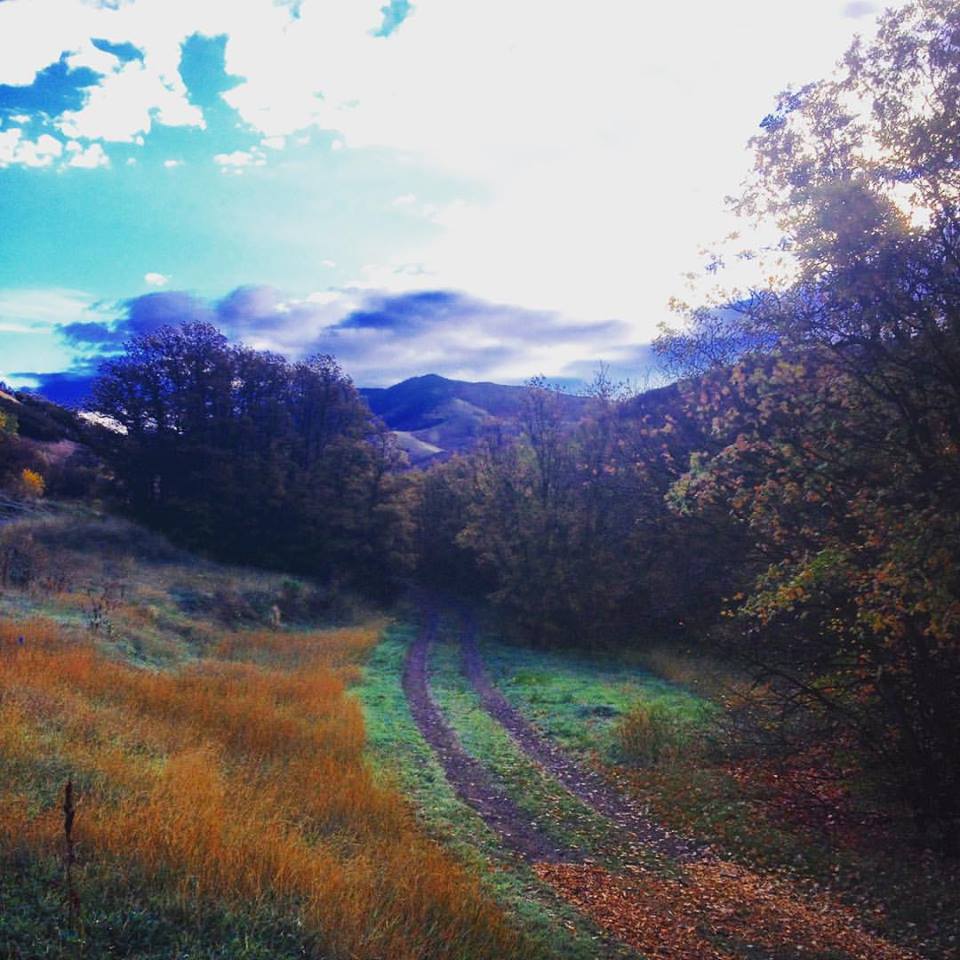 I had to keep stopping and gawping, because Utah is gawpingly beautiful. I ran three miles uphill, ate some raisins, then pegged it back, slightly faster. Then I ate my bodyweight in pancakes again. On Saturday I went hiking with a Facebook friend up to Little Cottonwood Canyon, which is accessible only by car, like most trail routes in the Salt Lake tourist info, except for the City Creek one. And on Sunday I ran up the canyon again. It was quieter this time. And oddly, although Salt Lake is easily the smiliest, friendliest city I've ever visited, I ran past plenty of runners who didn't acknowledge me. Except one who wondered aloud why I was taking pictures of an outdoor public toilet. I said, because it's great. He said, "well, it sure is in a pretty place" and headed off up the canyon. I did 7 miles this time, to prepare for another 24 hours of travel. It was good.
Home after four days, and more jet-lag. But I still wanted to run. When I ran the London marathon in 2013, I rested for a couple of weeks. After this year's Yorkshire marathon, I went running after 48 hours, and I felt fine. So I went to club training. Most of the club was doing a bleep test, and I didn't want to, so a few of us headed out on a boring but flat route along Kirkstall Road, then a less boring and less flat route through Burley and up Burley Hill. I was running on my own, as apparently I was the fastest that night. I ran at a pace that would get aeroplanes and queues and crowds out of my system. I wanted air and wind.
On Friday I did a workout in the park with some hills thrown in, and on Sunday FRB and I set off to do the Bronte Way. It's a linear race, a BM in FRA categorization. Perhaps it's time for a key:
FRB = Fell Running Boyfriend
BM = a medium length not too steep fell race according to FRA categories
FRA = Fell Running Association
It starts in Lancashire and finishes in Yorkshire, at the Fleece Inn pub in Haworth, halfway up that famous cobbled street. We arrived at Haworth just after nine, to be transported by minibus to the start in Wycoller Woods. Race HQ was in a converted barn there (and there were toilets!) and we would then leave our bags in the minibus and collect them at the finish. Only 80 people had pre-entered, but it was a beautiful day – sunny, but not too warm – so there were plenty of entries on the day. In the end 217 people entered, which was a record. As usual, FRB had optimistically talked me through the race. Optimistically, because I never retain information like that so that at the end of the race, I'd say, "you told me there was only one hill! You lied!" He does have form for that, but this time he hadn't lied. He'd said there was a sharp hill near the start, and then another one that everyone walks. I do remember the bit about the bogs near the beck. He didn't mean toilets.
I started near the back. I was in my usual race-going kit of vest, skirt, and lurid socks. I was the only Kirkstall Harrier running, a condition known in my club as The Lonely Purple: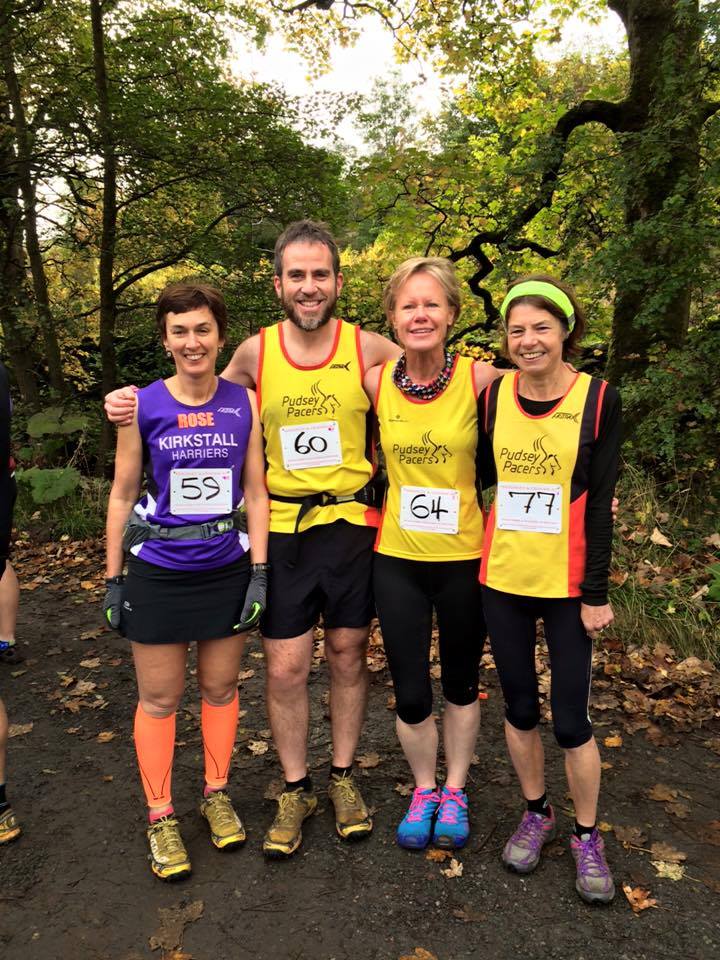 There were dozens of Stainland Lions, as it was a club championship race for them, and plenty of familiar fell-running clubs like Baildon and Clayton-le-Moors and Trawden. I girded my GPS, and off we went up a woodland track. Apparently according to Human Sat-Nav FRB, we ran this for a mile, then through a stile then a kissing gate then the hill. Though it may have been hill then kissing gate. When it comes to remembering race routes, even when I've just run them, I'm an Impressionist, and he is a Photo-Realist.
This, though I do remember: fairly early on, there was a narrow track for a mile or two. It was an occasion where a long line of people forms, there are no passing places, and normal fell-running convention is to bide your time, or if you're really desperate, to ask if you can pass. I was behind a young man who was doing his first fell-race. He was very careful with the technical bits. He didn't stop and walk, but he slowed, because he wasn't too sure of his feet. This is perfectly acceptable and reasonable and though I could have passed him and gone faster, I was happy to wait. Behind me I could hear a woman breathing heavily. After a while, each time the lad slowed in front, her breathing became sighing, then tutting. I was about to invite her to pass so I didn't have to listen to her any more, when, after he slowed a bit more than usual at a particular bit of bog and slippery rock, she said loudly, "OH COME ON" and without thinking, I turned round and said "Shut up! That's so rude." I turned back, and behind me she said, "Maybe I was saying that to myself," and I replied, "Aye, but you weren't, were you?" It was rude, and it enraged me because it would have intimidated the lad in front, he'd have got a bad impression of fell races. 99.9% of fell-runners I've encountered have been supportive, friendly and great. But if he went away with the thought that such aggressive rudeness was normal, I'd be sad.
We reached a ladder stile. The lad went over first, and I stood aside and said to her, "you go on." She glared at me and didn't thank me. Then she went over the stile and fell flat on her face. And I managed not to laugh, but thanked the lord or lady of fell-running karma who bestowed such bounty upon me.
It took me a mile or so to run off my annoyance at her rudeness, but after that I started to love it. It was beautiful: my favourite running terrain of moorland and bogs and becks. It was a little hard to look at the scenery because I had to watch my feet, but I still loved it, as I always do. There's something infantile about the pleasure of running through nature and obstacles. It's joy.
There were moors, and a path leading off from a bridge – which it turns out was the Bronte bridge – to Top Withins. But we went the other way, past dozens of teenagers having a picnic who reminded me of birds nesting on rocks, peaceable, watching. On, and on, and I ran some inclines and not others. We ran past reservoirs, and rolling moorland hills, and remote farms, and I thought, what a privilege this is, and is there any better way to spend a Sunday morning. And then I started thinking, how long will it be until I can get to a Toby carvery?
I'd had a bagel at 7, and a banana at 9, but I'd calculated that it was only eight miles so I wouldn't need a gel. This was daft, as it was eight fell miles, and I'd be on my feet for about 90 minutes. I realised this at mile 6, when my energy left me and it felt like treacle-trudging. I had a gel with me but by then I wanted to do the whole thing without, stupidly. But I was hungry, and thirsty, and the next time I'll plan better. I knew we were getting close to the finish when more and more walkers appeared, slightly befuddled by the sight of people running towards them in not many clothes, though they were all swaddled in coats and hats. The last mile was downhill, down into the village, before a sharp right, then right again up the famous cobbled main street, to the crowd of runners outside the Fleece Inn, cheering us in, while drinking pints. I made it round in 1:27, which is OK, and ate and drank as much as possible as quickly as possible. The £8 entry fee included cups of soup, bread rolls and a pint of your choice from the bar, which I think is hugely civilized. A lovely fell-race, rude runner excepted, and I'd do it again. Next, Gisborough Moors: 12.5 miles of lots of hills. I have to qualify for the Three Peaks race with some BL races (longer than BMs), and realised with some alarm a few weeks ago that I hadn't done any. So Gisborough is one and Trigger – a 20 mile self-navigating race across the Pennines in January – is the other. Gulp.