Big city running. I try to avoid it. I run through Leeds city centre, but always in company, and Leeds is a small city. I'm happiest in an early morning park or running through woods or on moors and fells. But here I am in New York, and I needed to run. I didn't really know how far because my marathon training has been haphazard. I've only done one long run, at the Vale of York half marathon, to which I added five miles by running up and down the airfield before the start. I felt I should do another, but I couldn't find any marathon plan that agreed with me. Most suggested much less for the last two weeks before a marathon. So I was winging it.
I was in New York to watch the Global Citizen festival, which I'll be writing about elsewhere. But I was also jet lagged so I left the concert at 9pm, after Beyoncé and before Pearl Jam, and as usual was awake at 5, then 6. I waited for it to get light, and then I set off, west towards the Hudson River. I'd run up the riverside path a couple of years ago when I was in the US to give a talk, and my seafarers' welfare friend Roger ran with me. It was the day of the New York half marathon, so the roads were closed. It was freezing, and I was so cold, I begged for us to stop before we got to the George Washington bridge, which had been our plan. But I remember it was a lovely run, and the path seemed quiet and calm.
I decided to aim for that again on Sunday. It was ten miles to the bridge from where I was staying, near Union Square, but I thought I'd get as far as I could. This time the riverside path was rather different. Without a closed road, much of it runs alongside the noisy and busy West Side highway. Without so many runners running the New York half marathon, it was also busy on the path, with runners, cyclists, walkers. There are sections of riverside park, and – well done New York City parks – frequent and functioning water fountains, which I needed because I'd forgotten to pack a waist pack or backpack. The further north I got, the thinner the exercising population got. I ran past ships and docks and cruise-liners, and on the right, wondered what the city looked like. Every so often I'd see a street sign. 50th street. Then 72nd, then 105th. That must be Harlem, I thought. The path cut in, under a roadway, and alongside road-building equipment, past a football field belonging to FC Harlem. I kept going. There was a park next, and a police officer there on his motorbike who grinned at me. There were enough people about that I felt OK, but I didn't like knowing what kind of neighbourhood I was running through. Also, I wanted to get to the bridge, but god, it seemed a long way away. Finally I got to some basketball courts, another blessed water fountain, and I decided that was enough. I took a picture to show Roger that I'd got a lot closer than we had done: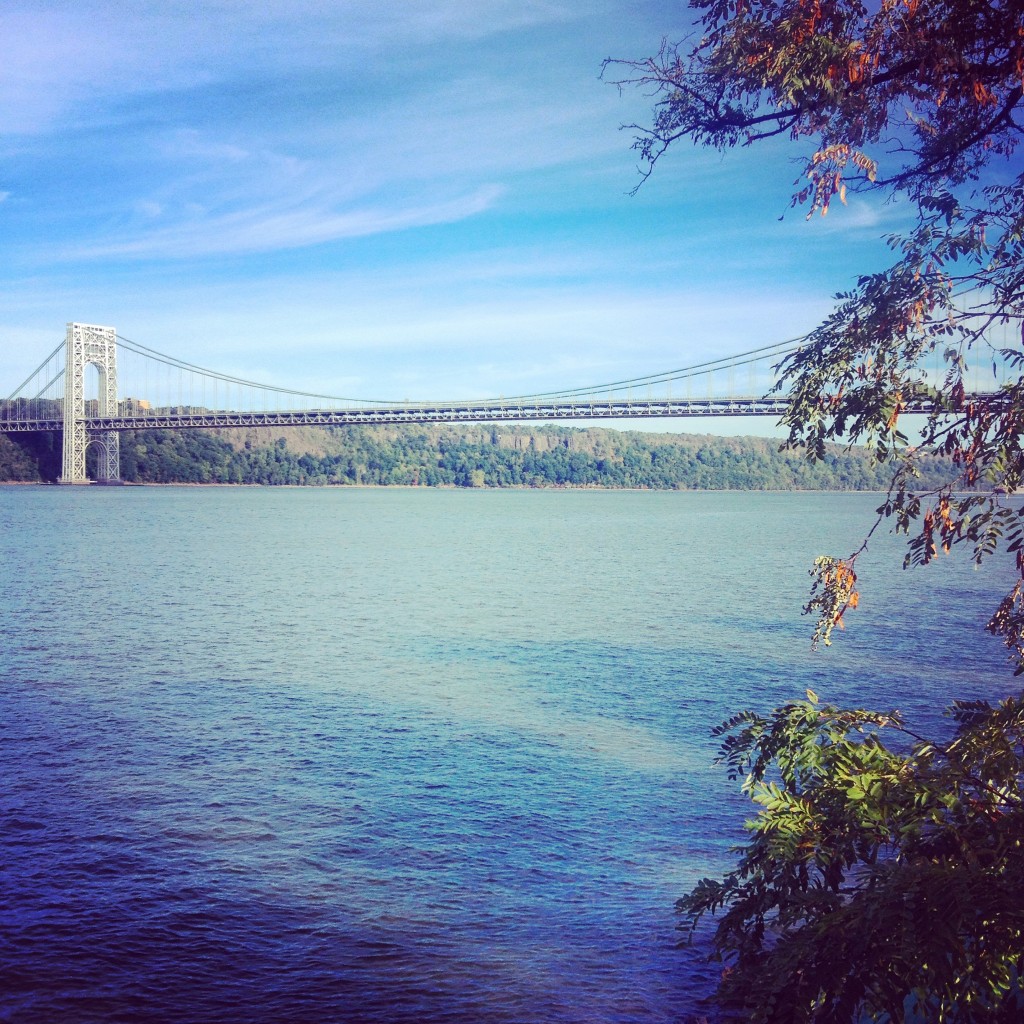 I think I'd have got to the bridge in about a mile, but I turned round and ran back. I felt OK, but my legs were tired. I think despite the water, I was quite dehydrated, as I'd definitely not drunk enough water while standing for five hours at the concert, and I always get dehydrated on planes. I'd had a banana before I left, and I had three gels during the run. So I wasn't hungry, but my legs were. I kept going though, on and on, southwards, past the football field, past the sight of the tower of the Cloisters peeking over the trees. If you go to New York, go to the Cloisters, it's magical.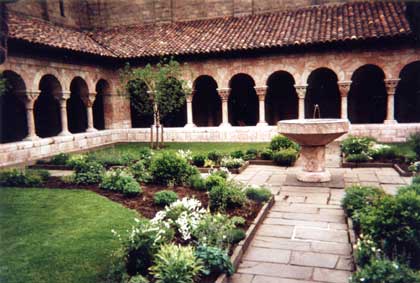 I got back to the busier sections, when suddenly some police came past on motorbikes, strongly urging people to get the hell off one side of the path and onto the other. I thought it was a bit officious, then I turned round and saw hundreds of people on bikes, horizontal bikes, tandems. They were all wearing fancy Army cycling kit, and had their names on little ID badges hanging under their saddles. It was quite a sight and kept me going for a while. I stopped at the clean and lovely public toilets provided by the Parks Commission, had a gel, and then kept going. And then I stopped.
It was at mile 14. My legs were tired, my feet were tired, my brain was tired. My foot caught a metal grate that was covering some tree roots, but which was not flush. I went flying. A proper face-plant, at speed, onto tarmac. I lay there for a few seconds, shocked, then got up. A man was running right past me in the other direction. He must have seen me fall and I was so furious I shouted, "I'M FINE THANKS" but he had headphones on and ignored me. There were lots of people all around me and not a single one asked how I was. I sat on a bench and pulled myself together, but I was very upset. That would never happen at any race I run in the UK. It wouldn't happen even if it wasn't a race. It wouldn't happen on the fells, and nor would it happen in the city. I thought it was disgusting. I know that big cities require a certain way of life. The sociologist Erving Goffman calls what city humans have to do "civil inattention." To live together in such quantities and at such close quarters, humans have to ignore other humans. They selectively tune in and out, and society proceeds harmoniously. OK, I get that. But this was more than that. This was inhuman and unpleasant. Not just that I was prone on the ground, but that people had seen me fall. Shame on you, New Yorkers.
Later, I told my New Yorker friend Vanessa about this. She said she had once, in winter, been crossing a road covered in snow and ice near her apartment, with a rucksack full of books. She slipped on the ice and also went flying. Her nose was bleeding, her clothes were covered in blood. She thought her nose might be broken, and so she went to her local nail salon and asked if she could use the mirror to check whether it was broken. They said, no.
I lived in New York for six months or so in the early 1990s, when I was an intern at the Nation magazine. I loved it. But this has punctured my enchantment. If that's big city life, I don't want it.
I got up from the bench and carried on running for another three miles. But I ran with anger in my heart, and that's not the way to run.