It's odd, now that I am not thinking constantly about marathon training, to realise how constantly I thought about training. I didn't run for a few days last week and for now that's fine. Then again, I think of what I did last week: a 5 mile run on Monday, a hard gym session on Tuesday, a fast 6 miles on Wednesday, Pilates on Thursday. And yet in my head it feels like I haven't done very much.
And all that was on top of a 23-mile walk around the Three Peaks the previous Saturday too. Which was sodden, windswept, glorious and exhausting. It was the day of the Three Peaks fell race. Even the description of that race makes me feel tired. 23 miles. 5000 feet of ascent. Time limits. No way could I ever do that. (Although I once also said the same thing about a marathon.) Anyway Alan in my club thought it a good idea for us to do a walk instead, so about 20 of us met at our clubhouse at 6am on Saturday morning and set off to Settle. I don't know Settle very well, except as one end of one of the most beautiful train journeys in the world, the Settle-Carlisle line.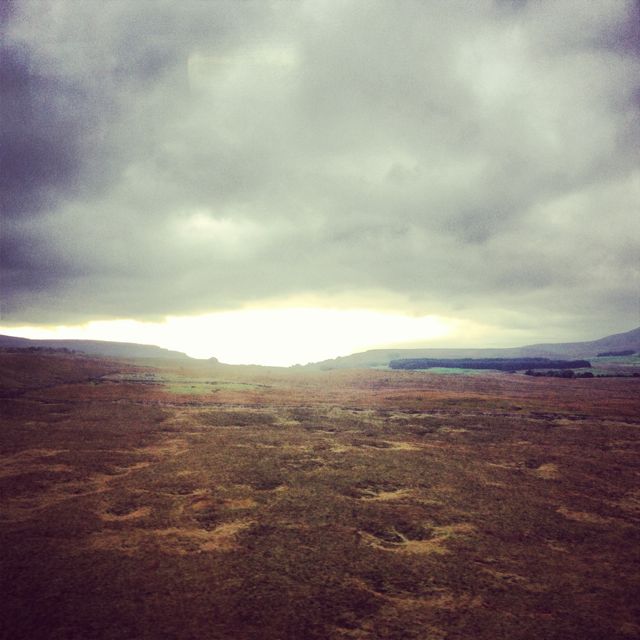 The Three Peaks walk starts from the village of Horton-in-Ribblesdale, near Ribblehead. One day I'll look up what a ribble is. By the time we got there, it was already busy. We encountered about 100 Sikhs who were obviously setting off on a walk. To be frank, I had no idea the Three Peaks was seen as such a challenge. I hadn't really thought through the fact that 23 miles is a long way to walk, especially with three big hills/small mountains to climb. I didn't know that it was hard enough to be a fundraising challenge. That's marathon smugness. Or just my own denseness. Also I didn't even know where or what the Three Peaks were. I'd once driven a van between the three national Peaks – Snowdon, Ben Nevis and another one – and I hadn't thought much beyond "oh there must be another three peaks." There are.
Pen-y-Ghent
Whearnside
Ingleborough
The weather was awful. It was cold, and the kind of rain that has the power of rain but the consistency of drizzle. It was interesting to see how runners kitted themselves out as walkers. Alan had come in lightweight lycra, tiny socks and lightweight trail shoes. I had all the walking gear, having joined the Ramblers when I moved to Yorkshire, though I didn't go often as I got tired of telling my life story to endlessly new people, over several hour walks. That's a lot of conversation. Also I discovered running instead. But even I didn't think to bring proper gloves or a hat because I didn't think it was going to feel like winter. We set off up Pen-y-Ghent and it was wet and miserable. The higher we got, the worse the weather felt. It was slicing into our faces as the wind decided to join forces with the rain. As I climbed up rocks that had streams running down them, soaking the gloves that I'd borrowed from Andrew, who had had the wit to bring a spare pair, I wondered what the hell we were doing and when we could abort. Nobody suggested it though, and afterwards I found that loads of us had been thinking the same thing but nobody wanted to be the first to suggest it. So on we went. My stupid phone died after I took all of two pictures, so these are the only records of the walk: Laura, then me. No filter, no added fog. It really did look like that.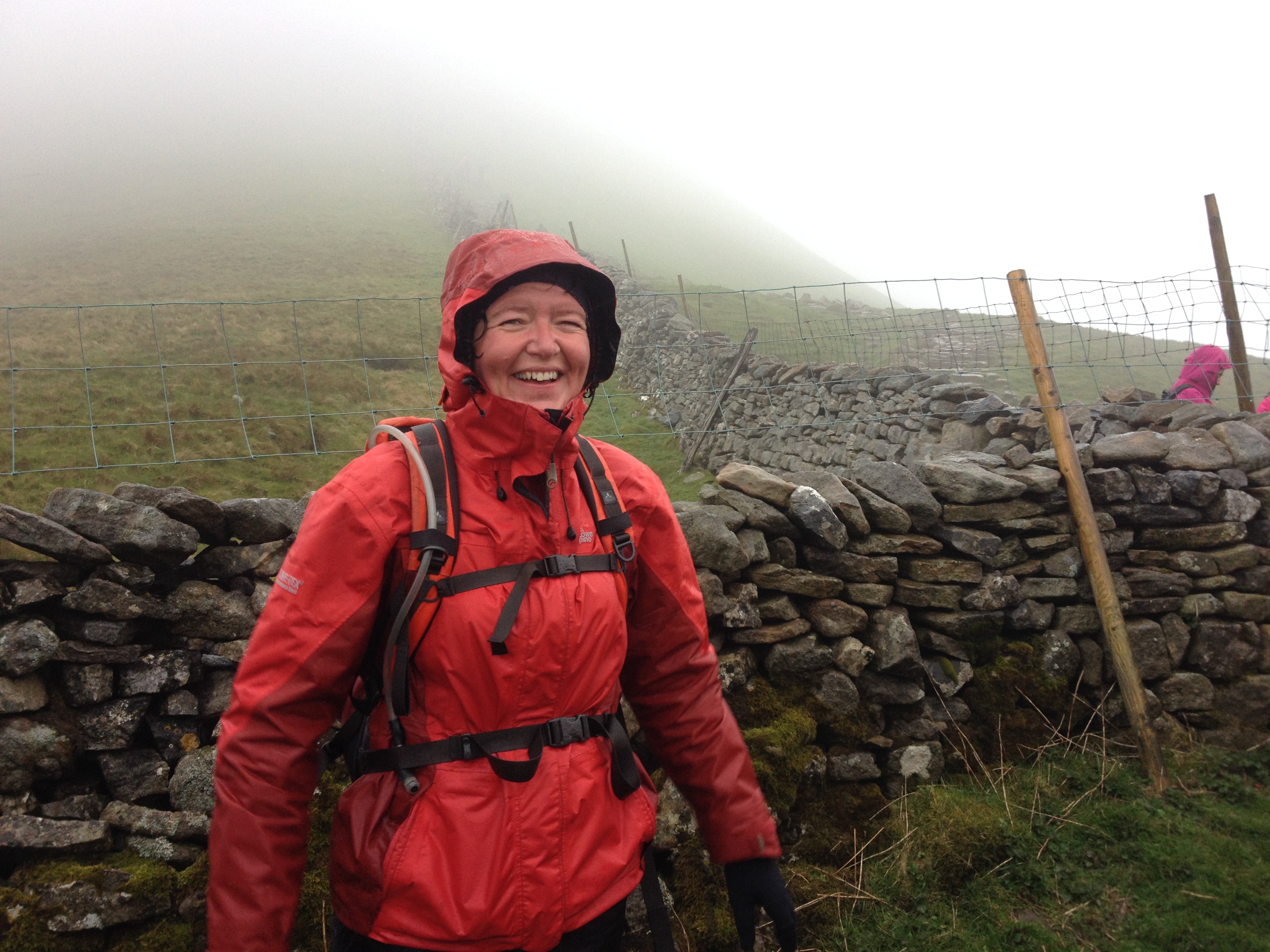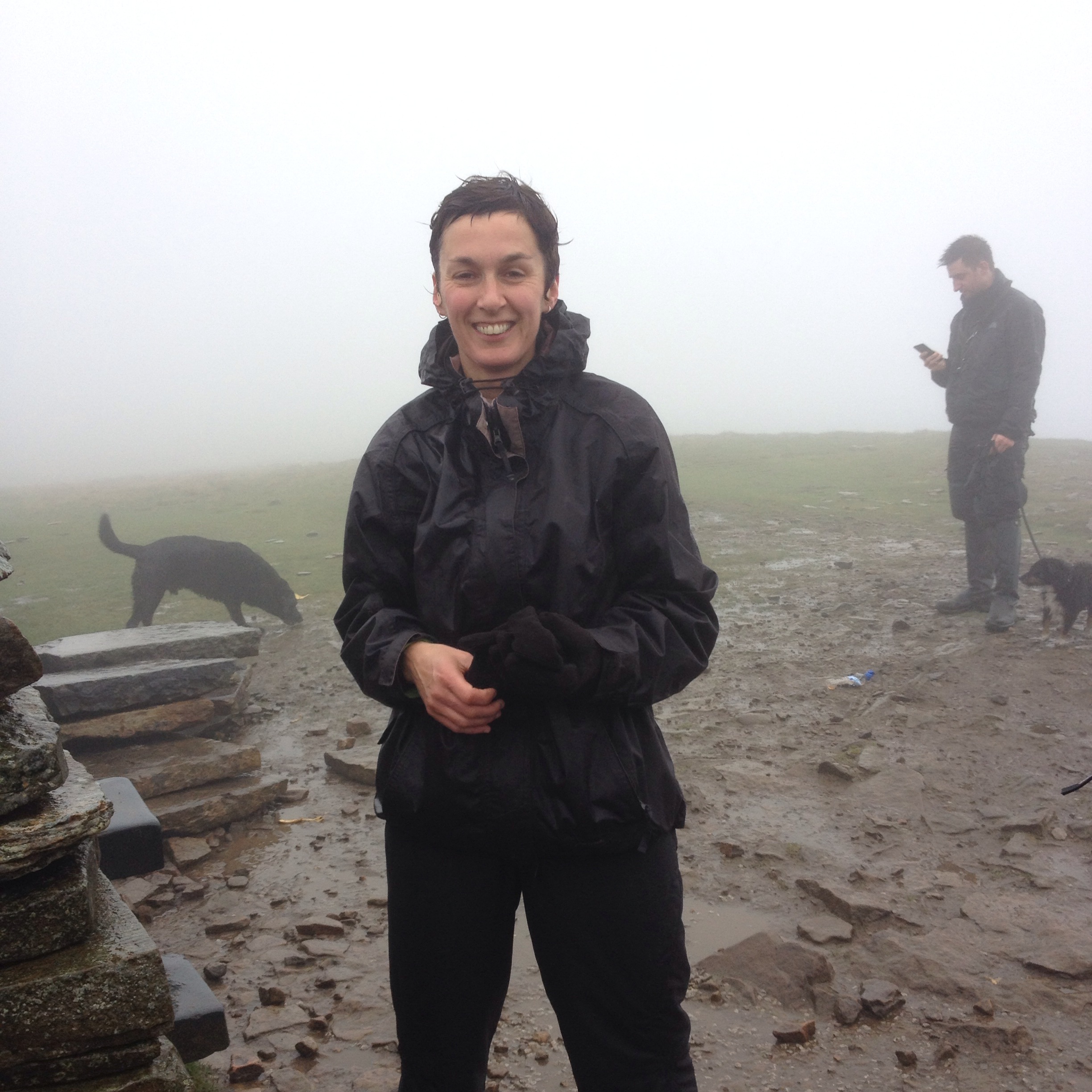 On we went. Every so often we passed some walking Sikhs. Young men, old men, women, some men in turbans, some women in turbans. Some of the turbans were bright orange or blue and lit up the fells. We descended Pen-y-Ghent and set off for Whearnside. And at that point the runners started arriving. They were so fast. I watched them go with mouth open with admiration. Then I started watching their shoes, and decided to get shares in Inov8, because that's what 80% of them were wearing.
By now the weather was clearing. We reached the Ribblehead Viaduct: Beautiful. Then the pub: lovely. Especially the toilet. Then the couple of miles to Whearnside. The runners would scramble on all fours directly up Whearnside, but we took the gentler – but only in relation to scrambling on all fours – path up. It was somewhat exposed, and the winds were of a force to knock you off your feet. There was quite a lot of gripping. We had no target in mind, but we are all fit, so our pace was quite brisk. Somewhere between Whearnside and Ingleborough – known as Inglebugger to any fell runner who has to run up it after 17 miles or so of fell running already – an enterprising farming family had set up a snack van in their barn, along with a toilet and dry socks and hats for £2. I had an icecream, because I needed sugar and I needed comforting: my boots were beginning to be painful. I've had them for years. They are Meindl, hand-made in Bavaria. Or as their slogan says, Hand-made For Actives. I've got a heavier pair in France that I love, and have loved for the six years I've had them, and they still feel like walking on marshmallows. But this pair I don't like and never have, but can't justify getting rid of them. Now I can, because by the time we had scrambled up sheer rock to the top of Inglebugger, every sharp edged rock was making me wince with pain. I could feel my ankles getting bruised, and at the summit, I dared to take my boot off and found a large blister. Thank goodness Laura had brought blister plasters. I didn't even get a blister in the marathon. I blame wet feet and not having walked 20 miles in the boots before. So the last five miles down was a hobble and really not much fun, although the sun had come out after Whearnside and the fells had been stunning.
We got back in less than twelve hours, which means we qualify for the Pen-y-Ghent cafe walking club. Afterwards I was so tired I didn't have the energy to speak, and when I got home all I could manage was to put hot water in my mop bucket and put my feet in it. I was more tired than after running the marathon. But it was a great day, blister and bastard boots notwithstanding.