I love this race. I will try to do it no matter what. One year I did it with jetlag. Another year I'd overcome some other obstacle. This year I decided to do it while recovering from the second cold virus I'd had in two weeks. I posted this on Twitter: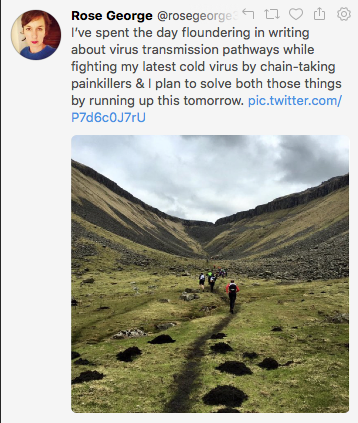 Reasonably, a friend responded by asking if it wouldn't be more sensible to stay in the warmth and fully recover. Another person responded by sending me a link to the dangers of viral myocarditis and how it is causing many deaths amongst young people because people are mistaking it for flu. I took this into account. But I didn't have flu. The cold had not gone into my chest, it was on its way out, and I needed a day of fresh air. I am the child of a man dead of a heart attack, and with heart attacks on both sides of my family, I hold the health of my heart to be very precious. I wouldn't have run if I'd thought the virus had gone below my neck. Also, it's High Cup Nick and I love it.
FRB and I had chips as our pre-race dinner the night before, got a decent night's sleep, and woke up in good time. Oh dear. Both of us had profoundly upset stomachs. Bloody chips. FRB had also developed a cold, but later than I had, so his was raging more than mine. He felt and looked distinctly unwell, and I wasn't well either. The race start isn't until 2pm so we had time to think about the wisdom of running, and for stomachs to settle. I made us a banana and yogurt smoothie and hoped that would work. I definitely thought FRB shouldn't run, and I probably shouldn't either. But it was the first day for a while I hadn't woken up spluttering. Nor had I needed to take any paracetamol, for the first time in days. So we set off up north, picking up our friends Martin and Caroline and headed for Dufton Village. The race is organized by Morgan Donnelly, a fine fell runner and a fine emailer: he'd sent out two race information emails on Thursday and Friday, advising about parking. Dufton is a small and beautiful village with a small and beautiful village green, and quite rightly the organizers didn't want people to park on it. The second email included information on "cheeky farm-yards" which might provide parking space and ended with "sleep well," which is how you can tell it was written by a runner. All race information emails should finish with "sleep well."
Still, as Caroline said in the car, "it's quite a long way to go for a race." 98.3 miles to run a 9 mile race. But I knew it would be worth it, if we ran. The weather forecast had been chilling: 40kph winds on the tops and a wind-chill of -6. I even packed long tights, though of course I ran in shorts. We got there in good time and got priority parking in a farmer's field, though I wasn't sure, given how the tyres were spinning on the mud on the way in, how we'd get out again. Registration at the village hall as usual, where there was the customary huge spread of cakes. A sandwich each though it was just gone 1pm and in hindsight that's quite late to be eating something substantial. FRB was looking only slightly less green, but he decided to do a warm-up run and see how he felt. I guessed he would run, and he did. We gathered on the green, Morgan made some race announcement that where I was standing was entirely inaudible, then he yelled "GO" and we went.
I wasn't nervous as such. It was more like dread. I was better than I had been, but I wasn't right, and I hadn't run all week. But I set off and hoped for the best. My best, apparently, was not great. I managed to run up the first incline but felt very weak. Last Sunday I'd done hill reps in Pudsey valley with FRB and I'd not walked once, and felt really good. Now I was looking at the inclines coming up and dreading them. I very nearly pulled out in the first mile and was only stopped by the fact that I have never had a DNF. Instead, I patted my ego on its head and put it in a box, and carried on. I walked when I felt like walking, and I didn't worry too much. I was expecting to see FRB on the roadside at any point, but I didn't, and I assumed he had either pulled out early on, or had carried on (much more likely).
The day was glorious. I was in a t-shirt and long-sleeve and perfectly comfortable. Sunshine and no wind, as we ran up the tarmac, then turned into the boggy bits. I knew from running this before that stretches that seemed flat were actually going uphill. So I splashed through all the bogs I could, and enjoyed it. The sun was out, the day was fine, and I was moving at pace through a beautiful landscape. All was well.
The race route runs along several shoulders of several contours. On each shoulder, I expected to round it and see the valley of High Cup Nick, but it took several turns before I did. So, into the valley, through more bogs, through a beck which was in a timid state and only calf-high, then the long boggy stretch up to the Nick.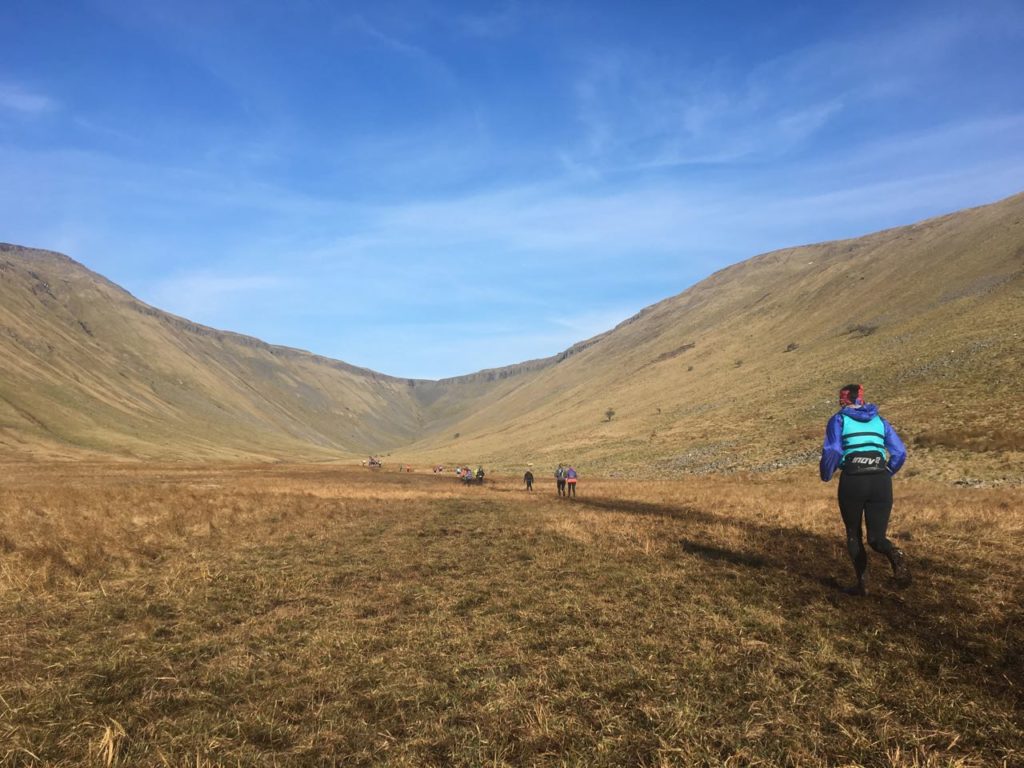 It looks so benign in that photo. Such nice soft grassy ground. It didn't feel benign. It felt like it feels every year, that the valley will never end, and the Nick will never come, and that all you have ever done is run ploddingly through boggy ground that sucks your legs into the earth like an underground triffid. I may have taken more pictures than necessary because I wanted to stop and rest. But I'm glad I did.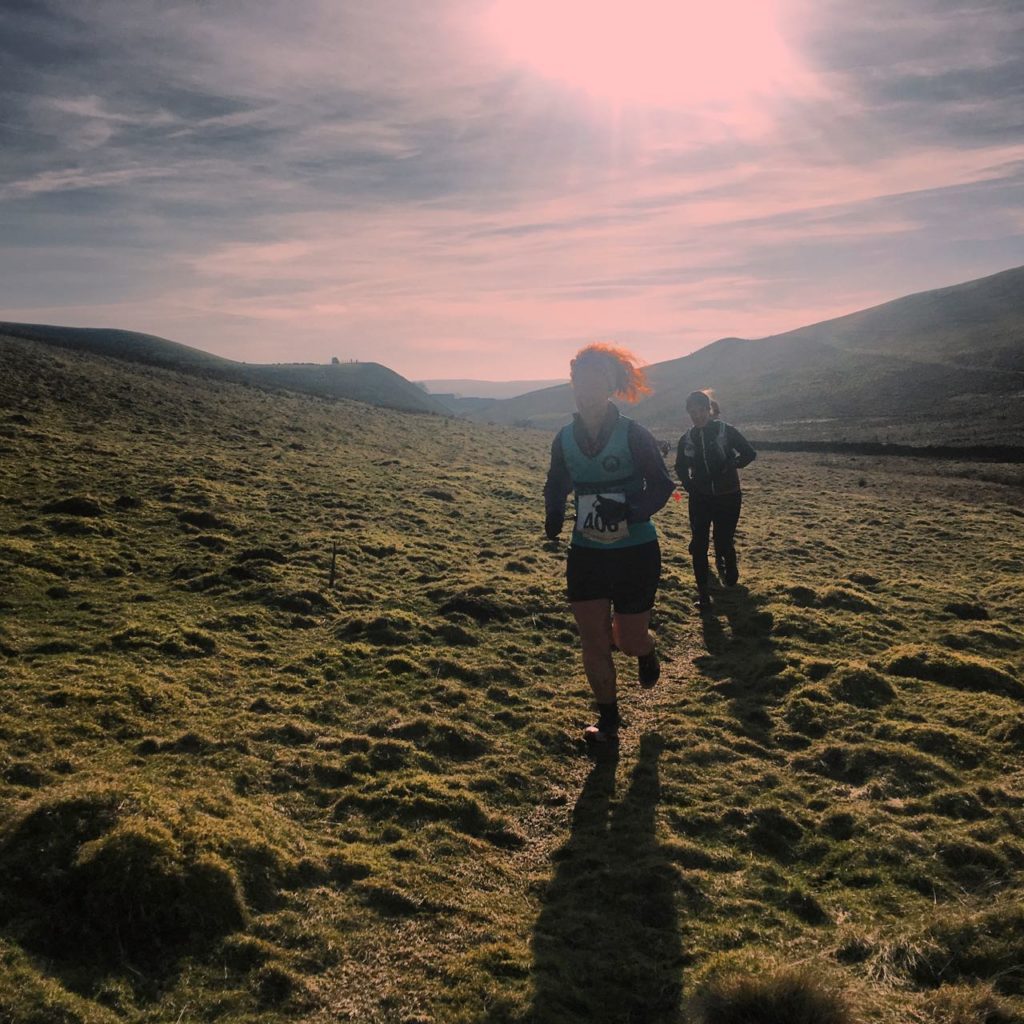 Still, the weather was still nice. But not for long. FRB had said that the wind direction would favour us, coming up the valley and pushing us up the Nick. But the wind had changed its mind, and it blew straight into us. Towards the end of the valley, it got ferocious enough that I stopped to put my jacket on, reasoning that it would get colder as we climbed up, and nearly lost my precious Stormshell — a Christmas present — to Notus, god of the southern wind. I think Boreas, god of the north wind, was also involved, as he was "the bringer of cold winter air." Their combined efforts were impressive: it took me a few minutes to control the wild flapping of my jacket enough to get it on. The wind, the bogs, my fitness: all combined to do what they do every year, which is to forget that I so desperately want the long boggy stretch to be over than I forget that it ends with this: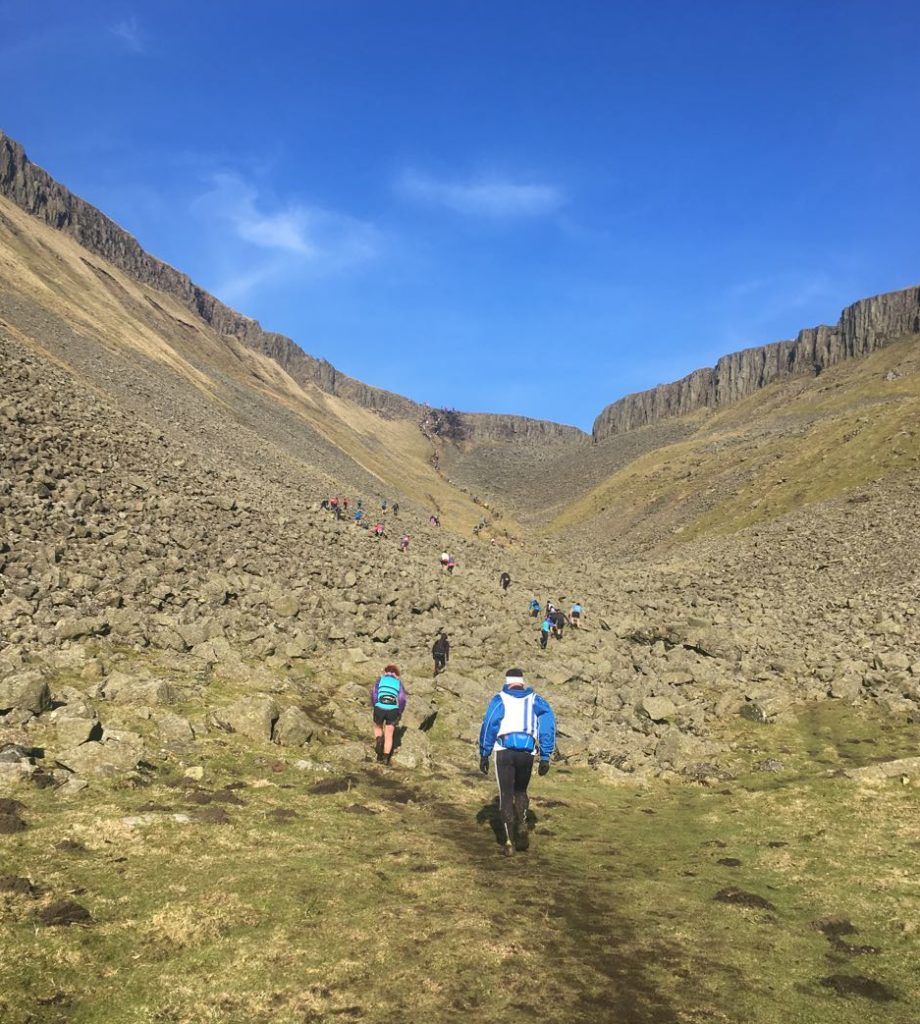 First, there is a boulder field. This year, it wasn't too slippy and was much easier going than last, when we ran the race in clag and fog. Still, someone near me said, "ooh, this is dangerous," and I thought, wait a few minutes and you'll see what dangerous feels like. In the car, FRB and I had been trying to give a sense of the route to Martin and Caroline, who hadn't done it before. All of us except FRB have a fear of heights. I don't really understand mine: I was terrified on a railway bridge over a river in Saskatoon, and on the scramble up Grey Gables. By terrified, I mean my legs felt like jelly and my mind froze with panic. I was describing the climb to Martin when I said, "and make sure you cling on," and he went white. But I meant, cling on when you look round because you will be overcome with the beauty of the view. I tried to explain that, but the damage had been done, and as I climbed the boulders, I hoped he was OK.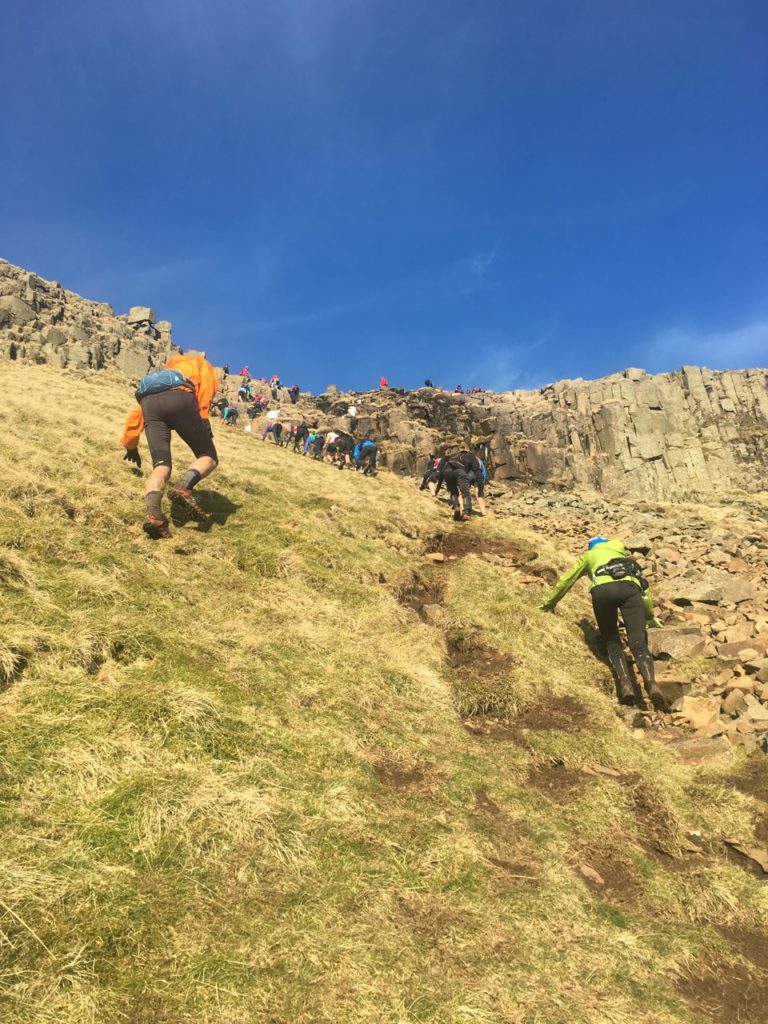 Because in fact, it is a steep and potentially scary climb, even though there's only 700 feet of it. By the top, most people are on hands and knees. The wind had died down, or the geography of the Nick somehow diverted it, and I'd soon removed my jacket and gloves. I'd climb robustly enough to keep warm. Even so, I made sure to stop and turn round and gaze. I understand that the elites have no time to do that, but apart from them, if you don't take a minute now and then to turn around and look, then it's a waste of High Cup Nick. Because it looks like this: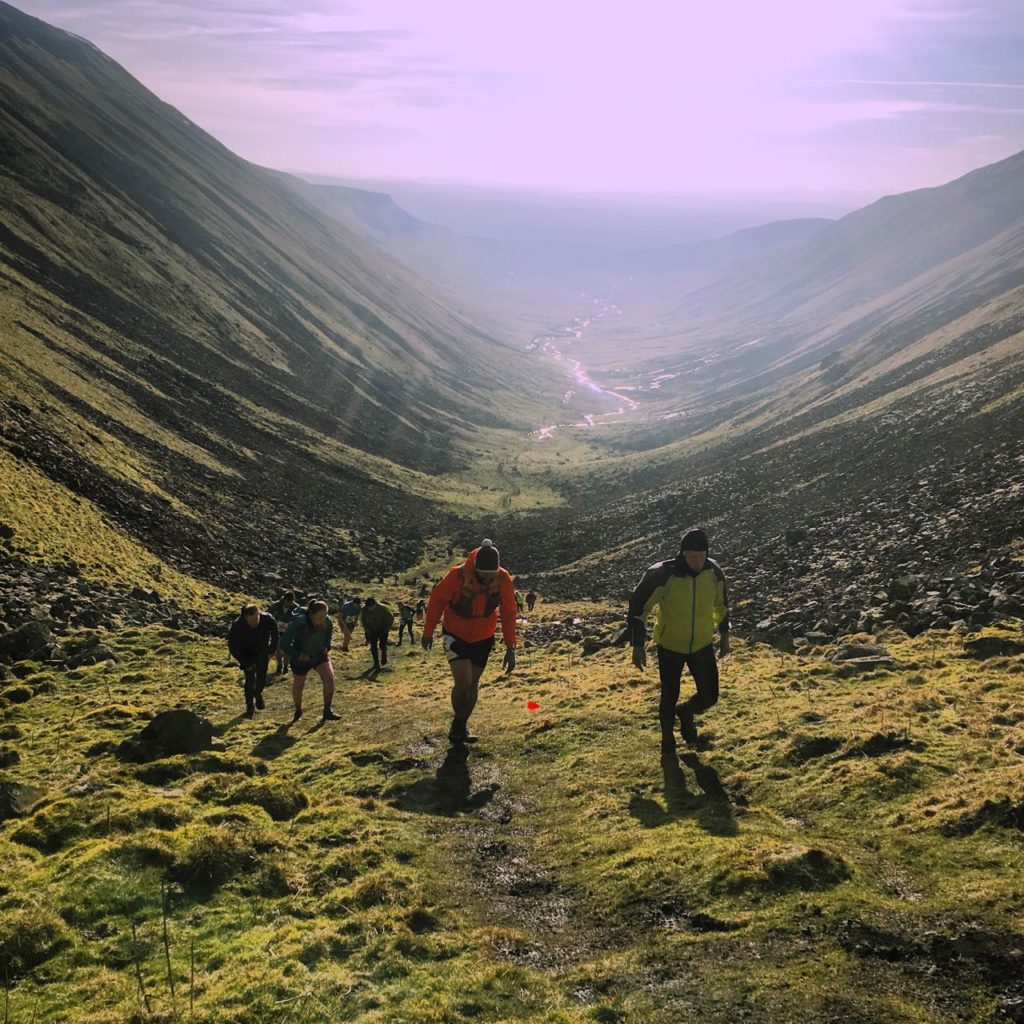 It is breathtakingly beautiful, and I choose that adverb carefully. I didn't have much breath to spare. So I gazed, and I climbed, and I stopped and I gazed and I climbed, and in this way got to the top. There's a run along the ridge, a couple of other inclines, there was some snow and ice. I was moving adequately but not fast, but I knew a long descent was coming. I felt much better now the climb was over — funny that — and once we hit the track and the several miles of downhill, I forgot about the virus and the stomach-heaving chips, and I just ran as fast as my legs could carry me. I pelted it down. A couple of times I looked at my watch and saw that my pace began with a 7, and a couple of times I almost fell but didn't. I overtook a lot of people, and I stayed ahead of them, and I felt surprisingly good. The farm track goes on a long while, then ends at a checkpoint, a right turn into a field and a short climb. Actually it's an incline, but after three miles of fast descending plus a mile of sharp climbing, a grassy incline makes for jelly legs. I walked for a bit, ran for a bit. In one of the fields, I found Phil from my club, and he ran ahead of me to take my picture and I managed a smile and to flash my vest: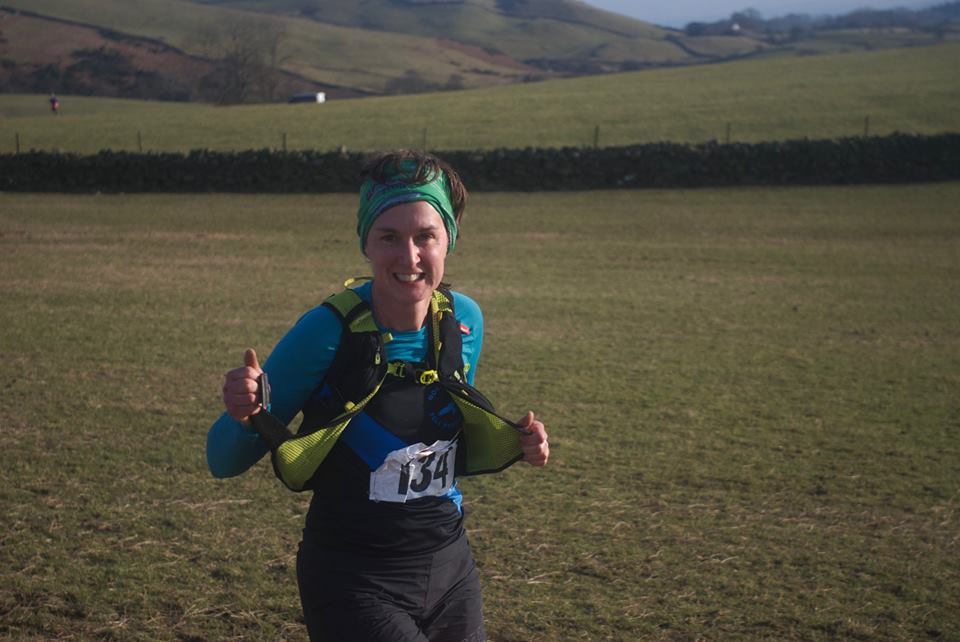 At one checkpoint, a marshal said, "well done! Last push. All downhill now." I appreciated the encouragement, and if I hadn't been quite so tired, I would have realised: either he doesn't know the race route or he's lying. There were two inclines to come, one a small but sharp one up a field, which feels larger than it is. And the other in the last half mile, a track back up to Dufton, which I recognised and remembered as soon as I got to it, which isn't much use. I splashed through the mini-ford at its base, and had enough brain left to notice a supporter who had climbed halfway up a wall, and to realise he'd done that because we were all running through the ford. But then my brain gave up, briefly, and I started to walk up the track until I heard "WELL DONE ROSE" and there was FRB waiting at the top. Damn. Now I had to run. So I did, and he encouraged me, and I had the wherewithal to think, he's in racing kit so he's finished and he's alive, and that's good. He must have seen that I was tired, because he usually tells me to overtake the person in front, but this time he just told me to stay with her. So I did, and then I overtook her on the village green, which was a bit mean-spirited — sorry — but I wanted to see if I could sprint the last bit. I did, to the extent that Morgan on the finishing line had to put his hands up and say "Stop running!" so I did.
I couldn't quite believe I'd got round, given how ropey I'd felt early on. But I did, and the human body is a strange and amazing thing. Not least because my virus, exposed to 9 miles of Cumbrian fresh air, decided to morph into some weird back-of-the-mouth-but-maybe-the-ear shooting pain all the way round so that now and then I'd stop and hold my ear or my jaw and look puzzled. I bet viruses aren't used to being made to climb High Cup Nick. I'm sorry for my immune system, which I venerate and cherish, having been writing all week about how the immune system works and how it tries to defeat HIV, and I shouldn't really have given it that extra pressure. So a shooting pain in a strange part of the body is how I'm paying for it, and that's fine.
We didn't go for soup and cakes, as we had a long drive back and FRB looked exhausted. He'd run it only a minute slower than last year, despite swearing that he wasn't going to race, "only run," and despite being emphatic that he'd taken it really steady. I finally looked at my watch and was delighted. It wasn't my quickest time — 1.43 — nor my slowest — 2.00 — but it was good. 1.53. I'm happy with that. This morning FRB and I compared Strava data (I know) and he saw that I'd done the descent in 38 minutes. He was impressed by that, and so am I. "You know", he said, with some wonder, "if you could just climb faster, you'd be really quick." That's true. I would. I will think about that, as I've got this wee race coming up again.