It was in the calendar, but it depended on weather. Driving to Ilkley a few miles away to run through gales and rain is one thing: driving two hours to Westmorland in Cumbria is another matter. But in the end the forecast was good. It was so good, it was perfect: a cool but not cold temperature, good visibility, dry and with winds of 3mph, not 53. So FRB and I decided to do the race, because it's a cracker. Up the A1, then onto the A66, over Penrith way, then to Appleby for petrol, which we bought from an agricultural supplies place. Farming is so foreign to me, I gaze at everything in places like that. Suzuki quad bikes; tractor lights; sheep supplies. But then, Cumbria is foreign to me. We had a couple of family holidays here, but I don't know it well, and I look at Cumbrian residents with envy, as if they are otherworldly creatures, because they can walk out of their door and run up a most magnificent fell, with ease. Of course I'm not complaining, when I can be up on Ilkley Moor in half an hour. But still: a fell on your doorstep is an amazing thing to have.
The race HQ is in Dufton village, because it's organised by the lovely Morgan Donnelly, a champion fell runner who lives in Dufton and who has the rosiest cheeks in fell running (so I think of him as Fellrunning Noddy. Sorry, Morgan). It is sponsored by Inov-8, probably because Morgan is too, but there's no sense of it being a glamorous, richly sponsored race. It's like most fell races: low-key, friendly, welcoming. That doesn't stop me being absurdly nervous before each race, no matter what, and the same happened here. I get uptight and worried, that I won't be able to run or I'll be slow. Maybe I should go off and meditate before a race, but I'd be too nervous to concentrate.
The HQ is in the village hall, so we parked where we could then went to register. £7 this year, £6 last year. Presumably the rise is due to how much the race has to pay farmers to run through their land. But it doesn't matter: Cumbria needs all the extra pounds it can get to recover from the floods. Despite initial difficulties – we set off in my car then found it had a flat tyre, so back home to swap cars – we'd arrived in plenty of time. The race start was at 2pm which is civilised but means you have to think about food. So at 12.30, I began eating my cheese sandwich whether I wanted to or not. Then some Soreen, some coffee, several toilet visits, changing into my kit. I decided on long-sleeves, vest, shorts, rainbow socks, and this great Ilkla Moor bah't'at buff that I won by doing the Ilkley Moor race: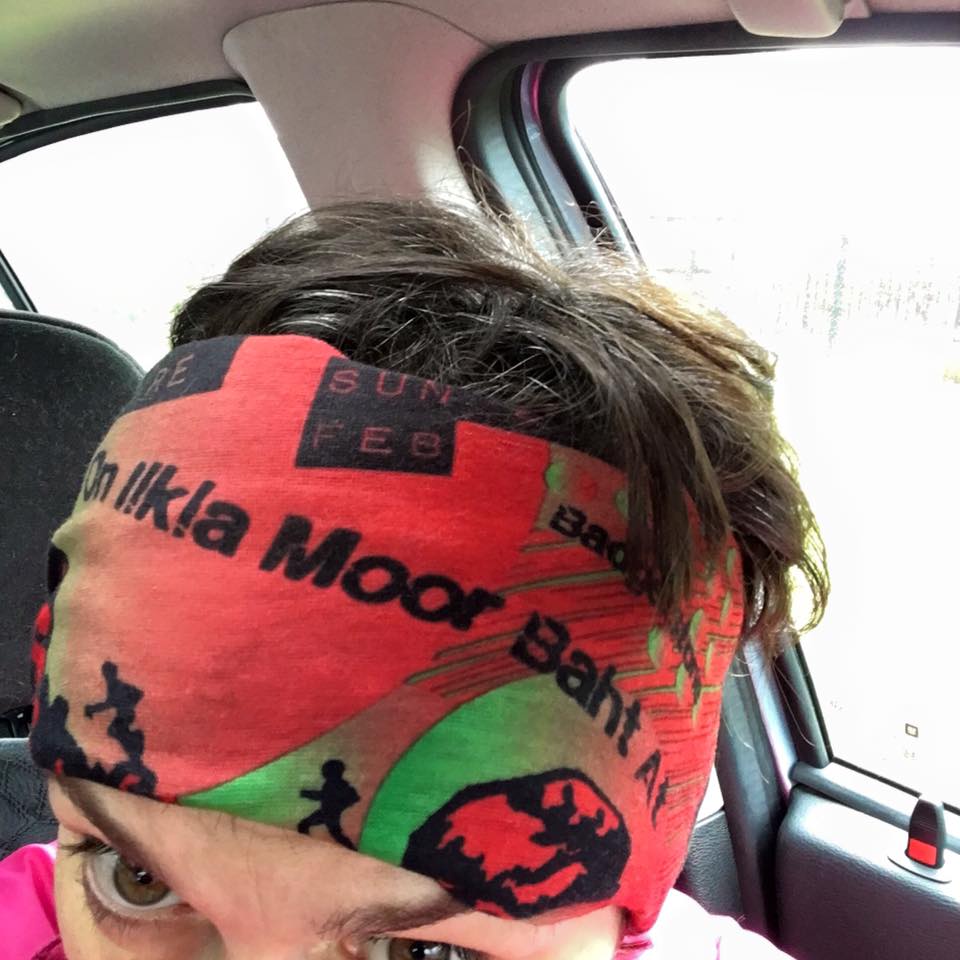 Most of the entrants would probably be from the Cumbrian fell clubs – Keswick, Borrowdale, Cumbria Fell Runners – though there was a Dark Peak or two from Sheffield too. After my last toilet visit – thank you Dufton Village for your clean and toilet-paper-stocked public toilets – we headed down to the start, which was a gathering and loitering on the village green. To our left was the looming peak of Dufton Pike. But we weren't going to run up that. Instead, once Morgan had said a few words, though I've no idea what they were as he's so quietly spoken, then said "on your marks, get set, go", also quietly, off we went. Through the village, along half a mile or so of road, then into farmers' fields.
I felt dreadful. I felt exactly as I'd done at the last Parkrun, that I was not far from DNF-ing. I felt like I was running slowly, and that my legs lacked any energy. And that was just the first mile. The first four miles of the race are over fields and then up the glorious, glorious valley of High Cup Nick: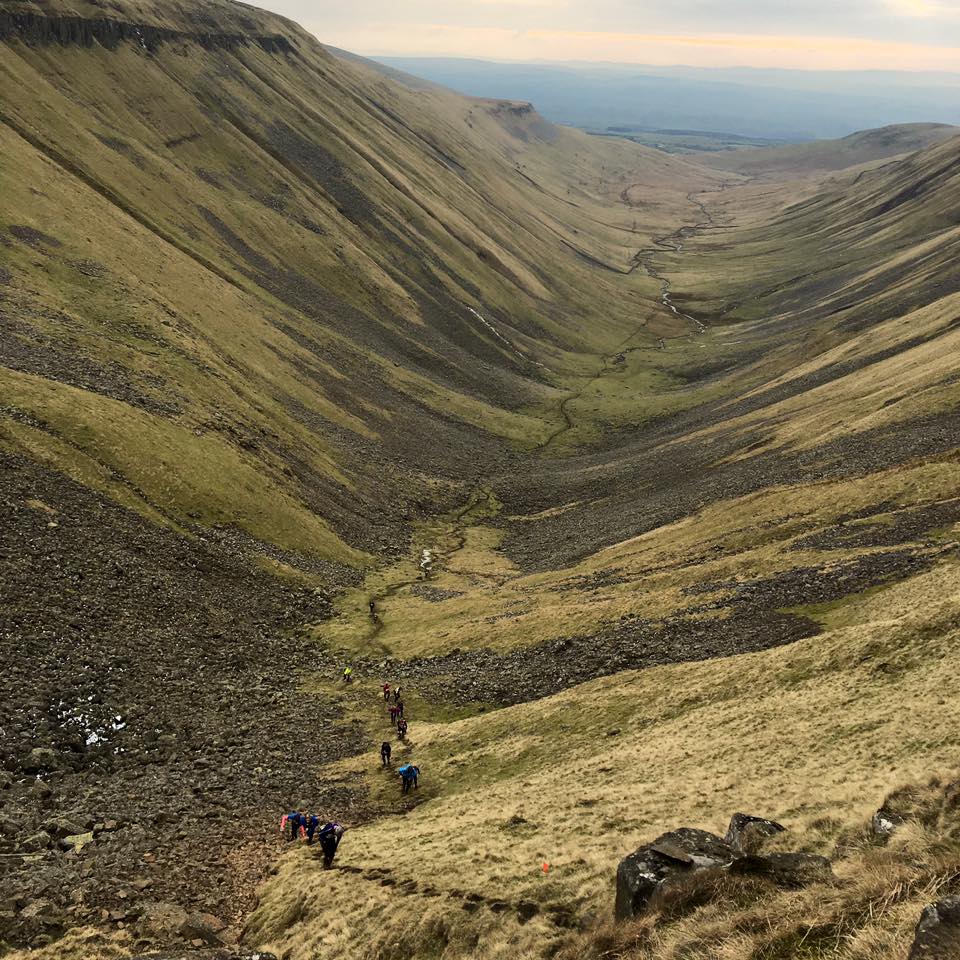 It is glorious to look at, and glorious in its breathtaking geology. It's known as a geological wonder, and is an Area of Outstanding Natural Beauty, and we were being allowed to run through it. Amazing. So although my legs felt like lead, I kept gazing about me, and I was knackered but content. At the further end of the valley, as we approached the climb, there were more bogs. They were exhausting, and I slowed and slowed. Last year I'd run this race with jet lag, having flown back from Haiti a couple of days earlier, on a sleepless overnight flight. I'd felt sluggish last year and didn't feel much better this time. Later, when I told FRB how awful I'd felt, he said, it's all uphill. It just looks flat. Oh.
A runner overtook me on the boggy section, then turned and said, "I liked your blog". Huh? I said, "thanks. who are you?" He said he was a lurker, not a commenter, and his name was Jonathan, and that he'd found this blog while looking for reports of High Cup Nick. He said he'd recognised me by my socks. Then he overtook me and I didn't see him again. Hello, Jonathan.
Finally we reached the bottom of the climb up the Nick. I don't think anyone runs this. By this time I'd realised that I'd forgotten to switch the activity settings on my Garmin from bike to run, and so I would probably be the only person alive who, at least according to Garmin and Strava, cycled straight up this: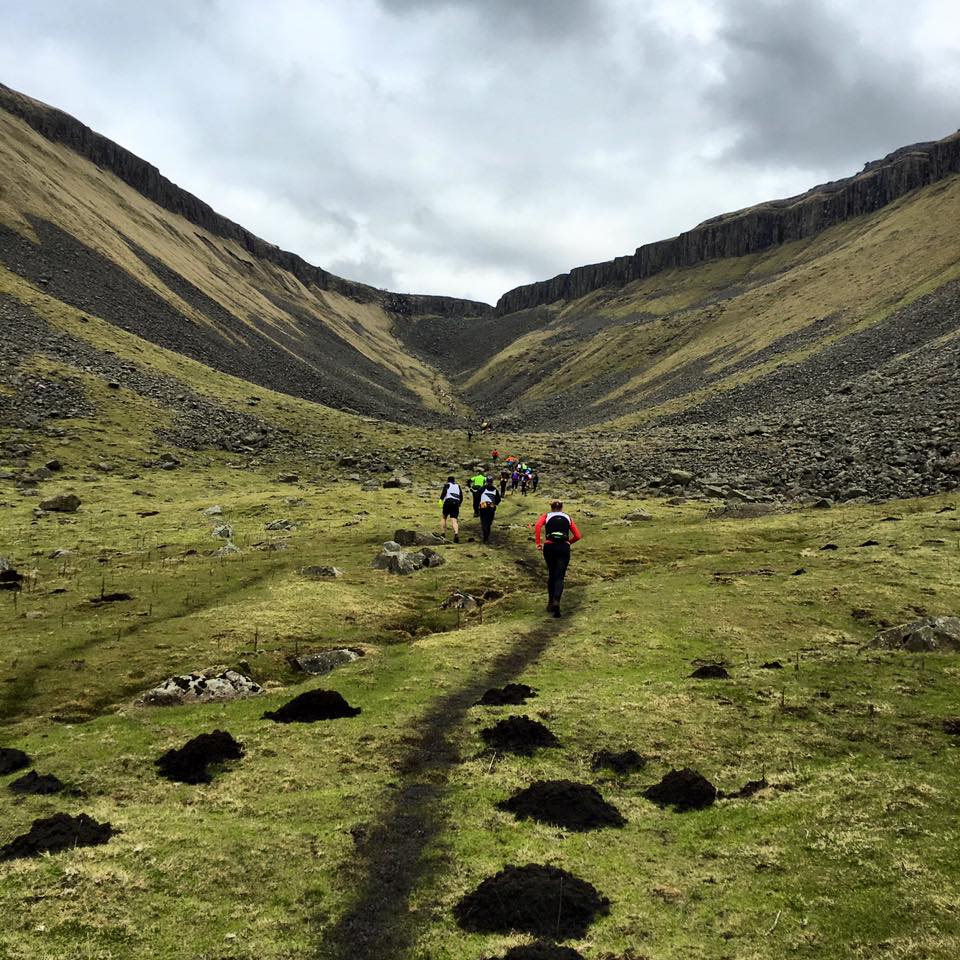 But I had other things to think about, like where my feet and hands went. Yes, some of it was on all fours, because it looks like this: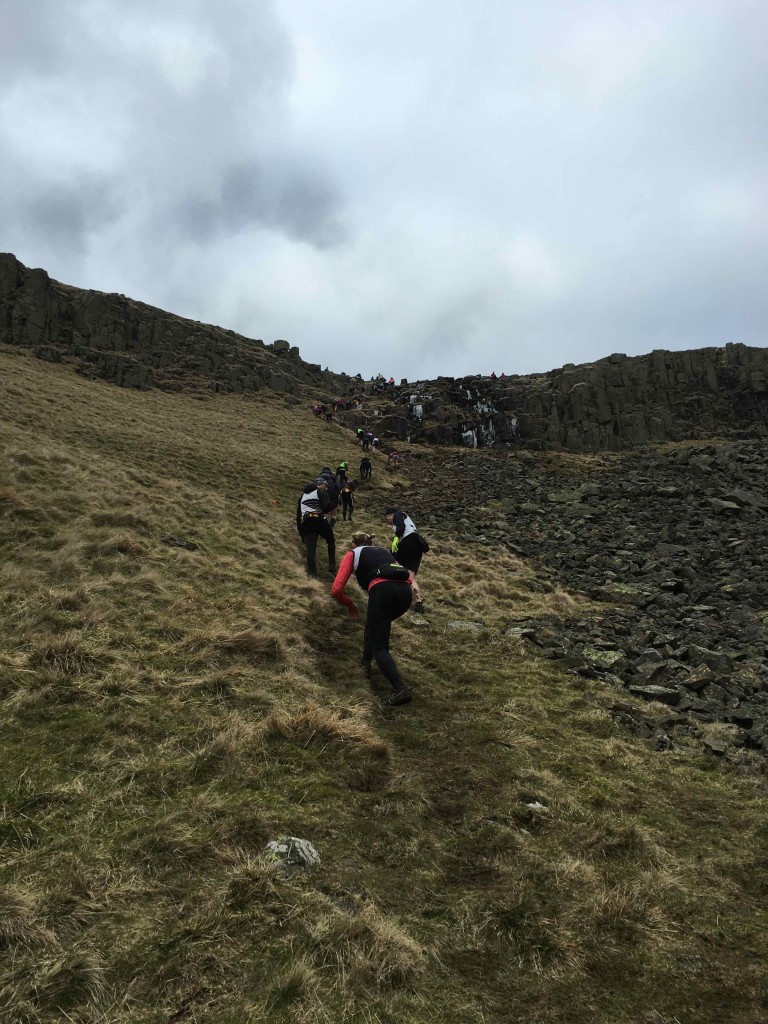 It wasn't as bad as it looks, though. I enjoyed it. I tried to chat to other runners but most were too puffed to speak. "Sorry," said one, "I don't want to be rude, but I just can't talk." I made sure to stop and take pictures because when I'm somewhere that beautiful, it's criminal not to.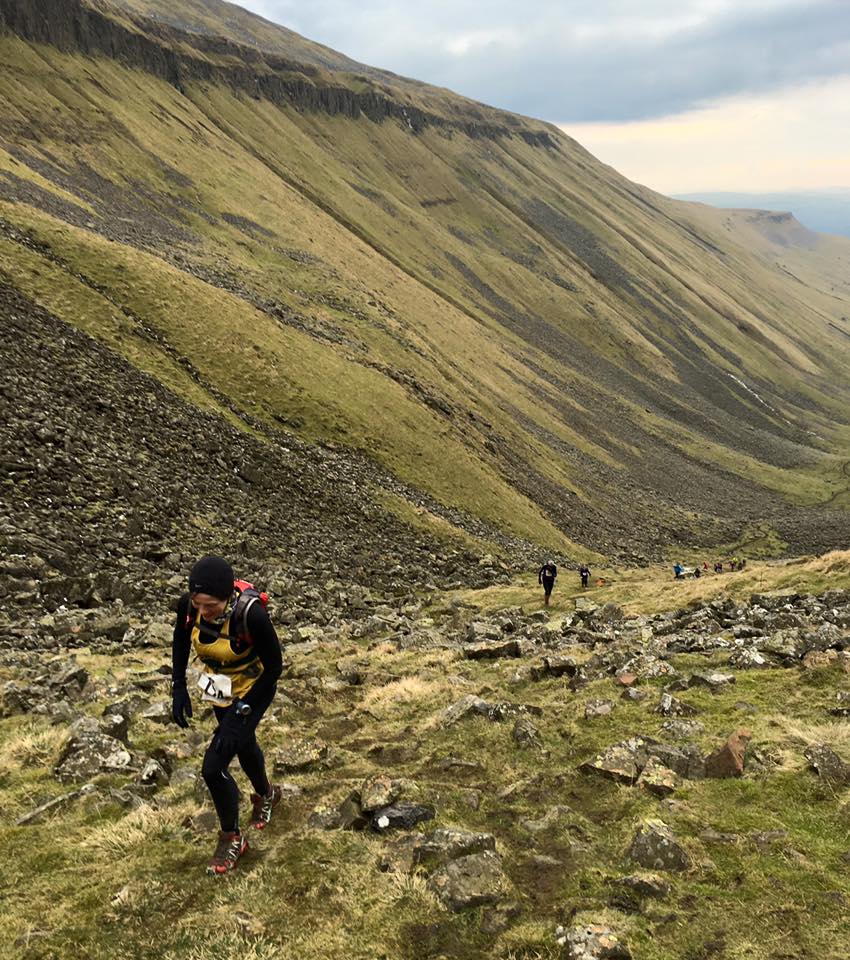 Someone on the FRA Facebook page said she hadn't had chance to see the view. I find that baffling: I think that's a major reason to run on the fells. I always allow for gawping points, even if it's just a few seconds. Near the summit, I stood on a narrow shelf of rock, leaned back against the rock face for safety and dared to look down. I don't have a good head for heights, and we were very high up a very sheer rock face. It was rather terrifying, but so stunning. Then I climbed the last few metres to the top, greeted the marshal with "the best socks in the race are arriving" which he, reasonably, ignored. Then somehow I had to get my legs to work for the next four miles. Unlike last year, there was no ferocious headwind, so I carried on as best I could. Along the way I had a nice conversation with a woman about her rather cool Spiderman-like leggings (they are Shock Absorber). She said she'd lost her running mojo and thought that buying new kit might get her back on track. As she was at that point running steadily in a difficult fell race having just climbed up High Cup Nick, I think her tactic was working. I overtook her anyway. I love downhills, even though I can't always see the ground properly, as my eyesight is rickety, and my eyes water. But that doesn't stop me: activate the inner eight-year-old, and GO.
It's a wonderful four miles, as enjoyable as the bogs were not. I got plenty of cheers on the way down, and when I ran past one group of walkers a man called after me, "Kirkstall in Leeds?" I said, "yes, I ran up here!" and carried on running.
There's one point after about three miles of downhill on a track where you have to turn up into some fields and cross them, and suddenly a small incline feels like an enormous peak. I thought it was just me, when my legs suddenly felt like lead and all I'd done was turn into a field. But afterwards everyone said the same. Then, through some more fields and four marshals in succession who said "you're on the home stretch" or "not far now" which in the case of three was true only in a very elastic sense. There was a short hill before we reached the village, which felt like Mount Everest. Honestly, it was hard. Then back into Dufton, through a back alley, onto the village green, and a sort of sprint to the finish line where Morgan stood with a clipboard.
I got my breath, then sidled up to Morgan and said Kate Carter from the Guardian said hello. They did this video together, in which Morgan describes fell running as running to the top of a hill and back again. Anyway when I said hello from Kate, he said, oh, right, with some surprise, and I wanted to get a selfie with him but I was too embarrassed to ask. I couldn't care less about getting pictures with celebrities. I have no interest in signed editions of books. But around Morgan, Victoria Wilkinson, Ricky Lightfoot, I'm like a Harry Potter fan in front of Daniel Radcliffe. Ricky won the race, beating his record, and Victoria was the first woman back. Once I'd changed and warmed up, FRB and I headed to the village hall for soup and roll, then hot tea and cake. It was packed, though by the time the presentations were done a lot of people had left. Victoria was still there, and I gazed at her with wonder: how is she so good? How did she get to be so fast? How can I get faster? The usual thoughts. If I met her, I'm sure I'd babble like an awestruck fan. And she'd look at me like I was nuts.
No prizes for me, of course. But when I'd told FRB my time he said, I looked up your time from last year. This year you were eight minutes faster. Eight minutes! Some of that could be because of last year's jet lag and some because of headwind, but not all of it. So although I'd felt crap, I did great. And though I worried as usual about being last, I came in about 60th from the back. Which shows the gulf between self-assessment of one's worth and ability and actual worth and ability is as wide as the mouth of the rocks that opened millions of years ago to form High Cup Nick. I'll try to remember that.