I didn't want to run. Not at all. Not remotely. I woke up at 7am with a pounding headache and having had the worst night of sleep in a month. It's been a month since I started getting night sweats, which for those of you who have never had them, is like running a race several times a night, so you pour sweat, wake up boiling, fall asleep, then wake up freezing because you have been sleeping for an hour or so in cold sweat.
It sucks and I hate it. These days I rarely wake up without feeling sleep-deprived, and am grumpy because of that. Plus the lovely menopausal depression. All in all, the last thing I felt like doing was getting in my car and driving all the way to Lancashire to run nine miles over a very big hill.
But I did. Because in the depths of my morning fury and sleep-deprivedness, I managed to remember that running is the only thing that makes me feel better. It is a cliche now to say that you never regret a run but you will probably regret not running. But it's true. So I ate crumpets, packed my kit, and set off, picking up on the way FRB plus his club-mate Ben and Ben's girlfriend Amy, who was coming to support. The Stan Bradshaw Pendle Round starts in the village of Barley, where I've been to three times now: once to support FRB doing Tour of Pendle, and twice to run. As we drove over the border and over hills, Pendle hill suddenly came into view. Oh, I said. I'd forgotten how big it is.
Barley is a pretty village, with two major attractions apart from the magnificent Pendle hill rising behind it: free public toilets, and a warm village hall with a cafe and more toilets. We went to register, had tea and Amy's muffins, then back to the car to change. Amy set off, wearing about four layers. It was cold but not as much as I'd expected. But the route had been changed because the snow had made one bit difficult, and the hill, looming behind Barley, was white. I wore vest, base layer, shorts and gloves, as usual, and Inov-8 Mudclaws for the snow. A few more toilet visits, a check that I had everything in my bum bag – full kit was required, and there were kit checks – and we gathered up the lane from the village hall. Craig, who had organised the race, gave some instructions. He said, we've ordered the sun for you, as the sun was shining. The atmosphere was amiable, at least where I was in the pack. I'd tapped a woman on the shoulder as I got to the start, and she turned and said fiercely "WHAT?" I said in a small voice, "I just wanted to tell you I like your buff" because it was a map buff of the Three Peaks, and she looked mortified and said, "I'm really sorry. I wouldn't have been so rude, but I thought you were my sister."
We set off. Steady, steady, steady. I don't remember much about race routes, but I do remember that there is a long slog up the track at the beginning of Stan Bradshaw, followed by a long climb up the hill. I ran the track, then it was a long walk. Even FRB took 20 minutes to do the hill. The going was OK: there was snow and bogs, which made it, er, interesting, as you can put your foot on snow and find your leg sinks knee-deep in a bog. At the top, it was runnable again, and the views were beautiful. I didn't want to stop to take photos, but then I did anyway: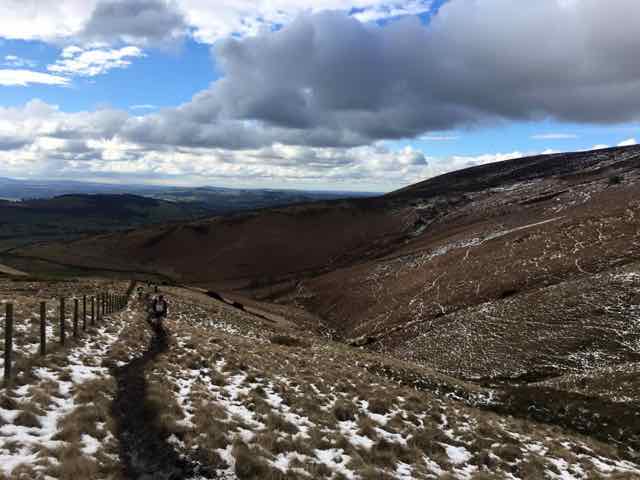 There was a long stretch of downhill then, which we deserved (though FRB will probably tell me there were another two climbs that I've forgotten about). Apart from the snow, I remember the following:
A lone marshal with his son at a cairn or something
Dave Woodhead crouching down with his camera, and he called me Rose instead of Rosie, and was as encouraging as he always is
A few deep steps into bogs, but no falls or bleeding injuries for once
I thought that as usual I'd be able to pick off a few places in the downhill, but actually I didn't, much. I never once looked behind, because that's my new vow. Orpheus the fell-runner. There was a steep descent down to a reservoir, which I remembered, then a run along a tarmac track, which I remembered, then a short sharp climb up to the tops, then a few more climbs. The revised route was longer but it missed out 200 feet of climb. There was a lot of this: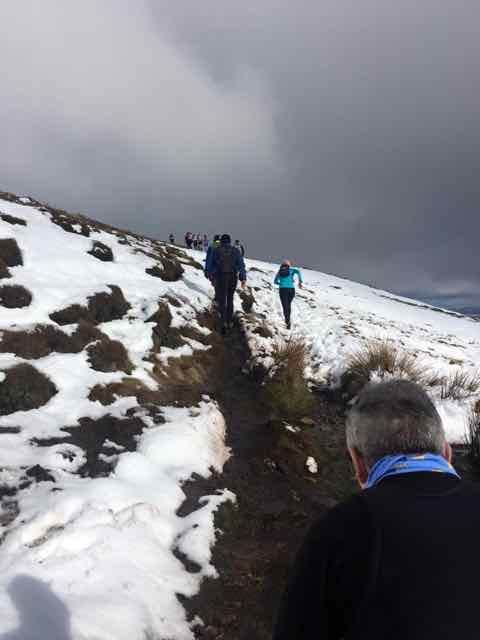 There was also a stretch through a wood, which was a) dark and hard to see your feet and b) the worst kind of surface – wet stone – for fell shoes. I went as fast as I could, but I was glad to get out of it. At the next checkpoint, I glimpsed a woman being held by some marshals, and heard a marshal say that they would walk her somewhere. Later, an ambulance came zooming into the village, and I heard that she'd broken her ankle in the woods. Get well soon, whoever you are.
Somehow on the last mile, down the path to the village, I managed a sort of sprint. I overtook two women who were running together and said, "come on ladies," and they grinned and sped up a bit. But I sped up a bit more and though they were loudly cheered in – COME ON RUTH – they didn't catch me. FRB and Ben were waiting a wee bit up from the finish, and also encouraged me, but they didn't get much reaction because I was running at 7.05 minute mile pace and I was puffed.
So did I do better than last year? 9.3 miles last year, more climb, and I did 1:57 and came 165th out of 180 runners. This year it was 9.5 miles, my time was 1:49, I was 170th out of 205 runners, but there was 200 feet fewer of climb.
I have no idea. It's making my head hurt trying to work it out. All good training.
I forgot to mention another attraction of Barley: it's got a natural shoe-washing machine: