I grew up in Dewsbury. Spen was where we went when we didn't want to go to Dewsbury Baths. It was a slightly exotic swimming pool, a few miles up the road from our house. I don't know Spenborough well apart from the baths and the track, which I ran on during a short-lived attendance at Spen AC. In my adult, back-in-Yorkshire life, I've been to Spen a few times to run off-road races: a couple of PECOs, a Yorkshire Vets or two. But I'd never been attracted by the Spen 20, a road race that my club-mates variously described as "hilly" "really hilly" or "bloody awful."
FRB though thought it was a good addition to the training plan. Hills and more hills, plus the chance to concentrate on form because for once I'd be running on terrain that didn't require me to look constantly at my feet. So we signed up to Spen 20, and then I sort of forgot about it. The week before, I had a wonderful stress dream about it in which Dave Woodhead of Woodentops was organising a Spen 20 which was actually Rombalds but worse. And I couldn't get to the start in time despite desperate dream-long efforts and being able to fly. I woke up a bit unsettled and thinking, how on earth am I going to run 20 miles on Sunday? But then I thought about it. In February I did Rombald's, which was shorter in distance but more time on my feet. I've done long runs and hard fell runs. I should be fine.
I bought some Beet-it beetroot shot, which is the most disgusting thing to drink but works. It supplies nitrites which increase the blood's ability to carry oxygen. I suppose it's legal EPO. Or meldonium. The trouble is, it made me gip even to think about it, until I discovered that mixing it with neat blackcurrant cordial made it almost palatable. So I started taking that on Friday, the another on the Saturday morning. It was strange, preparing for a long road race. I haven't done one since the Yorkshire marathon in October. I train on roads, obviously, but haven't done more than 15 miles for a while. I didn't quite know which shoes to wear. Brooks Pure Flow are my road shoes, but I hadn't tested them beyond 15 miles. I thought maybe I should have the more cushioned Ghosts, but the last time I wore them, on a club training run, my tendon hated them. So I chose the more minimal Pure Flow, my Injinji toe socks, and hoped for the best. I packed a selection of High-5 gels, that I've used ever since I began using gels. I chose a couple of normal ones and a couple of caffeine ones, and ignored the mojito ones which are horrible.
The weather forecast was good: clear skies and 9 degrees. Even so, I thought I might wear an extra layer under my vest, until I got to Spenborough and saw how many people were running in vests and shorts, and thought it daft that I was going to wear an extra layer to run in a road race that looked like it would be warm, when I ran a marathon in fog in a vest. So, vest, shorts, rainbow socks, bum-bag with gels, a bottle of water, as the only reliable information on how many water stations there were going to be was FRB's memory. That is usually reliable, but even so. I knew I would need water. (The water station was marked on the map at the club-house, but that's not much use for preparation.)
Spen 20 became nationally notorious last year after the Nettygate scandal. So I'd have expected them to have had clear race instructions on their website about cut-offs, and water stations and other things you like to know in a long race. But there was nothing. In the queue for the women's toilets, people said that there was a 3.30 cut-off time, in that the marshals would withdraw then but you could carry on running if you liked. As there were no road closures and we were running alongside traffic the whole time, I don't suppose the presence of marshals would have made a difference if you knew your way. Still, such a lack of information after last year was just bizarre.
We started on the track and as usual couldn't hear what the race organiser was saying: Spen AC, please invest in a loud-hailer. One lap of the track and then onto the roads. I'd been told the first four miles were uphill, and that the first ten were the hardest. But actually, I didn't mind the hills. I must have done enough of them by now that they seem normal. In fact, I like them. I LIKE HILLS. I tried to keep my pace steady at about 9 minute miles, but it was all over the place. So I tucked in behind Jenny from Pudsey Pacers and stayed there for a while, until about mile 4, when I ran ahead. I felt really good. I felt strong and able, and I attributed that to the beetroot.
The weather was beautiful. The sun was shining, the skies were clear, but the temperature was fine. I was sweating profusely for the first four miles, but after that cooled down and was comfortable for the rest of the race. I mean, my temperature was comfortable. At mile 10, I turned round to find Jenny right behind me. She said, right, that's the hard bit done. Now there are some nice bits. I don't remember it being harder or not, just long stretches of road, including a long downhill along Clifton Road where countless cars went past at bloody stupid speeds. I remember really cheery marshals, including women with shoulder-length blonde hair wearing hats, who seemed to be everywhere. Maybe I was in a Charlie Kaufman film. (FRB said afterwards they had marshalled the first three miles then moved, and there were loops). There was one water station which we went past three times. And it was a really nice route. The weather helped. There was some lovely scenery when we got high up, and a man doing his garden, and still doing it five miles later, when I managed to realise he'd made some good progress on his flower-bed. My club-mate Catherine, who has for the last year been faster than me, was ahead of me for the first few miles, then I was ahead of her, and then she overtook me again. I kept close to her for miles and miles, and felt good about that, but then it all went array.
At the second water stop, I took a caffeine gel. And everything went very wrong. For the next ten miles, I had nasty stomach cramps. I didn't know whether I wanted to vomit or do something else, but did neither, and just felt crappy for ten miles. The only hill I didn't run all the way up was one where I had to stop and bend over and see what would happen. Nothing except burps, which was nice. So I carried on running. At one point, at about mile 14, I counted all the things that were niggling me:
I had blisters on my right foot
My left hip ached
My toes hurt
My feet ached
My right shoulder ached
My armpits were seriously chafing
I felt sick or about to mess myself and I couldn't tell which
In short, I felt sorry for myself. I began thinking, I hate roads. It felt like a long pounding assault on my feet and legs, and I didn't like it. I began thinking, I wish I were on a fell. And then I got a grip, and told myself, put a smile on your face, which I did and hopefully alarmed some of the passing drivers, especially the speeding ones. I didn't enjoy the next few miles, but I tried to concentrate on my form: torso erect, head being pulled up to the clouds, arms relaxed going forward and sharp and straight going backwards, for power. Short steps on the hills – mine were so short, I was mincing – and longer strides and arms akimbo on the downhills. That stretch felt so very very long, but eventually it was mile 18 and then 19. Jenny had told me to expect a hill at mile 19 but it wasn't bad, just a short steep one and then blessed downhill. Not that downhill was blessed at that point; I was so tired my downhill pace was the same as my uphill pace, which is not quite how it's meant to work. Anyway, down, down, down into Spenborough, then a corner to turn – which is when one of my blisters burst – then a slog along to the athletics track. FRB was out to cheer me on, as was my club mate Adam. I remember FRB saying, last two minutes. And Adam saying something but I was almost delirious by that point and just remember his face making encouraging shapes. I was hoping the finish line was in the car park but of course there was 300 metres to run along the track, which felt so lovely and bouncy on my poor bruised feet that it almost felt enjoyable.
To prove I don't always run on glorious fells but sometimes in car parks: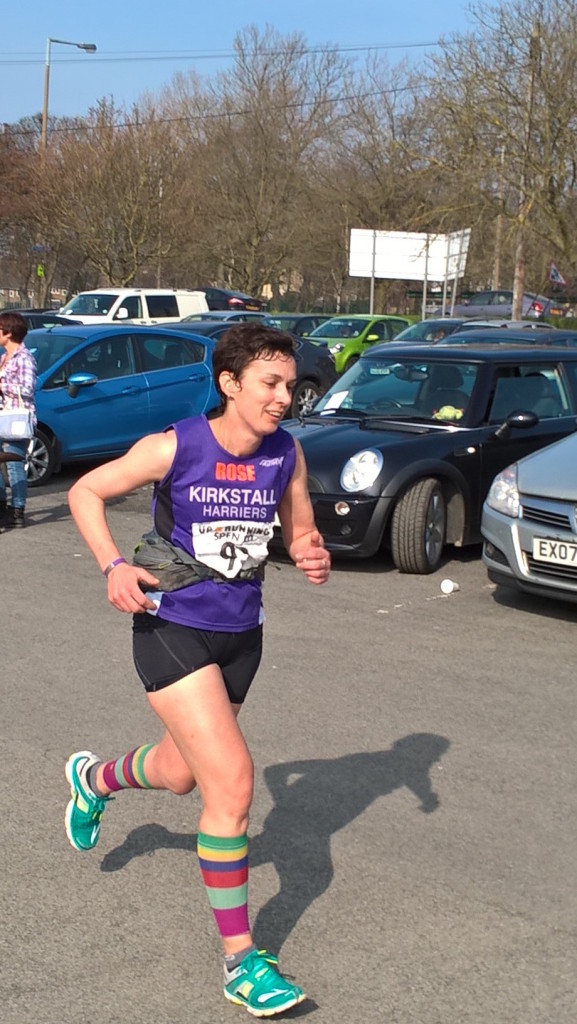 My time was 3:02. You'd expect me to be annoyed at not getting under 3 hours, but I'm not, because the only other 20 mile race I've done was the significantly flatter East Hull 20, and I did that when I was fitter, in 3:06. So a four minute PB on a course which means four minutes counts as ten: Well done me.
FRB, delightfully, came to greet me with two cups of juice, which I drank. Then I stood, and apparently looked "a bit zombie" because he looked a little alarmed, then went to fetch me chocolate milk, and insisted I ate a Jaffa cake. I didn't want a second, because my stomach was still swimming, but he said, "take a bite," and I did, and I'm glad I did.
The presentations were done outside the club-house. For some reason the men's and women's were separated by about 20 minutes. And the top ten male finishers had their times read out, while the women didn't. Also, they didn't have a prize for the winning V60 woman, while they did for the men. Hmmm.
But all in all, Spen AC did well. They must have been wanting to, after last year's scandal. I don't think Nettie was running this year. For a road race, it was nice and testing. Now I'd just like some new feet: though I finally realised how wonderful these Oofos recovery sandals are (given to me by the lovely Veggie Runners). I had no idea why they were called recovery sandals until I put them on when my feet desperately needed to recover, and the Oofos felt like supportive marshmallows.
I'm off back to the fells.