It worked. The preparation worked. And the god of weather intervened to help matters. So, here is my race report of the East Hull 20. I was the driver. I picked up Richard "Titch" Joyce at LPSA, our de facto clubhouse, at 7.30am, then Gemma and her Hyde Park Harrier friend Ben. Gemma had texted at 5:55am to ask if we could take Ben as his lift had vanished when his club-mate, the driver, fell off her bike, and although my kitten alarm-clock had been banished from the bedroom, I was awake with faint nerves. A rendez-vous at the Shell garage was arranged and off we went to Hull. The sun was already out, there were some runners on the roads, and I still wasn't scared. Not like I had been scared at the Bridlington Half, when my club-mates kept asking if I was alright and told me afterwards I'd looked terrified. Yesterday I wasn't terrified. I'd packed my smoothie, some coffee, gels, water, my recovery quiche. I had slept properly. Everything felt good.
We got to the club-house of East Hull Harriers early enough to leave us an hour of Faffing Time. This is essential because there is so much to do: pick up your number, go back to the car to pin it to your vest, faff, go back to the clubhouse to use the toilet again, faff, go back to the car again, faff, go back to the clubhouse to use the toilet again. By the final toilet visit it was 9:56 and the race started at 10. We still didn't know exactly where the start was but headed out of the clubhouse onto the main road. Further down the road the runners were massing on both sides of the road, as if they were about to dive into the middle and swim down it. The traffic was still passing, we still didn't understand how the start would work, but we only had a couple of minutes to get nervous, then suddenly everyone moved into the road and a gun went off.
Oh. That must be the start. Or a calamity.
Off we went. For 20 miles. I started quite quickly but wanted to stick to my marathon pace, which is 9:10 per minute mile. Ben and I had debated in the car park for a while about whether we should vest it or not. I thought that "to vest it" was my neologism and was about to be proud of it, but he said Hyde Park Harriers use it all the time. Anyway, we vested it and after a mile of running I knew it was the right decision. It was sunny and warm and beautiful and I warmed up quickly but not too much. There was bunching for the first couple of miles, then space appeared between groups of runners, then more space. There were a dozen or so of us obviously aiming for a nine-minute mile pace. Two of them were right behind me and talking in an uninteresting fashion about football, then DVDs, then more football and I thought, oh well, it's one reason to run faster, to get away from them. So I did.
It was a beautiful course, once we'd done a mile or so of road: paths, country lanes, fields and nice houses to look at. It was FLAT. After a few miles I ended up running with a man in bright orange top and shoes, who said he was going to run the Rotterdam marathon, that that would be his kit and he was going "full Dutch." On the other side of me was a woman from Sleaford, a place I had never heard of but which I now know is near Lincoln, in the flat bit but near the hilly bit of Lincoln. For a while we played "who lives in the hilliest town?"
I do.
We stayed together for about 15 miles, and it was companionable. We didn't talk if we didn't feel like it. Every so often Full Dutch Man would say something encouraging, and he managed to do it without being annoying. I told him he should put his mantras on t-shirts. He told me he had Irritable Bowel Syndrome and that that morning he had suffered for it, but that now he was fine. I told him about my post on running incontinence for the Guardian, and a woman who had been running near us suddenly sped up and left us. I can't imagine why.
There were plentiful water stations. There were endlessly cheering marshals, on bikes, at water stations, at corners. I think the sunshine lifted everyone, and there was a cool coastal breeze to go with it which was lovely. Full Dutch Man told me that the East Hull 20 had been voted the windiest course in Britain in Runner's World, and that last year had been cold and with a gale in his face all the way round. He hadn't seen the scenery because his head had been down into the wind for 20 miles.
I must have got my fuelling right because for many many miles I felt great. I felt STRONG. I realised how often I'm usually giving myself trouble in my head about running, that I feel tired, or my leg aches, or my shoes are a problem. I didn't do that yesterday. I just ran, and I enjoyed it. After mile 10, I could start counting downwards and that's always a delight. At mile 13, I suddenly felt tired, but an all-over tiredness, not the leaden legs I'd had on my 18-mile run. After the first water station, when I chucked my unfinished water bottle immediately, I kept hold of the bottle for the next two stations, because after I'd chucked the bottle at mile 5 or so, I got so thirsty I started hallucinating water stations. That was my only mistake and I'll correct that somehow, with a hydration pack or a bottle belt.
At just after mile 10, we saw the faster runners coming back the other way. There was only the shortest of crossovers, which meant it was impressive rather than dispiriting to see the leaders sprint past us. We ran through villages where some people cheered us. We ran down lanes where cars were driving, and some drivers were generous and thoughtful, and some drivers were contemptible. The woman in the Range Rover who had her window down and shouted "SINGLE FILE": I mean you. You can tell who does sport and who doesn't by how much respect they showed us. (We were, by the way, mostly running in single file when she yelled at us.) We passed lots of cyclists and they passed us and although I wish they would use their damn bells, they mostly treated us respectfully and us them. Some drivers though drove at 40 miles an hour past us and I had some moments of runners' rage at such heedlessness. Full Dutch Man said three runners had been killed around Rotherham in the last year, and most had been wearing headphones and listening to music. One though had been killed by a lorry driver who was being prosecuted for manslaughter, because he had been driving like a dickhead on country lanes with poor visibility.
At mile 15, it felt like running five more miles was impossible. At mile 17, it felt possible. At mile 18, it felt harder than ever before. At that point, a lot of people were walking. Full Dutch Man, who has run dozens of marathons, and who was clearly faster than me but staying with me out of kindness, said the last two miles was when most people began to struggle. I was struggling a bit, but Full Dutch Man kept me going. We lost our Sleaford companion. She was doing a training plan that sounded insane to me, and which had had her running 24 miles the week before. That didn't help, and nor did her having a stitch at mile 12. She said she wasn't enjoying it at all, and she fell back and we carried on. Full Dutch Man had warned me of a hill at mile 19, and we got there and it was, to anyone who runs in Leeds, just a short sharp incline. Then it was downhill to the finish, and Full Dutch Man never faltered in his cheery encouragement, not even then. "See the banners? That's the finish. You can do it!"
I thought at one point that I might manage to do it in under three hours. That would have been great, because my paces have been somewhat haphazard and seemingly heading to a 4:30 marathon time. But a three hour time might mean I can do four hours after all and although that doesn't matter, it does. I didn't do three hours, but I only missed it by six minutes and six seconds. We got near the finish line, and Full Dutch Man's wife was waiting with his Labrador. Full Dutch Man started calling to his dog, who began to jump and pull and look doggy-delighted. His wife called, "well done, lady!" at me as we passed, and then as we approached the funnel, Full Dutch Man said, no, you go first. And he let me go ahead. What a thoroughly charming man. Afterwards, we hugged, and I thanked him, and then today I looked at the results and found that his name was Malcolm.
Malcolm of Kimberworth Striders, thank you.
Afterwards, I collapsed onto the grass outside East Hull Harriers club-house. Titch and Ben had already finished: Titch did it in 2 hours 15, as he would, being a speedy little dynamo. The finishing prizes were a bottle of water, a towel embroidered with East Hull 20 – much better than a baggy, saggy, ugly race t-shirt – and a lavish buffet. I managed to stand up, with some difficulty, and although I don't get hungry immediately after running (it usually hits an hour later, suddenly, so that I am so urgently famished I could eat a tree), I made myself eat quiche (protein = recovery), chocolate cornflakes (sugar = recovery), cheese sandwiches (protein = recovery) and an orange (sweet, liquid = delicious). On the way back from the car to the clubhouse, I met a woman who had been in the race, still running though she had passed the finish line, looking at her watch. She saw me looking at her with bewilderment and said, "It's not quite 20!"
Crikey. At that point, who cares?
I'm not sure how I drove home but I managed it, though seeing signs for "Leeds 28" made my exhausted brain think I was still racing.
It was great though. It was hard but not as hard as it could have been. I mostly felt strong and fit, and when I didn't, my race slogan of "look what you can do, look what you can do" helped. I thought of lots on the way, as there was silence to think in despite me running in company. I remembered Gemma's race slogan, written on her hand: Legs, Mind, Heart. Those are the three things that control you during a long race, in that order. I like that.
A race on a sunny but cool enough day, with kind and encouraging marshals and good company and scenery along the way, and afterwards showers equipped with shampoo and countless hair products, and tons of food: I might do it again next year even if I'm not marathon training. It was my first ever 20 miles so I did my jump for joy at 18:20, and Gemma and I tried to recreate the jump afterwards but we couldn't deal with the iPhone's second delay and after two jumps I had nothing left in my legs.
My hip was fine during the run. I got other niggles, but they're just for entertainment, I think, like a foot niggle at mile 14, and a brand new knee pain at mile 18. Today, though, my hip hates me.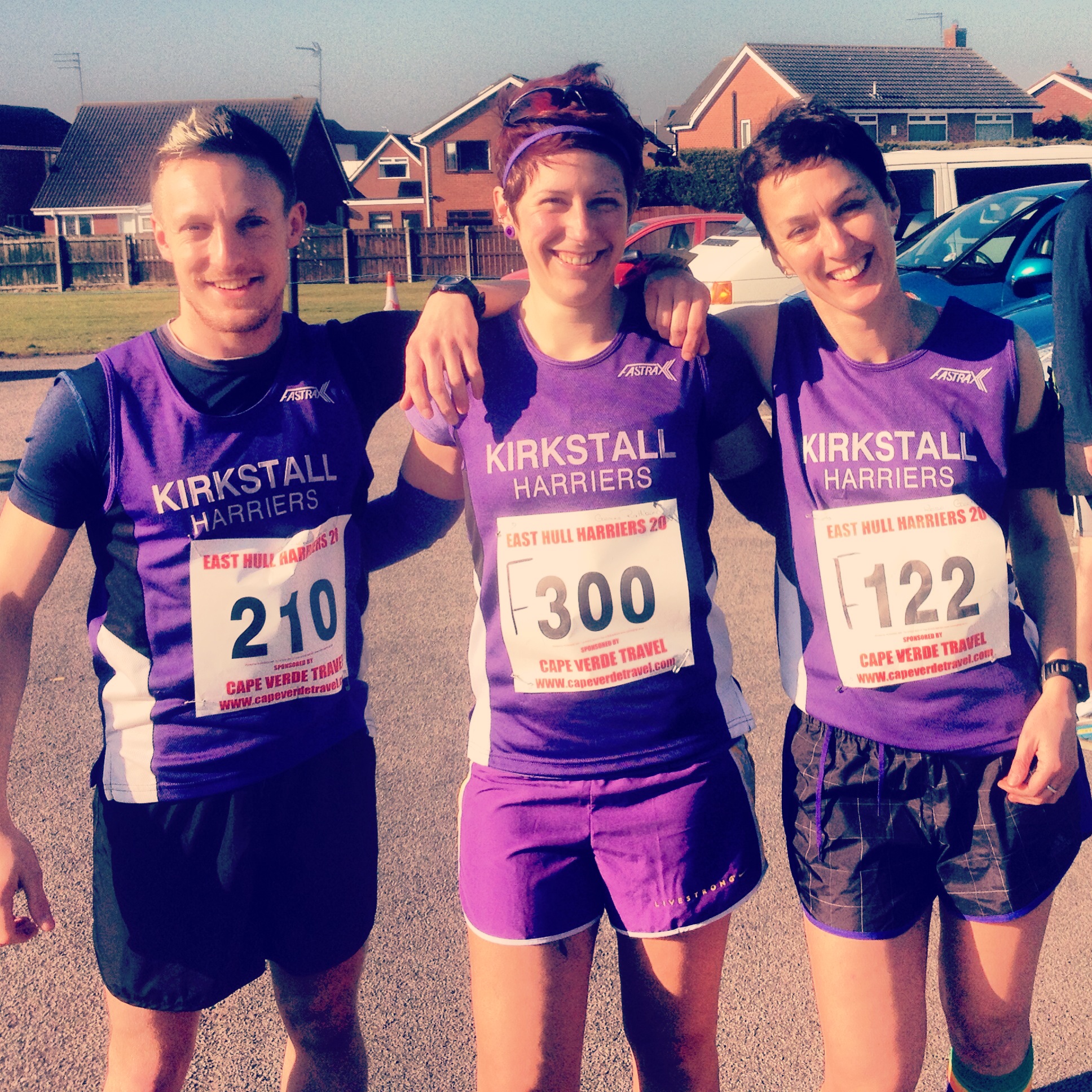 —
ACTIVITY
EAST HULL 20
Distance: 20 miles
Time: 3:06:06