I have braved waters infested with pirates. I have gone down sewers and into slums. I'm supposed to be intrepid and courageous. (Though I'm not, really.) But this morning? This morning I was due to do nothing more complicated than run for six miles, and I was alarmed. In fact, my nerves were shredded. This state wasn't helped by the fact that my cat had disappeared all night, something she never does, and something that sends me spiralling into panic. This is reasonable, as her mother was run over by a car and I had to bury her smashed, bleeding body, and I won't ever forget that. So, all in all, I was nervous. I was due to run the Pudsey 10K, a local race in Leeds. I've never run it before; I was meant to race it two years ago but took too much magnesium and discovered, too late, that magnesium is often used for its powerful laxative properties. No way was I going to run the hills of the Pudsey worrying about messing my shorts.
Hills. Yes. Many hills. I didn't sensibly choose a flat, easy race as my first one in three months. I chose one that looks like this:

(That is not my time or pace.)
There were other worries. I hadn't run since Monday. Partly, this was because I'd had to travel to Dusseldorf and back. I'd planned to run in the city I was going to (it wasn't Dusseldorf; I can't say more because I signed a confidentiality agreement), and when I finally arrived late one evening, after two planes had developed technical faults, a fellow guest at the conference offered to run with me the following morning at 7am. At 6.30 though the phone rang: he thought the weather was bad, and he was right. It was raining hard. That wouldn't deter me usually but combined with a very poor night's sleep, no idea where to run, the city being in a steep valley with lots of hills, and a dead iPhone and no charger so no way of carrying a map: well, I had lots of excuses that at 6.30am on crappy sleep seemed to be very reasonable. So I did a seven-minute workout instead and that was that. I would have done Parkrun on Saturday, but FRB and I went out the night before and slept through Parkrun, and anyway it would have contravened my strict no-runs-back-to-back rule, which I will stick to to give my tendon time to recover between runs.
I haven't stuck to the other rule though. The golden rule, of not increasing distance by more than 10% a week. My longest run had been five miles, on Monday I'd only run four, and this would be six, with hills.
There was something else. I like to think I've kept up exercising, but there is no way I've done as much as when I'm fully running. I'd then be doing 25-30 miles a week, probably, plus strength training. I haven't done that. And I have also been more indulgent with my food, probably because I don't have to submit to Jenny weighing me every week. The result: 1.5% increase in body fat and half a stone in weight. I don't like it. I feel heavy and sluggish, even without the bloating that is a constant, apparently, in my new perimenopausal life. I've stuck this to my fridge as inspiration. I'd rather have Victoria Wilkinson, who is super strong but not so skinny, but this will do for now: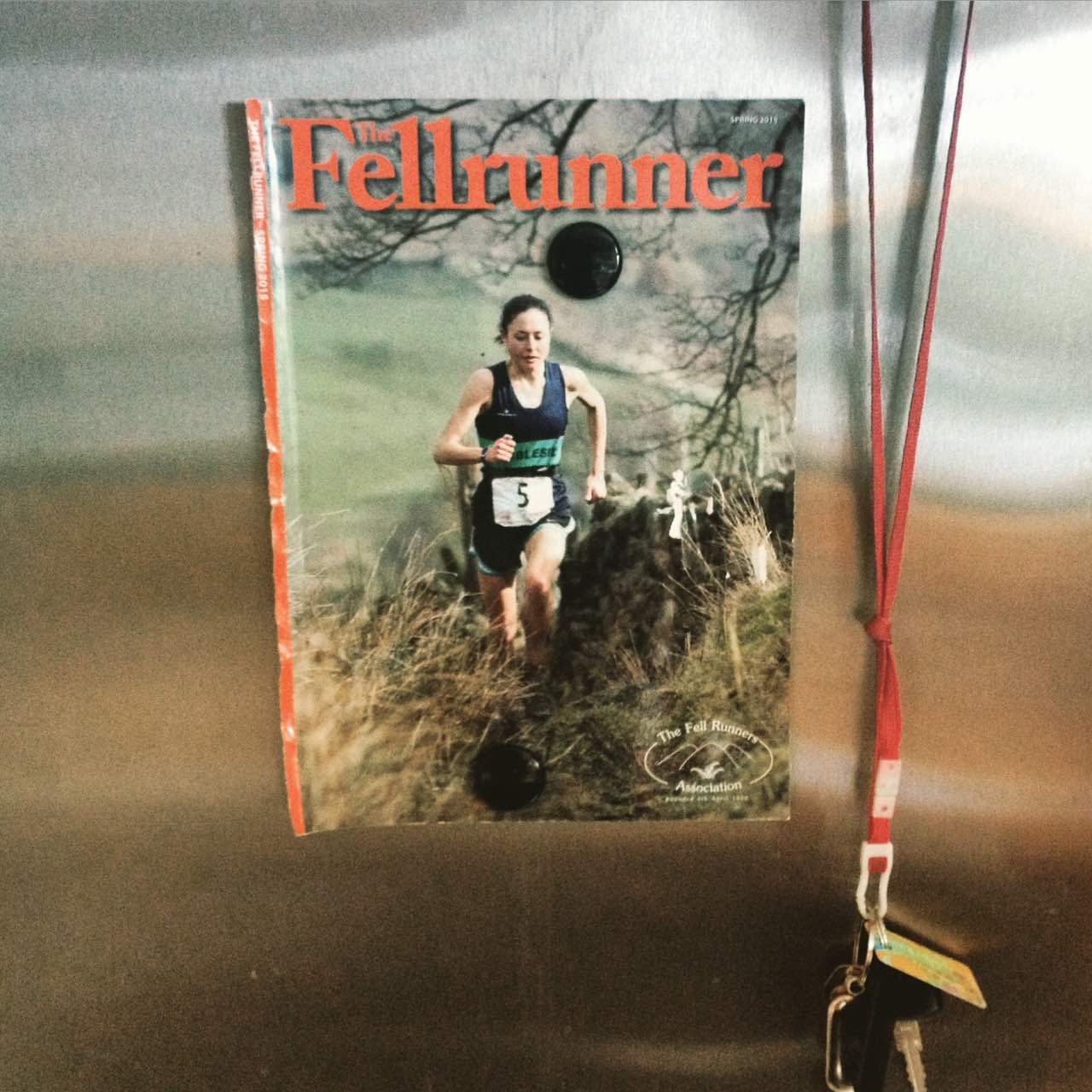 Weight, risky distance, hills, no racing for three months. Gulp.
However.
I was going to race!
I got my kit ready, and it felt good.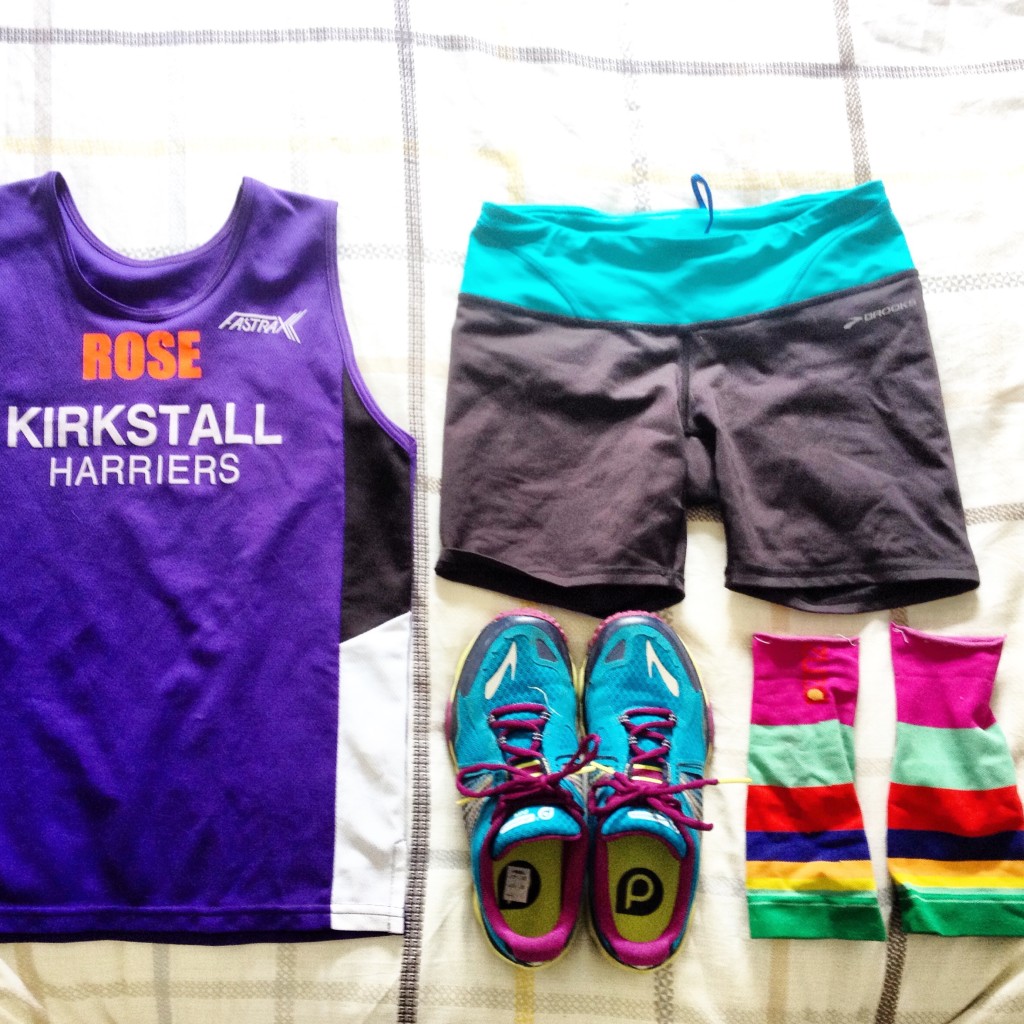 I knew other people were running in road shoes, but I also knew it had rained overnight, and there were trails, so I chose my Brooks PureGrit. They are so comfortable, anyway, that I wear them around town. It's not like winter running of cross-country, when only Inov-8 grips well enough, but Inov-8 studs are painful on tarmac and your feet get knackered.
I had my usual race breakfast of toast, marmalade and marmite. I made a flask of coffee, swallowed with the usual profound disgust a shot of Beet-it (because it works) and left for Pudsey. Some of us were meeting at some clubmates' house for pre-race tea and coffee. Three toilet visits later – my pelvic floor has also suffered from not running so much – then I warmed up on their carpet, and at 10.30 we walked up their road to the start of the race. Suddenly there were purple vests everywhere. Group photo. How long since I've done one of those? I've watched on our FB page as the official group photo gets changed with race after race, and been miserable about it. And here I was in one, finally, and it felt great.
Then there was some milling. Before a race there is always milling. FRB had given me a strict race strategy. He knows the course perfectly, and probably would even if he didn't live locally, and he had given me strict instructions mile by mile. The summary: don't peg it on the initial downhill because I'd pay for it on the hills and in the last couple of miles. There would be four hills, though officially no-one counts the last one, because it's a long steady rise up to the finish in the park. No-one, he said, will be running the bad hills except for the first twenty runners. I hadn't run this race, but I've run around Pudsey and bit and know the ones that come out of the valley. I knew what to expect.
The milling was wet. The weather was supposed to be dry, but this was a heavy shower. There was much good-natured grumbling about the weather, an announcement that I couldn't hear because I'd put myself so far back in the pack, and then we were off. I thought: Don't peg it, and I didn't. In fact, I followed the plan perfectly, even when I wanted to speed up. And then later, I probably couldn't have sped up.
It was a lovely race. I was outside, in fresh air, running through woods and alongside fields, and it was gorgeous. It was such a gigantic pleasure. I didn't even mind being so slow.
I'm lying. I did mind. But I ran along thinking what Janey wrote in her Veggie Runners blog about running the Coniston marathon: Put your ego in a box. Just enjoy the race. So I did, until I was overtaken by a lovely man who runs for my club, but whose marathon times are about 45 minutes to an hour slower than mine. I tried very very hard to keep my ego in the box, but in the last mile I had to overtake him. The incline up to the finish in the park was hard, and I felt sick in the last 200 metres. I did it 1 hour 1 minute, which was perfect according to FRB's strategy, though it's twelve minutes slower than my PB, and though I was beaten by slower runners I'd normally be way ahead of, including our M70 runner.
Oh well. I'll be back.
Afterwards there were free sports massages being given out by a local physio practice, so I asked for special attention to be paid to my hip flexors, glutes and tendon, and they were all so tight the physio was wincing. Me? I was yelping. It hurt.
I'm knackered now. But it feels good. A swim tomorrow, and another race on Tuesday. It's so good to be back. It's good to be running, and racing, but probably most of all, it's good to be running and racing with this lot: