Where, oh, where is Widdop?
I had never heard of it until FRB said it might be a good one for my first fell race after injury I decided it was a good idea, having looked for midweek near-ish fell race as my first one back. (Quote from FRB, having read this: "Why would I recommend a race I've never run?" Good point. Sorry.)
Proper fell, I mean. I've done cross-country and trail and road and fields. But I've been nervous about the fells, because they can be twisty and technical. But my mind fixed upon Widdop, even after I'd found out where it was: beyond Hebden Bridge, beyond Heptonstall, up, up to the tops and keep going. It took us over an hour to get there from west Leeds, and I'd already driven 45 minutes to get to west Leeds from my house in evening traffic. So I had decided, on a mid-week evening, to drive for two hours to run for seven miles. Yes. And I am very glad I did.
We got there at 6:40. The race HQ was a shed in the car park of the Pack Horse pub at Widdop. I write "at Widdop" but there seemed to be nothing at Widdop but the Pack Horse pub and moor, moor and more moor. We weren't the last, but both of us were anxious. FRB doesn't like being late, and certainly not for races, and I was nervous because it was my first fell run in so long, because I wasn't sure how my tendon would react to it, and because I was sure I would come last or nearly. We paid the huge entry fee – £4 – and I headed for the toilets in the pub. In the queue, a woman in Clayton-le-Moors kit (a big fell-running club in Lancashire) told me she had been going to run but had wimped out because she knew she'd be last. I said, no, no, you won't be – how on earth did I know? – and even if you are, I'll be in the back-pack with you. Really? she said, and I next saw her outside with a race number on. There were hardly any runners from Leeds there. In those parts, most runners were from the borders or beyond. Calder Valley, who are based in Mytholmroyd and who were organizing the race, and Trawden, Clayton-le-Moors, Todmorden, Baildon, Wharfedale. I was the only Kirkstall Harrier, FRB was the only Pudsey Pacer and our mate Reena, a pint-sized ninja runner who I used to be able to keep up with, and who I met on one of the ten mile races a couple of years ago, when we had a long conversation about Diwali, was the only one in Eccleshill blue.
I put on my lucky race striped socks (though FRB persists in calling them "hooped"). I'd had my scalded hand re-dressed that day by the nurse, and when I told her I would be running a fell-race that night, she put another bandage on top of it. She advised me to wear gloves, but it was so hot, I compromised with one glove, thus managing to look like Michael Jackson in clown socks. We'd had the usual Shoe Discussion earlier: fell or trail? Will it be dry or wet? Will there be mud and bog on the tops? Isn't there always mud and bog on the tops? But it was so dry, in the end I chose my beloved Brooks PureGrit, a decision I slightly regretted at the start when I was surrounded by 360 degree Inov-8 Mudclaws-shod feet. By then it was too late.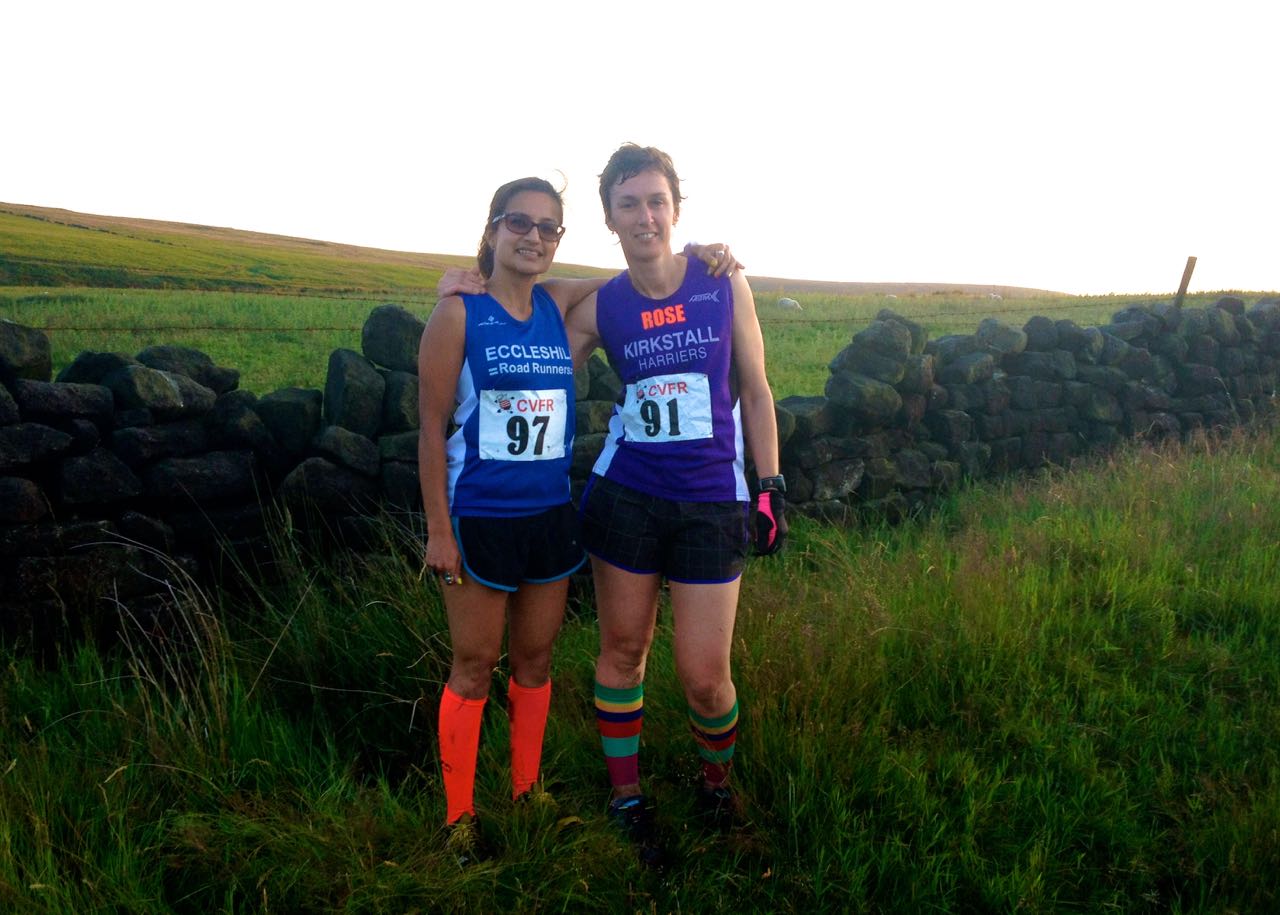 The race start was in the road outside the pub. There was some milling, then a swift parting of the crowd when a car drove down, then back to milling. A Scottish Calder Valley man gave us guidelines, such as they were: there was no kit requirement though they recommended carrying a waterproof. I can't remember what else he said because suddenly he said very quickly, "3, 2, 1, go."
And we went. Downhill down the road first, past the field where the juniors had run their races. At this point I will remind you that my visual memory of races is very poor. I can remember bits, but rarely in the right order. But I remember we ran down the road, then turned left onto track, and there was one bottleneck, then another and another. "Never mind," said a man from Baildon running just behind me, "we're not in a rush, are we?" I wasn't in a rush but despite my new habit of putting my ego in a box, I didn't want to be last. I really didn't want to be last. There's no reason for that but pride, and it's daft, but so it was.
The paths were grassy, and then the tussocks started. I'd not accounted for tussocks. They were frequent from then on, and my ankles didn't like them. I'd put a comment on my club Facebook page that I was going to do the race, and one of my clubmates, a nurse, had replied that she'd done it last year and it was very tussocky and might not be good for my ankle. But I didn't see that until I was lying on FRB's sofa with an ice-pack on my ankle.
I wanted to try to run all the climbs, but I didn't even manage the first one. I felt OK, but not superwoman, and not as strong as I'd felt on Eccup 10. I'm pretty sure the answer to getting more strength is eating chips the night before. I'm not joking. Whenever I've had chips before a race, I've run better. Or so I tell myself. Anyway I kept going. I'd forgotten my Garmin but FRB had lent me his, though he said, don't even bother thinking about pace, it's just so you can see what distance you've done. I looked at it at mile 1.6, and again at mile 6.7 and that was it. The rest of the time I was busy getting round. For much of it, my head and eyes were down, looking for tussocks. There were tussocks, but also deep channels, mud, rocks. At that point I was glad I'd chosen the PureGrit, because Inov-8 Mudclaws are wonderful in mud, but terrible on rock. The PureGrit were great in both. The weather was glorious: perfect temperature and beautiful sunshine, and the scenery, when I remembered to look up and look it was so very beautiful. At one point we climbed a hill and over the other side was a deep blue reservoir, and I thought, what a strange thing to do, to drive two hours to run seven miles over moorland, but also what a bloody privilege. And then I was busy getting up another climb.
After that climb, I think, was a long stretch of ground that fell-runners would call "technical." Technical means tricky. It means having both to think about where to put your feet and also to watch to check you've put them there. After a mile or so of this technical, tussocky running, I was upset. I was upset because I was worried about my ankle, and I was upset because I had become a fell-runner who is worried and cautious, and I didn't want to be that. I haven't really done enough fell races to call myself a fell-runner but I've done enough that I know that I love descending and used to do with it abandon, and with no caution. And now here I was picking my way through the boggy, muddy, poorly visible track. I had to walk a lot of it because I couldn't risk running it and twisting something, and that annoyed me. At one point I was genuinely frustrated and almost angry and then I had a loud word with myself. I mean, out loud. I was running alone by that point; a few people had overtaken me, and there were some women behind who I could hear whenever they crossed a stile behind me, because they were usually laughing. I thought they sounded lovely but I also didn't want them to catch me, because I'd checked behind a couple of times and it looked to me like I was in the last 20 or so.
So, I had words. These were the words: "DON'T BE SO BLOODY STUPID. STOP GETTING UPSET. YOU ARE OUT FELL-RUNNING WHEN YOU'VE BEEN OFF RUNNING FOR MONTHS, AND IT'S BEAUTIFUL SCENERY AND GORGEOUS WEATHER AND IT DOESN'T MATTER IF YOU'RE LAST. IT DOESN'T MATTER IF YOU'RE LAST SO PUT A SMILE ON YOUR FACE, YOU BLOODY IDIOT, AND ENJOY IT."
It worked. I put a smile on my face, and carried on. I overtook someone at one point, and promptly went flying with a proper head over heels tumble. He helped me up – thank you, fellow runner – and I said, "that's how you overtake someone with style" and then pelted off because I didn't want the embarrassment of him catching me up when I'd actually managed to overtake him.
On the way up to the race, up a very steep road, FRB had seen flag-poles and said, oh dear, I think the race finishes up here. After a last long descent through lots of bracken, which was fun, we hit a road, and there was that steep bit. I thought, oh god, we're going to have to go for a mile up that road to the finish and as I got to the bend after a steep climb I said to a marshal, "who on earth designed this course?" which was deeply ungrateful of me because it's a beautiful course, and anyway at that point the route turned off the road and into more bracken. The path ran along the edge of a ridge and it was like being a long, endless jungle. I looked at my watch and saw I'd done more than seven miles, which I thought the race was, but the path kept going. There was no-one near me, just me and poles with ribbons marking the route, and boulders, and bracken, and the evening sun. It was a quite surreal but ethereal mile or so. It probably wasn't that long, but it seemed ages until I heard "COME ON PURPLE WOMAN!" (my club vest is purple) from some kids waiting on a big rock with their mum. I said, thanks! and the finish was another five minutes or so. The next I heard was COME ON ROSE from FRB, then over a stile into a field, up the field to the finish, two poles marking a funnel made from tape. I can usually smile when I'm finishing a race, but not this time. I was too thirsty, too tired. But it was beautiful. So beautiful.
We could have stayed for presentations, but our plan had been CHIPS. So I can now inform you that if you leave a race at 9pm in the Calder Valley, you will not find a chip shop open in Hebden Bridge, nor in Friendly. But carry on to Halifax, stop in King Cross Road, and go to Mother Hubbard's famous chip shop. They will give you a bap the size of a loaf, some superb chips, and I recommend you scoff what you can, drink a can of Ben Shaw's Dandelion & Burdock as quickly as you can, then go home, ice your ankle and sleep the sleep of the blessed.
Oh, results? FRB had said, try for under 1:30 and if you can, sneak in under 1:25. I did 1:25 on the nose. Calder Valley have mixed me and FRB up on the results, so for a while I was delighted to have come in 59th out of 114. But of course I didn't. I was 101st. Last 20, but who cares?